Want to make a latte at home but don't want to commit to buying an espresso machine with a steam attachment? No worries! You can make one just as easily without fancy equipment.
We'll show you several different ways to steam and froth milk at home — we guarantee that you already have the supplies for at least one of the methods!

3 Easy Ways to Steam Milk at Home:
1.  Microwave
This is a quick and easy way to steam milk, and once you figure out the proper time needed for heating milk in your microwave, you can repeat it every morning. The first time, though, we recommend using a thermometer. You want the milk to be about 150°F.
1. Fill a microwave-safe container (like a coffee mug) with the desired amount of milk.
If you're going to be using a frother, you don't need much milk at all, maybe around ¼ cup.
2. Heat for 20-30 seconds.
If you have a larger amount of milk, like ½ to 1 cup, you may need to heat for 30-45 seconds.
3. Note the time and insert a thermometer.
If it reads 150°F, you've found your perfect amount of time. If it's too hot, reduce the time by 10 seconds the next time you heat milk. If it's too cold, put it in the microwave for another 10 seconds.
4. Add the steamed milk directly to your freshly brewed coffee.
Enjoy! No complicated steam attachment needed.
You can also use a milk frother or immersion blender before adding it to your coffee to make your microwave-steamed milk foamy.
---
2. Stovetop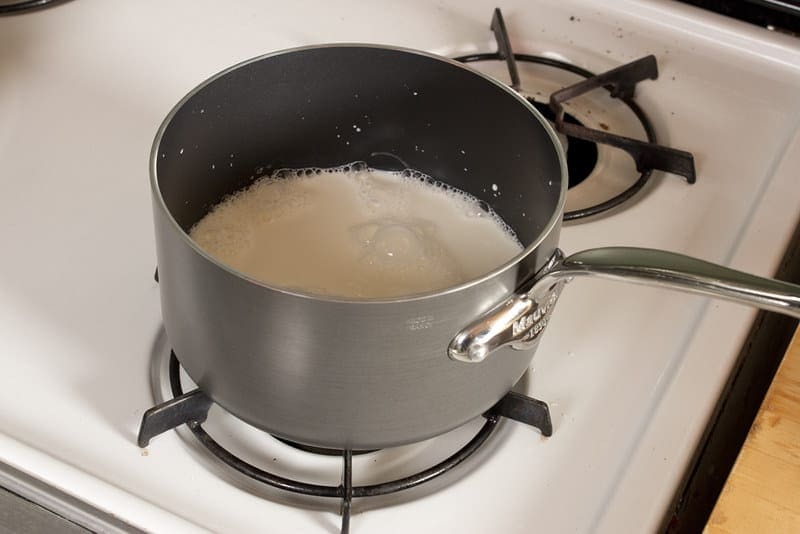 Using your stove to heat milk gives you more control over the temperature, but it involves a little more work on your part. Still, this is a great method because you can put the thermometer directly in the pot and remove the milk as soon as it reaches 150°F.
1. Add the desired amount of milk to a small pot, and place it on your stove's heating element.
The smaller the amount, the more you'll have to stir to keep the milk from scalding, so keep that in mind when you measure.
2. Keep your heating element on low-medium.
Milk scalds easily, and you definitely don't want to add burned milk to your coffee.
3. Stir the milk gently until the temperature reaches 150°F.
Depending on your stovetop (gas vs. electric), this could take anywhere from one to three minutes.
4. Add the steamed milk to your freshly brewed coffee, or froth as desired. 
Note: If you find that you're struggling with the milk scalding too easily, then you can use a double-boiler. You'll need two pots, one slightly larger than the other. Fill the larger pot halfway with water, and bring it to a gentle boil. Place the other pot with milk on top, and stir gently until it reaches 150°F.
---
3. Mason Jar
This method allows you to both heat the milk and froth it afterward, so this is helpful if you don't have a milk frother or immersion blender. You'll need a microwave and at least a pint-size mason jar with a lid and ring.
1. Fill a large mason jar with about ¼ cup of milk.
You'll also need the lid and ring later, but for now, leave it uncovered.
2. Heat the milk in the microwave for 20-30 seconds.
Depending on your microwave, this may take more or less time, so make a note of it so you can do the same thing every morning.
3. Check the temperature with a kitchen thermometer.
You're looking for 150°F, so you may need to add more time in 10-second intervals until the milk reaches the optimal temperature.
4. Once it reaches 150°F, remove it from the microwave and screw on the lid. 
5. Shake the mason jar until the milk has doubled in size or until you have your desired amount of froth. 
6. Add to your freshly brewed coffee. Enjoy!
This is a great method if you don't want to dirty up too many cups, pots, or bowls in the morning, as you can do both the heating and frothing in one container.

Final Thoughts
Steaming milk at home doesn't have to be complicated. You can do it almost anywhere you have a heat source — even over a campfire if you're away from home!
We hope these three methods have shown you that with simple equipment you already have, you can steam milk for coffee at home. No special barista-level machinery needed. You'll be drinking a homemade latte before you know it!
Worth reading:
---
Featured image: Christos Andrews, Wikimedia, CC 3.0