A Rainbow Frappuccino—sometimes called a Tie Dye Frappuccino—is an item on Starbucks' secret menu, which, confusingly, isn't actually a menu at all! The secret menu at Starbucks is a list of drinks that don't appear on Starbucks' actual menu but can be made with the ingredients they have on hand at Starbucks.
In this article, we're going to teach you how to make a Rainbow Frappuccino. We're going to explain how to order one at Starbucks and how to recreate the drink at home if you don't have access to all the fancy syrups and ingredients they have at Starbucks—and, let's be honest, who does?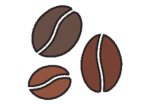 How to Order a Rainbow Frappuccino at Starbucks
Ordering a drink off the Starbucks secret menu requires you to know all of the ingredients, including how much of each goes into the drink. Since the secret menu isn't actually a Starbucks' sanctioned menu, your barista likely won't know what you're talking about if you order a Rainbow Frappuccino.
To order a grande Rainbow Frappuccino, start by asking for a Strawberries and Creme Frappuccino with the orange refresher as the base instead of strawberry puree. Then ask for one pump each of peach syrup and raspberry syrup and one scoop of vanilla bean powder. Top it off with three pumps of creme base and ice and blend it.
If your barista follows your instructions, you should end up with a smooth, icy Frappuccino that tastes a lot like and has the consistency of rainbow sherbet.

How to Recreate a Starbucks Rainbow Frappuccino At Home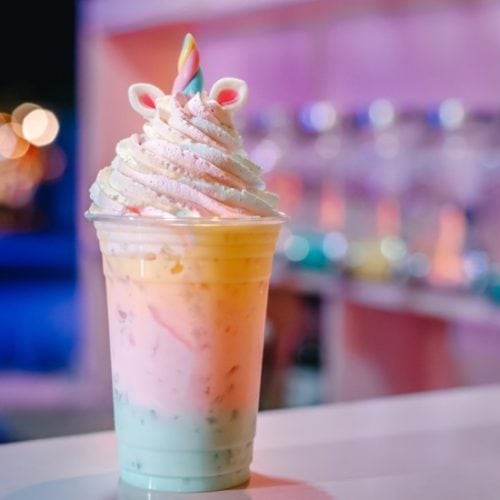 Homemade Rainbow Frappuccino Recipe
If you prefer to try your hand at making one from scratch at home, you'll probably have to take a trip to the grocery store first since you'll need some uncommon ingredients to get as close as possible to the Starbucks version.
Ingredients
1

cup

ice cubes

2

cups

milk

1

cup

orange juice

1-2

scoops

vanilla ice cream

1

tablespoon

peach syrup

1

tablespoon

raspberry syrup

Whipped cream
Instructions
Put the ice, milk, orange juice, and ice cream in a blender and blend on high until you have a thick mixture.

Now add the raspberry and peach syrup and stir. We prefer stirring to blending to give the drink a pleasing, swirling aesthetic. If you value even flavor over presentation, feel free to use the blender.

Give the drink a taste before finalizing it. Our 1-tablespoon-serving of peach and raspberry syrup is a conservative starting point, so you might want to add another tablespoon of each if you find the taste too weak.

Top with whipped cream.

Serve and enjoy!
Notes
Image credit: Mhoopa Box, Shutterstock
Nutrition
---
How Similiar Is Our Recipe to a Starbucks Rainbow Frappuccino?
Our initial recipe called for vanilla extract and sugar, but we find it simpler—and more delicious—to get the sugar and vanilla flavor from a scoop or two of vanilla ice cream. It makes the drink thicker and gets closer to the original than vanilla and sugar separately.
The major point of divergence between this recreation and the Starbucks version is consistency. Using the orange refresher as the base gives the drink an icier, slushier texture than our attempt at mimicry. Our version is smoother and thicker and more like a milkshake, which doesn't make for a bad drink but also doesn't come as close as we would like to the target.
However, this recipe stands tall among the recipes we tried for having the flavor closest to the Starbucks secret menu Rainbow Frappuccino. We decided to give this recipe the nod and prioritize accurate flavor reproduction over getting the consistency just right.
If you have the time and motivation, try tweaking the ingredients to see if you can get a more accurate consistency without sacrificing the taste. One idea is to use vanilla protein powder to mimic Starbucks vanilla flavor powder. Unfortunately, we haven't found any vanilla protein powder that tastes good enough on its own to justify its inclusion in this recipe.

Conclusion
Starbucks Rainbow Frappuccino is a drink that's probably best ordered at Starbucks. Trying to make one at home requires atypical flavored syrups and doesn't get the texture quite right, making it somewhat disappointing.
If you decide to order a Rainbow Frappuccino from Starbucks, make sure you prepare with a written copy of the ingredients. Don't forget to include quantities for each ingredient since the Rainbow Frappuccino isn't on the Starbucks menu; your barista will have to make it by following your instructions.
---
Featured Image Credit: Mhoopa Box, Shutterstock