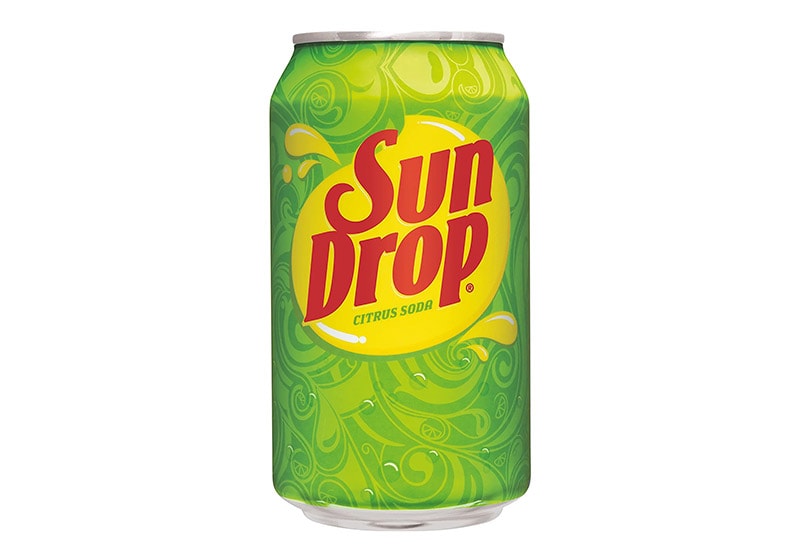 If you've ever tasted a Sun Drop, then you understand its appeal. This tasty soft drink is stiff competition for Mello Yellow and Mountain Dew. Made by the Keurig Dr. Pepper company, this yellow-green citrus drink is not only cool and refreshing, but it's also high in caffeine. Inside each 12-ounce can of Sun Drop, you'll find 64 mg of caffeine. This is considered a moderate amount when compared to other soft drinks but that number still leaves Sun Drop as one of the most caffeinated drinks on the market. Let's learn more about Sun Drop, the caffeine inside the can, and whether drinking this soda is safe.

What Is Sun Drop Soda?
The story of Sun Drop soda starts in Missouri with a man named Charles Lazier. Lazier sold beverage concentrates. One day, while driving in his car, he scribbled down the recipe for a new drink. This recipe was then taken to his son, Charles Jr., who was a technician at Lazier's bottling plant. Two years later at a conference for beverage bottlers in Washington, D.C., Sun Drop made its debut. The beverage was then patented on April 15, 1930.
Known as Sundrop Golden Cola, the beverage was marketed mostly in the South. Throughout the years, however, the drink went through several companies. At different points in time, Sun Drop was owned by Crush, Procter & Gamble, Cadbury Schweppes, and finally to its current home with Keurig Dr. Pepper. While it was changing hands and finding its way, other flavors of Sun Drop were created including Diet, Cherry-Lemon, caffeine-free, and even Diet Cherry-Lemon. With Keurig Dr. Pepper the Sun Drop name has received wide distribution and updates to the website in an attempt to help it catapult into the citrus drink battle against its biggest competition Mello Yellow and Mtn. Dew.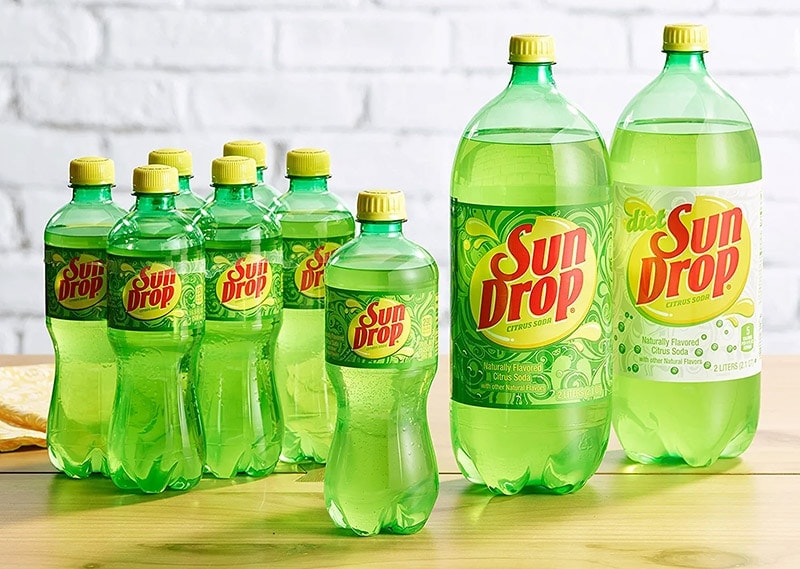 The Caffeine in Sun Drop Soda
The 64 mg of caffeine in a 12-ounce can of Sun Drop is considered high for a soda. When looking at overall caffeine content, however, it is of moderate levels. Mtn. Dew, Sun Drop's biggest competition, has 10 grams less. Here's how Sun Drop compares to other sodas on the market.
| | |
| --- | --- |
| Sun Drop Soda 12-ounce | 64 mg of caffeine |
| Mtn. Dew 12-ounce | 54 mg of caffeine |
| Mello Yellow 12 ounce | 52.8 mg of caffeine |
| Coke 12-ounce | 34 mg of caffeine |
| Pepsi 12-ounce | 38 mg of caffeine |
How Does Sun Drop Compare with Energy Drinks?
When someone wants a true caffeine boost, energy drinks are usually the go-to drink of choice. Have you ever wondered how sodas stack up against these drinks? With Sun Drop being one of the most caffeinated sodas available, let's compare its 64 mg of caffeine to what you'll find in the most popular energy drinks
| | |
| --- | --- |
| Sun Drop Soda | 64 mg of caffeine |
| Red Bull | 80 mg of caffeine |
| Monster Energy Drinks | 160 mg of caffeine |
| Rockstar Energy Drinks | 160 mg of caffeine |
| Bang Energy | 300 mg of caffeine |
Are the Levels of Caffeine in Sun Drop Dangerous?
When discussing the caffeine content of Sun Drop you may be curious as to whether those levels are considered dangerous. The answer to that question is no, the 64 mg of caffeine inside a can of Sun Drop is not dangerous for an average adult. According to the Food and Drug Administration or FDA, a healthy adult can have up to 400 mg of caffeine per day. This amount should be cut in half for pregnant women while caffeine should be extremely limited or avoided where children are involved.
Even though Sun Drop's caffeine levels aren't dangerous, people can suffer from side effects related to consuming too much caffeine. If you experience any of these symptoms you should lower your caffeine intake until you're feeling better.
Insomnia
Nausea
Increased heart rate
Nervousness
Jitteriness
Dehydration

Final Thoughts
As you can see, Sun Drop soda features one of the highest caffeine levels in the soda world. Even with these elevated amounts, 64 mg of caffeine is considered moderate. If you're a fan of Sun Drop soda you can sit back and enjoy these drinks without worries about taking in too much caffeine. As always, however, where caffeine is concerned, if you experience any side effects, cut back and drink more responsibly.
You might also like: How Much Caffeine Is in Red Bull Simply Cola?