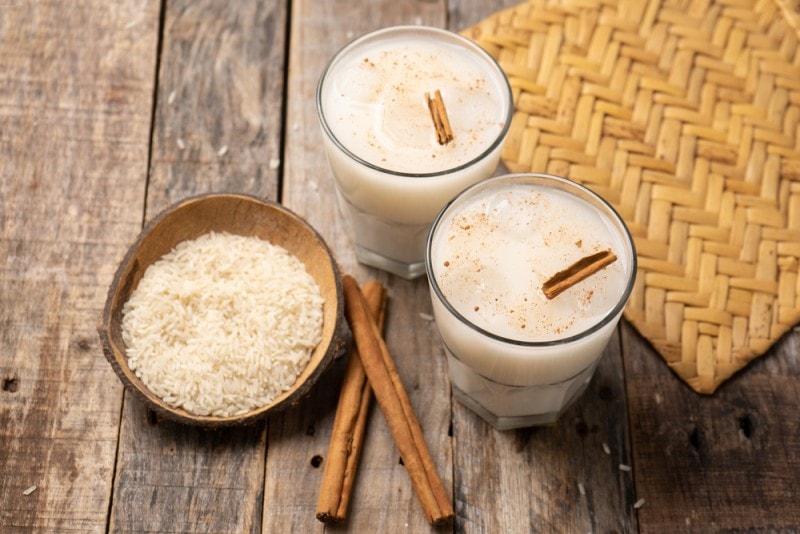 If you've never tried an horchata latte, you're in for a serious treat. This creamy drink hails from Spain, but these days it's a particularly popular Latin American drink. Whip up a big batch by soaking and blending rice and water. Then add a little espresso or strong coffee to make a milky, caffeinated drink.
Ready to get started? Horchata lattes are easy to make and deeply satisfying. This may just be your new favorite drink!

What is horchata?
Horchata dates back to 13th century Spain. It's a creamy, sweet drink made by soaking, grinding, and then sweetening a grain. In Spain, horchata is made with tiger nuts, but in the Americas, the base is usually white rice. You'll also find cinnamon spicing up a classic glass of Mexican horchata.
Today, we're turning horchata into horchata lattes. You can make a big batch of horchata ahead of time and store it in the refrigerator. Add a shot of espresso for an instant iced latte!
---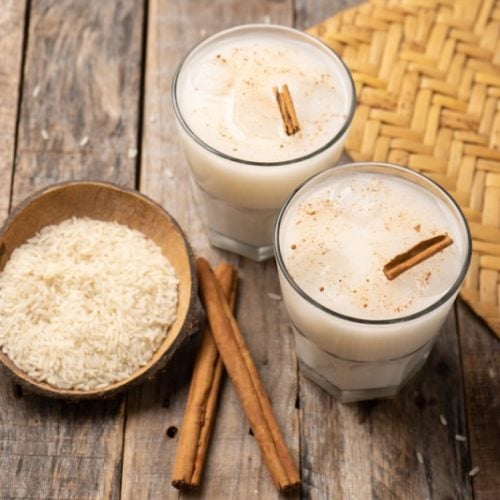 Creamy Horchata Latte
Horchata is a popular Mexican drink made with rice, milk, and cinnamon. It's often served straight, but you can turn it into an horchata latte with a delicious shot of espresso. Creamy, sweet, and a little spiced -- what's not to love?
Equipment
Large bowl

High-speed blender

Espresso maker

4 tall glasses
Ingredients
1

cup

white rice

long grain

2

cups

water

1.5

teaspoons

cinnamon

1

teaspoon

vanilla extract

3

cups

milk

¼

cup

sugar

to taste

4

shots

espresso

or 1 cup strong coffee

3

cups

ice cubes
Instructions
Combine the white rice and water in your large bowl. Let the rice soak for at least 4 hours, but preferably overnight, in the refrigerator.

Pour the rice and soaking water into your high-speed blender. Then add the cinnamon, vanilla, milk, and sugar. Blend for two to three minutes, until the texture is fairly smooth.

Pour your horchata through a fine-mesh strainer, paper coffee filter, or cheesecloth. This will strain out the solid rice pieces.

Fill four glasses with ice and pull your espresso shots. You can make strong coffee if you prefer.

Pour the horchata over the ice, splitting it between the four glasses. Add a shot of espresso to each glass and sample your drink. If it's not sweet enough, add a little more sugar and stir the mixture. Enjoy your creamy horchata latte!
Notes
If you don't want to enjoy four lattes at once, we'd recommend making the horchata ahead of time and keeping it in the refrigerator. Store your leftovers in an airtight container -- or try freezing them in an ice cube tray!
Nutrition

Homemade Horchata Lattes: Final Thoughts
There you have it: an unusual Mexican twist on a classic latte. The horchata latte, made with rice and cinnamon, is a fun, delicious drink that's surprisingly easy to make. You can use any kind of milk — almond is a good, nutty option — and sweeten as much as you like.
RELATED READS:
---
Featured image credit: Guajillo studio, Shutterstock