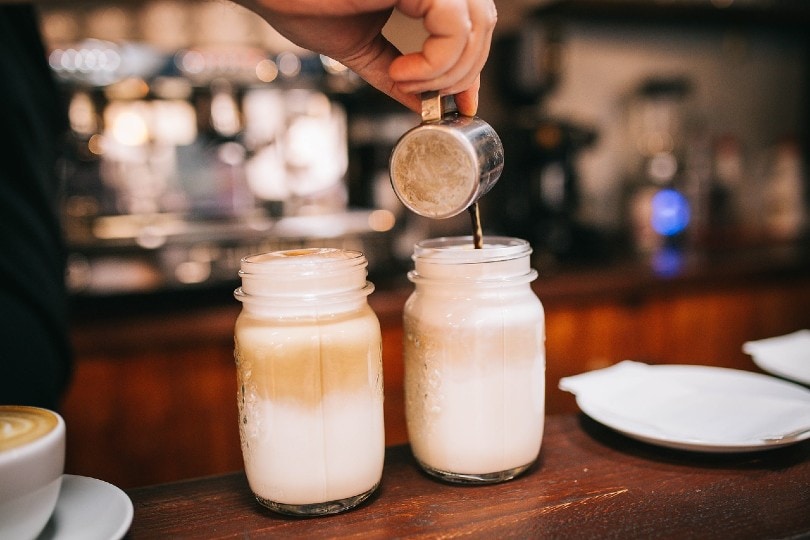 Since 1992, Dutch Bros has been serving up delicious coffee and now has over 300 locations across the West Coast and Central United States. Since they first opened their doors in 1992, they've developed a loyal, cult-like following.
The great thing about the Dutch Bros coffee franchise is that the customer service isn't straight-laced and boring; instead, it's wacky and fun. On top of that, the coffee they serve is absolutely delicious.
Whether you love a good old-fashioned cup of joe, or you are more adventurous and like your lattes and cappuccinos, Dutch Bros has a cup of coffee for you. However, those are just the drinks on their regular menu, the stuff they serve to everyone daily. There's also a hidden Dutch Bros secret menu that you can order from whenever the mood strikes you.
The employees at the different locations know how to make these secret drinks, so you won't feel foolish ordering something that isn't on the regular menu. If you've never heard of the Dutch Bros secret menu, then we'll list a few of their latest delicious concoctions, some hot and some cold, in this article. Once you reach the end, all you'll have to do is head to your nearest Dutch Bros and order the one that suits your fancy the most.

11 Delicious Dutch Bros. Secret Menu Drinks
1.

Cotton Candy Frost
Who doesn't love the taste of cotton candy? For most of us, it brings us back to childhood and chilly nights at the local fair with a cone of cotton candy in our hands as we joyfully ran from one attraction to another.
Whether you loved cotton candy as a child or not, if you have a sweet tooth, then the Cotton Candy Frost is the drink for you. This drink goes above and beyond by combining blue raspberry flavors with white chocolate to make the perfect shake.
---
2.

Dirty Caterpillar
For this yummy drink, think caramel apples at Halloween combined with the delicious smoothies of a scorching hot summer at the beach. What you'll end up with is a Dirty Caterpillar. This smoothie is a mix of green apple and caramel, with the result being a thick smoothie you'll love. Don't forget to ask the barista to squirt a little caramel over the top to heighten that caramel flavor.
---
3.

Snickerdoodle Breve
Who doesn't remember the smell of snickerdoodle cookies coming out of their grandmother's kitchen on a cold winter morning? If you do and loved it, then you have to try the Snickerdoodle Breve. It's a cappuccino made with half and half, instead of whole milk, and then blended with chocolate macadamia nut syrup, cinnamon syrup, and a white chocolate sauce. The result is a drink that you're going to order off the secret menu again and again.
---
4.

Golden Eagle Breve
If you're one of those coffee drinkers who like it a little bit simpler when it comes to your coffee, then the Golden Eagle Breve is the right choice for you. This is one of the most popular Dutch Bros drinks and is a vanilla and caramel flavored coffee. The drink is rich, decadent, and has caramel flowing off the sides. This is a Dutch Bros secret drink you're not going to want to miss.
---
5.

The Grasshopper Mocha
Remember the thin mints that the Girl Scouts sell? Well, that's what the Grasshopper Mocha reminds us of. It's a blend of mint and chocolate that many people will love and ask for again.
---
6.

White Coffee Smores Breve
Brown sugar cinnamon with white and dark chocolate are the stars of the White Coffee Smores Breve. Add in a bit of chocolate macadamia, and this coffee drink is one for the ages.
---
7.

Bob Marley (Bob)
As you've probably guessed, Bob Marley, also known as the Bob, is a Jamaican-inspired drink. The baristas achieve this delicious drink by mixing coconut with mocha to make a Cocomo. Once they make your drink have them blend in a little or even a lot of bananas, and you have the perfect smoothie to take to the beach with you on a hot day.
---
8.

Molten Lava Mocha
When we think of molten lava, the picture that comes to mind is those fabulous little cakes and the warm, oozing chocolate that comes out of them when they are cut. Who wouldn't love that? The Molten Lava Mocha is a sweet mix of cinnamon and mocha blended perfectly by a Dutch Bros barista.
---
9.

Killer Cold Brew
This concoction is one of the most popular at Dutch Bros and can be found on the regular menu; however, it's so popular that it's worth mentioning here. It's a drink worthy of a super-hot summer day and is made with Irish cream. Have the barista add an extra shot of Irish cream for a super yummy treat.
---
10.

French Toast Breve
This drink conjures up images of cozy mornings, sitting around the kitchen table with family while you eat French toast dripping with syrup and topped with whipped cream. The French Toast Breve is full of cinnamon, white chocolate, and brown sugar. What more could you want in a coffee drink?
---
11.

Toasted Mellow Mocha
Next on our list is the Toasted Mellow Mocha. Start your morning off in a great way with a drink that's brimming with maximum marshmallow sweetness, chocolate milk, chocolate macadamia nut syrup, and just a hint of vanilla. You'll be ready to take on the world after a sip of this delightful concoction.

Secret Dutch Bros Drinks
These are just 11 of the coffee drinks, hot and cold, you can order off the Dutch Bros secret menu. From Toasted Mellow Mocha to a Snickerdoodle Breve, Dutch Bros has the coffee you need to chill in the summer or stay cozy warm in the winter of the year.
Pick your favorite blend, then head over to the nearest Dutch Bros kiosk, and order your favorite today. If you don't have a favorite, then make sure to head over every day and ask for a different drink off the secret menu. The baristas will know precisely what you're talking about, and you'll be glad you made the trip.
SEE ALSO: 15 Best Dutch Bros Drinks to Order Today
---
Featured Image Credit: StockSnap, Pixabay