If you're a coffee fan on the West Coast, you're probably familiar with Dutch Bros, the popular drive-thru chain that hosts a variety of sweet hot, iced, and blended coffee drinks. While they don't offer too many strictly decaf options, you can substitute their regular roast for decaf in almost any coffee beverage. The only major exception would be drinks that are blended with premade mixes, such as the Freezes.
The good news is that their decaf version of the Freeze, which is known as a Frost, comes in even more flavor options than the caffeinated drink. Some flavors overlap between the Freeze and the Frost, but for the most part the Freezes feature more chocolate and nut-based flavors which pair better with the coffee, than the fruity flavors found in the coffee-free Frosts. Here's what you need to know about ordering decaf drinks at Dutch Bros, as well as other possible substitutions you can make to fit your health and dietary preferences.

How to Order Decaf Coffee at Dutch Bros
There's a subtle difference between caffeine-free and decaf. The smoothies, lemonades, Dutch sodas, Dutch cocoa, and Frosts at Dutch Bros are caffeine-free because none of the ingredients ever contained caffeine. However, the espresso shots that are 99.9% free of caffeine are technically decaf. Coffee is always caffeinated in its natural form, so "decaf" refers to the process used to remove the caffeine. You can't "decaf" something that's caffeine-free.
You might ask why this arbitrary distinction is important. The Dutch Bros Decaffeinated coffee that's used as a substitute for their caffeinated Private Reserve roast is 99% decaffeinated, which means it still contains a trivial amount of caffeine. However, the Frosts and smoothies don't contain any coffee (not even decaf), so they're caffeine-free. We mention this for people who are hyper-sensitive to caffeine. If you need to avoid caffeine entirely, a Frost or smoothie would be a better choice than a decaffeinated Golden Eagle, for instance.
If you simply don't want the jitters, you'll probably be fine ordering a decaffeinated coffee-based beverage. Just be sure to tell the barista up front that you want it decaf. You can make this substitution for any coffee beverage as long as it isn't made with a mix. For example, you can't order a decaf Freeze because caffeine is already included in the powder. The only exception is the cold brew, which unfortunately doesn't have a decaf option even though it's a coffee-based beverage.
Some examples of popular coffee drinks you can order with decaf espresso include:
Golden Eagle
Kicker
Cocomo
Caramelizer
Annihilator
Double Torture
ER-911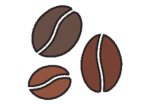 Top 4 Decaf Frosts You'll Love
There are so many Frost flavors to choose from—even more than the caffeinated Freezes. Here's a quick look at the four most popular choices with the nutritional information for a medium cup.
1. Strawberry
| | |
| --- | --- |
| Calories: | 670 |
| Sugar: | 118 grams |
If Dutch Bros had a strawberry milkshake, this would be it. The optional whipped cream on top makes it feel like a really special treat and reminds us of a piece of strawberry shortcake.
---
2. Cotton Candy
https://www.instagram.com/p/CTsjUJ3PRNt/
| | |
| --- | --- |
| Calories: | 730 |
| Sugar: | 127 grams |
We're intrigued by the blueberry and white chocolate twist. While it seems like an unlikely pairing, we can see how it would result in a sweet blue drink that tastes like a day at the carnival.
---
3. Ninja
| | |
| --- | --- |
| Calories: | 730 |
| Sugar: | 127 grams |
This white chocolate mint combination stealthily drops hints of the holidays, but you can enjoy the refreshing Ninja year-round. We think it would probably taste like the seasonal peppermint chocolate chip milkshake at Chick-fil-A, but without the grated candy canes and bits of chocolate. The Ninja is the perfect choice for you if you prefer a smooth texture over chunks of candy in your drink.
---
4. White Chocolate
| | |
| --- | --- |
| Calories: | 760 |
| Sugar: | 124 grams |
Blending white chocolate syrup with ice cream results in a smooth milkshake that's comparable to the White Chocolate Frap at Starbucks. This drink reminds us that simple can still be indulgently sweet.
---
Are There Any Other Drink Modifications?
If you've read the nutritional facts, one thing about Dutch Bros menu that might be glaringly obvious is the extremely high amount of sugar in almost every drink. While you can't modify mixed drinks such as Freezes and Frosts, you can order most coffee-based drinks with sugar-free syrup. Just be aware that sugar-free doesn't necessarily mean low-calorie. In fact, for Dutch Bros, sugar-free drinks may contain more calories! One barista spilled the beans and said they use twice the amount of flavoring for sugar-free drinks than drinks flavored with sugar, which means you're getting double calories.
If you're wanting to skip the dairy, Dutch Bros also offers almond, oat, and coconut milk for a little extra. However, keep in mind that their plant-based milks actually contain more sugar than half-n-half, so they might not be the best choice if low-sugar is a top priority for you.

In Conclusion
Dutch Bros offers literally thousands of coffee combinations if you count all of their flavorings and syrups. Frosts and Freezes have predetermined amounts of caffeine and sugar because they're made with a mix. However, the coffee and espresso-based drinks such as the Golden Eagle are more easily altered since they're made from scratch. You can order these beverages dairy-free, sugar-free, and decaffeinated if you want. Dutch Bros also offers a number of caffeine-free beverages such Dutch cocoa, Dutch soda, lemonade, smoothies, and the many flavors of Frosts.