Our Final Verdict
We give the De'Longhi ECP3420 a rating of 4.3 out of 5 stars.
De'Longhi ECP3420 – At a Glance:
As affordable manual domestic espresso machines go, the Delonghi ECP3420 is hard to beat. It does the job of a more expensive machine and the price tag is great for the punch this machine packs.
Read this if you are looking for a reliable, affordable, espresso machine for your kitchen! Delonghi ECP3420 is probably the best choice in this market section.
A Quick Look
Pros
Fairly lightweight and compact
Nice steel housing
Semiautomatic so you can control the shots
Advanced cappuccino system with Panarello steam wand
Fast boiler and self-priming pump
Cons
No built-in grinder
Poor quality tamper

Specs
DeLonghi ECP3420 Is a Semiautomatic
As I mentioned, the ECP3420 is a semiautomatic espresso machine. This means that you will want to pair this coffee machine with a separate grinder, ideally a burr grinder.
You should always use fresh ground beans for your coffee. Otherwise, there is no point in spending money on a good coffee machine.
Many people call this type of machine a manual espresso machine because it involves some manual operations. With this machine, you pull and stop the shot yourself. This isn't a bad thing for a lot of people and allows you to develop creativity with more hands-on brewing. It also gives you more control over the brewing process, and this is a good thing if you want to create perfect espresso shots.
The reality is this type of machine is semiautomatic. It has a pump, a pressure regulator, a water heating element, and a temperature regulator.
Price
The most important features of the ECP3420 are the price, which is probably the lowest possible for this type of espresso machine, the cappuccino system equipped with an advanced manual frother, and the pressurized portafilter that helps you get a beautiful espresso shot every time, even if you are not an experienced barista.
This is an extremely affordable machine, especially considering that the price was recently higher.
As a comparison, another popular, affordable machine from Delonghi is the EC155. The EC155 is the cheapest machine in this section of the market but the ECP3420 has several extra features that don't come with the EC155.
Dimensions and Materials
The ECP3420 is a good-looking, compact machine that does not take up much space in your kitchen.
This coffee maker measures roughly 9.5 by 7.2 by 11.9 inches. This is small enough that it can be tucked away out of sight when not in use.
It weighs around 11 pounds. This is a good weight. It is light and transportable but it has enough weight so that stays fairly well-grounded on your surface. This means that you won't accidentally move the whole machine when you are locking your portafilter into place.
The body is a combination of black plastic and stainless steel. The group head, the boiler, and the portafilter (plastic handle) are all made of steel. This creates a nice fashionable look for your kitchen.
Water tank
The removable water tank has a capacity of 37 ounces. This isn't bad at all considering the overall size of the machine. The standard cup size is between 5 and 8 ounces, so you will get plenty of cups of coffee before you have to refill.
As a side note here, all removable parts are easy to clean and are machine washable.
Boiler
Delonghi is very good at paying attention to the important aspects of a machine and making sure they are built properly. This is certainly the case with the ECP3420 boiler.
It is made from stainless steel – a good quality material. It is long-lasting and is a good heat conductor.
What is impressive about this boiler though is the fact that it is the biggest boiler in this machine class with 180ml capacity, (about 6oz). This means that you can pull two double shots without waiting in between the shots, and the machine is quicker to recover after steaming or brewing.
There is next to no wait time between pulling espresso shots. This is a great quality when you are in a rush in the mornings, and your daily needs are more than a doppio!
Features
Advanced Cappuccino System and Panarello Wand
One of the big selling points of this machine is Delonghi's patented advanced cappuccino system. This system has two functions:
Firstly, with the help of the design of the Delonghi Panarello wand, it helps to froth smooth, creamy foam without the need for barista technique.
Secondly, the system aids the boiler in reheating the machine quickly between drinks so there is less time waiting until you can steam another perfect latte.
The cappuccino system helps to make this coffee maker feel like a machine that is much more expensive than it is.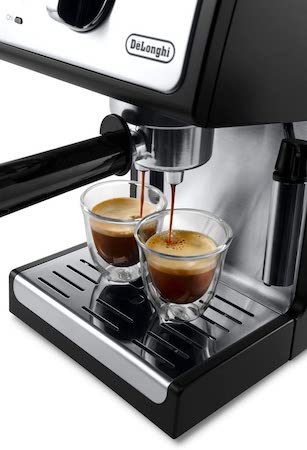 Self Priming Pump
The pump on the Delonghi ECP3420 is self-priming. This means that you don't have to prime the pump yourself and you won't have to deal with a loss of water and steam pressure.
This is assuming you are taking good care of your machine and treating it well. Always make sure there is water in your tank when you use the machine. Trying to run the machine on an empty tank is very bad for the machine.
Thankfully, the water tank has an indicator so it is easy to see when it needs filling.
3 in 1 Portafilter
The Delonghi ECP3420, like other Delonghi models in its class, comes with the 3 in 1 portafilter.
When you receive your machine it will come with a single espresso filter and a double espresso filter as well an ESE (Easy Serving Espresso) pod filter.  If you prefer the convenience of coffee pods compared to grinding your own coffee, the ECP3420 has got you covered!
The single and double filters are pressurized. This makes brewing easier so you don't have to be as accurate with the grind size and tamp. Generally, you don't need as much technique to get a good cup of coffee with pressurized baskets.
Finally, there is a handy storage area next to the water tank at the back of the machine for storing the filters you aren't using. This makes your espresso station tidy and organized. Apparently, people even lose the filter baskets, so this would also be a way to always know where the filter baskets are.
Adjustable Drip Tray
The drip tray has two different fittings for this machine to accommodate different cup sizes.
Moving the shots from espresso cups or shot glasses can be frustrating. More importantly, though, it will cool the espresso shots quicker. Being able to fit larger cups directly under the group head is very useful!
Tamper and Scoop
Finally, the Delonghi ECP3420 comes with Delonghi's multi-purpose tool. This is a tamper on one side and a coffee spoon measure on the other side.
This tool looks nice but you will probably want to purchase your own tamper. The tamper that the machines come with is not of good quality, but if budget is the main concern, you can still use it.

The Verdict
In conclusion, this machine is a great inexpensive pump espresso machine. You need a bit of training and you need to experiment with it, but using a semiautomatic is the right way to learn about espresso.
I am also a fan of this machine as a whole. I think it makes good coffee, is good quality, and is affordable. Let us know if you feel the same way!
See Also: