Our Final Verdict
We give the De'Longhi Dinamica a rating of 4.4 out of 5 stars:
Brew Quality
Convenience
Features
Price
Review Summary
The DeLonghi Dinamica is one of the best super-automatic espresso machines in its class, with a built-in grinder, milk frother, and coffee over ice function.
De'Longhi, in general, makes some of the best and most reliable espresso machines for domestic use, and Dinamica makes no exception from this rule. In fact, the Dinamica made it onto Oprah's list of favorite things, but more on this in a bit.
Let's dive deeper, and see what makes this machine special.

De'Longhi Dinamica ECAM35025SB Quick Review
Before going into the full details of the review, here is a summary for those who are on the market for a fully automatic espresso machine:
Pros
This machine is great for those who don't want to worry about the brewing process but still want great coffee.
The Dinamica is a bean to cup machine i.e. from bean to espresso all you have to do is push a button.
It is more affordable than some other super automatics in its class.
Makes consistent coffee, espresso, and milk-based beverages.
A great choice for people who love iced coffee, but more on that in a bit.
Great warranty for a fully automatic espresso machine: 3 Year Warranty – 2 years + 1 extra year when you register with Delonghi.
Semi-automatic milk frother equipped with Panarello wand.
Tubeless bean grinder with conical steel burrs has low grind retention for maximum freshness.
Easy maintenance, and reduced maintenance cost.
Cons
Won't steam milk for you
Pricey
Single boiler instead of twin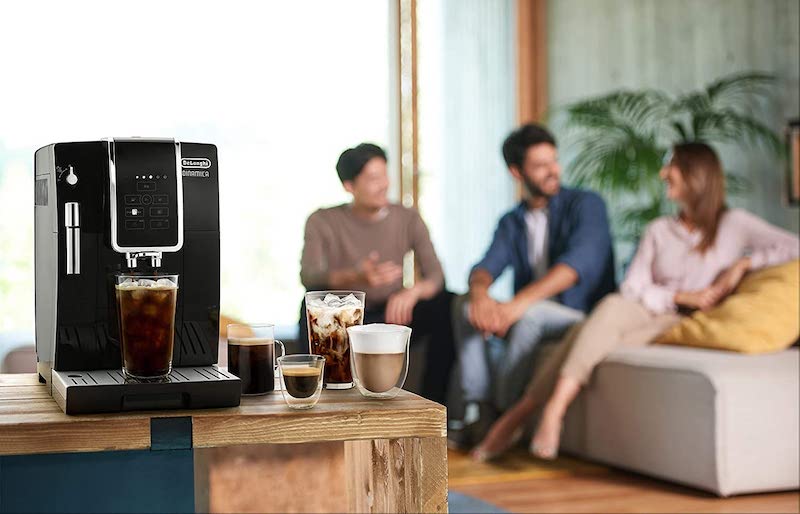 Full Review and Specs
General Notes
The Dinamica ECAM35025SB is a nice, compact machine that won't take up counter space. This is especially impressive for a super-automatic.
The S/B at the end of the name means it comes in Silver or Black.
Built-In Grinder
As this machine is a super-automatic espresso machine, it comes with a built-in grinder that grinds your beans directly before brewing, for extremely fresh coffee.
The grinder comes with 13 grind settings so you can find that optimum extraction sweet spot.
It has a 10.5-ounce capacity. This is equivalent to nearly 300 grams, which is more than a standard bag of coffee beans.
The Delonghi Dinamica grinder also has a bypass grind function. This means you can use pre-ground coffee if that is your preference. This is also great for decaf if you have one person in your family who doesn't react well to caffeine!
As grinders go this one is relatively quiet, which is a big plus.
We are dealing with a steel burr grinder. Burr grinders are best and steel is a great, long-lasting material.
One particular feature is the ground coffee management inside the machine. Dinamica grinds the perfect amount of coffee and leaves no grounds unused. No coffee grounds are left for the next shot, ensuring the freshest beans in your cup.
Panarello Steam Wand
The Delonghi ECAM 35025SB is an espresso maker not a automatic cappuccino maker. The machine won't steam the milk for you. But you can make your cappuccinos by steaming the milk yourself, which is a breeze with this machine.
Like most higher-end Delonghi espresso machines, the Dinamica comes with a Panarello steam wand. This makes it easier to steam good microfoam without technique.
The steamer also has two options – hot water and steam, which is useful for making tea, hot chocolate, or just diluting your coffee.
The steam wand comes apart for easy cleaning. The whole machine disassembles very easily and all of the parts are dishwasher safe. Anything that makes the cleaning process a bit easier is a major bonus in my book!
Boiler
This espresso maker comes with a single boiler system.
This is what has allowed Delonghi to make such a small machine, and also keep the cost down.
It is also one of the main reasons why they were able to keep costs down, as a twin boiler system is very expensive.
The single boiler isn't very noticeable. The Dinamica comes with rapid steam technology so it is quick to heat up. From off to brewing takes about 40 seconds.
Finally, the boiler is also made of steel so it is of good quality and long-lasting.
Water tank
The Dinamica ECAM35025SB comes with a 60-ounce water tank. That translates to 10 or 12 cups of coffee, which is more than enough in my opinion.
Another cool aspect of this machine is that it comes with a water filter. I think coffee brewing with filtered water is really important. I always say that good coffee starts with good water so I am a big fan of this addition. A cafe where I used to work had terrible water and, try as I might, I couldn't produce a cup of coffee I was really proud of.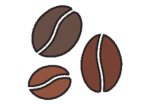 What We Liked about Delonghi Dinamica ECAM35025SB
The Delonghi Dinamica comes with an impressive display with a range of different features and brewing functions. Chief among these is the patented True Brew iced coffee brewing function.
True Brew Iced Coffee
The main feature that sets the Dinamica apart from other Delonghi machines and its competitors is the True Brew Iced Coffee function.
This espresso maker is designed to make iced coffee and is advertised by Delonghi as being the only machine of its kind to do this.
The way that iced coffee is brewed is the 'brew over ice' brewing method, which is the standard way of preparing iced coffee. This means that the barista or user fills a glass with ice first before the coffee is brewed.
The Dinamica is specifically designed to brew ice coffee with a unique recipe and brewing time appropriate for iced coffee. The brewing and extraction times are a bit longer. This accommodates the iced coffee taste perfectly.
The adjustable spout means that you can brew your iced coffee directly into your favorite glass – no need to decant.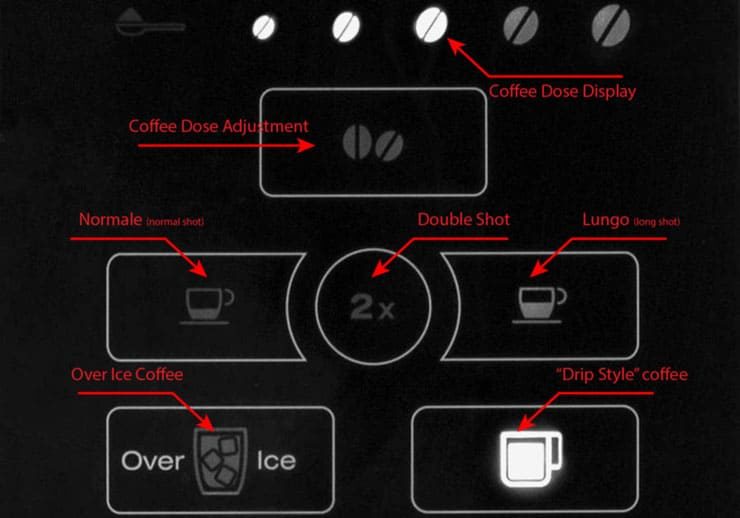 Other Coffee Styles
The Dinamica from Delonghi has 4 brew settings, including the True Brew function. These are espresso, lungo, drip-style, and over ice. Each of these is programable to your taste.
I am impressed with the drip-style brewing feature. This imitates your standard filter drip cup of coffee. This is perfect if you have guests who are no fuss, standard cup of joe type of people who don't generally go for espresso-based drinks.
I was caught in the past when I was entertaining and one of my guests wanted a standard cup of drip coffee and not an espresso-based drink. I had to make an individual pour-over coffee for him, which was a bit of a pain.
5 Coffee Strengths
For every brewing type, you can choose from five different brewing strengths, depending on how you like your coffee. Strength 1 is very mild for those who don't like a strong cup whereas strength 5 will put hairs on your chest!
Single or Double Shot
Both the espresso and lungo sizes have the option of a single or double shot that will give you double the quantity in your cup if you're in need of that extra caffeine fix.
Maintenance and Warning Display
The last great function that this display system has is the light panel. This coffee maker will tell you if you are running low on water or coffee, it will tell you if a part is not inserted properly, and it will tell you if your machine needs cleaning.
This really is very impressive and means that you don't have to keep track of all of these things yourself.
This machine is really easy to clean. The drip tray is dishwasher safe, and the brew head can be easily removed, when the machine is off, for a quick rinse in warm water.
Other Things to Note
This super-automatic espresso maker also comes with a coffee scoop for pre-ground coffee, a cleaning brush as well as a descaling solution.
Like most domestic espresso machines, the Delonghi Dinamica works best with beans that aren't too oily ie. a medium roast. If you are using a darker roast the grinder will need to be cleaned regularly.
Oprah could certainly afford a more expensive fully automatic espresso machine. One that could, for example, froth automatically milk for you with no human intervention at all. I don't know if her choice was economically driven, or just because she wanted a bit more control in the frothing process.
I can tell you that in my eyes, Dinamica is a great competitor of the more expensive machines such as the DeLonghi Eletta, or the Saeco Xelsis.

Other Great Options
If you are looking for cheaper alternatives, the De'Longhi Magnifica series is a workhorse, very reliable, but of course, has fewer features than Dinamica. At the end of the day, you have to find the perfect balance between convenience and budget. And the only person who can do that is you. Another similar option is the De'Longhi ECAM35020B, which is identical to ECAM35025SB, but it doesn't have the "Hot Milk" option on the frother.
See Also: