If you're late to the party and think cold brew is just plain iced coffee, that's okay—we'll fill you in.
Whereas most coffee is brewed hot, cold brew is brewed cold. While it might seem simple, there's more to it than that. The heat of the water used to brew regular coffee, such as drip coffee, is the energy that drives the extraction of the flavor from the ground coffee beans into the water. Cold brew doesn't have the same level of heat, obviously. Cold brew, using room temperature water, makes up for the lack of heat in the length of time steeped. It also has about twice as much caffeine as regular brewed coffee.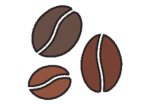 Is Almond Milk Good in Cold Brew?
If you're used to putting half and half in your hot coffee, you might not think twice about putting it in your cold brew. That's all fine and well. But you need to try almond milk. Almond milk has a natural sweetness that pairs perfectly with the sweetness and lower acidity of cold brew. We live in a time where many people are using dairy alternatives, either due to allergy or preference. But for as many great non-dairy recipes are out there, unfortunately, there is an equal number of terrible recipes. Check out our cold brew with almond milk recipe here. But first, how do we make cold brew at home?
---
Cold Brew with Almond Milk
Cold brew doesn't have to involve dairy! Follow this simple recipe to make a delicious cold brew with almond milk. You'll never go back!
Equipment
French press

Pitcher or glass container

Serving glass
Ingredients
12

tablespoons

ground coffee

30

ounces

water

1-2

ounces

unsweetened almond milk

1

cup

ice cubes
Instructions
Ensure that all of your equipment is clean. Your coffee is going to sojourn in this French press for about 12 to 14 hours. Treat it right.

Place 12 tbsp of coarse ground coffee in the bottom of the French press.

Add 30 ounces of room temperature or cold water into the French press.

Stir the grounds into the water gently for about 10 seconds.

Place the plunger on top of your French press. Press it down slightly to ensure that the buoyant grounds are submerged in the water.

Let sit for approximately 12 to 14 hours. Important: There are many sources out there who will say to refrigerate your cold brew. DO NOT REFRIGERATE WHILE BREWING. Doing so will give you suboptimal extraction resulting in a rather thin body with unintended flavors. It is perfectly safe to leave your cold brew on the counter overnight as long as it is covered.

After the 12 to 14 hours have elapsed, press the plunger down and immediately pour the coffee into a glass container or pitcher to be refrigerated. Don't store it in the French press where you have just brewed the coffee, or it will become muddy and grainy in a short time.

Pour 10 ounces of cold brew over ice. Add unsweetened almond milk and enjoy.
Notes
Perhaps the easiest way to make brewed coffee at home is using a French press, which you may already have. If you don't have one, don't worry, they aren't terribly expensive. When brewing cold brew, it's good to keep a ratio in mind. We use approximately one tablespoon of coarse ground coffee for every 2.5 to 3 ounces of water. This is roughly 12 tablespoons of ground coffee for one 33-ounce French press. Don't worry too much about exactitude. No need to get a scale and weigh your coffee, though you are certainly welcome to be extremely precise.
Image Credit: Ekaterina Kondratova, Shutterstock
Nutrition
Does Cold Brew Taste Bitter?
Far from bitter, some of the characteristics of cold brew coffee are a smoother flavor profile, less acidity, and chocolaty notes (Mmmm, chocolate). Once you've got it brewed, just pour it into your glass with some ice and enjoy. It's nice to have coffee prepared ahead of time, especially if you're on the go a lot.

What Kind of Almond Milk Is Best?
To really get the most out of your cold brew, we recommend carrageenan-free, unsweetened almond milk. Carrageenan is an extract from Irish Moss, which is a red seaweed. It is an agent added to non-dairy products in order to gel or give consistency. You will notice that carrageenan-free non-dairy products have a curdled appearance when added to coffee, or anything acidic for that matter. While not as aesthetically pleasing as pouring milk, carrageenan-free products are considered to be healthier. Carrageenan is linked to ulcers and tumors in animals, though it is not known if food grade has the same consequences. But in the interest of playing it safe, it's probably best to avoid it.
---
Featured Image Credit: Ekaterina Kondratova, Shutterstock