Our Final Verdict
We give the Barista Warrior French press a rating of 4.4 out of 5 stars.
Barista Warrior French Press – At a Glance:
Here at Coffee Affection, we've seen a lot of French presses. From simple plastic models to elegant glass presses, there are hundreds of products on the market. So whether you're the proud owner of a stash of French presses or just looking to dip a toe into this coffee brewing method, you need to know: is the Barista Warrior French press worth your time?
To find out, we tested the Barista Warrior French press alongside some of the company's other products, the gooseneck kettle and the reusable pour-over filter.
What were the results? In short, we very much enjoyed brewing with the Barista Warrior French press. It's solidly built, produces exceptionally clear, tasty coffee, and is easy to clean. And the built-in thermometer is a fun bonus feature that lets you have more control over your brew. Even better, you can save 10% sitewide with code COFFEEAFFECTION10! Keep reading as we dive into our detailed review…
A Quick Look
Pros
Minimalist, sturdy design
Built-in thermometer
Double-wall insulation keeps coffee warm while brewing
Reasonably easy to clean
Excellent tight-fitting filter
Tasty, silt-free coffee
Very well-priced
Cons
Not dishwasher-safe
Needs to be prewarmed
Don't get to watch coffee brew

Standout Features
The Barista Warrior French press has a few truly excellent design features that help it stand out from the crowded field. The durable-yet-stylish design means this press is equally at home on a camping trip or in a high-end kitchen. The built-in thermometer ensures that you serve your coffee at the ideal temperature. And the exceptionally snug-fitting filter attached to the plunger ensures that you can brew unusually clear, flavorful French press coffee free of the silt you'll find in lesser models.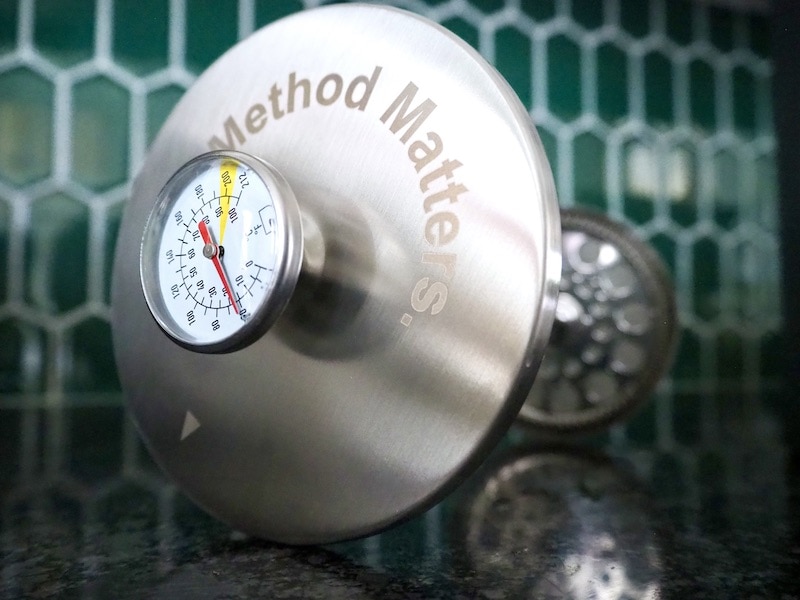 Overall Design
This French press has a sturdy overall design, with an opaque grey body (also available in silver), a thick handle, and a generous spout. It's a minimal design that could be displayed in almost any kitchen but would look equally at home on more rugged adventures. The interior is brushed stainless steel, and the steel lid and plunger fit snugly for better filtration. There are also two filters.
Though you don't get to watch your coffee brew, this French press' double-wall design allows for better insulation, preventing your coffee from cooling as it steeps. The caveat here is that you'll need to prewarm the press. Barista Warrior recommends filling the press with hot water (around 200 F) and then discarding it before adding coffee grounds.
Ease of Use
If you've ever used a French press before, you'll immediately understand this one. There aren't any tricks! Once you've prewarmed your press, add coarsely ground coffee and top with hot (not boiling) water. Give the grounds and water a stir, rest the plunger and lid on top, and wait 4 minutes.
At this point, Barista Warrior recommends removing the lid, spooning off any foam that has risen to the top, and then replacing the lid for another 5 minutes of steeping. This isn't strictly necessary, and we found that it cooled our coffee a bit more than we'd like. But either way, after about 9 minutes of brewing, our coffee was ready for plunging and pouring.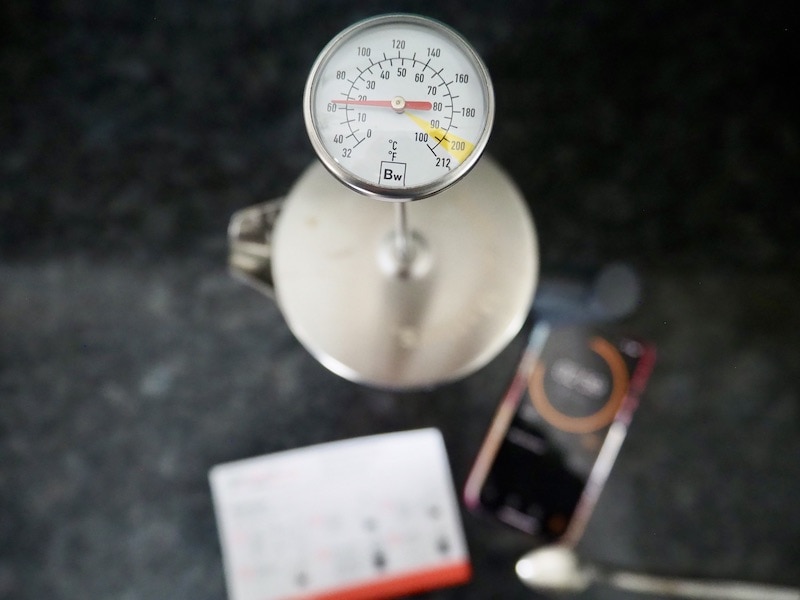 Coffee Quality
This is always the key part of any coffee maker review: was the coffee good? We were impressed at how clear this coffee was. It was much less silty than the coffee brewed by many of our other French presses. If you like clear, complex cups of coffee, we can't recommend this model enough.
Ease of Cleaning
Cleaning is never the highlight of a coffee brewing experience, but luckily, Barista Warrior makes this step as painless as possible. The brewer's smooth interior and exterior make a quick rinse easy and effective. As with any French press, cleaning the plunger and filter is a little trickier, but nothing a bottle brush or sponge can't handle. Unfortunately, this brewer isn't dishwasher safe.

Other Barista Warrior Products
We also got the chance to test out two other Barista Warrior products: the gooseneck kettle and the reusable filter. Here's what we thought:
Gooseneck Kettle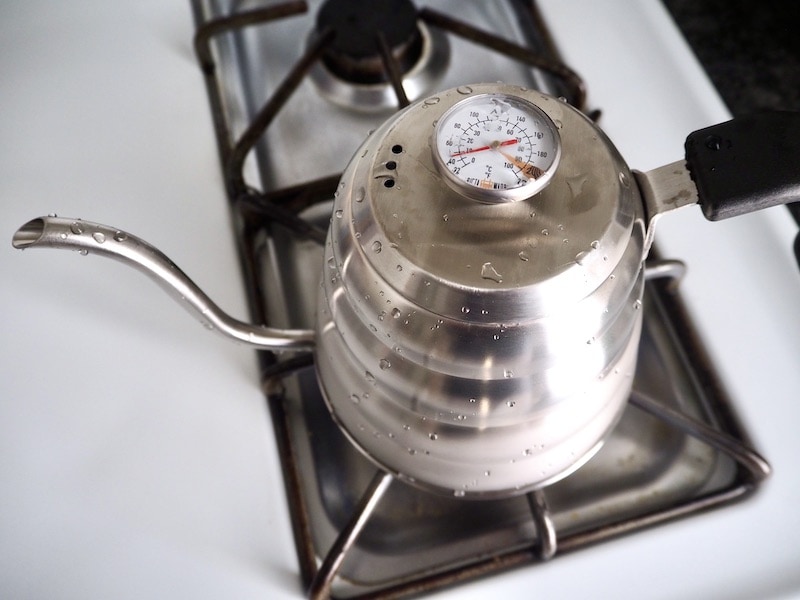 Though not strictly necessary for French press brewing, gooseneck kettles give you a lot more control over any manual brewing process. The Barista Warrior kettle has an elegant ripple design and long, thin spout. The built-in thermometer lets you bring your water to the perfect brewing temperature (Barista Warrior recommends staying between 195 and 205 F). And the stainless steel body means the kettle boils incredibly quickly.
The only thing we didn't like about this kettle was that the handle got a bit hot during the boiling process. It's made of plastic, so you don't need a potholder and it won't burn you. But it still got hotter than we'd like.
Reusable Pour-Over Filter
Barista Warrior also sells a reusable gold-tone filter suitable for Chemex and Hario V-60 pour-over brewing. We tested it in a Chemex. It was somewhat small in our 8-cup Chemex, meaning you probably won't be using it to brew full pots of coffee. But the design is effective and attractive, and most importantly, the coffee came out smooth, complex, and clear. That's impressive for a metal filter! We also liked the rubber lip and found the filter easy to insert, remove, and rinse clean. Plus, this filter is dishwasher-safe!

The Verdict
The bottom line is that we loved brewing with the Barista Warrior French press. It features thoughtful design elements like double-wall insulation, a built-in thermometer, and a sturdy, comfortable handle. The coffee brews clear and tasty, and the press is reasonably easy to clean. Whether you're a French press pro or newbie, there's a lot to love about this nicely designed, well-priced coffee maker.
And if you're on the market for a gooseneck kettle or a reusable pour-over filter, Barista Warrior's offerings warrant a closer look. The gooseneck kettle also features a built-in thermometer, brews quickly, and offers excellent water flow control. The gold-tone filter is a great option if you're tired of buying paper filters or want a more eco-friendly brewing method. Why not give them a try?
Don't forget: Save 10% on your Barista Warrior French press, kettle, or coffee filter with code COFFEEAFFECTION10!
SEE ALSO: