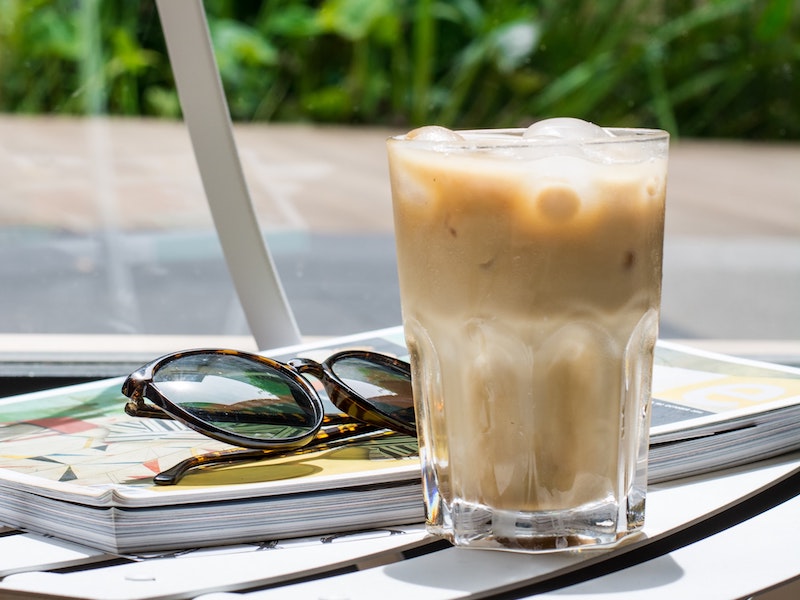 There's nothing better than a sip of cold coffee on a hot, humid day. Even with fall approaching, iced coffee will never fail to hit the spot, so why not make it at home with an iced coffee maker? If you're looking to save money by getting your iced coffee fix at home, this guide is a great place to begin.
We've sorted through the products out there and put together this list of the five best models. We've largely focused on iced coffee makers, but we've also included two options for brewing cold brew. We hope that these reviews will help to make your decision easier.
---
Comparison of Our Favorites in 2023
Image
Product
Details

Best Overall

Cuisinart DCC-3200

Programmable
Good for hot and iced coffee
Three strength settings

Cuisinart SS-10 Single-Serve

K-Cup compatible
Temperature control
Very easy to use

Best Value

Bodum Chambord French Press

Simple to use and clean
Great value
Comes in many sizes

Best For Cold Brew

OXO Good Grips

Simple design
Produces mellow, rich cold brew
Small footprint

Ovalware RJ3

Elegant design
Great for cold brew
Airtight for freshness
The 5 Best Iced Coffee Makers
1. Cuisinart DCC-3200 14-Cup Coffeemaker – Best Overall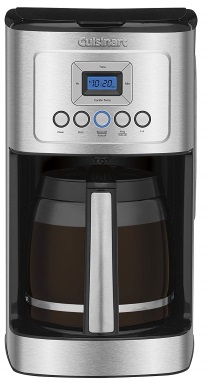 Our top pick is the no-nonsense DCC-3200 coffeemaker from Cuisinart. We love this because it just works well – and because it can easily create great hot coffee as well as iced coffee. It has most of the features you would expect: a large carafe, a hotplate, a gold-tone filter basket, strength options, and the ability to be programmed.
We recommend experimenting a bit with different amounts of grounds and different strength settings. Once you've discovered what suits you, make sure to take advantage of the programming. It's easy to fill the reservoir and get your grounds all set in the evening, and wake up to freshly brewed coffee in the morning.
This machine provides you with the ability to toggle the hotplate on or off. This means you can set it to brew coffee hours before you'll wake up, and then let the coffee cool so that it's ready to be iced when you want to drink it.
A great way to speed things up is to remove the carafe and place it on a metal trivet or cooling rack. This will allow heat to disperse from all sides of the hot coffee, and this will help to preserve a smoother and more natural flavor.
We think this is a great choice, especially for a family or office, which may go through multiple pots of iced coffee per day.
All in all, this is the best iced coffee maker we've come across this year. Enjoy!
Pros
Programmable
Three different strength settings
Cons
The cone filter works well, but some may prefer a basket-type filter
---
2. Cuisinart SS-10 Single-Serve Coffee Maker
As opposed to the previous Cuisinart model, which we think is a good choice for a family, the SS-10 is best suited for just an individual. However, thanks to its single-serving nature, what you'll miss out on in terms of volume, you'll more than make up for in customizability. With a handful of different brew settings, you'll be able to tinker around and brew each cup precisely the way you like.
It stands out from our first option in that it's designed to be used with K-cups. This makes it a great option for anyone loyal to the convenience of K-cups – but don't worry, you can still use this machine with the coffee you have on hand.
In addition to its K-cup compatibility, this machine also comes equipped with a reusable filter cup. This allows you to pack your grounds in for a single-serving brew.
We like this model mostly because it's quick, easy, and works really well. But we also love that it is able to modulate the brew temperature. This means you can experiment with brewing at a lower temperature. If you like what you taste, that's great – you're one step closer to a cup of deliciously chilled iced coffee.
Pros
K-Cup compatible
Temperature control
---
3. Bodum Chambord French Press Coffee Maker – Best Value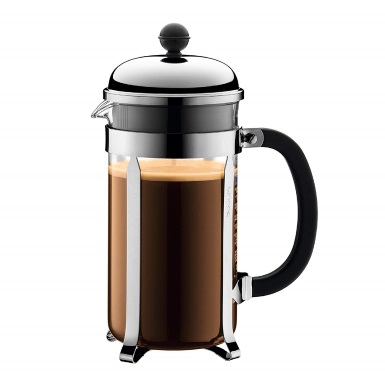 Next up is the Chambord French Press, made by Bodum. We love the simplicity of this option and we think it's worth throwing into our guide, especially because this is such a good pick for the money.
As opposed to traditional drip coffee, French press brewing allows grounds and water to sit for a prolonged amount of time. This is, in some ways, similar to the process of brewing cold brew – but you'll still be able to brew hot coffee in this French press and then chill it to create a proper iced coffee.
It comes in a handful of different sizes, ranging from 12 ounces up to 51 ounces. This makes it a good option for anyone looking to entertain a handful of guests. It's easy to clean, and that may make it a good choice for anyone who wants to just keep moving in the morning.
Brew your coffee, following your preferred French press procedure, and then either pour it into a pitcher to cool, or simply let it cool in the press. The second option allows some extra extraction, and this will add some more chocolate notes to your coffee.
Pros
Simple to use and clean
Very reasonably priced
---
4. OXO 'Good Grips' Coffee Maker – For Cold Brew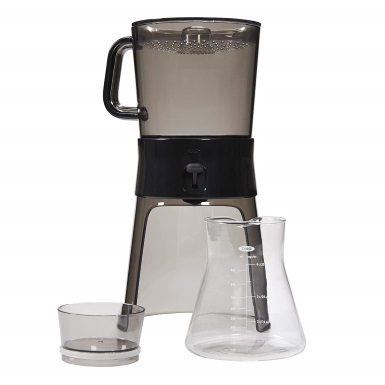 For those of you who want to make real cold brew, we took a look at the Good Grips from OXO. With its simple design, this machine does a great job of producing strong and chocolatey concentrate.
We love the look. There's something a little science-fiction-like about this machine, and that is all the more accentuated because it brews directly into a carafe that's stylized to mimic a lab beaker.
The OXO has an upper chamber that can be filled with grounds, ready to be steeped. It includes a "rainmaker" on top. This ensures that water is dispersed evenly over the grounds, and that extraction happens evenly.
Of course, like any cold brew process, the crucial element is time. We recommend letting the OXO steep for at least 12 hours, but even longer would be better. When you're ready to release your concentrate, just flick the switch and let your finished product run into the carafe.
Pros
Simple design
Unobtrusive; will fit well in any kitchen
Cons
No options to customize the brew
Relatively small capacity
---
5. Ovalware 1.0 Liter RJ3 Coffee Brewer
The RJ3 Airtight model from Ovalware is another great option for anyone who's looking to brew bona-fide cold brew. As a bonus, it also doubles as a tea infuser.
Rather than letting the finished concentrate run out of the grind, this model lets you pick the grounds up and leaves behind a carafe of ready-to-go concentrate. This is a very elegant-looking system, and many users love how simple the process is. However, we're not ranking this higher because of some potential issues with the brewing process.
The RJ3 doesn't allow the grounds to circulate evenly through the water. They're kept within the cylindrical filtering device, and this means some extraction is missed. You're encouraged to stir the grounds occasionally, but this can be difficult inside the filter.
Some users report frustration in removing the grounds. When you lift the filter, you'll need to move carefully and quickly so you don't drip cold brew over your kitchen floor on the way to the sink.
We do appreciate that the RJ3 is able to complete the entire brewing process in an airtight environment. This helps ensure that minimal oxidation occurs.
SEE ALSO: We loved the Ovalware RJ3 Cold Brew Coffee Maker! Read our full review here.
Cons
Can be messy
Potential for uneven extraction
---
Buyer's Guide: How to Find the Best Iced Coffee Maker
In this guide, we've largely focused on iced coffee, as opposed to cold brew. You may think of these drinks as interchangeable, but there is an important difference between these two options. Before you can choose which model to buy, you'll probably want to decide whether you prefer iced coffee or cold brew.
Iced Coffee Makers vs Cold Brew Coffee Makers
Traditional iced coffee is simply hot coffee that has been cooled. This is a more traditional method of creating a summertime drink, and the result is often a brighter and more lively taste.
As the name might suggest, cold brew is a preparation of coffee in which no heat is involved at all. To create cold brew, coarse grounds are left in water for a long time – usually 24 to 48 hours. The result is a highly concentrated, sweet concoction with very low acidity.
Because this process is so slow, certain notes can be extracted which may otherwise linger in the grounds or be drowned out by sharper, more astringent notes. This is why cold brew is recognized as having a smoother and more chocolate-like taste.
What are the major differences?
When deciding how best to get your iced coffee/cold brew fix, it's worth thinking carefully about the differences between these two methods of preparation. Maybe you know that you're just looking for a quick way to brew coffee to chill, but if you're on the fence, here are some important factors to consider.
Taste
This is one of the most obvious differences between cold brew and iced coffee. Of course, it should be readily apparent when you sip a cup of either. In general, cold brew is richer and has more of a chocolate taste. Iced coffee can taste a bit sharper and often retains fruitiness.
This is because the cold brew process relies on long slow extraction. The result is that cold brew can harness the flavor compounds nestled deepest in coffee grounds: the darker, more bitter notes. Many coffee drinkers love this, but the downside is that the cold brew method can push away the more delicate flavor notes: the brightness, and the fruitiness.
If you're looking to preserve these more delicate notes, iced coffee is the way to go. The more rapidly you can cool your coffee, the more lightness will be preserved.
Caffeine Contents
While many of us may wax and wane endlessly about the unique flavors of coffee, there's one fact that unites all coffee drinkers: we love our caffeine. If you're constantly aware of your caffeine intake, you should know about the differences between cold brew and iced coffee when it comes to this factor.
Cold-brew generally has much more caffeine than drip coffee. If you're looking for an especially big pick-me-up in the morning, it may be a good idea to stick with the cold brew method. If you'd rather avoid the caffeine shakes, stick with traditional iced coffee.
See also: Our cold brew coffee maker buyer's guide.

Conclusion
We hope this guide has helped clarify some of the options surrounding iced coffee. No matter which product you go with, you'll be well on your way to enjoying a nice cold drink in the comfort of your own home. So what are the best iced coffee makers available this year?
To reiterate, our top pick is the DCC-3200 from Cuisinart. Following that, our runner-up is the SS-10, also from Cuisinart. And if you're looking for a true cold brew solution, we recommend the OXO Good Grips.
WORTH READING: 
---
Featured image credit: Unsplash