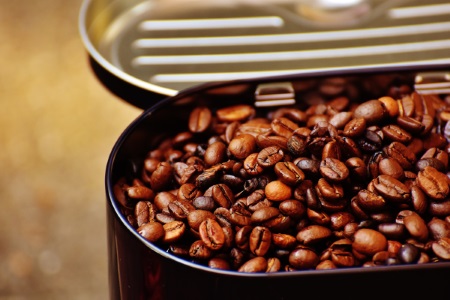 Most people buy coffee already roasted, but if you want the freshest, most flavorful beans, you may want to roast your own. Before roasting, coffee beans are green and grassy. The high temperatures used to roast the beans cause chemical changes to bring out the aroma and flavor that you love.
Finding a good coffee roaster can be daunting. We reviewed a wide variety of roasters and compiled a list of the eight best home coffee roasters available this year. In our detailed reviews, we'll cover the major features and pros and cons of each model. We believe you need to see the good and the bad to make the right choice.
---
A Quick Summary of the Winners (Updated in 2023)
Image
Product
Details

Best Overall

KALDI WIDE Home Roaster

Motorized
Roasts 300 grams
Includes body, thermometer, hopper, probe, rod, chaff holder, volt adapter

Best Value

FreshRoast SR500

Holds four ounces; yields about 3.5
Quiet and easy to use
Electric heating element

JIAWANSHUN Household Roaster

Automatic constant temperature controls
Adjustable temperature
Fast and easy to clean

KALDI Mini Home Roaster

Produces seven to eight ounces of coffee
Includes thermometer
Direct heat roasting

MIFXIN Roaster

Makes 26 ounces of coffee
Automatic constant temperature thermostat
Quick and easy to clean
The 8 Best Home Coffee Roasters
1. KALDI WIDE Home Coffee Roaster – Best Overall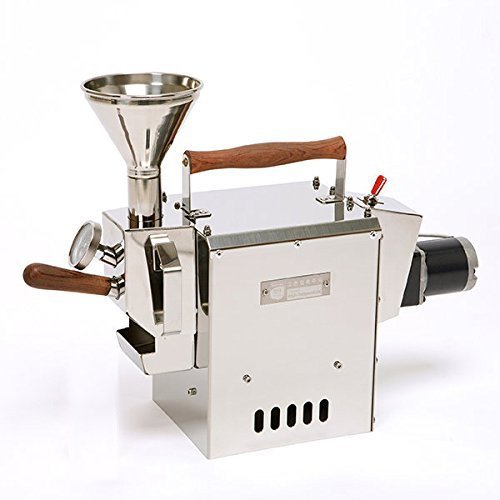 The Kaldi WIDE size (300g) Home Coffee Roaster has a motor to keep your beans rotating while they're being heated over an external gas burner. This roaster comes with all the tools you'll need. This includes the body of the roaster, along with a thermometer, hopper, probe, rod, chaff holder, and volt adapter.
The only real issue with this model is that the chaff stays with the beans, which affects the taste. The chaff causes a more bitter and less enjoyable taste.
All in all, we think this is the best home coffee roaster you can buy this year!
Pros
Motorized
Roasts 300 grams
Includes body, thermometer, hopper, probe, rod, chaff holder, volt adapter
Cons
Gas burner required
Chaff stays with beans
---
2. FreshRoast SR500 Coffee Roaster – Best Value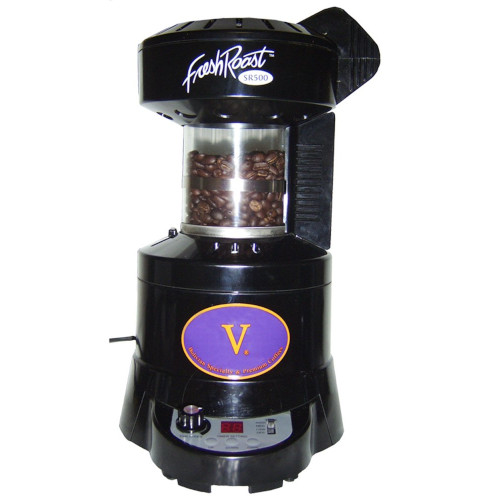 The FreshRoast SR500 Automatic Coffee Bean Roaster is the best roaster available for your money. It holds four ounces of green coffee beans and yields about 3 ½ ounces of roasted beans. The electric heating element makes it quiet and easy to use.
This roaster has a default timer that's set for six minutes and cannot be programmed for longer roasting times. You have to manually add time whenever you want to use it. This isn't hard to do, but it's very inconvenient, and it would be nicer if you could just program it for the time you want.
The biggest issue with this roaster is that the fan isn't strong enough to move the dense, green coffee beans around. You have to stir them manually, somehow, until the beans are dry enough to move freely. This unit does have a chaff collector on the top to separate the chaff from the good coffee beans. The problem is that if you want to stir the dense beans with a spoon, you have to remove the chaff collector to do it, allowing the chaff to fly around outside the collection unit.
Though it's nice to have the chaff removed from your beans, the collection container gets very hot during the roasting process. This bean roaster has a three-minute cooling cycle. Though the cooling cycle is for the beans, it doesn't even begin to give the chaff collector time to cool. It takes at least two cooling cycles for it to get cool enough to remove.
The cooling process itself is pretty slow. It doesn't cool the beans down fast enough to keep them from continuing to darken before they're cool.
Pros
Holds four ounces; yields about 3.5
Quiet and easy to use
Collects chaff
Electric heating element
Cooling cycle
Cons
Can't program roast
Fan not strong enough to rotate green coffee beans
Cooling cycle is slow
---
3. JIAWANSHUN Household Coffee Bean Roaster
The JIAWANSHUN Household Coffee Bean Roaster has easily adjustable temperature controls that automatically keep the roasting temperature constant. Though it's not a dealbreaker, it is worth noting that this roaster measures temperature in Celsius only. You'll need to figure out the correct settings if you're used to Fahrenheit measurements. It runs a little on the hot side, so be sure to watch closely until you find the temperature that's right for you.
Coffee beans tend to smoke as the oil pockets erupt, giving your beans their unique flavor. This unit doesn't have a fan of any sort, so make sure you use it in a place that has proper ventilation. Even with the oils produced during the roast, this model is very quick and easy to clean.
Pros
Automatic constant temperature controls
Adjustable temperature
Fast and easy to clean
Cons
Must be used in a well-ventilated room
Temperatures measured in Celsius only
Runs a little hot
---
4. KALDI Mini Home Coffee-Roaster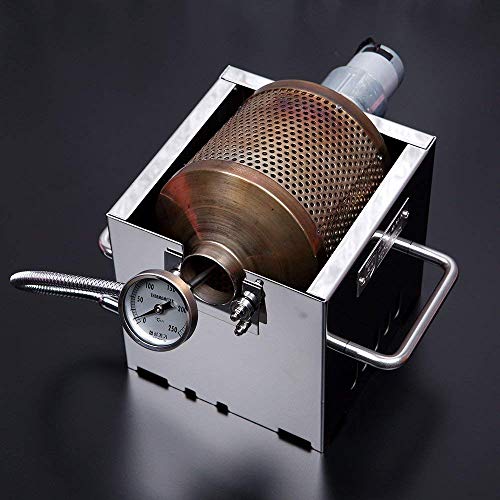 The KALDI Mini Size Home Coffee Roaster is perfect for those who want a small, portable bean roaster without all the thrills. It will produce seven to eight ounces of coffee beans that are roasted to your tastes. It uses the direct heat from an external gas burner to roast your coffee beans. Unfortunately, the gas burner doesn't come with the roaster. It does include a thermometer, though it doesn't give exact temperatures. It will provide you with an estimated level of the overall heat. You'll need to watch your beans closely to achieve the roast you love.
This unit can be purchased with only the body and thermometer. You also have the option to get a sampler and hopper thrown in for an extra few bucks.
Pros
Produces seven to eight ounces of coffee
Includes thermometer
Direct heat roasting
Sampler and hopper available
Portable
Cons
External gas burner required
Thermometer gives estimated heat level
---
5. MIFXIN Coffee Roaster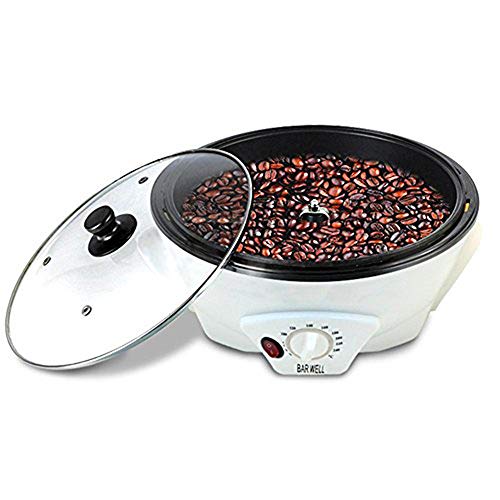 The MIFXIN Home Coffee Roaster Machine will roast about 26 ounces of coffee beans to perfection by using automatic temperature controls to keep the heat even. An arm rotates clockwise to keep the beans moving for even heating. One great thing about this product is that it can be used to roast things other than coffee beans. It works well with all kinds of nuts. It's also easy to clean.
We noticed that the instructions were written in very poor English and difficult to understand. It works well, but it has no timer to let you know when you are approaching the first or second crack stages. You have to watch the beans closely to see that they reach the stage you want, but don't roast too long. Use this bean roaster in a well-ventilated area, because it tends to smoke during the roasting process.
Pros
Makes 26 ounces of coffee
Automatic constant temperature thermostat
Can be used for more than coffee beans
Quick and easy to clean
Cons
Instructions are written in poor English
No timer
Must be used in a well-ventilated area
---
6. Nuvo Ceramic Handy Coffee Roaster – Budget Buy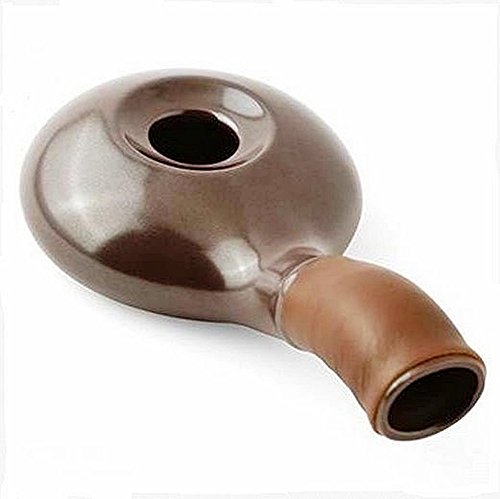 The Nuvo Eco Ceramic Handy Coffee Bean Roaster has a 100% ceramic roaster with a waffle-shaped interior to help the beans heat evenly. Since this roaster is ceramic, there's no way to see how your roast is progressing, but it does have a hole in the back that allows you to hear when your beans start bursting out the flavor.
The Nuvo roaster doesn't come with any instructions, so you have to figure out how to use it on your own. This bean roaster is about the size of your palm, so you can only roast minimal quantities at a time. It took quite a while to roast one batch of coffee beans, and the handle is short enough that your hand can get uncomfortably hot, even when wearing a good oven mitt.
Pros
100% eco ceramic roaster
Waffle-shaped interior
Rear hole to hear cracking
Cons
No instructions
Short handle
Can't view roasting progress
Takes a long time to roast
Roasts very small amounts at a time
---
7. Univegrow Handy Home Coffee Bean Roaster
The Univegrow Handy Coffee Bean Roaster Set comes complete with one roller, a handle, a rectangular bracket to hold the roaster, and an alcohol lamp. The alcohol for the lamp is not included and must be purchased separately.
The drum of the roaster is made out of mesh, so it's easy to observe the cooking color and the shape changes of the coffee beans at all stages of the roasting process. Check the mesh with your beans though, because, at times, the hole in the mesh can be too big and allow the beans to fall through and out of the drum. This set also roasts slowly.
Pros
Can observe cooking color and shape changes of beans
Includes roller, handle, bracket and alcohol lamp
Cons
Alcohol not included
Beans fall through the mesh
Takes a long time to roast
---
8. Behmor 5400 Drum Coffee Roasters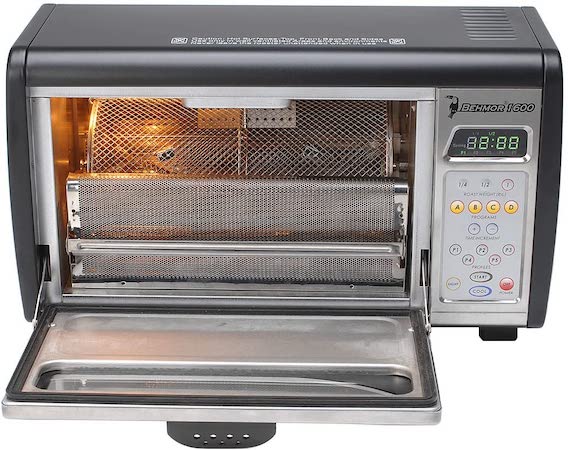 The Behmor 5400 Customizable Drum Coffee Roaster is controlled by a thermostat to give off even heat when roasting up to one pound of coffee beans per batch. About ¾ of the way through the roasting cycle, the roaster automatically switches into the cooling mode, unless you hit the "start" button to keep the heating element hot. This bean roaster doesn't get too hot. If you want to get a deeper roast than a light roast, pre-heat the roaster and observe it to hit the right button at the right time and keep your beans roasting longer.
This coffee bean roaster is easy to clean, but the display is hard to read, and it can be rather tricky to assemble. It's challenging to get the drum mounted to the inside of the roaster. Since you have pre-heated the roaster, there are hot metal parts that aren't protected and are easy to touch with your bare hand. Once you get the drum mounted, the chaff collector is put on. Be sure it's aligned perfectly, or you run the risk of your drum not turning. The display isn't readable in daylight, either.
As previously stated, this unit automatically switches to the cool down mode about ¾ of the way through the roasting cycle. Even though the roaster enters the cooling cycle, the heating elements don't always turn off automatically. That's just another reason you'll need to watch your beans closely the entire time they're being roasted.
Pros
Roasts up to one pound per batch
Thermostatically controlled
Cooling cycle
Easy to clean
Cons
Must be pre-heated to get any roasts higher than light roast
Hard to mount drum inside the roaster
No safety feature to protect your hand from hot metal parts when mounting drum
Chaff collector difficult to align correctly; can cause drum not to turn
Heating cycle doesn't always turn off when cool down cycle starts
Goes into cool down mode if you don't hit "start" button about ¾ of the way through the roast
The display isn't readable in daylight
---
Buying Guide: How to Choose the Best Home Coffee Roaster
Roasting your coffee is a fun and rewarding skill to learn, but there's so much to learn that it can be confusing. Here is a quick overview of the types of roasts and roasters, plus the critical features to look for when you are purchasing one.
What are the types of coffee roasts?
1. Light Roast:
Light roasts are sometimes called Cinnamon, Light City, or First Crack roasts. While being roasted, the internal temperature of the beans is between 350° and 400°. This heat doesn't allow the beans to reach the "first crack" stage where the pockets of oils inside crack open. The beans remain intact, are tan or light brown, and don't have any of the coffee's oils visible on them.
Lightly roasted coffee beans have the highest level of acidity of the four roasts. They have a strong scent and a sweet and tangy taste. The brighter taste comes from the flavors of the original coffee.
2. Medium Roast:
Medium roasts are known as American, Breakfast or City roasts. They're roasted between 400° and 430°. This higher heat allows some of the oil pockets inside the beans to split open and break through the outer shell. The longer roasting time changes the chemicals in the original beans by bringing the acidity down and creating the right balance between the acid level and the body of the coffee.
These roasts will have some of the unique flavors of the original beans, but they'll also have a deeper, sweeter taste that comes from the sweetness that's bursting inside the beans. They will have darker-colored beans and a richer look. You may also see some of the coffee's oils on the beans.
3. Dark Roast:
To achieve dark roast status, coffee beans are roasted at higher temperatures that typically cause the beans to hit the "second crack" heat level. This causes more of the flavor oil pockets to burst through the beans' shells. There are different levels of dark roasts that each take specific temperatures.
Full City Roast is roasted at 437°:
The Full City Roast has the same characteristics as a medium roast, but the bean is a slightly darker brown.
Vienna Roast is roasted at 446° :
Vienna Roast beans are dark brown and appear oily. The acidity is almost gone, and the beans are spicy with a bold and robust taste.
French Roast is roasted at 464° :
French Roast beans are dark, more towards black, in color and shiny from the oils. They also have a bold taste with no acidity.
Italian Roast is roasted at 473°:
Italian Roast has the darkest color of all coffee beans. It has a very distinct taste that's not matched by any other type of coffee.
The higher heat and longer roasting time pretty much obliterate the original characteristics of the bean. Longer roasting time was originally to help cover the low quality of the original coffee beans, but it was soon discovered that it brought out deeper, darker, and more pleasant flavors. Dark roasts work very well for flavored coffees such as chocolate, caramel, or nutty tastes.
4. Double Dark Roast:
Double Dark roasts cook the coffee beans until they start to smoke. This leaves the beans with a smoky, bitter taste.
We wrote more in-depth about the different type of roasts here.
---
What are the types of coffee roasters?
1. Air Roaster:
Air roasters have a plate that the beans sit on while being roasted. The plate has holes in it that allow compressed air to flow from underneath the plate. This compressed air lifts the beans from the plate to roast them evenly on all sides.
2. Drum Roaster:
Drum roasters have a big drum that the green coffee beans are put into. The drum rotates continuously while being heated with heating coils or fire flames. The constant movement roasts the beans evenly and effectively.
Drum roasters typically offer a more consistent roast. They are also faster and more economical, and often leave a brighter acidic flavor.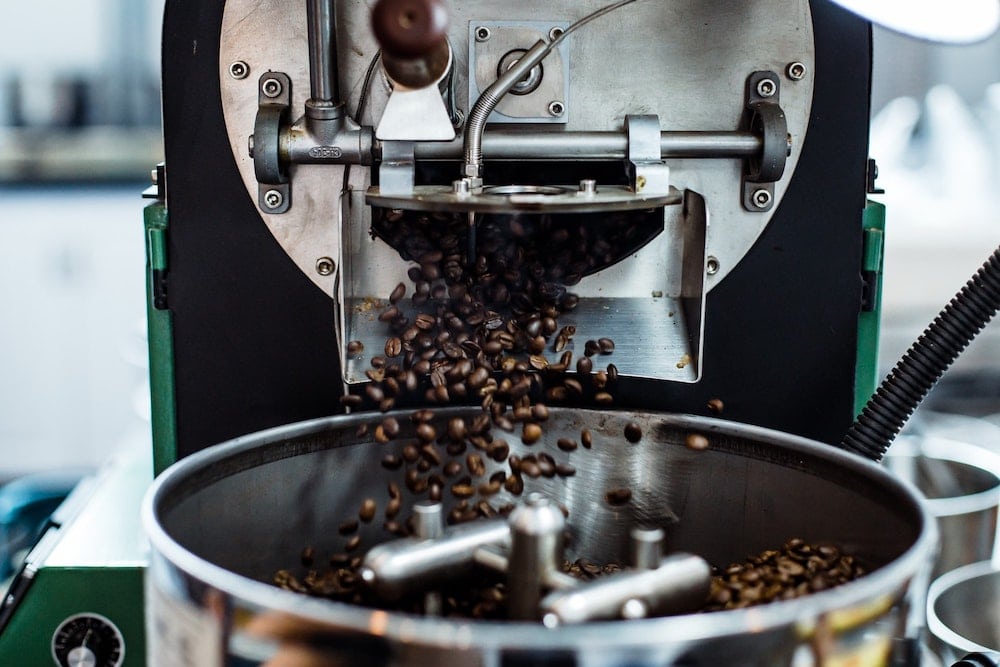 What are the most important features of a home coffee roaster?
Cooling
Your beans must cool quickly once they've reached your desired roast level. If they don't cool fast, they'll continue to roast in the heated roasting chamber. Make sure that any roaster you purchase has an effective cooling feature.
Bean Capacity
How often do you want to roast beans? If you're looking to only roast once or twice a week, you'll want a roaster that will hold ½ pound to one pound of coffee beans. If you would rather roast more frequently, a roaster with a smaller capacity will meet your needs.
Roasting your own coffee can be fun once you have mastered the technique for the type of blend you want. It can also save you money. Finding green coffee beans can be rather tricky, though, so most people buy theirs online. Some of the most popular places are:
RELATED READ: How do you make green coffee?

Conclusion
Now that we've explained the different types of roasts and the various coffee roasters that are available to roast your beans at home, let us remind you of our favorite choices. Our top pick is the KALDI WIDE size (300g) Home Coffee Roaster. If you're looking to save money, you may prefer the FreshRoast SR500 Automatic Coffee Bean Roaster.
We hope that our buyer's guide has helped you determine what kind and size of coffee roaster you need. Take a look at our comprehensive reviews and decide for yourself which will suit you!
Other posts we've written on roasting: