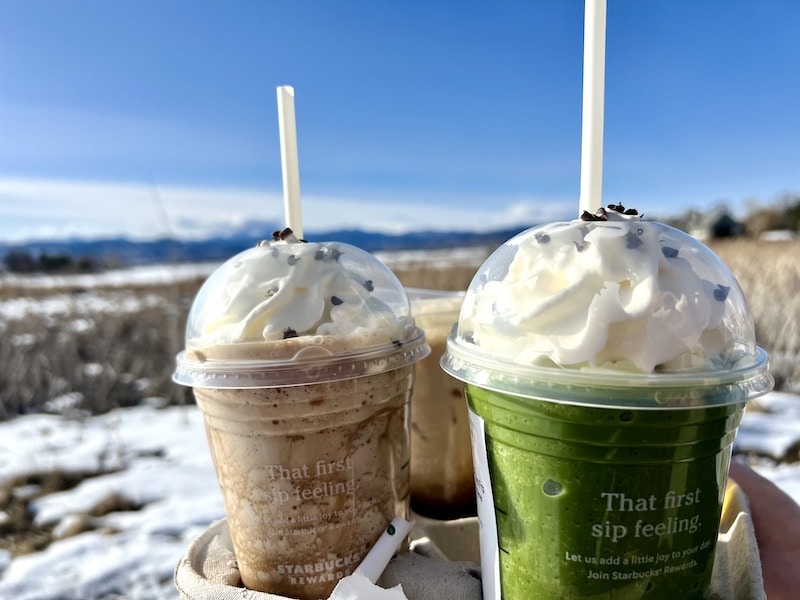 A frozen cappuccino that more closely resembles a dessert than a coffee, a Frappuccino is like a milkshake made with brewed coffee. There are so many flavors to choose from, and different ways to customize your drink to your tastes.  New recipes roll out every year, with some becoming recurring seasonal favorites, some limited time offerings landing a permanent place on the menu year-round, and a few that make their grand entrance only to never be seen again. Here are our favorite fifteen Frappuccinos that are currently offered, even if only during certain months.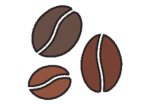 What's In a Starbucks Frappuccino?
Most coffee shops have their own version of a blended coffee beverage. The Frappuccino is Starbucks's signature blended coffee—although the ones in the crème group don't actually contain any coffee or caffeine. A standard Frappuccino is made with ice, milk, brewed coffee, and the namesake flavoring according to the recipe. Certain recipes contain more ingredients, such as the Mocha Cookie Crumble which has pieces of chocolate cookies sprinkled on top of the double layer of whipped cream. Additionally, you can add an espresso shot for an extra charge if you want your beverage to taste more like a standard coffee drink than a sweet dessert.
All Frappuccinos are made with milk and topped with whipped cream, unless you request a dairy-free option such as soy, almond, or oat milk. Although you can customize most any Starbucks drink to make it your own, unfortunately, sugar-free isn't an option for the Frappuccinos since they're crafted with pre-made powders and syrups.
It's a well-known fact that Frappuccinos are loaded with sugar. It isn't uncommon for these syrupy drinks to contain a surplus of 50 grams of sugar! If you're searching for a Frappuccino, we know you're hunting for something a little sweet. However, we've rated the drinks on our list according to the sweetness level in case you're wanting just a touch of sugar without the crash. According to our scale, a drink is considered low in sugar if it contains 20 grams or fewer, medium if it falls in the 20–50-gram range, and high if it tops 50 grams. None of the Frappuccinos are considered to be low sugar on the scale, and most fall towards the high category. However, we adopted this scale based on the Dietary Guideline recommendation of no more than 50 grams per day.
Here's a brief overview of each of the 15 best Frappuccinos at Starbucks, noting how they taste and who would like them.

The 15 Best Frappuccinos at Starbucks
1. Mocha Frappuccino
The Mocha Frappuccino is our favorite choice because it's like a chocolate milkshake blended with coffee. It's high in sugar, but not terribly rich. Creamy and smooth with merely mocha as the flavor, it's pretty basic compared to some of the other chocolatey drinks that chip in some extra ingredients such as chocolate cookies and bits of chocolate.
---
2. Caramel Frappuccino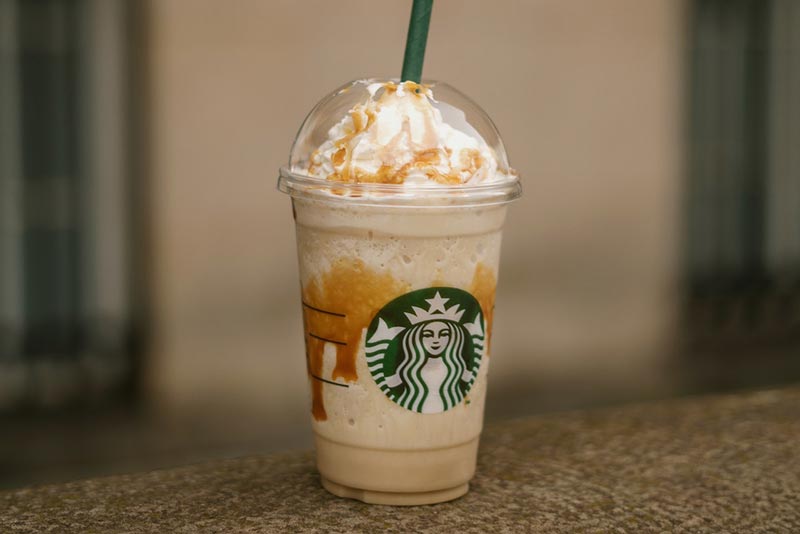 Classic and creamy, the Caramel Frappuccino fulfills our highest hopes for a sweet drink that never goes wrong. We think caramel and coffee are a perfect match, and we want the relationship to last forever.
---
3. White Chocolate Mocha Frappuccino
Everyone says the White Chocolate Frappuccino tastes sweeter than the Mocha Frap, and they're right. The White Chocolate Mocha Frappuccino is the sugariest drink on our list with a whopping 61 grams in a Grande sized cup. It's an extra indulgence that's sure to please but isn't built for an everyday treat. Still, it's a crowd-pleaser and one of the most well-known flavors on the menu, which earns its spot as #3.
---
4. Vanilla Bean Creme Frappuccino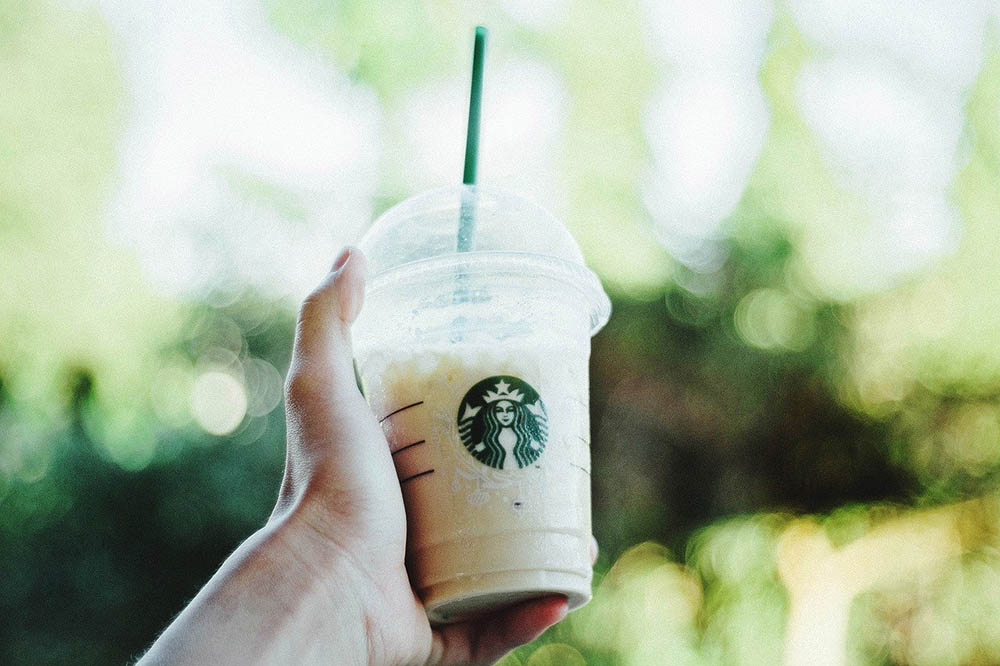 The Vanilla Bean Creme is a wildly popular Frappuccino. It's a perfect choice for customers who want a caffeine-free treat since it doesn't contain coffee. It's basically a crafted milkshake, which sounds pretty yummy to us.
---
5. Caramel Ribbon Crunch Frappuccino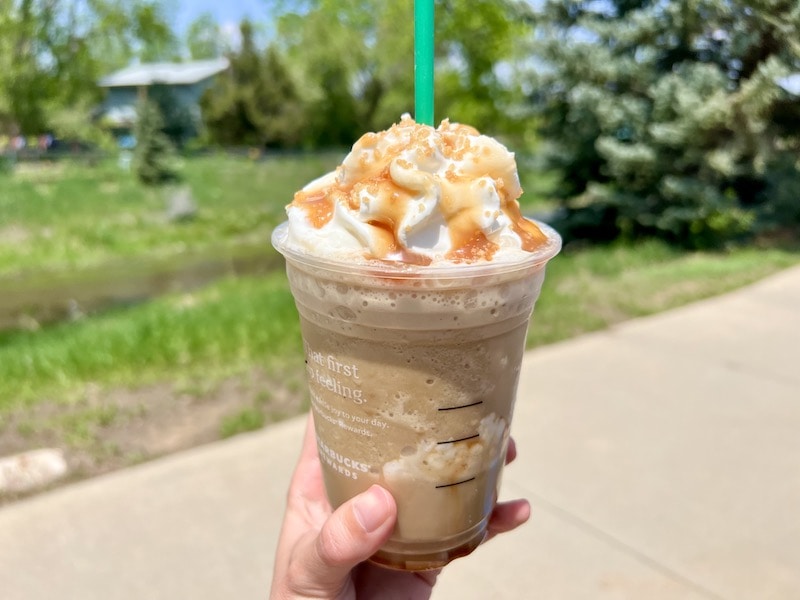 If the classic Caramel Frappuccino isn't sweet enough for you, try the triple-sweetened Caramel Ribbon Crunch. It's blended with one type of caramel sauce, and then topped with another layer of caramel that's drizzled over a tower of whipped cream sprinkled with caramel crunchy bits on the surface. It's a golden dessert that nearly ties with the White Chocolate Mocha for sweetness.
---
6. Mocha Cookie Crumble Frappuccino
This chocolatey treat starts by blending mocha sauce and chocolate chips with milk, ice, and brewed coffee. The fun keeps going with a layer of whipped cream and chocolate cookie crumble, and then finally finishes with another layer of whipped cream, mocha drizzle, and extra cookie crumble. It's one of the most decadent choices on the list, not for the faint of heart or stomach.
---
7. Matcha Creme Frappuccino
Life is a little easier being green with this sweet drink. With 70 grams of caffeine coming from the real Matcha tea, the Matcha Creme Frappuccino gives you just enough caffeine to make it through the last few hours of the day.
---
8. Peppermint Mocha Frappuccino
It truly is the most wonderful time of year once the Peppermint Mocha Frappuccino arrives on the menu. Available usually from the first week of November until the lights start coming down after New Year's, this Frappuccino is a perennial holiday favorite.
---
9. Pumpkin Spice Frappuccino
Since Starbucks was the birthplace of the signature PSL (pumpkin spice latte), it only makes sense that they would create a beverage that merges their two original masterpieces. The Pumpkin Spice Frappuccino captures the same flavor but gives it a milkshake texture that's perfect for the milder days in the beginning of fall before the sweaters come out.
---
10. Espresso Frappuccino
Most of the Frappuccinos are blended with brewed coffee, but this one has a shot of espresso thrown in the mix. While it's still considered a sweet drink, the Espresso Frappuccino isn't as sugary as the rest on the menu.
---
11. Coffee Frappuccino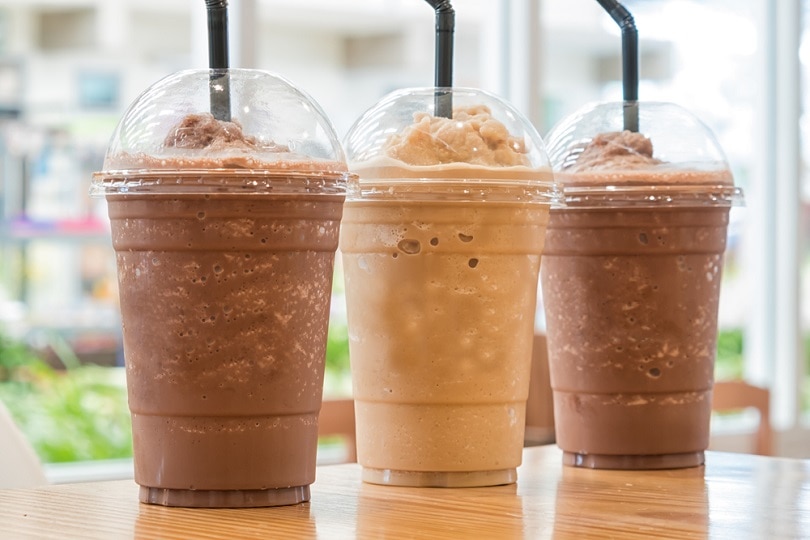 This classic Frappuccino is perfect if you want to savor the flavor of the coffee itself. Its satisfying sweetness still gives you a milkshake-type drink without other tastes muddling your cup of mud.
---
12. Chocolate Cookie Crumble Creme Frappuccino
 This Frappuccino is all about the cookies and crème without the coffee. Mocha syrup, milk, and chocolate chips are poured in between its double layers of whipped cream and cookie crumble. The Chocolate Cookie Crumble Creme is an indulgent treat that kids love, and adults crave.
---
13. White Chocolate Creme Frappuccino
The White Chocolate Creme Frappuccino is the coffee-free cousin of the White Chocolate Mocha Frappuccino that's #3 on our list. Forget dreaming about a white Christmas; this drink is so smooth and creamy that you'll be thinking of it year-round.
---
14. Chai Creme Frappuccino
Even though chai is hailed as a trademark of autumn, this drink is a permanent resident on Starbucks's menu that you can enjoy anytime. We think it has just the right combination of sugar and spice, with only a mild amount of caffeine since it contains tea instead of coffee. You can always ask to add a shot of espresso to create a frozen dirty chai.
---
15. Strawberry Creme Frappuccino
The Strawberry Creme Frappuccino debuted in Summer 2018, but it lingered on the menu as a permanent item long after the flowers wilted, and the leaves started to fall. This drink tastes like a strawberry shortcake roll, which to us is like blending happiness in a cup.

Conclusion
Anyone can make a cup of coffee, but Starbucks probably has the most original and definitely the most well-known blended coffee drinks. The Frappuccino is so popular that other coffee chains have tried to imitate them by coming up with their own version, but with arguably limited success. With so many flavors, there's bound to be a Frappuccino for everyone. You can customize them by substituting milk choices and adding extra flavors or espresso shots. However, we're hoping Starbucks releases some sugar-free Frappuccinos since most of the current blended drinks on the menu contain 40 grams of sugar or more. For now, we'll treat them as a rare (but oh so enjoyable) indulgence.