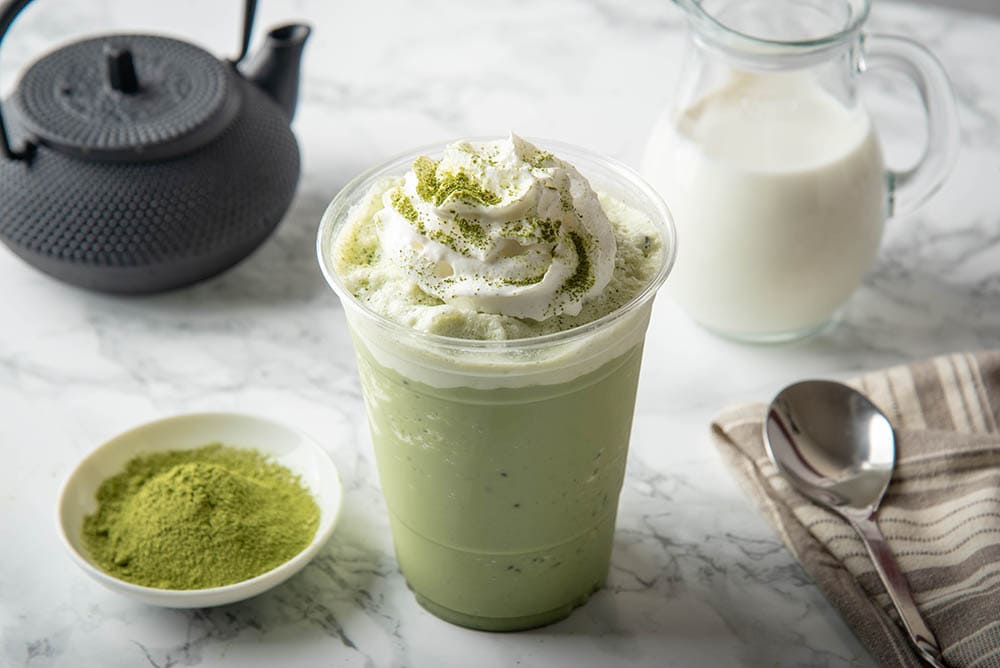 For those of us who love coffee, a Frappuccino is a rather easy sell. All you have to do is swing by Starbucks and feast your eyes on any number of delicious options from the menu. You can even substitute their frap roast with espresso for a more genuine Frappuccino. But what about those of us who might drink tea exclusively, or just want a break from coffee every once in a while?
Matcha green tea powder may be the answer. While most of us might not be able to commit to matcha as a way of life, with the traditional Japanese ceremony and all, we can at least throw a scoop or two in a smoothie or cup of steaming milk for a latte. And yes, it can be added to a Frappuccino, and we think it's delicious.
Even though Starbucks is known for its coffee, the Matcha Crème Frappuccino barely ekes into the top 10 most sold Starbucks Frappuccino drinks.
Matcha has incredible health benefits. Helps you feel more balanced, has tons of antioxidants, and doesn't give you that afternoon drag feeling that you get after having coffee in the mid to late morning. So why not add some of this matcha to your frappe? Check out our Matcha frappe recipe.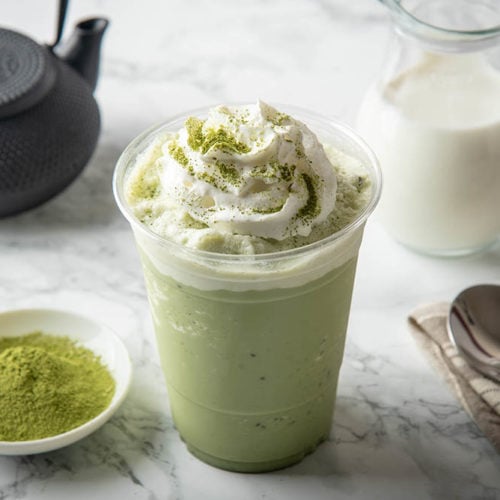 Matcha Frappe Recipe
Matcha is a delicious Japanese drink made with finely powdered green tea leaves. Turn it into a summer delight by making a matcha frappe!
Ingredients
1

tbsp

Matcha powder

4

oz

Whole milk

1

tbsp

Simple syrup

1

tbsp

Vanilla syrup

(You can also forgo the tbsp of simple syrup and use 2 tbsp. of vanilla)

12

oz

Ice cubes

approximately

¼

tsp

Xanthan Gum

Whipped Cream
Instructions
Dump the ice into the blender.

Add whole milk and syrup(s) into the blender. IMPORTANT: If you don't enjoy your frappe super sweet, start with less syrup. Add matcha. We recommend Ujido for a great culinary-grade Matcha green tea powder.

Add Xanthan Gum. This will help your frappe have a smoother consistency.

Blend until the ice is all but completely crushed into the Frappuccino.

Take the lid off and taste test. Is it not sweet enough? Add a little more syrup. You can adjust desired consistency too. If you like it a little thicker, add some more ice. Too thick? Throw another splash of milk in there.

Blend to finish crushing the ice.

Pour into your desired glass. Add a straw. Top with whip.
Nutrition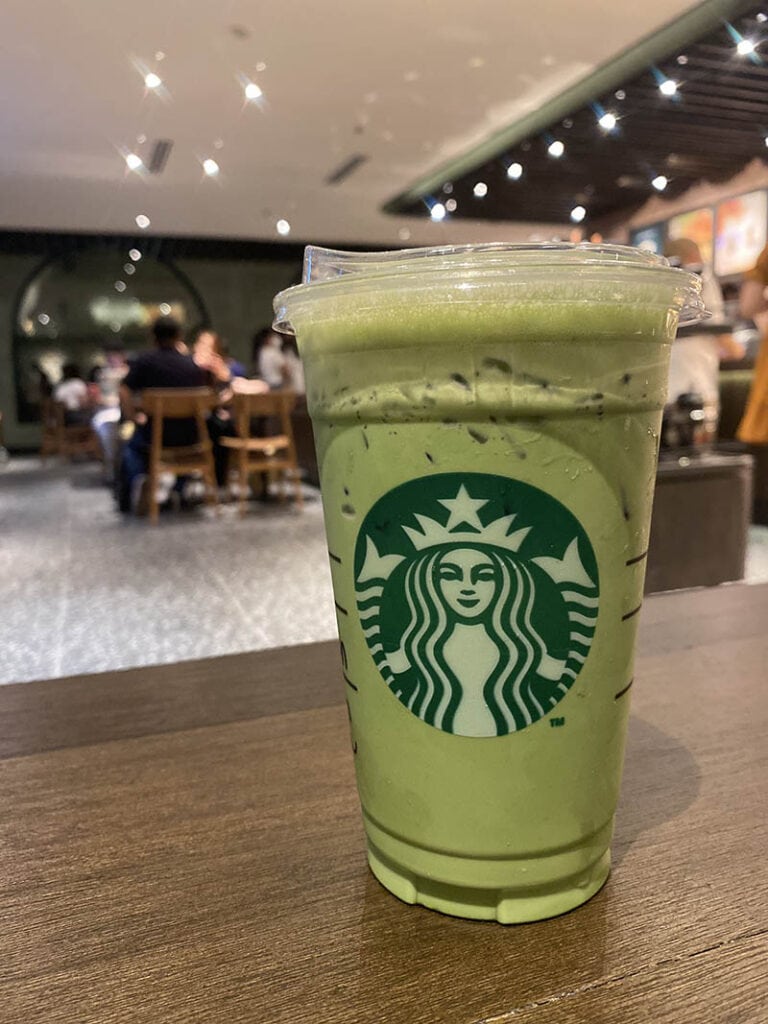 Tasty Matcha Frappe Variations
Ordering it your way can sometimes be difficult. Ordering a drink represents a commitment. Gasp! The beautiful thing about making this at home is that you can experiment at will. You don't have to be stuck with the Starbucks Matcha Frappe as they make it.
Oat milk is one of the best dairy substitutes out there that will not disappoint in the creamy department. Some might find coconut milk a bit watery but there is a flavor you get with it that cannot be replaced. Perfect for a light and fluffy beverage like a Matcha frappe.
Another possible addition would be to add sea salt to the top of your whipped cream. You could also add it into your Frappuccino to bring out different flavors in the matcha.

Conclusion
This is not a one size fits all type of drink. If you've heard of some of the health benefits of matcha but can't quite bring yourself to get used to the flavor, then trying it surrounded by sugar and cream might be a soft and delightful introduction!
Looking for more recipes?
---
Featured Image Credit: Atsushi Hirao, Shutterstock