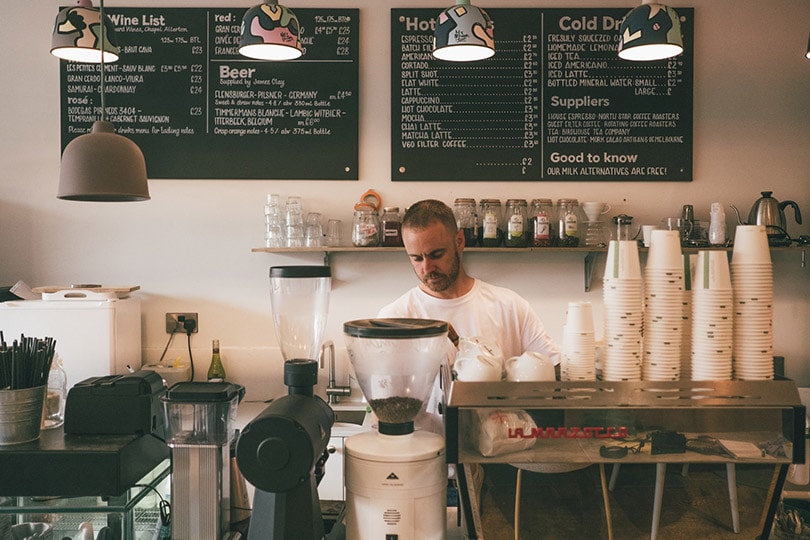 Knowing where the best coffee shops are is essential if you are a coffee lover. While you could visit the big chains that we know and love, like Dunkin' and Starbucks, almost anywhere in America, you'd be missing out on some great coffee, along with the special experience of visiting a small café. If you are thinking about visiting the city of Newark, New Jersey, keep reading as we cover the best coffee shops in the area so you can better plan your trip.


The 7 Best Coffee Shops in Newark
1. Black Swan Expresso
93 Halsey Street, Newark, NJ 07102
Black Swan Expresso is one of Newark's more popular coffee shops, and it has plenty of great reviews. Order your coffee the traditional way or try the new cold brew. It also has great-tasting lattes, espresso, tea, and many other beverages to quench your thirst. You can even purchase their coffee as whole beans to grind it at home for a fresher flavor.
---
2. T.M. Ward Coffee
944 Broad Street, Newark, NJ 07102
T.M. Ward Coffee is a coffee shop that wants to bring the world together with coffee. It has a huge selection of the finest coffees and teas, and you can also purchase sweets, nuts, honey, and even butter. It started more than 100 years ago and hasn't yet stopped roasting coffee. It has several different varieties to choose from, many of which are unique to this café.
---
3. Blueprint Café Lounge
369 Raymond Blvd, Newark, NJ 07105
The Blueprint Café Lounge is a popular café with plenty of positive reviews. You can subscribe to its website to receive discounts on menu items, including its high-quality coffee, and it has a full selection of great-tasting food. There are also many healthy options, like whole wheat pancakes, vegan sausage, and turkey bacon.
---
4. Sweetwaters Coffee and Tea
52 Halsey St., Newark, NJ, 07102
Sweetwaters Coffee and Tea is a great place to stop for coffee. It has a large menu of coffee drinks, including its signature coffees, Crème Caramel and Dragons Eye. You can get regular coffee or cold brew, and there's also espresso, cappuccino, and decaf. You can sign up on its website with your email to receive special deals.
---
5. Boss Blend Coffee
25 Halsey St. Newark, NJ 07102
Boss Blend is a relatively new coffee shop in Newark that has a mission to create an inclusive coffee lifestyle brand. You can get "Culture," its signature brand, in whole bean, so you can grind it fresh at home. You can also purchase a case of cold brew, which is four 16-ounce bottles.

Other Hot Spots
6. Soul Sweet Boutique
162-164 Van Buren Street, Newark, NJ 07105
If you are looking for fantastic pastries to have with your coffee, it's essential that you make a stop at Soul Sweet Boutique while you are in Newark. It has every sweet treat that you can imagine, including stuffed brownies, cheesecake in a jar, and tiramisu. You can even purchase gift cards here, so it's perfect for Valentine's Day.
---
7. Yaya Tea
250 Central Avenue, Newark, NJ 07103
If you have tried all the different coffee shops in Newark and are looking for something different, Yaya Tea is the perfect destination. It has a huge selection of fruit teas like The Hulk, a green apple and kiwi green tea, and the Better Life, which is a strawberry, lychee, and pineapple green tea. You can also get standard black tea, green tea, oolong tea, and much more.

Conclusion
There are quite a few coffee shops in Newark that are worth trying out. We highly recommend stopping at Black Swan Espresso for your coffee and then making another stop at Soul Sweet Boutique for dessert to go with it. But all the shops on this list have something fantastic to offer!
See Also: 10 Best Coffee Shops in Jersey City: Cafés You Have to Try!
---
Featured Image Credit: Dan Burton, Unsplash