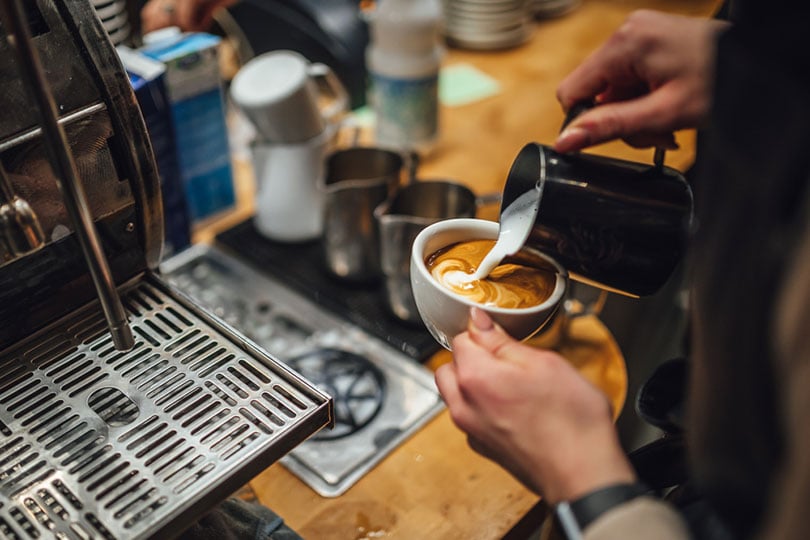 Coffee. Cup of joe. Liquid confidence. Energy bean water. Whatever you choose to call it, your morning, afternoon, or evening cup of coffee can make or break your day. When thinking of Gilbert, Arizona, your mind might drift to possible tourist attractions before coffee, but Gilbert is actually full of hidden coffee gems. Coffee lovers rejoice because these local coffee hot spots are bound to brew up some magic!


The 10 Best Coffee Shops in Gilbert, Arizona
1. Bergies Coffee Roast House
309 N Gilbert RD, Gilbert, AZ 85234
This local luxury specializes in custom roasting and blending coffee beans. Bergies Coffee Roast House has been run by the Bergies family for over a decade. They've perfected their custom roasted beans and carefully curated the unique flavors and aromas associated with their name. With delicious house-made coffee, cozy indoor seating, and an Instagram-able outdoor patio, Bergies is a must-visit.
Bergies offers a standard variety of coffee shop drinks, the ability to purchase their whole beans, and a bakery. From Americanos to lattes and Italian sodas, the menu caters to all tastes. They even have innovative herbal teas, house-made lemonades, and smoothies. Try the rose, clove, and vanilla cold brew, or pair a customized mocha with a cinnamon roll!
---
2. Grindtime Coffee

1430 W Warner Rd #148, Gilbert, AZ 85233
Grindtime Coffee put in the real-life grind and transformed from an East Valley food truck into a brick-and-mortar local hot spot. It prides itself on creating a welcoming atmosphere and providing the best quality cup of coffee. The quaint coffee shop is perfect for spending time with friends and family, hosting a business meeting, or just sitting on the couch with an amazing book! Grindtime also provides free Wi-Fi for its guests.
The Grindtime menu is as extensive and creative as its origin, and the shop even makes its flavored syrups in house! You can taste the difference in their coffees. Whether you order a basic drip, cold brew, or specialty coffee, you can choose from flavors like Dutch chocolate, vanilla, blood orange mocha, chocolate cherry, and even mango Tajin!
---
3. Coffee Rush
1555 N Gilbert Rd, Gilbert, AZ 85234
Coffee Rush is so popular it has three locations in-between Chandler and Gilbert, making sure they're accessible all over the Easy Valley! According to the locals, Coffee Rush is the place to enjoy coffee, live entertainment, and cozy conversations. Its special house blend of coffee, a dark, rich roast with hints of dark chocolate, is the heart of its menu.
The employees at Coffee Rush take pride in their high-quality ingredients, exquisite coffee, and extravagant coffee creations. Some of its standout stars include a massive 32-ounce caramel nut latte frost, chai mixes, and the Deadly Italian soda (a mixture of mango and passion fruit).
---
4. Higher Grounds Roastery & Café
2556 S Val Vista Dr #101, Gilbert, AZ 85295
A family-run, casual, and industrial-chic marvel, Higher Grounds offers house-roasted coffee, specialty pastries, and sandwiches. Ever since this local gem opened its doors, the place has been cherished by the neighborhood. The Cameron family works together to provide amazing fresh roasted coffee paired with delicious breakfast and lunch items.
The Higher Grounds Coffee menu is as long and extensive as its list of breakfast and lunch options. You can order everything, either iced or hot. Higher Grounds also offer a wide selection of frappes for lovers of blended drinks! Everything from their drip coffees, lattes, macchiatos, and mochas is customizable with over 35 flavors!
---
5. The Coffee Shop

3000 E Ray Rd, Gilbert, AZ 85296
This little beauty of a renovated maintenance garage is located in the beautiful, lush community of Agritopia in Gilbert. Even better, The Coffee Shop is located in the middle of a massive working farm! It serves delicious breakfast and lunch daily, decadent espresso, and supposedly the best cupcakes in Arizona.
The owner of The Coffee Shop recently won Food Network's "Cupcake Wars"—where she powered through the competition and dominated with a cupcake containing actual tobacco! It should come as no surprise that her shop produces exceptional baked goods and equally divine coffee. While visiting, make sure to sit out in the rose garden and enjoy your goodies (we recommend the Spanish latte—a decadent blend of sweetened condensed milk and espresso) on their shaded terrace.
---
6. Mythical Coffee
1090 South Gilbert Road, Suite 102 Gilbert, Arizona 85296
Having opened recently in 2019, Mythical Coffee has already carved out quite the name for itself. Mythical Coffee calls itself an experiment built around a desire to learn and improve through community involvement. It wants its creations to tell stories! Mythical Coffee's shop balances an ultra-modern and minimalist interior with skillfully placed shrubs and neon signage to complement the simple and beautiful coffee menu.
Settle into the red glow of their neon lights, sip a classic latte or mocha, or indulge in some of Mythical's exciting seasonal options. Delve into the innovative blueberry lavender latte, or tickle your tastebuds with the apricot and juniper latte. If you're feeling even more courageous, try the blood orange elderflower espresso tonic.
---
7. Sweetz Brew
835 N. Gilbert Rd #101 Gilbert Az 85234
Sweetz is Arizona's only cold brew-centric coffee shop. Starting as a small shop run out of a garage, Sweetz has blossomed from a true home-grown business into a community treasure. Sweetz started by selling coffee out of the kitchen, and then it transformed its garage into a fully certified kitchen for brewing cold brew.
After about a year, the Sweetz business had grown so much that it was able to open the doors of its own coffee shop location in town! This local gem is full of good vibes, passion, and signature at-home flavors for their liquid magic coffee.
You can pick your poison. With delicious options ranging from regular cold brew, nitro cold brew, blended drinks, French press coffee, smoothies, and house-made energy drinks, Sweetz has something for all tastes. You can even order a flight of drinks if you don't know what you're after! Find refuge from that stifling Arizona heat with the famous Sweetz cold brew.
---
8. Dulce Vida Coffee
610 N Alma School Rd Ste 12, Chandler, AZ 85224
Dulce Vida is the place to be for your vegan-friendly coffee options. This plant-based, coffee shop offers drinks with and without caffeine that are handcrafted and cater to everyone's individual tastes. Dulce Vida's mission is to provide vegan yet tasty choices while spreading love and positivity one eco-friendly cup at a time.
Using local coffee, non-dairy milk substitutes, and easily compostable containers of every possible type, Dulce Vida shows their love of community and the environment through fantastic coffee. It even make its own creamers and flavor syrups! Delight your tastebuds and try carefully crafted classics like Americanos and mochas or their adventurous turmeric and charcoal lattes!
---
9. Four Silos Coffee & Beer House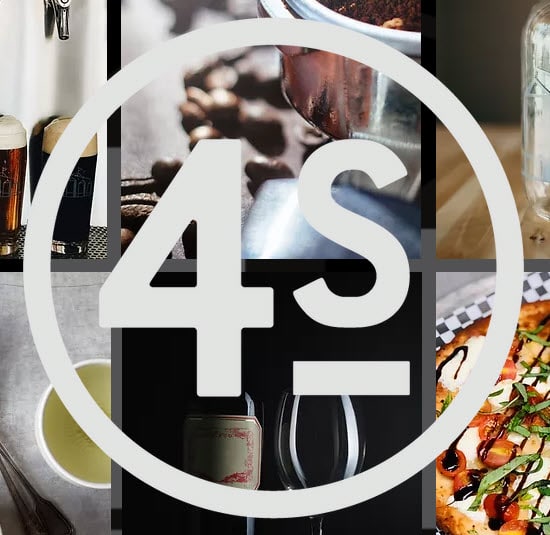 143 S Higley Rd, Gilbert, AZ 85296
Not only is this local gem a coffee shop, but it's also a fully functioning brewery. Four Silos has lots to offer, from piping hot espresso and lattes to cold brews (both the coffee type and the fresh pint of beer type). Four Silos is the place to have it all! It's run by a local family that lives in the neighborhood, they're motivated by the desire to create a true neighborhood gathering place and notable hang-out spot.
Stop by and sample its 45 flavors of cold brew and nitro cold brew coffee or special house drinks like the campfire mocha (featuring dairy whip, graham cracker, and marshmallow) and The Dude (with three shots of espresso, they call it the White Russian of the coffee world). If you stay long enough, you can hang out for happy hour and sample the incredible draft list!
---
10. TopCup Coffee
7115 S Val Vista Dr, Gilbert, AZ 85298
While this local legend began as a beloved pastime of enjoying a nice cup of coffee and sip of tea with friends, it's become TopCup's mission to create the perfect environment for a community hot spot and irresistible coffee house. TopCup wants its customers to imagine having a cozy heart-to-heart with their family, an energetic work meeting with colleagues or peers, an intimate gathering with a loved one, and even an ambitious or last-minute study session with friends all in one place!
Besides, all coffee lovers know that any of those moments are made even better by that sweet sip of coffee. Dip your tastebuds into their vast menu with fun creations like the Macanilla (macadamia nut, vanilla, and white chocolate mocha) or the Snickerdoodle (chocolate macadamia nut and brown sugar cinnamon latte).

Final Thoughts
Gilbert, Arizona, is many things: tourist destination, hay shipping capital of the world, and now coffee lover's hot spot. With choices ranging from specialized cold brews, lattes, and nitro-blasts to even having a wine bar and cocktails, Gilbert has a little something for everybody! Dive into the local favorites and make yourself at home with a delicious cup of coffee.
See Also: 9 Best Coffee Shops in Glendale, Arizona: Try One Today!
---
Featured Image Credit: Aleksandrs Muiznieks, Shutterstock