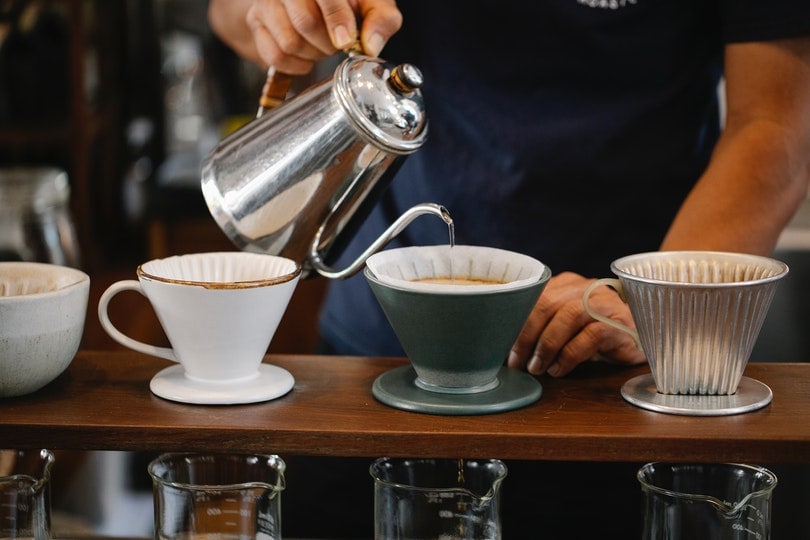 Coffee shops are places of refuge for a wide mix of individuals. Romantic couples, friends, solitary readers, artists – coffee shops have room and open arms for everyone
Finding an exceptional coffee shop can be difficult, especially when you live in an area packed full of cafés. . You will find coffee waiting for you around every corner in Glendale Arizona, so how will you ever be able to choose? Don't fear—we've scoured through Glendale and gathered the best of the best, so you don't have to.

The 9 Best Coffee Shops in Glendale
1. Daily Drip Coffee and Desserts
6027 W Bell Rd Suite B, Glendale, AZ, United States, Arizona
Whether you're seeking to satisfy your sweet tooth or coffee craving (let's be honest, it's probably both), Daily Drip Coffee and Desserts is the place for you. Dive into the brand-new gelato-filled croissants or taste test the lavender vanilla affogato. Why not try the smores crepe paired with your favorite latte?
This treasure trove of coffee and sweets has classic, dependable favorites like blueberry scones and sophisticated and adventurous creations like the tiramisu or marquise mouse cake. Daily Drip's coffee options are just as delicious and diverse as the dessert menu, and the seasonal menu is a gold mine of taste bud delights. Don't miss out on this one-of-a-kind Glendale wonder!
---
2. Cabin Coffee Café
6525 W. Happy Valley Rd, Glendale, AZ 85310
Whether you are craving a rich latte, freshly brewed tea, or blended coffee creation to beat the heat, Cabin Coffee is the place to be. It invites customers to get comfortable and lose themselves in the cozy cabin atmosphere. Cabin Coffee wants you to stay and play games, talk with friends, read a book, or hang out with the staff. It is the perfect place to get lost in delicious coffee and comfort!
Don't be scared to try something new because over 60 flavor mix-ins are available for you to customize your drink. Try your own creation just the way you like it, experiment with your favorite drink, or take a leap and create something entirely new.
---
3. Dapper & Stout Coffee Co.
6409 W Glendale Ave Glendale, Az 85301
Dapper and Stout is unapologetically grab-n-go. It has two tables outside of the Glendale location and no real interior beyond the coffee counter and shop itself. This is the perfect trendy joint that will leave you craving more,  and all the beverages feature a specially crafted Ensemble blend.
This special combination of four coffees is selected to create a smooth, rich flavor to match the exquisite experience of the shop itself. Dapper and Stout knows how to make a perfect latte, savory snack, or outstanding panini transform a good day into a great day.
---
4. Union Coffee Company
6750 W. Thunderbird Rd. Suite B109 Peoria, AZ 85381
Union Coffee was founded with one idea in mind: creating a space that brings people together through coffee. The environment is crafted around highlighting the true star of the show—handcrafted caffeinated creations. The all-white aesthetic and minimalistic design work together to emphasize the coffee and the companionship surrounding you.
There are no cutting corners at Union Coffee. They guide their coffee from the farm to the cup, ensuring that the beans are responsibly sourced and then roasted in-house. Union Coffee only uses coffee from companies that supply quality, organic beans.
---
5. Driftwood Coffee

8295 West Jefferson Street Peoria, Az 85345
Driftwood Coffee is a shining beacon of joy and determination that was built by the locals in their drive to contribute to their neighborhood. Just as the company started from friendship, it supports the community through coffee, burritos, and tea. It might seem like a strange combination, but the idea is to build a place where people can drink and dine in a location that makes Arizona proud.
We highly recommend stepping inside the indie-art laden, vinyl record hoarding, good-vibe building coffee house. Try the speed bar, espresso bar, slow bar, or even the extra food options! There is something for everyone at this Glendale jewel. The menu changes and evolves from day to day, so make sure to stop by and try the newest creations!
---
6. A Shot of Java
4961 W Bell Rd Suite B2 Glendale, AZ 85308
A Shot of Java recently moved locations to the yellow brick road of the valley, Bell Road. What started small has transformed into an Arizona staple while attracting critical acclaim from notable publications like the Phoenix New Times and Valley ABC. This colorful, intimate café now resides in its own cozy quarters and continues to bubble with its one-of-a-kind charm.
A Shot of Java uses only the best locally roasted beans to brew fresh cups of coffee straight into your cup. It brews every single cup of coffee using the pour-over method, leaving each cup at the perfect temperature with the best possible flavor profile!
---
7. Aloha Tea and Coffee
6766 W Glendale AVE Ste 140 Glendale, AZ 85303
Say hello to some of the best handmade boba and carefully crafted coffee the valley has to offer. It sometimes even offers coffee boba for the best of both worlds! Aloha Tea and Coffee is a creative, Hawaiian-themed café that features outstanding coffee and an even more exceptional selection of boba teas.
From cheese foam Vietnamese coffee to Brown Sugar milk tea and Japanese Uji Matcha lattes, the Aloha menu is as varied and unique as the shop itself. All of your possible caffeine curiosities can be satisfied under this one roof! Dive into the creative tropical flavors and tickle your tastebuds with fun drink additives like the egg pudding, coffee jelly, and coconut noodles.
---
8. Desert Eagle Coffee
5000 West Bell Road, Glendale, Arizona 85308
Desert Eagle offers a wide variety of hot, iced, and blended drinks to enjoy on the spacious patio. Desert Eagle reliably satisfies Glendale's coffee cravings 24 hours a day, and the passionate team at Desert Eagle is endlessly dedicated to the coffee craft. They responsibly source their own coffee beans, buy fresh coffee every month, and roast the beans in-house to provide only the best for their loyal customers.
It is no wonder why Desert Eagle has become a household name and Arizona staple. Whether you are craving a Screaming Eagle (a special blend of caramel and white mocha with extra espresso shots) or the Grand Canyon (mocha, caramel, and peanut butter), Desert Eagle Coffee has much for you to choose from.
---
9. Black and White Café
6030 W Behrend Dr #131, Glendale, AZ 85308
If you're looking for quality coffee, Black and White Café is definitely a place to check out. It's well known for roasting its coffee beans in-house to craft your favorite drinks. Try out the vanilla latte, a local favorite. Black and White even has caramel macchiatos and handmade croissant donuts.
The Black and White Café always lives up to its high standard of coffee and warm welcomes for its guests. You might come in for the coffee, but you'll stay for the customer service and overall experience at this stylish, luxury coffee house.

Try Them All!
Glendale has so many places to choose from when it comes to getting the next hit on your caffeine addiction. Whether you're looking for a new favorite place to hang out or the next-best place to enjoy a cup of coffee, Glendale has so much to offer you might as well try every single one!
Dive headfirst into this intoxicating mix of desserts, coffee, and boba. When you can't choose one, try them all!
---
Featured Image Credit: Michael Burrows, Pexels