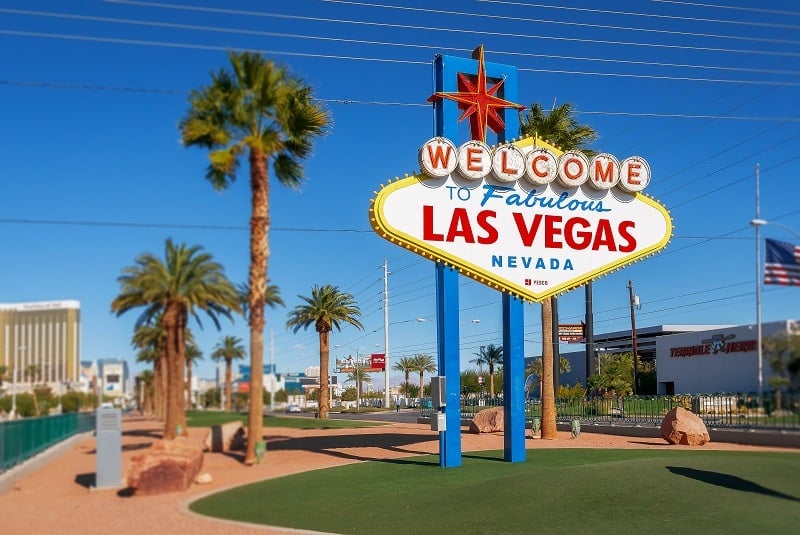 We're going to go out on a limb and guess that if you live in Las Vegas or are looking to visit, you probably won't have any trouble finding things to do. From the casinos, shows, and world-famous nightlife to the nearby Grand Canyon and Hoover dam, we can't imagine that anyone could run out of places to go and things to see.
If you're busy checking out the Las Vegas strip, you might need a little caffeine to keep you going. Lucky for you, Las Vegas is home to tons of wonderful coffee shops and specialty coffee roasters. If you need a break from the casino or have some time between shows, here are ten great coffee shops and roasters you should visit. Let's dive into the best coffee in Las Vegas:

The 10 Best Coffee Shops in Las Vegas:
1. Vesta Coffee Roasters
Vesta coffee roasters live up to the name "specialty coffee." Their care and commitment to coffee are evident the minute you step inside. The small shop is clean and welcoming and gives a good impression before you even take a sip. The coffee is some of the best we've ever had, and we bought several bags to have at home.
We love pour-over coffee, and the pour-over at Vesta is top-notch. There is plenty of seating and parking, and the inside is bright and cheery. If you have a chance, definitely head over to 1114 S. Casino Center Blvd. #1and pay them a visit.
---
2. PublicUs
PublicUs is one part coffeehouse, one part restaurant, and 100% high-quality deliciousness. They have an extensive menu of food and drink appropriate for any time of day or night. A particular standout is the flash brewed coffee which is smooth and flavorful. PublicUs is a great place to grab breakfast before heading out and exploring.
This is a strange nitpick, but their website is nearly unusable from a non-mobile device. This doesn't affect the coffee experience at all but is noteworthy enough that we feel it is worth mentioning. If you visit their website, don't let it dissuade you from checking them out, though. It is no reflection on their coffee despite the poor design. Check them out at 1126 Fremont Street.
---
3. Sambalatte Boca Park
Sambalatte Boca Park is a cozy coffee shop located at 750 S. Rampart Blvd. #9. The atmosphere and staff are welcoming, and it's a great place to set up camp and get some work done for a few hours. There is ample seating and enough light bites to keep you happy for several hours.
The baristas are talented and friendly and take great care in preparing your drink. We had a red rock latte – coffee with honey in it – which was a real treat. They are pet-friendly, which is perfect if you have a furry friend you'd like to bring along.
---
4. The Madhouse Coffee
Madhouse coffee is an offbeat café that features drinks like the "monkey mocha." We love the atmosphere, and Madhouse Coffee drips with style. Their coffee is also excellent, and they serve standard café fare like sandwiches and pastries. There is also a smaller menu that features vegan snacks and sweets.
We couldn't resist trying the monkey mocha – a banana, peanut butter mocha with chocolate chips. It was outstanding, but their ordinary coffee from Intelligentsia is great too. You can find them at 8470 W. Desert Inn Road.
---
5. Coffee Religion
Coffee religion crafts their coffee and their atmosphere with equal care. They are devoted to bringing their patrons high-quality coffee in an environment designed to encourage ease and thoughtfulness. Eastern hemisphere religions inspire the decor with a giant 10-foot statue of the second Buddha as the focal point.
The coffee is very good, although it is a bit on the expensive side. They serve some light snacks, but nothing substantial enough to count as a full meal. There is also a large selection of tea and some seasonally rotating specialty drinks. If you want to sip some good coffee in a zen-filled atmosphere, head over to 5191 W. Charleston Blvd. Suite 185 and pay them a visit.
---
6. Desert Wind Coffee Roasters
Desert Wind Coffee roasters know their stuff. From the minute you step inside, the attention to detail and quality is evident. The seating area is simple, spacious, and projects the pride they have in their coffee.
The staff is welcoming and happy to chat, and the coffee they serve is outstandingly good. We were encouraged to try a golden latte – a latte made with turmeric – and it was equal parts smooth and delicious. Their coffee is roasted fresh, and it shows in the cup. We can't recommend them enough. If you're in the area, stop by 7772 W. Sahara Avenue and give them a try.
---
7. Mothership Coffee Roasters
Mothership coffee sports a modern, clean vibe that resonates with us. The seating area is bright and welcoming, and we felt right at home sipping our cappuccino. They roast their own coffee and are happy to answer any questions you have if it isn't busy.
The 1028 Fremont Street location is inside the Ferguson Motel and has plenty of seating, so you shouldn't have a problem finding a place to sit. Parking can be a challenge, so you might have to walk a bit, but we promise it's worth it.
---
8. TIABI Coffee & Waffle
TIABI earned a spot on our list because of their coffee, but you'll forgive us if we gush about the waffle sandwiches first. Wafflewiches – that's what they call them – remind us of something we might cobble together after a late night, but don't think that means they're not meticulously crafted. They're delicious and unique and would be worth a visit even if the coffee wasn't good.
Thankfully, the coffee is also fantastic, so there's no reason not to visit TIABI Coffee & Waffle if you're in Las Vegas. This is a must-see coffee shop in the Las Vegas area. The signature wafflewiches aren't limited to breakfast, so it's a great place for lunch or dinner too. Check them out at 3961 S. Maryland Parkway.
---
9. Grouchy John's Coffee
We love coffee shops that support local art, and in Las Vegas, Grouchy Joe's is one of those coffee shops. Their decor features art from local artists and gives the atmosphere a uniquely Las Vegas flair.
The food and coffee are solid, and Grouchy Joe's is a great place to grab a quick breakfast before tackling your day. We had a robust and flavorful dark roast paired with an egg sandwich and left happy and satisfied. They're definitely worth a visit at 6350 W. Charleston Blvd. #110.
---
10. Makers & Finders Coffee
Makers & Finders Coffee has a feel and is unlike any other place on this list. They serve top-notch specialty coffee, but also delicious South American cuisine. They have a full menu with tons of dishes to choose for breakfast, lunch, or dinner. This truly is home to some of the best coffee in Las Vegas.
The coffee we had – a Kalita Wave pour-over – was exceptional, but also quite expensive. If you don't mind splurging a little, you won't be disappointed with the coffee. We think the best way to experience Makers & Finders is to sit down for a meal followed by coffee. That way you get to sample the authentic Colombian inspired cooking alongside some excellent coffee. You can find them at 1120 S. Main St. Suite 110.

Conclusion
We hope you enjoyed our whirlwind tour of the best coffee in Las Vegas! We know it's probably not easy to find a spare minute of downtime with all the fun Las Vegas has to offer, but if you get a chance, don't miss the opportunity to try some of these excellent coffee shops. There are some truly unique coffee shops in Las Vegas and you don't want to miss out. Whether you're looking for a morning cup to kickstart your day or a place to settle in for a few hours and soak in the sights, Las Vegas' coffee landscape has a place for you.
In a different city? Read one of these coffee guides:
---
Featured Image Credit: CC0 Public Domain, pxhere