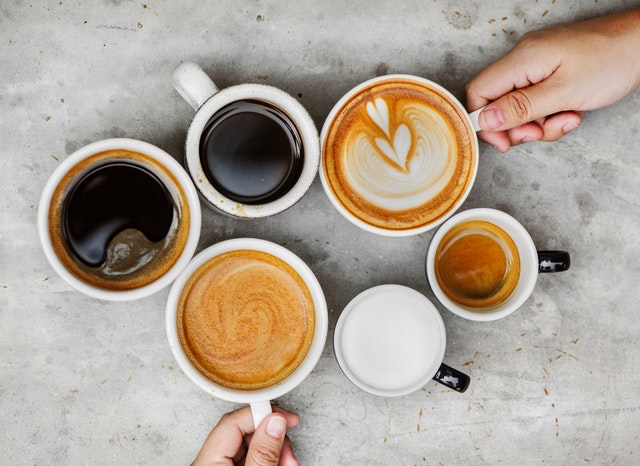 Coffee taste may well be one of the most subjective experiences that exists. With so many ways to experiment, like combinations of your favorite beans, brewing methods, and the coarseness of the grind, the task of choosing a new coffee can be daunting.
Luckily, Amazon offers a plethora of options. We've combed through the brands for you while keeping in mind quality, price, roast, and company ethics. We've written detailed reviews of our nine favorite coffee brands on Amazon, including whole bean and pre-ground options. And if you're not sure where to start, take a look at the buyer's guide at the end.
---
A Quick Glance at our Favorites in 2023
Image
Product
Details

Best Overall

Kicking Horse Smart Ass

Bold flavor
Aromatically fresh
Organic and Fair Trade certified

Coffee Bros. Medium-roast

Great flavor
Small batch roasted on demand
Ships in small quantities to Amazon

Best Ground Coffee

Death Wish Coffee

High caffeine content
Rich flavor
Organic and fair trade certified

Best Decaf

Cafe Don Pablo Colombian Decaf

Affordable
No bitterness
Swiss Water processed

Starbucks Breakfast Blend

Creamy and mild
Smooth profile
Affordable
The 9 Best Coffees on Amazon
1. Kicking Horse Coffee Smart Ass – Best Overall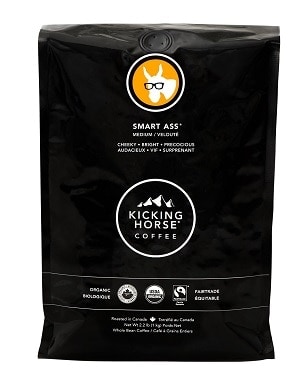 Kicking Horse's Smart Ass is our top pick as one of the best whole bean coffee variants on Amazon. With a sweet aroma and a robust flavor, it's more than coffee; it's an experience.
This blend, although medium roast, comes through on the darker side of taste, with many noting a bitter aftertaste. This potent coffee is not for the devotee steering clear of a power punch to the taste buds.
It's conveniently offered in two sizes: 10 ounces and 2.2 pounds. Refunding is not an option, so if you're willing to spend the money and enjoy a strong hit of flavor, you may not be disappointed. If it turns out you enjoy this pick, you can save a little money by subscribing.
If you want a full-bodied flavor from an environmentally conscious brand, this is a great option. As a bonus, it has a fun name to say, too!
In short, we think this is the best coffee on Amazon right now.
Cons
Bitter finish
Slightly pricey
Requires grinder
---
2. Coffee Bros. Medium Roast

If you're interested in a lighter roast, take a look at one of our favorite new coffee brands: Coffee Bros. These Brooklyn-based brothers roast their beans with a light hand, allowing the complex natural flavors to shine through.
The Medium Roast is made of Ethiopian and Brazilian beans, with notes of brown sugar, hazelnut, and red fruits. It has an intense aroma and brews into a smooth, rich cup. And you'll love the stylish stay-fresh packaging, which is resealable and printed with a fun pattern.
We love that this company ships small quantities to Amazon, ensuring that you'll receive a fresh bag of beans — not one that's been sitting in a warehouse. Keep in mind that Coffee Bros. only sells whole bean coffee, so you'll need to purchase a grinder.
RELATED READ: Read our in-depth review of Coffee Bros.
Pros
Great flavor
Small batch roasted on demand
Ships in small quantities to Amazon
Stylish, effective packaging
---
3. Death Wish Coffee – Best Ground Coffee
Death Wish is an intense, dark roast blend noted as having a higher–than–average caffeine content, hence the name. As one of the top ground coffee blends on Amazon, it has a rich color and vigorous aroma while offering smooth contact with no bitter edge.
This option is not for the faint of heart. If you have a high caffeine tolerance, you may not get that rush to help you get those chores done. On the flip side, if you're caffeine-sensitive, don't be surprised if you start hearing colors and seeing noises, as you've just been on the Death Wish adventure. If you're looking for that caffeine rush, this may be for you, but as a caffeine-sensitive consumer, you may want to avoid this kick.
Be prepared to take a hit to your wallet. Should you choose to give this one a try, it's the priciest choice on our list. The good news is, it's an indulgence you can try risk-free. If you don't like it, your wallet will be refilled.
RELATED: Read our detailed review of Death Wish's deadly coffee!
Pros
High caffeine content
Rich flavor
Organic and fair trade certified
Money-back guarantee
Cons
Most expensive on the list
---
4. Cafe Don Pablo Colombian Coffee – Best Decaf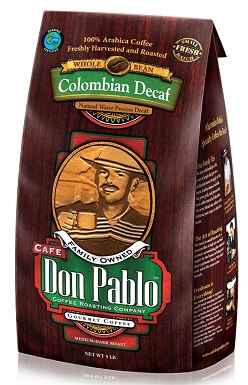 While Cafe Don Pablo Decaf is our favorite decaf choice, the lack of caffeine keeps it out of the top two spots. It may lack the richness of a fully caffeinated version, but the hint of chocolate and a darker flavor support this top decaf pick.
Though it's advertised as using the Swiss Water Process, those crossing over from the caffeinated side say that there is a lack of depth in flavor. While the company has tried to retain the same great flavor as a caffeinated version through a chemical-free process, this is a medium roast that delivers a lighter flavor.
Decaf coffee has come a long way; however, if you're searching for that robust flavor, this pick may not deliver. Even with a smooth finish, the light flavor may require you to constantly play with grinding coarseness in an attempt to achieve your perfect balance.
This brand roasts its beans to order for freshness, and most report a nice balance as a decaf coffee. With a middle-of-the-road price, this is great if you're looking for less caffeine.
Pros
Affordable
No bitterness
Swiss Water processed
Organic production certified
GMO-free
Cons
Lacks richness
Requires grinder
---
5. Starbucks Breakfast Blend Ground Coffee
Since it's one of the most well-known coffee brands, there is a good chance you like Starbucks coffee. If you like to start your morning with a not-so-intense brew, the Breakfast Blend offers up a gentle, smooth flavor to ease you into the day.
If you have an adventurous preference in coffee taste and like the control that comes with grinding your beans, this one may seem bland to you. This is a pick to appeal to the masses, so if you are truly a coffee "snob," it may not be for you.
With an affordable price, it's noted as being the everyday coffee choice for many purchasers. It works well in the refillable K-cup and seems appealing to a wide range of palates. If you're seeking that staple coffee, this is a good choice that also comes with a subscribe-and–save option.
Pros
Creamy and mild
Smooth profile
Affordable
---
6. Amazon Fresh Colombia Ground Coffee
As a very affordable medium roast option, the AmazonFresh Colombia Ground brand ranks as a good choice for the budget-conscious. While not considered a premium coffee, this one is reported as having a pleasant aroma with a smooth finish.
Recognized for having a mild, gentle flavor, it may be too mild for the medium roast lover. For those desiring a more robust flavor, this lighter roast may not do the trick for you. Overall, it's a decent cup of joe at a bargain price.
If you're on the fence about giving this one a go, while it's affordable, Amazon also offers a money–back guarantee. If you find it a nice choice, it's made even more budget-friendly with subscribe–and–save.
Pros
Very affordable
Smooth flavor
Nice aromatics
Money-back guarantee
---
7. Eight O'Clock Coffee 100% Colombian Peaks
Coming in on the list from a company that's been around for over 150 years is the least expensive option. The Eight O'Clock Ground Coffee light to medium roast offers a smooth and mild taste for the coffee lover who prefers to avoid the robust nature of a darker roast.
As a daily choice for many, it may not live up to the expectations for the self-proclaimed I-only-drink-black-coffee enthusiast. The noted bitterness can turn off those who don't add anything extra to their coffee.
The good news is, even though there is no money-back guarantee, you can give this a try at a very affordable price that won't break the bank. To top this off, this brand is Kosher certified.
Pros
Very affordable
Kosher certified
---
8. Koffee Kult Coffee Beans
As a family-owned and operated business, Koffee Kult has been on the scene since 2010, and it's making its mark. Locally roasting in Florida, it's known for the bold flavor of its beans. Though its Dark Roast comes through as more of a medium roast with hints of chocolate and cinnamon, it's a popular choice among many.
Keep in mind if you're a newbie easing your way into the dark side, a bitter finish is noted. For the dark roast connoisseur, you may find this a bit too light for your taste.
While organically sourced through many small coffee farmers, this coffee is not USDA organic certified. It's on the pricier side, but a money-back guarantee is offered.
Pros
Velvety richness
Low acidity
Money-back guarantee
Cons
Bitter aftertaste
Requires grinder
---
9. Olde Brooklyn Coffee Italian Whole Bean
With a big bite and a smooth undercut, Brooklyn Coffee's Italian Dark Roast rounds out the list. If you're looking to dip your taste buds into the arena of a full-bodied, dark roast, this is a very affordable option.
Though the beans are sourced directly from family farms, they're not organic or fair trade certified. If these factors are important to you when choosing a quality coffee bean, this one will not fit the bill.
Since it comes in a five-pound bag, you'll have plenty to play with as you try out grinding options to find just the right balance for your taste. There is no option to return, so once you purchase, it's all yours. However, if you decide to keep this in your repertoire of coffee choices, there is an option to subscribe–and–save, making it even more budget-friendly.
Pros
Very affordable
Bold taste without the acidity
Cons
No returns
Requires grinder
---
Buyer's Guide – Picking the Best Coffee on Amazon
Here we have a list of some things to consider when choosing your next favorite coffee.
Roast
With many options from light to dark and every variation in between, keep in mind that more expensive coffee beans are roasted in small batches, leaving room for variation inconsistency. More economical offerings tend to be roasted in bulk, keeping a more even consistency aligning with that brand expectation.
Darker roasts bring more emphasis to the bold bite, while a light roast has a gentle touch to the palate. Coffee taste is subjective and experimentation is essential to finding the perfect taste for you.
Price and Quantity
Coffee doesn't have to cost a fortune. We've offered options ranging from expensive to economical, including those offering money-back guarantees and subscribe-and-save preference.
Depending on the quantity being offered, buying your new favorite in bulk will offer you the biggest value. Even for the more expensive, gourmet versions, there are still options for saving a few dollars.
Brand Ethics
Environmentally friendly practices are becoming more and more important to consumers. If you're looking for a brand that is organic and/or fair trade certified, there are many out there, so it may be worth a look into the business practices of the brand you want to buy.
Keep in mind that the cost of environmentally friendly and organically sourced coffee practices is passed along to the consumer. You may pay a little more, but your mind can rest easy knowing the brand ethics are congruent with yours.

Final Verdict:
If you've come this far, perhaps you've chosen your next fun coffee adventure from the list provided. If you're still undecided, here's a short recap. Our choice for the best whole bean coffee on Amazon is Kicking Horse Coffee Whole Bean "Smart Ass" Medium Roast, which is full-bodied, flavorful, and environmentally friendly. In second place, we have Coffee Bros. Medium Roast, an intensely flavorful coffee with a lighter roast.
Our pick for the best ground coffee on Amazon is Death Wish Coffee (Ground). With a delicious aroma and a money-back guarantee, this pricier pick can be tried risk-free. Our top decaf choice is Cafe Don Pablo Decaf Colombian Whole Bean Coffee. As an Organically-certified, affordable option with a chemical-free decaffeination process, you'll be able to rest easy knowing it's healthy and environmentally friendly.
Choosing a new coffee can be a fun experience, and buying through Amazon is undeniably convenient. We hope this list of the nine best coffee brands on Amazon, complete with comprehensive reviews and a handy buyer's guide, helps you pick out delicious coffee beans. With an open mind and a brewing method primed to go, you may find that you love experimenting as much as you enjoy the coffee itself. Ready, set, brew!
We truly hope that our guide helps you choose the best coffee beans on Amazon for your tastebuds. Happy brewing!