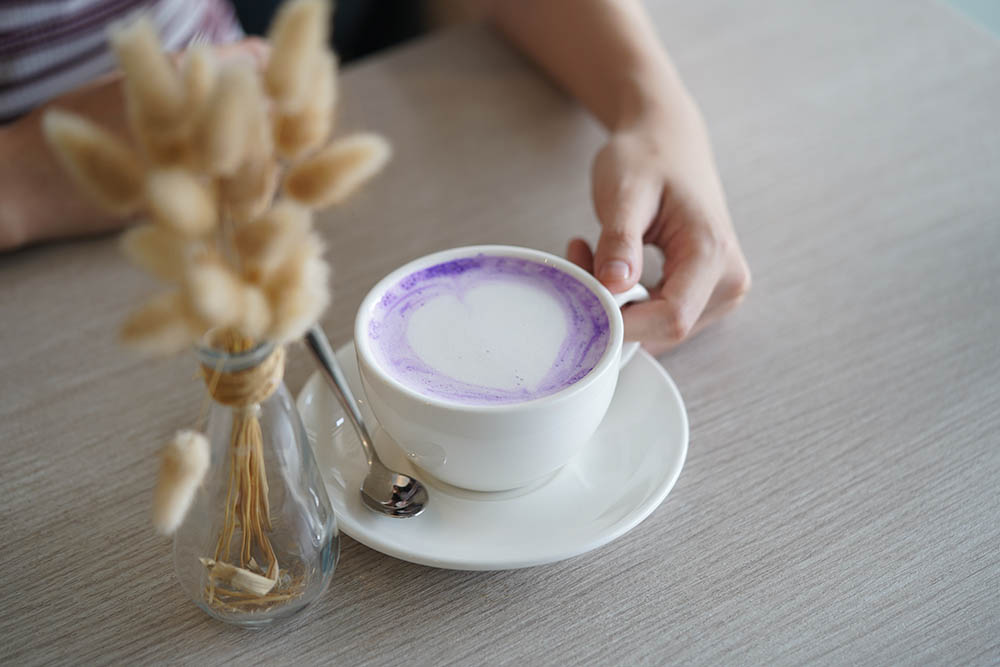 Ube lattes are growing in popularity and their creamy sweet flavor makes them the perfect afternoon latte or morning drink. You can use vanilla flavoring or extract for this latte, either will work well. You can also use different kinds of milk including coconut, whole milk, or even rice milk will work well.
Ube is a purple-colored yam (often confused as a type of sweet potato) that originates from the Philippines. It's a staple in the country and is commonly added to everyday desserts such as bread, cakes, frosting, ice cream, and different types of jam.
There are so many different ways to consume this vegetable and it's usually boiled or baked and then mashed up to create a paste. For this latte, you can add vanilla to the drink itself, or use it as a frothy topping.

How to Make an Ube Latte:
Ingredients
1 teaspoon ube extract or jam
½ cup unsweetened almond milk (or other milk)
1 cup ice
Water
1 teaspoon sugar or Stevia (optional)
½ cup of instant coffee or 2 shots of espresso
Equipment
Electric Hand Mixer
Mixing Bowl
Spoon
---
1. Make the Syrup
Take your mixing bowl and add 2 teaspoons of boiling hot water, and then pour in your sugar and instant coffee or espresso. Next, turn on your electric whisk (or whisk it manually) and then whip the concoction until the volume triples and becomes frothy. You may need to mix it for about 2 to 3 minutes. The result should be a frothy syrup. Afterward, set the bowl aside.
2. Combine the Ingredients
Then, fill up your coffee cup or mug with ice and then pour the milk on top. Add the frosty espresso syrup that you've just made and stir it up for a few seconds. Note that you can use sweetened condensed milk for this recipe as well. If so, you may want to use less sugar.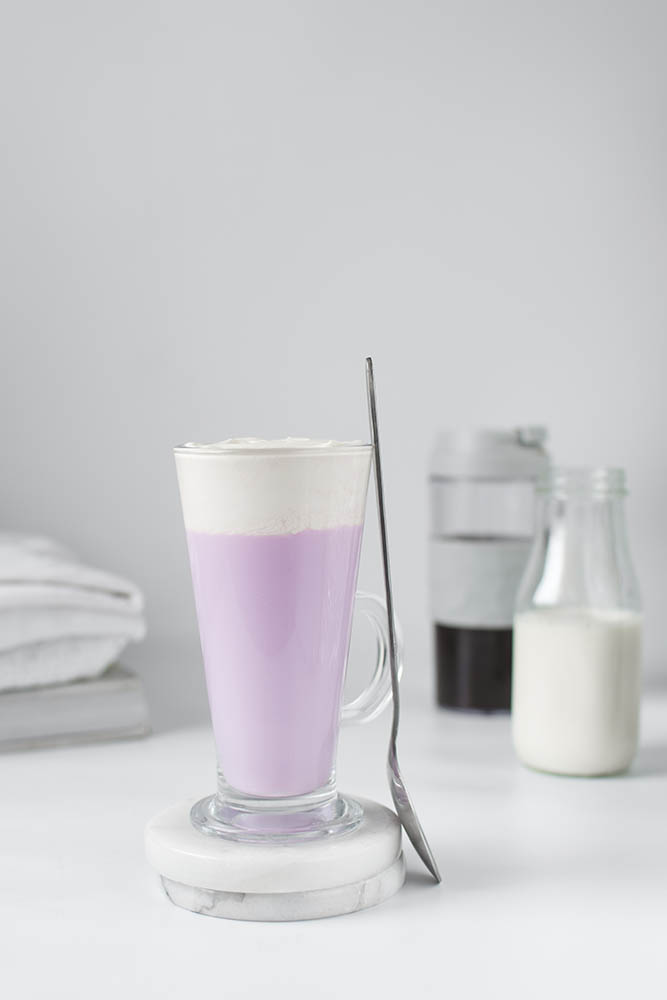 What Does an Ube Latte Recipe Taste Like?
Ube has a sweet and creamy taste itself. This, combined with the nuttiness from almond milk and its natural vanilla aftertaste, lands for a very creamy flavor that tends to pair well with espresso. So, if you're someone that loves the taste of flavored lattes or Frappuccinos, this drink may be perfect for you.
Are Ube Lattes Unhealthy?
They can be. However, it depends on the way that you compare the latte. The typical ube latte contains added sugar or syrup, which can pack on the calories depending on how much you add. However, you can make the drink in a way so that it's low in sugar, calories, and even dairy-free.
For example, you can use unsweetened almond milk and Stevia, and limit the amount of ube flavoring that you add to the recipe. Overall, you'll find that its nutritional profile is fairly harmless, and unless you make a sugar-loaded concoction, this drink would necessarily be considered "bad for you" by most health experts.
Is Ube the Same As Taro?
No. Many people easily confuse taro with ube, but these are two completely different vegetables. Both are popular in Filipino cuisine. However, taro is a starchy root vegetable that's not classified as a yam. Also, its interior is white, not purple like the ube. Taros are common in savory Filipino dishes, while ube is more commonly used in desserts and different types of treats.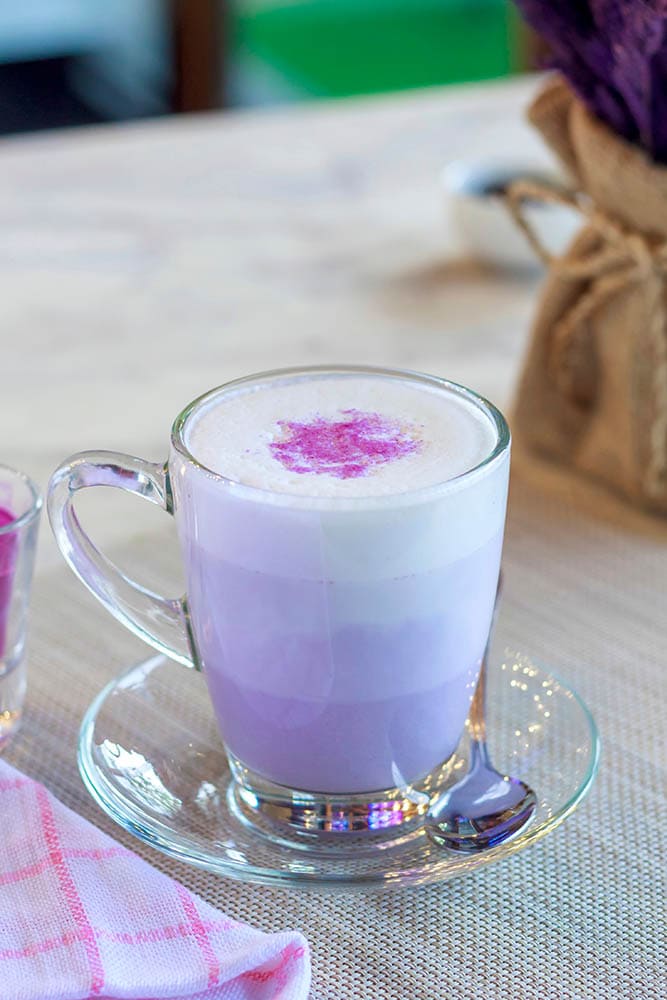 Where Can I Buy Ube?
Because of its Filipino origin, ube can be a bit challenging to purchase in the United States. It's rare that you'll find this vegetable sold fresh, and it's typically purchased as a liquid flavoring, jelly, or dehydrated powdered form. But you should be able to find it online or at specialty boutique stores or at a world market store.
What Form of Ube Works Best for Lattes?
It really depends on your personal taste preference. The ube can come in jelly, liquid, and even the powdered form. Any of these will do, but you'll want to test things out to avoid making it overly sweet.
But if you want it sweeter with less ube flavor, you can either add more ube or simply sweeten it with sugar, Stevia, or Sweet and Low. You may also want to consider other liquid sweeteners because they'll dissolve pretty quickly in this cold drink.
---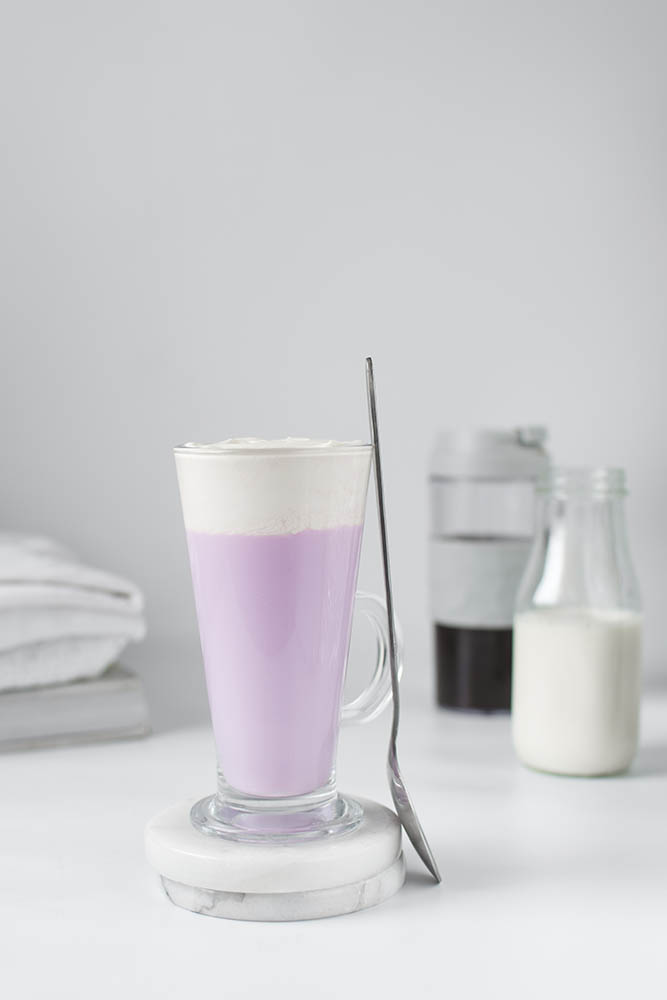 Simple Ube Latte Recipe
If you've never had an ube latte, now is your chance! This nutty purple drink is delicious and so simple to make at home.
Equipment
Electric Hand Mixer

Mixing bowl

Spoon
Ingredients
1

tsp

Ube extract or jam

½

cup

Unsweetened almond milk

(or other milk)

1

cup

Ice

1

tsp

Sugar or Stevia

(optional)

Water

½

cup

Instant coffee or 2 shots of espresso
Instructions
In the mixing bowl add 2 teaspoons of boiling hot water, 1 tsp of sugar, and 1/2 cup of coffee.

Whisk the concoction until the volume triples and becomes frothy and set the bowl aside.

Fill up your coffee cup or mug with ice and then pour the milk on top.

Add the frosty espresso syrup that you've just made and stir it up for a few seconds.
Nutrition

Conclusion
Ube lattes are great to enjoy in the morning or during the evening after a great meal. And you may find other uses for the popular Filipino flavoring. This latte has the sweet nuttiness of a vanilla latte with the sweet rich flavor profile of hot chocolate. It's tasty, colorful, and guaranteed to awaken your taste buds!
See Also: How to Make a Dirty Snowman Coffee Drink at Home: Simple Recipe
---
Featured Image Credit: Fitri Hakim, Shutterstock