Raspberries are the perfect kitchen ingredient, whether you're baking them into tarts or making delicious, refreshing drinks with them. They're great alone or paired with other fruits, bringing layers of flavor to your recipes. Raspberries are really versatile and can be stored and frozen, so you can enjoy them all year round.
Raspberry flavoring is just as popular, but most of them are made with artificial ingredients and food dyes. Instead of relying on store-bought stuff, you can make a simple yet tasty raspberry syrup as an alternative to flavoring. It works great in baking recipes and tastes amazing with a cup of tea, especially softer teas like chamomile.

All About Raspberries
Bright red and tart in flavor, raspberries are grown and eaten in many parts of the world. They're fairly easy to grow and even a smaller patch can produce a decent amount, as long as you can prevent wildlife from helping themselves. Raspberries come from the Rubus family, closely related to other fruit like blackberries, strawberries, and apricots. They're grown virtually everywhere, with Serbia being the biggest exporter of raspberries to date.
Raspberry Growth & Harvest Season
Few things are more rewarding than growing your own produce. Thankfully, raspberries are one of the easier fruits to grow, even if you don't have a green thumb. They produce a lot of fruit per plant, which is great for smaller homesteads and properties. They bloom anywhere between late May and early August, doing best in a direct sunlit area. When they're bright in color and slightly firm to the touch, they're ready for harvesting. Their harvesting season is anywhere from late June to early October, which is just as vast as their blooming season.
Raspberries vs Blackberries
While they are related, raspberries and blackberries have some differences. Raspberries are a bright and vibrant reddish color, whereas blackberries are an intensely deep purple-black color. They are notably sweeter compared to blackberries, which have a stronger tart flavor. Raspberries are also "hollow" after being picked and the inner core stays on the branch, but blackberries retain the core after being harvested.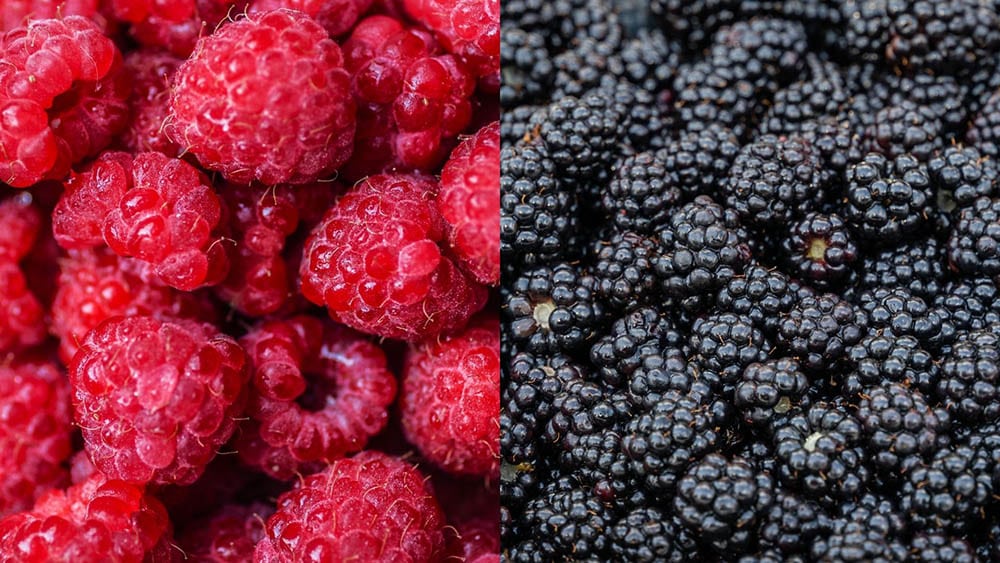 Fresh vs Frozen Raspberries
When it comes to baking and cooking, frozen raspberries are convenient and generally have a consistent taste. However, fresh raspberries have a stronger flavor and can completely elevate a dish. Both fresh and frozen raspberries have their uses but knowing what type of flavor you want will determine if you need fresh or frozen. If you're looking to make a raspberry syrup that's sweet more than tart, use fresh strawberries. For a tarter syrup, we recommend using frozen raspberries.

Homemade Raspberry Syrup
When any fruit is overripe, baking or cooking them into something is the best option since they may be too sweet or tart to eat. Making raspberry syrup is not only easy to do, but it's a great way to save raspberries that are about to go bad. It's also a great way to make your own flavoring that is all-natural and made with real raspberries, not the store-bought artificial flavor for baking. The best part is that it's so easy to do that you'll want to make this all the time.
The most important part of this recipe is to gently mash the raspberries as they simmer. You want the liquid texture to be consistent with the syrup, removing any big raspberry clumps with a fork. This goes for any type of fruit-based syrup as well. Another important part of this syrup recipe is the temperature, making sure that you don't overheat or burn the berries. Make sure you have a fine-mesh sieve or strainer to filter out the seeds that will be in the syrup. Lastly, make sure you stop simmering the syrup when the consistency is to your liking. The longer you simmer it, the
---
Simple Raspberry Syrup Recipe
Enjoy this tasty raspberry syrup with anything, like your favorite tea, pancakes, and baking recipes, adding a whole new dimension of flavor!
Equipment
Saucepan

Fine strainer or sieve

Mason jar
Ingredients
1

lb

Raspberries

fresh or frozen

¾

cup

Granulated sugar

¼

cup

Brown sugar

¾-1

cup

Filtered water
Instructions
In a saucepan, heat water on medium and add both sugars, then stir continuously and make sure the mixture does not caramelize or burn.

Add raspberries to the mix, stirring and mashing them with a fork or wooden spoon. Stir until the raspberries are completely broken down and only the seeds remain. Simmer until the syrup is at the right consistency that you prefer, simmering longer for a thicker, pancake-like syrup or taking it off the heat when it is still runny and thin.

Carefully and slowly pour the syrup through a fine-mesh sieve or strainer, letting the syrup collect in a glass container like a mason jar.

Chill the syrup for five to ten minutes at room temperature.

Use within a few weeks and enjoy it in tea, drinks, and recipes!
Notes
If you're using fresh raspberries, wash them and check for mold. Place them in a bowl and slightly mash them, just until they're slightly broken down.
Nutrition

Final Thoughts
This raspberry syrup recipe is a great recipe that you can use for anything. It's a great way to save your raspberries that are about to go bad, too. It goes well in tea and can add flavor to pastries, so it's really versatile. It's delicious in teas and drinks, with our personal favorite being iced raspberry black tea. Follow the recipe and take your time, making sure the berries are fully mixed. Once the syrup is ready, you can enjoy it right away!
---
Featured Image Credit: Pixabay