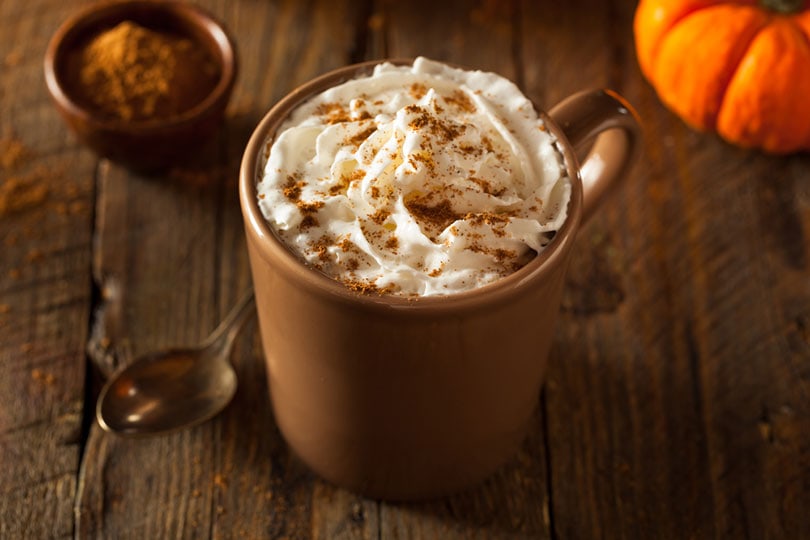 If you've never tried a Pumpkin Spice Latte, you don't know what you're missing out on. These tasty coffee drinks are the perfect way to ring in fall and get yourself prepared for the winter months to come. Unfortunately, having to rush out to your favorite coffee shop to grab yourself one of these seasonal drinks can ruin the festivities, especially if you're cozied up by the fireplace. That's where this easy and tasty Pumpkin Spice Latte Crock-Pot recipe comes in. By following this simple recipe, you can enjoy a little pumpkin spice, anytime!

How to Make a Pumpkin Spice Latte in a Crock-Pot
Ingredients:
7 cups hot brewed coffee (Do not use carafe measurements)
1 cup canned 100% pumpkin puree
1 ½ cups heavy cream (half and half can be used)
½ teaspoon ground nutmeg
¼ teaspoon ground cinnamon
1 teaspoon vanilla extract
½ cup white sugar
Whipped cream (optional for garnish)
Nutmeg (optional for garnish)
Equipment:
Slow cooker
Measuring cup
Measuring spoons
Mixing spoon
Ladle
Mugs
1. Gather all ingredients & equipment.
Gather all the necessary ingredients and equipment. Make sure coffee is recently brewed and still hot.
---
2. Add the ingredients.
In your slow cooker, add the coffee, pumpkin puree, heavy cream, ground nutmeg, ground cinnamon, vanilla extract, and white sugar. Stir ingredients well.
---
3. Cover & cook in the Crock-Pot.
Cover the ingredients inside the crock pot and cook on high until hot. This should take roughly 45 minutes to an hour.
---
4. Stir & serve.
Once the mixture is hot, give it one final stir then use a ladle to place into mugs and serve. If you want to add a little garnish, serve with whipped cream and a sprinkling of nutmeg.

Pumpkin Spice Latte Alternatives
While this is an easy and tasty Pumpkin Spice Latte Crock-Pot recipe, that doesn't mean you can't make it your own. Like with many recipes, shaking things up a bit can make this drink more your speed. Here are a few ways you can easily alter this recipe without changing the taste.
Sugar Substitutes
If you aren't a fan of white sugar, no worries. This pumpkin spice latte crock-pot recipe can be altered to your preferences. Instead of sweetening this recipe with white sugar, feel free to shake things up a bit. Instead, you can substitute honey, brown sugar, or a sugar substitute if that's your preference.
Make It a Decaf
For those who avoid drinking regular coffee, don't be concerned with the flavor of this recipe if you use decaf. The key when it comes to the coffee used in this recipe is to brew it strong. This will help keep the coffee flavor, whether your coffee has caffeine in it or not. Also, remember not to trust the measurements on your coffee pot. Instead of pouring in 7 cups from your carafe, use a measuring cup to ensure you get the proper amounts inside your crock-pot.
Using Pumpkin Spice
If all the spices on our list aren't in your kitchen cabinet, you can still make this tasty recipe. One teaspoon of pumpkin spice can be used instead of the cinnamon and nutmeg if you're in a pinch.
What About an Iced Pumpkin Spice Latte?
If you love iced coffee beverages, this recipe is still right for you. To make this Pumpkin Spice Latte Crock-Pot recipe one you'll love, simply allow it to cool. Once it has, pour it over a cup of ice to make you a yummy coffee beverage. When finished, store any leftovers in the fridge for up to 5 days.
---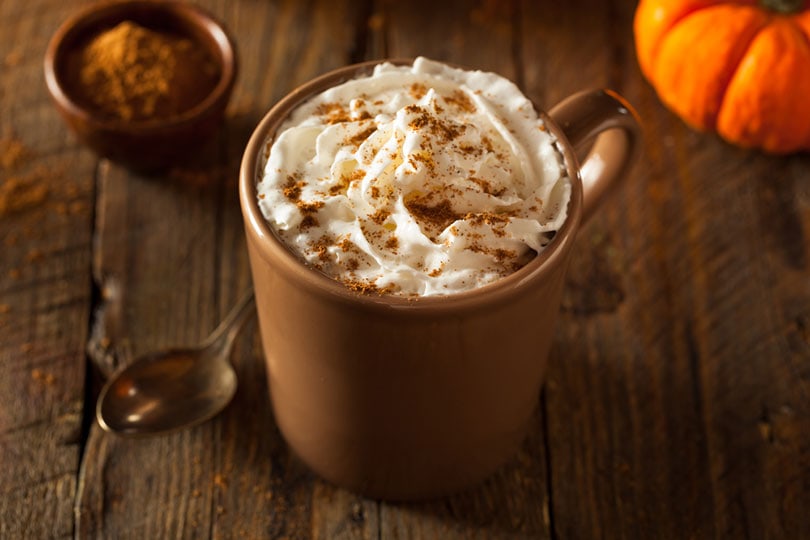 Simple Pumpkin Spice Latte Crock-Pot Recipe
This Pumpkin Spice Latte Crock-Pot recipe is both easy and tasty. You can bring the taste of Autumn home, with minimal effort or cleanup!
Equipment
Crock-pot

Measuring cup

Measuring spoons

Mixing spoon

Ladle

Mugs
Ingredients
7

cups

hot brewed coffee

strong

1

cup

100% pumpkin puree

1 ½

cup

heavy cream

½

teaspoon

ground nutmeg

¼

teaspoon

cinnamon

1

teaspoon

vanilla extract

½

cup

white sugar

Whipped cream

optional

Additional nutmeg

optional
Instructions
Gather all equipment and ingredients.

Add all ingredients to your crock pot and stir. (Do not use optional ingredients at this time)

Place the lid on your crock pot and cook on high. You'll need to cook for at least 45 minutes to an hour or until the mixture is hot.

Once the mixture is hot, turn off your crock pot and stir one last time. Then using a ladle, fill your mugs, and optional garnishes if you like, drink, and enjoy!
Nutrition

Conclusion
As you can see, this Pumpkin Spice Latte Crock Pot recipe is fun and easy. Once you try it, you'll discover just how tasty it is as well. If you're a fan of all things pumpkin spice, having this recipe handy will allow you to enjoy your favorite drink, any time of the year.
---
Featured Image Credit: Brent Hofacker, Shutterstock