Our Final Verdict
We give Nguyen Coffee Supply a rating of 4.3 out of 5 stars:
Flavor
Quality
Resources
Selection
Price
Nguyen Coffee Supply Review: At a Glance
Are you a fan of Vietnamese coffee? Nguyen Coffee Supply could be a great way to dip a toe into the Vietnamese specialty coffee market. Should you give it a try? We put these gourmet beans to the test.
We were impressed by Nguyen's coffee, which is bold, smooth, and packs a serious caffeine punch. The packaging is fun and stylish, and the beans are both organic and single-origin. You can choose among several varieties, including Peaberry Robusta and Arabica Bourbon. And all of the beans are grown at high altitude on a family farm in Vietnam!
Why wouldn't you enjoy Nguyen Coffee Supply? These are gourmet beans, and they have a higher price to match. You may not love the Robusta flavor (though it may surprise you), and the coffee bags don't have convenient resealing strips. But we recommend that you give this Brooklyn roaster a try. It's delicious, convenient, and sustainable!
A Quick Look:
Pros
Strong, smooth, and complex flavors
Grown at high altitude in Vietnam
100% Arabica and Robusta blends available
Organic and single-origin
Stylish, well-designed packaging
Conveniently available on Amazon
Choice of whole bean or pre-ground
Cons
Bags don't reseal
A little pricey
Robusta flavor may not appeal
No roast or decaf options

The Company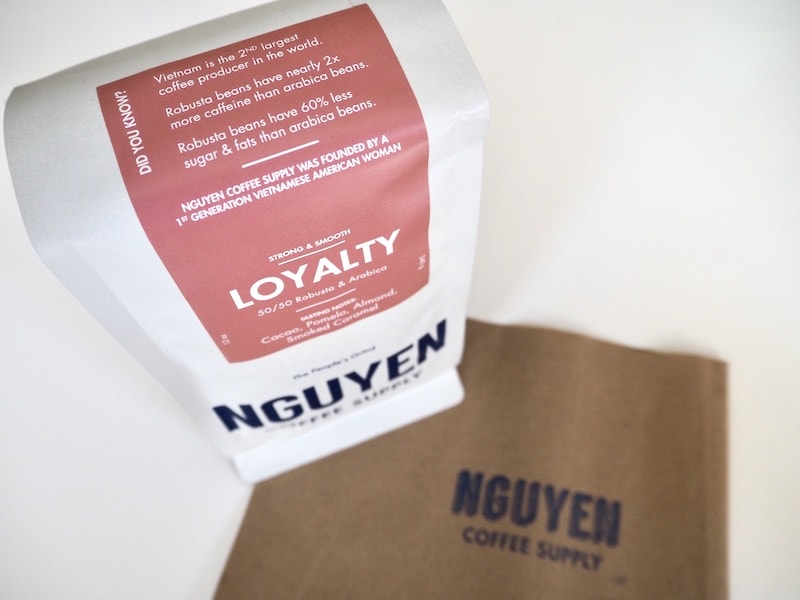 Nguyen Coffee Supply is a small coffee roaster based in Brooklyn, New York. It specializes in Vietnamese coffee — and has plenty to back that up! Nguyen is owned by a Vietnamese-American millennial named Sahra Nguyen, and it partners with a Vietnamese farmer named Mr. Ton. All of the coffee is grown on a small family farm in Vietnam's Central Highlands.
The Ordering Process
Nguyen has a stylish, well-designed website that's easy to browse. Even better, you can buy many of its products straight from Amazon. What could be easier?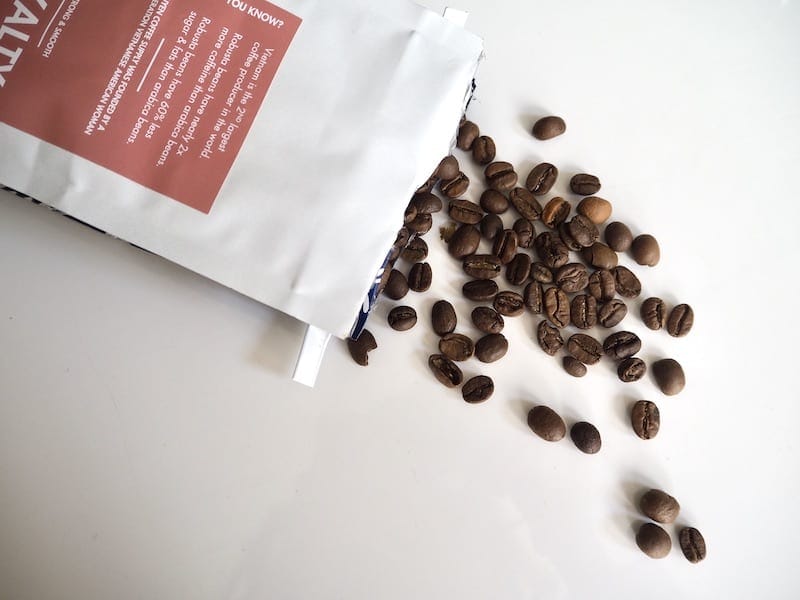 What kind of coffee does Nguyen offer? The company has Arabica beans (called Moxy or Courage), Peaberry Robusta beans (called Truegrit or Grit), a 50/50 Arabica and Robusta blend (called Loyalty), and Arabica Bourbon beans (called Moka). Can't decide? You can buy a three-variety bundle! And if you don't have a grinder, good news: you can order Nguyen's gourmet coffee whole bean or pre-ground.
The Coffee
We received a sample of the Loyalty blend, which is Nguyen's most popular offering. This coffee is a 50/50 blend of Robusta and Arabica beans, and it has 25% more caffeine than 100% Arabica coffee. If you look closely at the blend, you can see the different types of coffee beans.
To test our Nguyen coffee, we used the Hario V60 pour-over, which produces clean, clear coffee. When we opened the coffee bag, the beans were mouthwateringly aromatic. And the flavor? Nguyen's Loyalty blend is bold and delicious, with notes of almond, chocolate, and caramel. We enjoyed the distinct flavor of the Robusta beans, which aren't bitter at all. This isn't a delicate or floral coffee, but if you like strong flavor and plenty of mouthfeel, we think you'll enjoy it.
The Packaging
As you'd expect from a Brooklyn coffee roaster, Nguyen's packaging is stylish and fun. The bags arrive printed with information about Vietnamese coffee and Robusta beans. They also have a fun pattern printed on the sides and, befitting the company's millennial owner, a "Thank you for hustling with us." message on the back.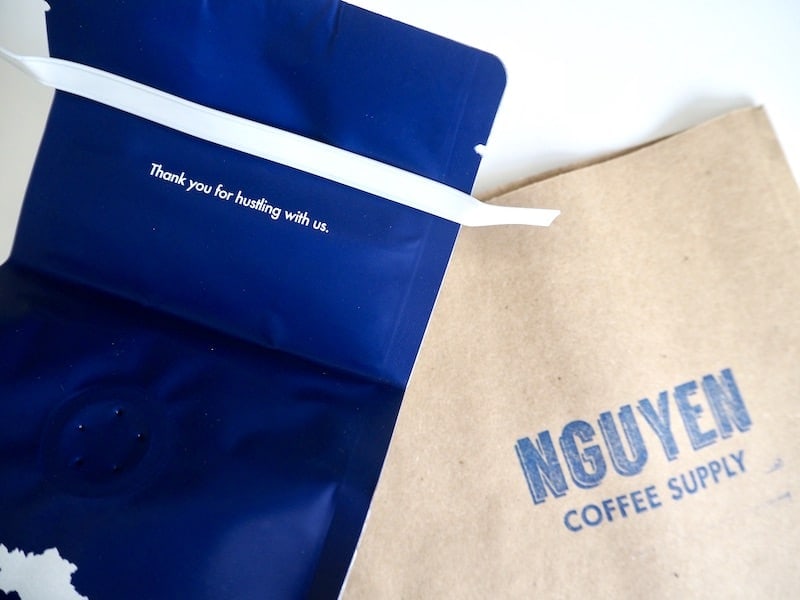 These coffee bags have one-way degassing valves and wire ties. We found them a little hard to rip open, and they don't reseal, but overall they have a high-end, well-designed feel.
Extras
Want to learn how to make Vietnamese coffee the Vietnamese way? You can invest in a phin kit, which includes a bag of coffee, a Vietnamese filter coffee maker, and detailed instructions. The company also sells fun merchandise like insulated coffee mugs, coffee tea bags, and branded sharpies.

The Verdict
So what's our recommendation? We think you'll love Nguyen Coffee Supply if you're interested in Vietnamese coffee or looking to branch out generally. The company offers a good range of organic, single-origin coffee, including 100% Arabica, 100% Robusta, and blend varieties. The packaging is stylish, the coffee's available on Amazon, and there's plenty of fun merchandise to browse on the company website.
If you don't like Robusta coffee or prefer lighter flavors, you may want to look elsewhere. The coffee bags don't have nice-to-haves like resealing tops, and the price point may be out of your budget.
Those caveats aside, Nguyen's coffee is gourmet, strong, and complex. Why not give it a try and see what you think?
RELATED READS: