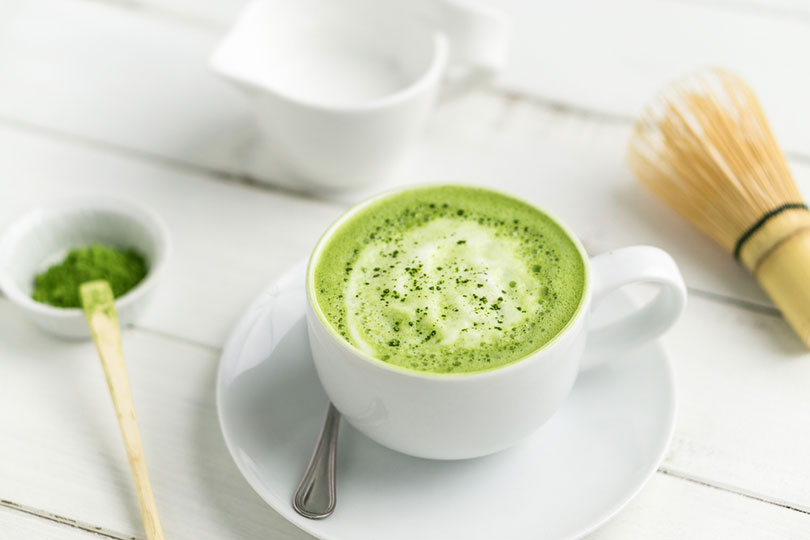 Matcha is a green tea ground into powder and contains a small amount of caffeine, making it a healthy coffee alternative. While its color may not seem appealing, this Japanese-inspired latte is creamy and tasty and is a popular drink among tea lovers.
The health benefits of matcha and collagen provide a nutritious and satisfying hot drink that can kickstart your day or provide an afternoon energy boost.
If you are looking for an easy and healthy coffee alternative that is delicious without the caffeine crash, then this matcha collagen latte recipe is perfect for you.

How to Make a Matcha Collagen Latte:
Ingredients:
1 cup unsweetened coconut milk
½ teaspoon matcha green tea powder
1 tablespoon raw honey
1-2 scoops unflavored collagen powder
Equipment:
Measuring cups
Measuring spoons
Blender
1. Place all the ingredients into the blender container.
Add the coconut milk, matcha green tea powder, honey, and collagen into the container of your blender.
---
2. Blend the ingredients.
Start blending your ingredients at low speed, then increase to high speed for 2–3 minutes or until the mixture is warm.
---
3. Turn off the machine and carefully remove the lid.
After 2–3 minutes, you can turn off the machine. Carefully remove the lid because the warm steam will be released.
---
4. Pour and enjoy.
Pour your drink into your favorite mug and cozy up and enjoy!

The Matcha Collagen Latte Experience
What Does Matcha Taste Like?
Matcha has a distinct earthy taste with vegetal, grassy notes and bitter undertones that are rather pleasant. When the beverage is prepared as a latte, it adds a creaminess that is a pleasure to the pallet. The addition of honey makes it a healthy alternative to a sugary latte usually served in a coffee shop, and if you are battling to acquire the rich matcha taste, you can add extra honey. Collagen is usually tasteless, and you can enjoy your matcha latte flavor with the added benefits of collagen.
What Are the Health Benefits?
This collagen matcha latte promotes a healthy gut and digestion, and it is great for hair, skin, and nails because it may improve joint and muscle health. It is packed with antioxidants to boost immunity while boosting your metabolism and helping you burn fat. Matcha has caffeine, but very little compared to a cup of coffee. It contains an amino acid known as L-Theanine to allow your body to absorb the caffeine slowly.
Alternatives for This Recipe
This easy and healthy recipe can also be made on the stovetop by mixing the ingredients in a saucepan and warming them with medium heat. You can use a non-dairy alternative such as almond or oat milk, and maple syrup is another healthy alternative to honey. You can add an extra scoop of collagen if you want an extra boost without changing the flavor.
---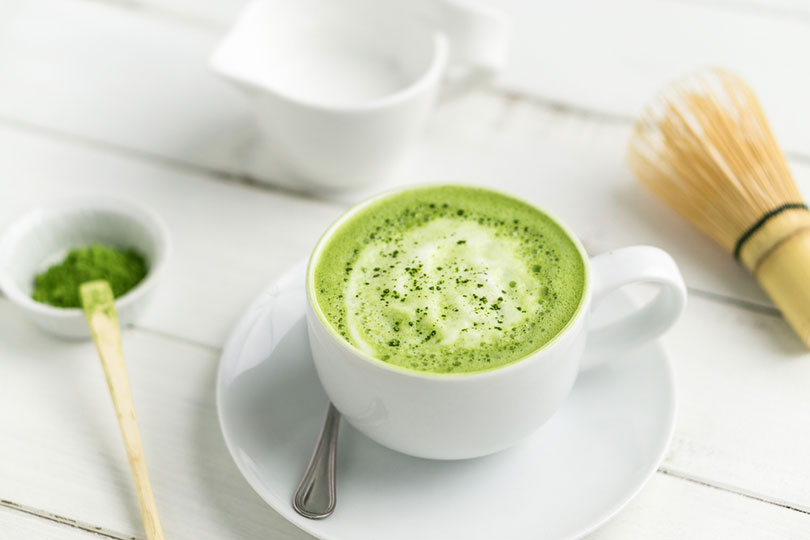 Simple Matcha Collagen Latte Recipe
The matcha collagen latte will quickly become a daily ritual to start your day. With minimal ingredients and easy preparation, it is a low-calorie, high-protein recipe that you can indulge in guilt-free.
Equipment
Measuring cups

Measuring spoons

Blender
Ingredients
1

cup

unsweetened coconut milk

½

teaspoon

matcha green tea powder

1

tablespoon

raw honey

1-2

scoops unflavored collagen powder
Instructions
Add your ingredients to your blender.

Begin blending your mixture on low speed and then increase the speed to high until the mixture is warm. This will usually take 2-3 minutes.

Once your mixture is blended, you can remove the lid. You will need to do this carefully because the steam can burn you.

Pour the blended mixture into your favorite mug, and all that's left is to sit back and enjoy.
Nutrition

Conclusion
You can enjoy this tasty and nutritional drink in no time! With a few easy steps and minimal preparation time, you can get your healthy dose of caffeine in the comfort of your kitchen, perfect for an on-the-go pick-me-up.
---
Featured Image Credit: Louno Morose, Shutterstock