Image
Product
Details

Our Favorite

Keurig K-Classic Coffee Maker

Brew strength control
Longer-lasting design
Removable reservoir

Keurig K15 Coffee Maker

Affordable
Easy on space
Simple to use
Sometimes comparing two models of the same product reveals a few dollars in price difference or a small feature one has that the other doesn't. This isn't one of those cases. If you're really in the market for a small, efficient Keurig to replace a four-cup drip coffee maker, the K15 is a great option. If you have just a couple of bucks to spend and want a single-cup Keurig, it's also suitable for that. However, it sacrifices too much in terms of quality and versatility to get its price down. Unless your needs drive you to something small and really affordable, we'd suggest that you spend a little extra to get the K55.

K15 vs K55: Major Differences
Performance – Big Edge: K55
The K55 just does a better job of brewing coffee. It's vastly superior as a versatile, everyday brewing machine that permits everyone to customize their own cups of coffee in the morning. It also has a removable 48-ounce reservoir to help satisfy everyone's morning needs. By contrast, the K15 requires that you fill it with water every time you want to use it, and the coffee it produces isn't always all that hot.
Price – Edge: K15
The K15 isn't quite as affordable as a ham sandwich, but in terms of Keurig pricing, it might as well be. It's a good idea to hedge on the issue of price because on any given day price might change. If the two are separated by only a few bucks, the advantage could switch. That's not the case here. We don't see any normal circumstances where the K55 costs less than the K15. We give our edge in this case not just on raw dollars, but in terms of value. The K15 has a much lower price, but it sacrifices a lot to get it. What would be a big edge is in fact just a regular old edge.
Durability – Big Edge: K55
One of the things the K15 sacrificed to get it down to its price was durability. The K55 has its own lingering questions about its operational life, but they're nothing like the K15. The K15 is just not designed for the kind of constant, everyday use you can put a K55 through. The K15 is fine for brewing one cup a day. The K55 is fine to brew a few cups every day.
Design – Slight Edge: K55
If you don't have a lot of space for a coffee maker, the K15 is the superior model because it's designed to be a space saver. However, the K55 has a removable 48-ounce water reservoir that allows you to brew several cups before you need to refill it. Since one of the most attractive things about Keurigs is that they offer hassle-free, push-button coffee, this feature is kind of a big deal. It's also designed to permit some control over the strength of your brew. We like the space efficiency of the K15, but we really like the K55's reservoir and its options for customization.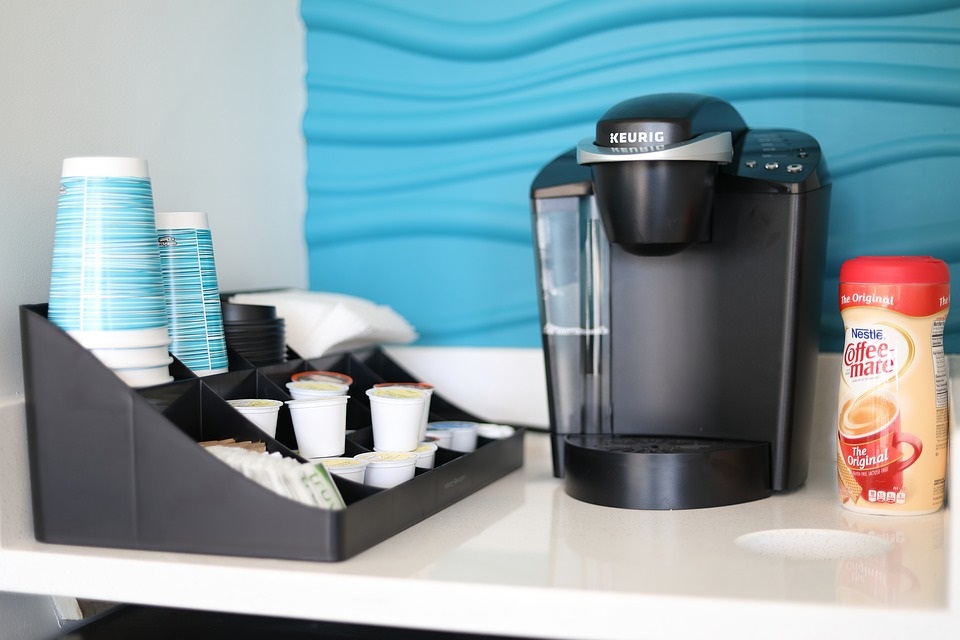 Quick Rundown of the Keurig K15:
Cons
Short operational life
Mediocre coffee
No brew strength options
Need to fill the reservoir for every cup
Quick Rundown of the Keurig K55:
Pros
Brew strength control
Longer-lasting design
Removable reservoir to brew multiple cups
What the Users Say
What conclusions were reached about both models by the world's most impartial jury, the Internet? With the K15, there are two kinds of people in the world: those who love the K15 and those who hate it. There's also a noticeable split in opinion about the K55, but it's not pronounced. More people reported bad experiences with it than on other products, but most still reported positive experiences.
Reviews about the K15 praised its size and the ability to put it just about everywhere, from RVs to office desks. They also liked its price. It provides a convenient, hassle-free alternative to a small-sized drip maker, and because it relies on pods rather than filters and grounds, it is easier to keep clean. A substantial number of users felt that it sacrificed all-around quality to achieve this. It will stop working if you brew coffee with it every day, and it doesn't get the coffee very hot when it works. Condensed, the reviews said that it sacrificed a lot of quality to slim it down to where it can fit anywhere and to a price anyone can afford. Having to fill it for every use is pretty unpopular, too.
Many people also had issues with the K55's quality. It has a tendency to stop working for no apparent reason, and the needle can require constant attention. Normally, these opinions are the stuff of angry Internet cranks and you can dodge around them, but the sheer size of this group means it probably shouldn't be overlooked.
When the K55 worked, people really liked the features it offered. They liked the range of brew sizes and strengths and the variety of flavors from different brands. This was also popular with the K15, but the K55 also consistently delivers hot coffee. No one referred to it as "lukewarm."

Conclusion
Just because we liked the K55 a lot more than the K15, don't get the impression that we hate the K15. We really liked it for what it does: make it possible for someone with limited room or a tight budget to brew a cup of Keurig coffee. Both these models are also part of the Keurig Classic line, which means that you aren't restricted to Keurig 2.0 pods. The K55 pulls away in terms of performance, durability, and just about everything else. If you are looking for an everyday brewing machine, the K55 is the better model.
The bottom line? If you're looking for an easy-to-use Keurig machine, you can't go wrong with either the K15 or the K55.