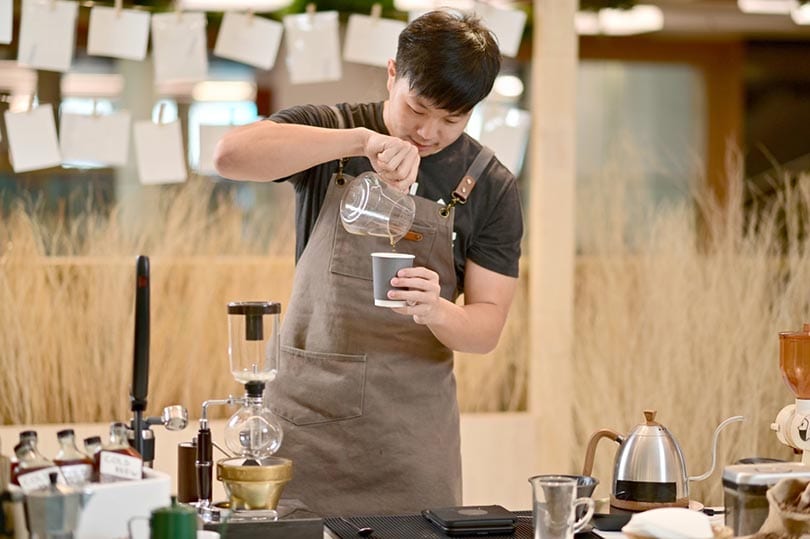 Note: This article's statistics come from third-party sources and do not represent the opinions of this website.
Although Thailand is traditionally a nation of tea drinkers, the nation has a burgeoning coffee industry. Although sales and growth have been hampered by the Covid pandemic and subsequent lockdowns and restricted movements, the market is expected to pick up again and outpace its pre-Covid levels.
Most data regarding Thailand's coffee market dates to 2019 since this was the last full year before Covid, so it provides valuable insight into what people can expect this year and in future years. Below, we have included 15 coffee consumption statistics in Thailand.
Click below to jump ahead: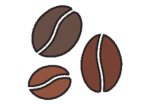 The 15 Coffee Consumption in Thailand Statistics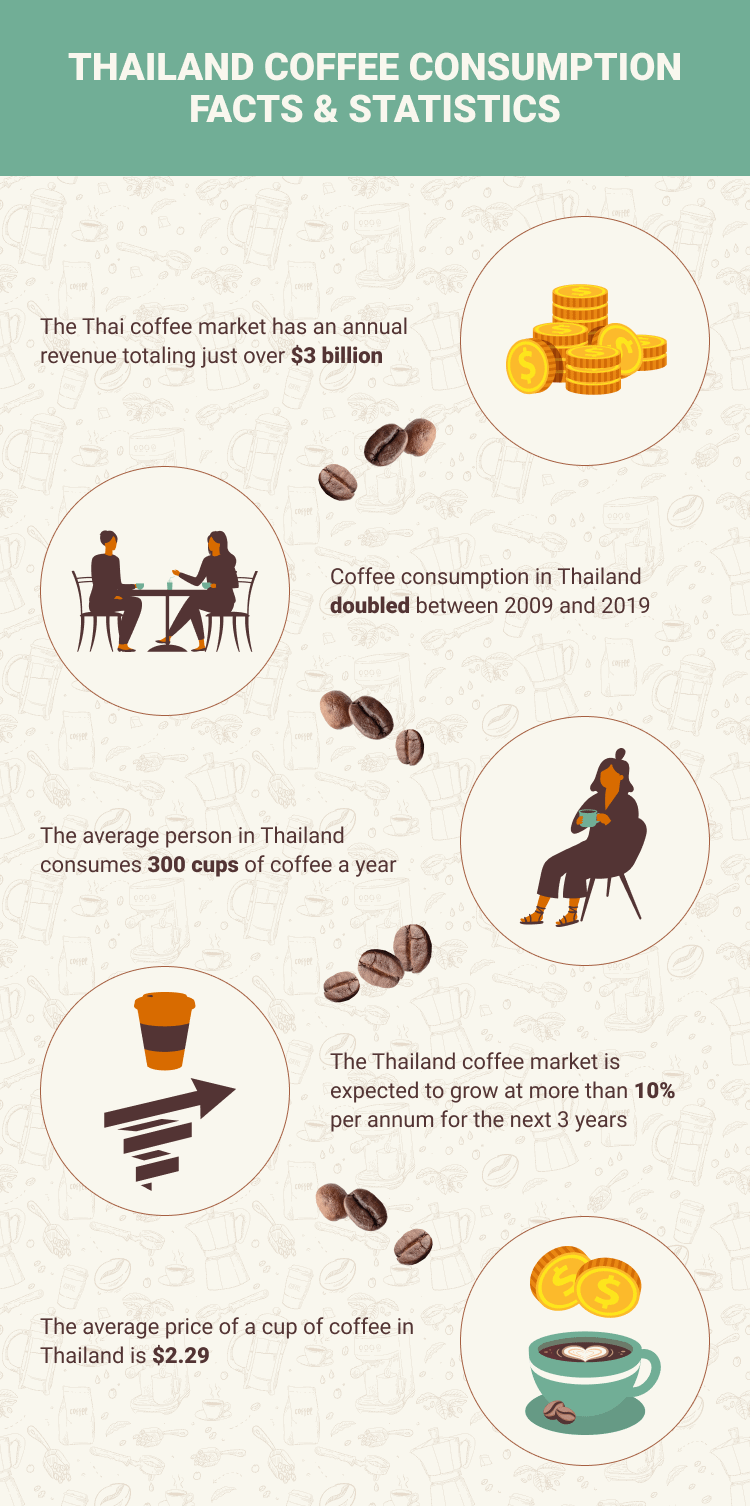 Hot Drinks and Coffee
1. The Thai coffee market has revenue totaling just over $3 billion.
(Statista 1)
Thailand has a population of approximately 70 million people, which is slightly less than Vietnam's 97 million but more than double Malaysia's 32 million. The population is responsible for coffee market revenues totaling $3.185 billion in 2022. The US has the highest coffee market revenue, with its 330 million people giving revenues of $85 billion in the same period.
---
2. The coffee market is worth $45.45 per person.
(Statista 1)
Taking into account the total revenue value of the market and the country's population, this means that the market is worth an average of $45.45 per person. The US has a larger population, but they also spend more per capita than Thailand. The US has a per capita revenue value of more than $250 per head or five times the amount.
---
3. Coffee consumption in Thailand doubled between 2009 and 2019.
(Statista 2)
Thailand traditionally prefers tea over coffee, especially because tea forms a major part of the Buddhist lifestyle, and most people in Thailand practice Buddhism. However, while tea might remain a more popular beverage than coffee, coffee is gaining in popularity. In 2019, the country's population consumed the equivalent of 1.4 million bags of coffee. In 2009, this figure was just 0.7 million, or half the amount.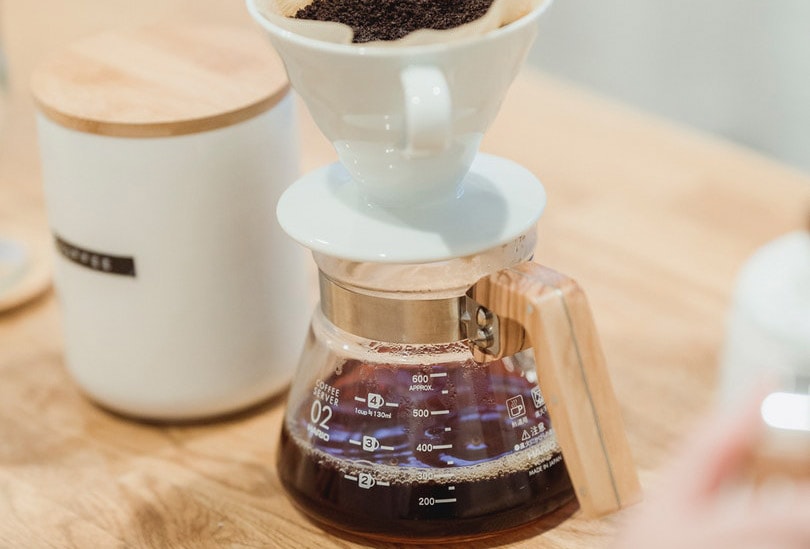 ---
4. Thailand consumes 0.18 kilograms of coffee per person.
(HelgiLibrary)
It takes approximately 10 grams of ground coffee to make a cup of brewed coffee, espresso, or espresso-based drink, although some prefer their coffees stronger and some weaker. The Thai people consume approximately 0.18 kilograms of coffee per person per annum. In 2018, this figure was as high as 0.61 kilograms per person but was only 0.07 kilograms per person in 1995.
---
5. The average price of a cup of coffee in Thailand is $2.29.
(ThailandTravelEssentials)
Coffee prices vary around the world with the most expensive being found in South Korea and costing $7.77 a cup. In Iran, another nation of traditional tea lovers, you will only have to pay $0.46 per cup. Thailand falls somewhere between these two figures, but at the lower end of the scale, with the average cost of a cup from a coffee shop or café costing $2.29.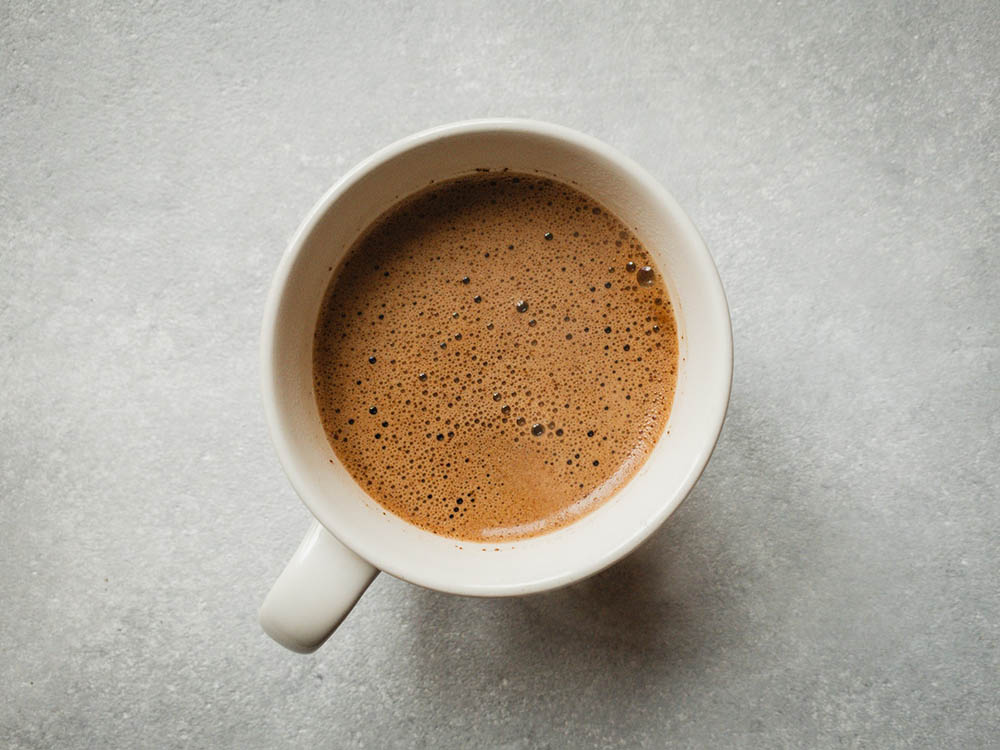 ---
6. Latte prices vary from $0.98 to $3.77 in Bangkok.
(ThailandTravelEssentials)
Coffee prices don't just vary around the world, they can vary significantly in Thailand itself, and nowhere is this more pronounced than in the capital of Bangkok. You can pay as much as $3.77 for a latte in Starbucks but as little as $0.98 for a latte from a roadside stand.
---
Coffee Preferences
7. The instant coffee market is valued at $2.175 billion.
(Knowledge Sourcing)
Although coffee shops and specialty coffees are on the rise, instant coffee remains the most popular coffee delivery method. The instant coffee market alone is valued at $2.175 billion. Although these figures come from different sources, assuming the overall coffee market has revenues of $3 billion, this means that 72% of the coffee market value comes from instant coffee sources.
---
8. The tea market still has higher revenues than the coffee market, although the gap is closing.
(Statista 3)
In total, the hot drinks market in Thailand is worth $9.47 billion. This includes the tea market, coffee market, and hot chocolate market. The tea market alone is worth $5.65 billion, and although that value isn't decreasing, tea's strong hold over the hot drinks market is being diminished by the increase in the coffee market's total revenue.
---
9. The popularity of tea is slowing further development of the coffee market.
(Knowledge Sourcing)
In Buddhism, tea is considered an aid to meditation and is also drunk to help alleviate feelings of hunger and to clear the mind. It has close ties to the Buddhist way of life, and the majority of adults in Thailand are practicing Buddhists, which means that tea remains popular. While this is somewhat slowing the spread, coffee is becoming increasingly popular both as instant coffee for at-home preparation and consumption and also in specialty coffee shops.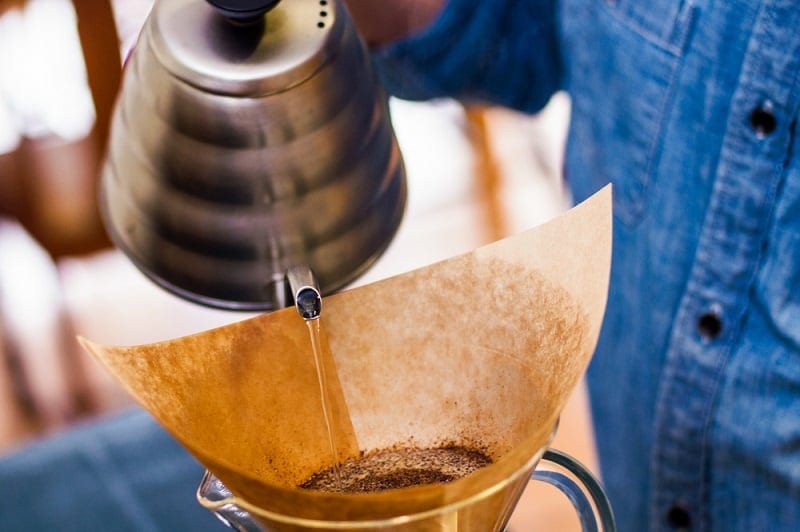 ---
10. The average person consumes 300 cups of coffee a year in Thailand, half that of Europeans.
(BangkokPost)
Coffee consumption is on the increase. In fact, figures suggest that 15% more coffee is being consumed in the country every year and the average person now consumes 300 cups per annum, which is less than one a day. However, Thailand still has some way to go to catch Europe, where the average person consumes 600 cups per year. The Japanese consume approximately 400 cups per year per person.
---
11. The first Starbucks in Thailand opened in 1998.
(Starbucks)
Starbucks is the largest chain of coffee shops in the world with branches in most countries and most capital cities around the world. While Café Amazon may have a lead on the US coffee company in Thailand, Starbucks certainly has a presence. It opened its first Thai store in 1998, at Central Chidlom and now has more than 400 retail locations across the country. Starbucks Reserve Experience at Gaysorn Plaza, Bangkok, is the third-largest Starbucks in the world behind the Reserve Roastery in Shanghai and the recently opened Reserve Roastery in Chicago.
---
12. Café Amazon currently has 2,600 stores and stands.
(WorldCoffeePortal)
Starbucks is planning on expanding and opening more branches across the country, but it has a considerable way to go if it wants to catch up to the country's leading chain: Café Amazon. Café Amazon has 2,600 stores across the country and has expanded out into neighboring countries, and they, too, plan to open thousands of new stores between now and 2025.
---
The Future
13. The coffee market is expected to grow at more than 10% per annum for the next 3 years.
(Statista 1)
With expected increases in the instant coffee market and thousands of new coffee shops expected to open, it is hardly surprising that major revenue increases are expected in the Thai coffee market. In fact, the market is expected to grow by 11.99% per annum until 2025.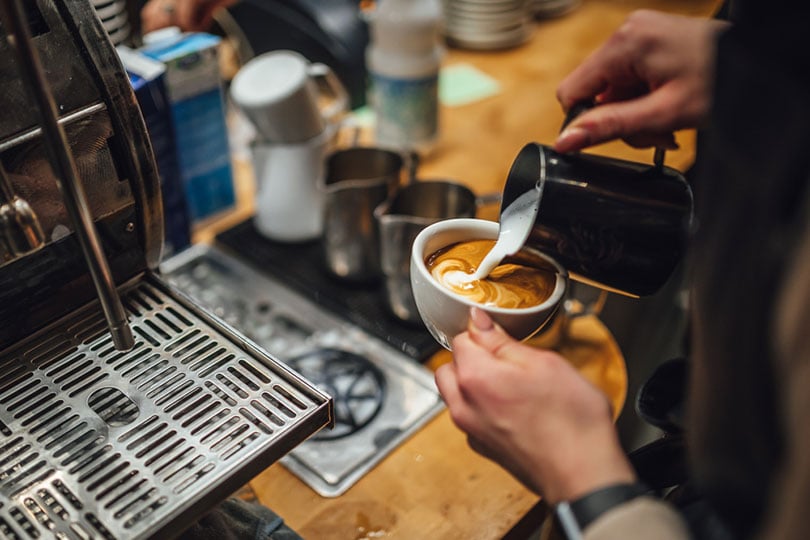 ---
(BangkokPost)
Although instant coffee is popular because it is cheap, easy to prepare, and readily available, premium coffee is also increasing in popularity and is expected to continue to do so. The whole coffee market is expected to double in the next 5 years. The mass coffee market will lead the way and is expected to grow by as much as three times. The premium coffee market is also expected to double in this time.
---
15. Wawee aims to open 1,000 newly franchised stores in the next 5 years.
(BangkokPost)
Café Amazon is the largest chain of coffee shops in Thailand at the moment, but Starbucks is expected to open more branches, while Wawee, recently purchased by billionaire Charoen Sirivadhanabhakdi, will also open around 1,000 franchised stores across the country, while other coffee shop chains are expected to open roughly the same number between them.

Frequently Asked Questions About Coffee Consumption Statistics in Thailand
What Is Black Ivory Coffee?
Black Ivory Coffee is considered the world's rarest coffee and, as a result, is also one of its most expensive. It costs approximately $500 per pound and is sold primarily in five-star hotels, although it is available on the company's website. Just 215 kilograms of the coffee will be produced in 2022 and it is especially known because it is "refined" by elephants, effectively meaning that the beans are eaten by elephants and then retrieved from their waste. It is said to have flavors of chocolate, malt, spice, and grass, and it has won considerable rave reviews for its taste. (BlackIvoryCoffee)
Does Thailand Grow Its Own Coffee?
Thailand is in the top 20–30 coffee-growing countries in the world, although it only produces less than 1% of the world's coffee, and its coffee production rates are up and down. In 2019, it produced just over 26,000 tons, but in 2020 it only produced 22,500 tons. (Knoema)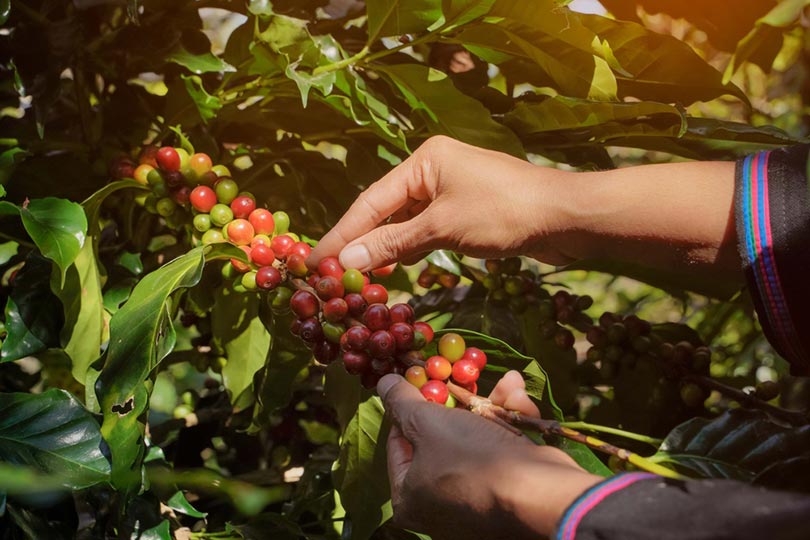 How Popular Is Coffee in Thailand?
Although not as popular as tea, coffee is a very popular hot beverage in Thailand, and its popularity is growing. The average Thai person consumes the equivalent of 300 cups of coffee per day at the current rates. (BangkokPost)
Who Brought Coffee to Thailand?
French coffee farmers first brought coffee to Thailand via Burma in the 17th and 18th centuries. It wasn't until the 20th Century when the then king of Thailand demanded that Opium crops in the North be replaced by agricultural crops that Thailand was able to start growing the more commercially desirable and profitable Arabica beans, rather than the Robusta that had been grown in the South until that period. (TheAkyra)

Conclusion
Coffee consumption in Thailand is on the rise, with 15% more of it being drunk every year. However, it does still remain less popular than tea, which is preferred because of its strong links to the Buddhist way of life. However, growth is expected to continue, both for instant coffee and premium coffee as well as in the number and revenue of coffee shops.
---
Featured Image Credit: Takaeshiro, Shutterstock