Note: This article's statistics come from third-party sources and do not represent the opinions of this website.
If you've pulled up to a drive-thru coffee shop in the northwestern part of the United States and got an amazing cup of Joe, a latte, and a snack, you've probably just been to a Dutch Bros coffee store. The business started in Grants Pass, Oregon, as a pushcart by the railroad tracks and grew from there to the big business it is today.
In the guide below, we'll give you a few statistics about Dutch Bros, such as their expansion projections, how much they made in revenue last year, and how they stack up to other coffee shops in their areas. Join us for everything you need to know about Dutch Bros and its brand.
Click below to jump ahead:

The 10 Dutch Bros Statistics & Facts

Dutch Bros Coffee Shops and Employees Statistics
1. Dutch Bros has 538 stores nationwide.
(Forbes)
Dutch Bros had 538 stores nationwide as of 2021. Even during the pandemic, the coffee drive-thru business soared. This is thought to be because people are always in a hurry and a drive-thru is the perfect way to get your coffee on the go. People could also still get their caffeine during the pandemic without having to go inside.
---
2. Dutch Bros employs approximately 20,000 people.
(The Street)
Dutch Bros employs approximately 20,000 people over its 500+ locations. The CEO says that they have always been in the people business, which is how they grew to have over 20,000 people employed since the first store opened in 1992.
Whether it's in Oregon, where headquarters are established, or in one of the other states that house Dutch Bros stores now, this company has long made its mark in the coffee business and will be doing so for many years to come.
---
3. Dutch Bros pays an average of $15.75 per hour.
(Zippia)
Dutch Brothers pay its employees, on average, $15.75 an hour. This translates to around $32,764 a year. This also is according to what location you work in, your experience, and how long you've been with the company. The $15.75 an hour is for the stores, not the warehouses or other jobs with the company.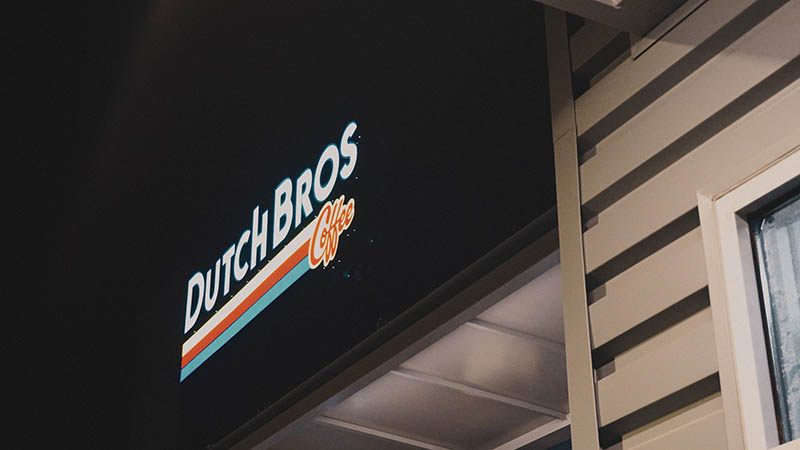 ---
4. 65% of Dutch Bros employees are women, and 35% are men.
(Zippia)
Reports show that Dutch Bros employees are 65% women and only 35% men, which seems to be on par for the company, and when compared to other businesses that sell the same thing.

Dutch Bros Expansion Plans, Expected Growth & Sales Forecast
5. Dutch Bros has plans to expand to over 4,000 stores worldwide.
(The Street)
Dutch Bros has stated its plans to expand to over 4,000 stores worldwide. The company just celebrated its 30th anniversary and has 538 stores to date, which means the company is well on the path to meeting its goals and opening its 4,000 stores. They plan to open stores everywhere possible and continue to widen their brand.
---
6. In 2022, Dutch Bros expanded its growth targets, saying it will expand its drive-thrus by 23% by adding 125 stores.
(The Street)
Dutch Bros shocked investors by forecasting up to $200 million in capital spending. The company also expanded its growth targets, saying that it plans to expand its drive-thrus by 23%, adding over 125 stores to its already growing business.
Plans are already made to put stores in Texas, Oklahoma, Southern California, and Tennessee where it intends to focus its growth for the foreseeable future.
---
7. Dutch Bros sales jumped 54% in 2021.
(Portland Business Journal)
Dutch Bros reported sales jumping 54% in 2021, which is a significant jump for a flavored coffee store for Q4, which means the company raked in around $140.1 million in the fourth quarter of the year. Overall, the company made $497.9 million in sales, meaning it had a 52% increase overall when compared to 2020.
The company opened 98 stores in 2021, including its first Texas store, which is one of the areas where the company is putting its focus for the foreseeable future.

Dutch Bros Revenue & Charities
8. Dutch Bros made revenue of over $560 million in 2019, putting them ahead of most coffee chains.
(Restaurant Business Online)
The Dutch Bros chain made revenue of $567 million in 2019, which put them ahead of other coffee companies, such as Peet's Coffee, Caribou Coffee, and The Coffee Bean & Tea Leaf.
---
9. As of 2021, Dutch Bros has raised more than $10.3 million in support of MDA's ALS programs.
(Dutch Bros)
Dutch Bros is big on the environment, helping their employees, and supporting MDA's ALS programs. In fact, the company has raised more than $10.3 million in support of MDA's ALS programs since 2021. The company says they are committed to helping those less fortunate and doing their part for sustainability, diversity, and inclusion.
---
10. Dutch Bros franchise owners make around $124,000 annually.
(Mom and Pop)
Dutch Bros franchise owners are said to make, on average, around $124,000 annually. Remember, this is according to location and minus the cost of supplies and any other overhead. If you want to purchase a Dutch Bros franchise, then it's best to do your research before making a final decision.

Frequently Asked Questions
When Did Dutch Bros Go Public? What Was the Price?
Dutch Bros decided to and became a public company on September 15, 2021. The price was an initial public offering of $23.00 of common A stock.
Do Dutch Bros Pay Dividends?
Dutch Bros does not pay dividends and doesn't intend to for the foreseeable future. If they do decide to pay dividends, it will be when their board of directors thinks it's a good idea.  

Does Dutch Bros Offer Franchise Opportunities?
Dutch Bros doesn't offer franchise opportunities outside of their business. In other words, you can't just decide you want to purchase a Dutch Bros and do so. Instead, the company offers its franchise opportunities to current employees. For example, you would need to start as a barista with Dutch Bros and work your way up to franchising with the company. Once you qualify for the opportunity, you are put on a list to get your own store when one is available.
Will There Be a Dutch Bros Opened Near You?
Since Dutch Bros intends to expand to over 4,000 stores eventually, you can be pretty sure that you'll see one of their drive-thru stores in your area soon, and probably in more than one location.

Conclusion
Dutch Bros is quickly becoming one of the largest and most profitable coffee businesses on the market today. While they don't allow outside franchise opportunities, they do promote from within, which means they are helping to give their employees a clear career path and dream.
The company is headed in the right direction this year. If you don't have a Dutch Bros in your area, you can be sure that they'll be there soon, if not sooner. You can look for a Dutch Bros to be opened near you, no matter where you live, if they have their way and continue to expand.
If you're interested in keeping up with what Dutch Bros does, there are links to these reports and more below. Do you have a Dutch Bros in your town?