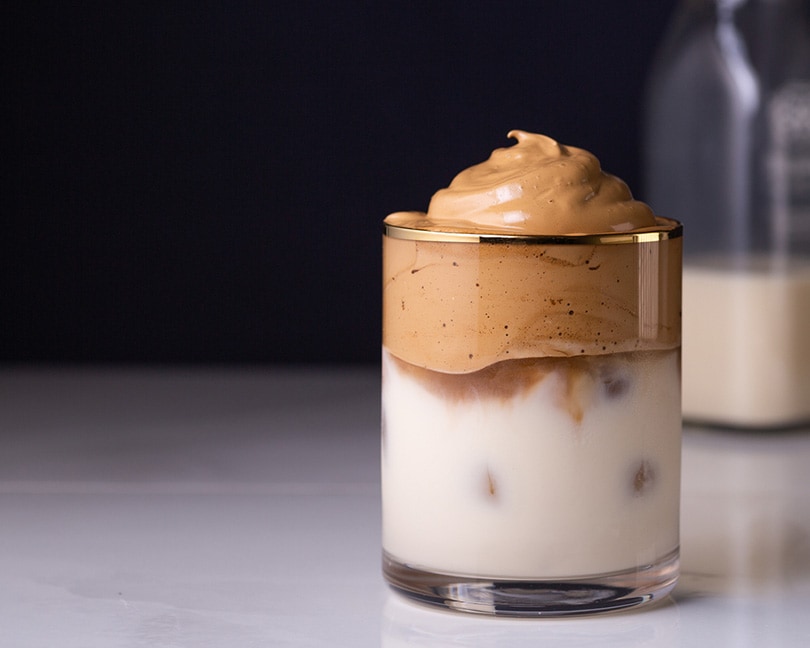 Maybe you're at a friend's house. They finally decide to whip up that delectable Dalgona coffee. But wait. Not so fast. You're doing keto, aren't you? Don't cheat with all that sugar! Well, you'll have to try it another time. But the good news is that for now you can make a ketogenic version using Stevia. Yes, all of that whipped creamy goodness is still possible with other natural sweeteners.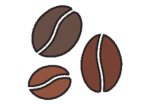 What Is the Hype About Dalgona Coffee?
This sweet and creamy coffee beverage, which can be served hot or cold, predates 2020. However, it wasn't until 2020 that this really began to take off, with a little help from TikTok, of course! For all of 2020's trouble, it certainly afforded many of us hours of time to watch videos. So, let's call the Dalgona coffee hype a gift from an otherwise difficult year!
What is Dalgona Coffee?
Dalgona is a kind of Korean toffee. The popularity of this coffee beverage with the same name is due largely to Korean actor Jung Il Woo, who, when first trying this sweet, whipped coffee recipe on the streets of Macau, China, said that it tasted like Dalgona toffee.
Essentially, it is a combination of instant coffee or espresso with sugar and hot water. This mixture then is whipped to a frothy consistency and served over iced or hot milk. Instant espresso/coffee must be used as coffee grounds will not mix in with the sugar and hot water. In other words, coffee grounds will not dissolve into the mixture as easily.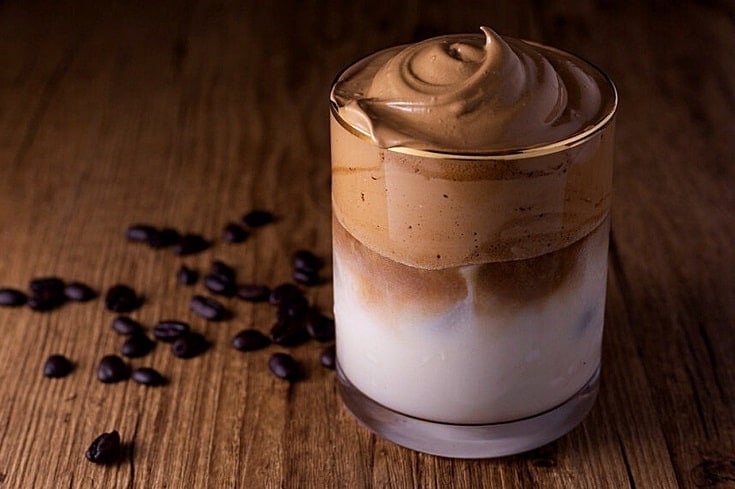 Should I Try Dalgona Coffee?
Certainly, you should give it a try! However, if you're more prone to savoring notes of real espresso or consider yourself a coffee aficionado, we wouldn't recommend that you swap out your morning pour-over for this tasty treat. If you don't like sweet coffee beverages, then this might not be for you.
But even though this drink is more like a dessert than a cup of joe you can take to a work meeting, you can enjoy it any time of the day. Additionally, you can store the foam in your refrigerator, so you can wake up, pour your milk, and throw some of this foam on top. Voila! How easy was that? Well, first you have to make the foam which can be a labor-intensive task!
Can You Substitute Sugar in Dalgona Coffee?
While the classic Dalgona coffee is made with standard cane sugar, other options are also viable. Try coconut palm sugar, stevia, monk fruit sweetener, or honey for some natural sweetness in your Dalgona coffee. Fair warning: If you use honey, it will be difficult to stir into the foam. You might want to stir it into warm milk instead. However, one of the best concoctions using a sugar substitute is Dalgona coffee with stevia.

How to Make Dalgona Coffee: Our Trusted Recipe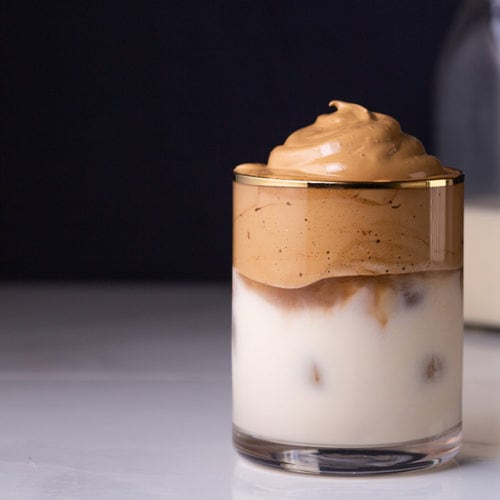 Dalgona Coffee With Stevia
Even though you are only going to put a few tablespoons of instant coffee, stevia, and water into a mixing bowl, get a large bowl. When you whip it up, the overall yield will be larger than what you put in because it gets frothy. You'll also need the extra room to move that whisk around without worrying about losing any ingredients on the counter.
Equipment
Mixing bowl (large)

Wire whisk or electric mixer
Ingredients
2

tbsp

instant coffee/espresso

1

tsp

stevia

2

tbsp

boiling water

8

oz.

whole milk or milk substitute of your choice
Instructions
Place instant coffee and stevia into mixing bowl. Stir to combine.

Add hot water to mixture and stir using whisk or electric mixer.

Keep whisking until frothy in consistency. Make sure that you periodically scrape down the side of the inside of the bowl with a spatula or spoon- the more often the better.

Once frothy and foamy in consistency, serve with a spoon over iced or hot milk of your choice. Use a straw or sip. Stir foam into milk to your liking. Enjoy your whipped coffee with stevia!
Nutrition
---
Featured Image Credit: Jennifer Gauld, Shutterstock