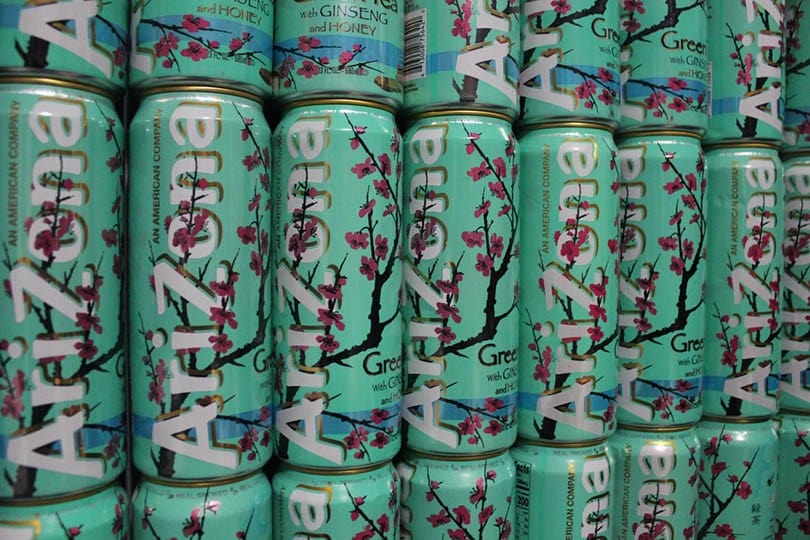 Arizona Green Tea is a popular tea drink that's easily recognizable due to its classic tall can and considerably low price. While every other beverage shoots up in price each year, Arizona Green Tea and other Arizona flavors remain a great bargain. It's also famous for being one of the smoother green teas on the market, though the sugar content may shock you.
There are many reasons that people decide to choose an Arizona over a coffee or soda, one being a caffeine boost. Green tea is a natural source of caffeine, so it's no surprise that Arizona Green Tea contains caffeine. But how much caffeine is in Arizona Green tea, and is it a good source of caffeine? Let's take a closer look at the popular and iconic Arizona Green Tea:
The Short Answer
There are only 7.5 mg of caffeine in one serving (8 ounces) of Arizona Green Tea. If you drink the whole can, you'll consume 22.5 mg. That's significantly less than the 95 mg of caffeine you'd find in a classic cup of brewed coffee.

Arizona Green Tea & Caffeine
How Much Caffeine Does Arizona Green Tea Have?
Arizona Green Tea is not nearly as caffeinated as other drinks, but it does contain some caffeine. One serving (8oz) of Arizona Green Tea contains around 7.5mg of caffeine. But it's important to note that many people opt to drink the whole can rather than one serving. One can is not one serving, but actually three servings. So, considering that many drink the entire can, they are consuming around 22.5mg of caffeine.
While the caffeine content may not be high, it's crucial to remember that caffeine from teas enters the body at a slower rate than other caffeine sources. This is possibly due to L-Theanine in tea, which slows down the absorption of caffeine. One serving or even one can of Arizona Green Tea might give you a less noticeable boost, but caffeine from green tea tends to last longer than other caffeine sources.
Caffeine in Arizona Green Tea vs. Fresh-brewed Green Tea
Arizona Green Tea does contain real green tea and caffeine, but it's still a highly processed and sugar-loaded beverage that is far from true, fresh-brewed green tea. Authentic green tea that is brewed properly will contain around 30-35mg of caffeine per 8oz serving, which is a far cry from the 7.5mg of caffeine that Arizona Green Tea contains. That means a person would have to drink more than five servings, or 1.5 cans, of Arizona to equal one 80z serving of authentic green tea.
Arizona Green Tea vs. Coffee
Although green tea may technically last longer than coffee, even authentic green tea doesn't contain as much caffeine as coffee. Coffee has around 95mg per 8oz serving, which is nearly twice as much as green tea and almost five times as much as Arizona Green Tea. However, it's important to understand how caffeine enters the bloodstream in coffee and tea:
When someone drinks coffee, the caffeine enters the bloodstream almost immediately. There's often a noticeable boost in energy, then the downfall of energy known as the "crash." The caffeine in tea acts differently, thanks to the focus-boosting amino acid, L-theanine. The theory is that L-Theanine may help down the absorption, but it can increase the brain's ability to function. It gives the user a less-noticeable boost while also preventing a caffeine crash.

Is Arizona Green Tea a Good Source of Caffeine?
Although it does contain caffeine and it's not nearly as sugary as soda, Arizona Green Tea is still not the best choice for caffeine. One serving sits at around 17mg of sugar, but a whole can contains over 50mg of sugar. Natural green tea drinks are a better option, either black or with a small amount of raw natural honey as a sweetener. Coffee is also a better option, as long as it doesn't contain sweetened flavored syrups and sugar.
About Arizona Green Tea & Arizona Beverage Company
What is Arizona Green Tea?
Arizona Green Tea is a green tea beverage that is usually found at gas stations, convenience stores, and grocery stores. Famous for its super tall can, the smooth flavor is refreshing and sweet to the tastebuds. It's a better option than a can of soda and won't give you a huge caffeine jolt, but it's still heavily processed and isn't exactly a "healthy" drink. Arizona green tea has a few varieties, including Green Tea Lemonade and Diet Green Tea.
When was the Arizona Beverage Company Founded?
The Arizona Beverage Company was founded in 1992, launched by two friends, John Ferolito and Don Vultaggio, who ran a successful beer and beverage distribution company. Their first product was called the Proto-Zona, which was a refreshing lemony iced tea drink. Their tea took off, and soon they added more products, becoming even more famous for their low cost and giant cans. Today, the Arizona Beverage Company sells a wide variety of tea and juice products, available in virtually every gas station and convenience store.
See also: 7 Best Coffee Shops in Tucson
---
Featured Image Credit: Connor Dickson, Unsplash