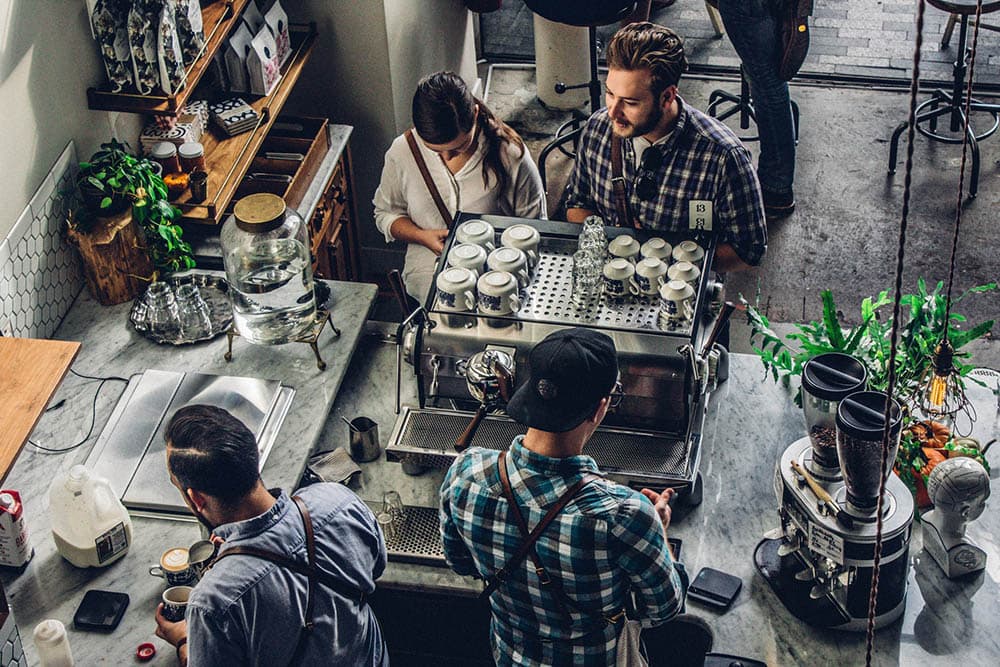 If you're planning on visiting downtown Tucson, finding a coffee shop to visit should be at the top of your list. With so many delicious options available, you're sure to find a stop you'll love. Whether you're a fan of fresh, hot coffee or delicious cold brew, one of these coffee shops below will ignite your taste buds. Take a look at each one and decide which one you'll visit first.

The 7 Best Coffee Shops in Tucson
1. Presta Coffee
2502 N 1st Ave. #100 Tucson, Arizona 85719
100 S Avenida del Convento Tucson, Arizona 85745
501 E 9th St Tucson, Arizona 85705
Presta Coffee started its journey as a coffee cart but has expanded to have multiple locations around Tucson. If you love the great ambiance and a tasty cup of Nordic coffee, either of these 3 locations can adhere to your needs. Stop by and make new friends or bring a group along and make a day of it.
---
2. Raging Sage Coffee Roasters

2458 N Campbell Ave. Tucson, Arizona 85719
Raging Sage may not have a lot of space, but they make up for it with amazing coffee, fresh beans, and beautiful scenery. When you're in the mood for conversation and coffee, this quaint shop is the perfect place to go. Don't forget to grab a scone and a bag of beans for the trip home.
---
3. Exo Roast Co.
403 North 6th Ave Tucson, Arizona 85705
Stepping through the doors of Exo Roast Co. is like emerging into a world of culture, community, and amazing coffee. The beans used by this coffee shop are meaningfully cultivated in Mexico. Once they find their way to Exo, customers will enjoy fresh tastes and a great atmosphere.
---
4. Savaya Coffee Market
2959 N Swan Rd Tucson, Arizona 85712
Turkish coffee comes alive at Savaya Coffee Market. The owners of this shop and roastery have a long history in the coffee world and have learned from the best. If you want to stop by and rediscover your love for coffee, this coffee shop is the perfect place to do it.
---
5. Tucson Coffee Roasters
250 S Craycroft Tucson, Arizona 85711
If you're in the mood for a taste of traditional, locally roasted coffee, Tucson Coffee Roasters is the place to visit. This stylish coffee shop is a great place to make connections and find new coffee beverages you will love.
---
6. Cartel Roasting Co
2516 N Campbell Tucson, Arizona 85719
210 E Broadway Blvd Tucson, Arizona 85701
Cartel Roasting Co could be one of the most popular coffee shops in Tucson but everyone should know about their amazing cold brews. This shop puts its own twist on each beverage they serve and strives to ensure you have a great experience when you stop by.
---
7. Yellow Brick Coffee
3220 S Dodge Blvd #1 Tucson, Arizona 85713
If you want to learn more about coffee, how it's made, and the best ways to enjoy it, Yellow Brick Coffee is the place to be. This local shop has been around for quite some time and offers up tasty coffees each time you stop by. You can also enjoy their workshops that will allow you to learn more about coffee and how it's made.

Conclusion
As you can see, Tucson has a lot to offer when it comes to coffee shops. When you're enjoying what this beautiful town has to offer, don't forget to stop in at one of these shops and grab yourself a fresh cup. It will perk up your day and help you find a new shop to spend your time when you're downtown.
---
Featured Image Credit: Joshua Rodriguez, Unsplash