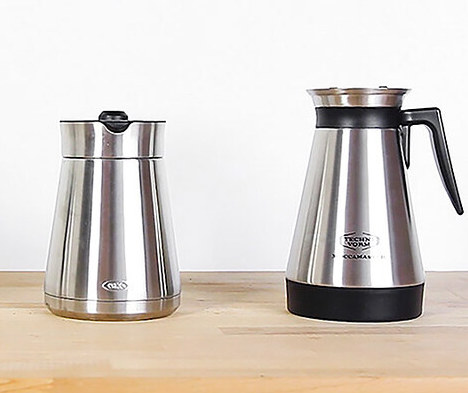 The thermal carafe coffee maker reviews found here, coupled with our buying guide, have been thoughtfully assembled with one goal in mind: to help you enjoy the best possible cup of coffee. Because we know you love your java as much as we do, we've devoted many hours of research to testing out and comparing popular options.
We found ten coffee makers that are worth your time. Some will be good for budget buyers, and others will be good for people that see money as no object. Every single one of them can be dependably counted on to brew a delicious cup of coffee.
---
Comparison Table (updated in 2021):
Image
Product
Details

Best Overall

Technivorm Moccamaster

Optimal temperature monitoring
Copper-based boiling system
Fresh coffee in four to six minutes
CHECK PRICE

OXO BREW 9-Cup

Optimal temperature
Backlit display
Quick brew time
CHECK PRICE

Best Value

BLACK+DECKER Carafe

Affordable
Simple to use
Makes lots of coffee
CHECK PRICE

Cuisinart Coffee Brewer

Stainless steel
Durable
Easy to use
CHECK PRICE

Ninja Thermal Carafe

Five different brewing modes
Cold drinks
Easy to use
CHECK PRICE
The 10 Best Thermal Carafe Coffee Makers:
1. Technivorm Moccamaster Thermal Coffee Maker – Best Overall
The Technivorm Moccamaster 79112 KBT Coffee Brewer features a stainless steel design that will complement that modern clean look that kitchens hope for. It's easy to use and quick. The copper-based boiling system can steep in four to six minutes for fast access to delicious coffee.
The system naturally maintains a steady temperature between 196-204 degrees. These are optimal temperatures for bringing out the natural flavors in fresh coffee beans.
It's also durable and further supported by a generous five-year warranty. The only downside is the price. The above-listed features tally up to a pricey coffee maker that only true coffee fanatics will be willing to shell out the money for.
All in all, we think this is the best thermal carafe coffee maker in 2020.
Pros
Optimal temperature monitoring
Copper-based boiling system
Fresh coffee in four to six minutes
Five-year warranty
---
2. OXO BREW 9-Cup Thermal Carafe Coffee Maker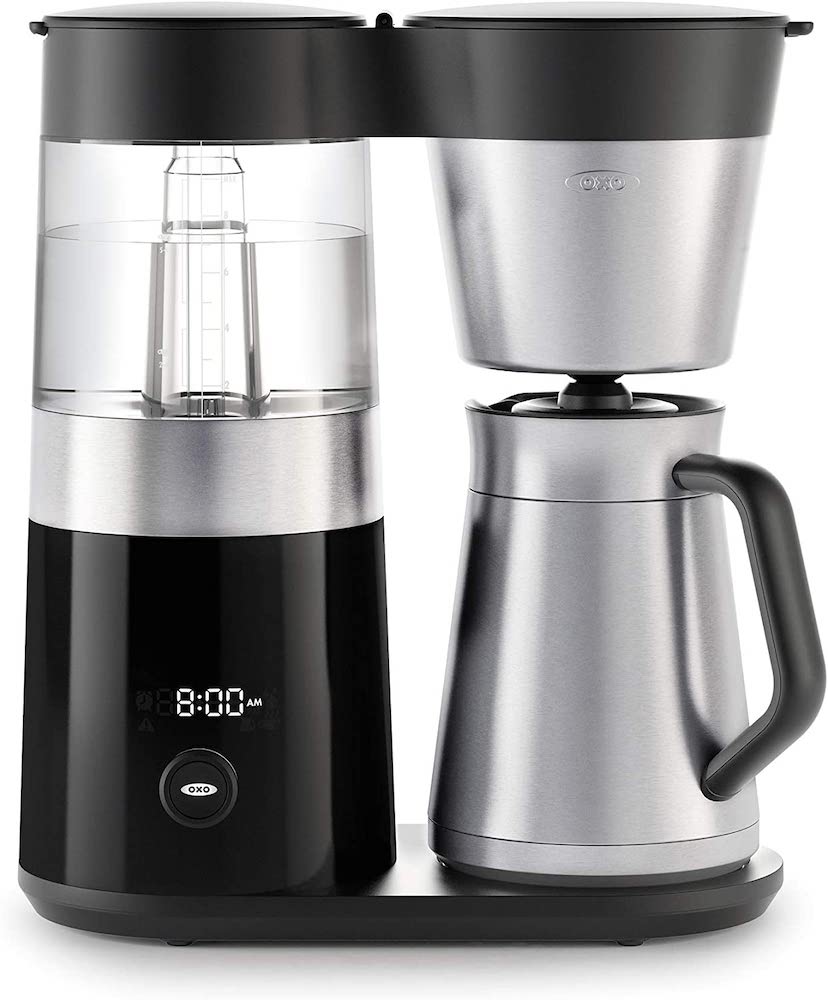 At roughly half the price of our top choice, the OXO Brew 9 Cup Coffee Maker is a great option for buyers who want high-end features without a high-end price tag. It can make nine cups of coffee in a matter of minutes, maintaining the same optimal temperature range of 196-204 degrees that we appreciated in our top pick. It's also just easy to use, with a backlit LED interface that gives users a clear look at all the controls.
The only real issue is the base. Though most of the unit is sturdy, the base itself has a distinctly cheap plastic feel to it. This is only more disappointing when the price tag is factored in. Despite being more affordable than our top choice, it's still pricey enough that it should feature high-quality components.
Pros
Optimal temperature
Backlit display
Quick brew time
Cons
Cheap plasticky feel to the base
---
3. BLACK+DECKER Thermal Carafe Coffee Maker – Best Value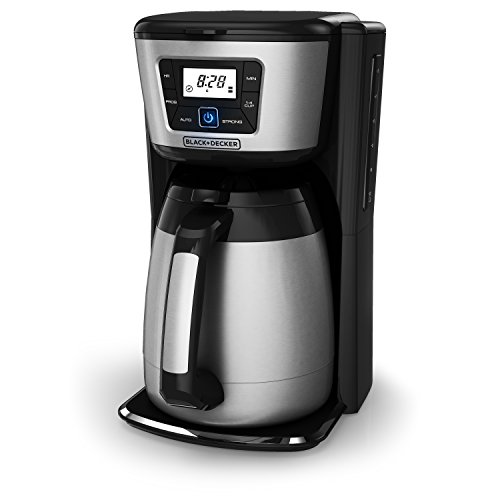 BLACK+DECKER is always good for a high-quality affordable piece of equipment, and it has done it again with its 12-Cup Thermal Coffeemaker. The sheer volume of the unit makes it a great option for coffee-loving families.
The shower head water system sprays all the grounds evenly, so you get the most bang for your buck, while the system itself is operated via a very simple interface that consists only of several buttons. It also has a primarily stainless-steel build that should mean the coffee maker will look good and last for a long time.
We were a little disappointed with the amount of effort it takes to clean this coffee maker. The system needs to be flushed with vinegar regularly to maintain optimal performance. It also takes a little longer (close to ten minutes) to brew a full pot of coffee. For the price, though, the compromises are pretty manageable.
Pros
Affordable
Simple to use
Makes lots of coffee
Cons
Hard to clean
Slow to brew
---
4. Cuisinart Coffee Brewer with Thermal Carafe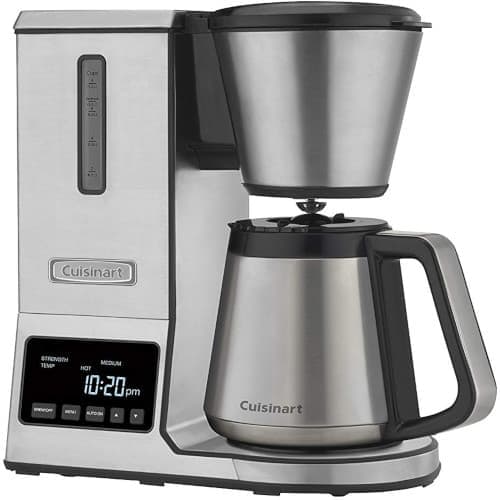 Cuisinart keeps things simple with the CPO-850. Two basic heat settings (hot and very hot) give you everything you could need from a cup of coffee without complicating things with too many features. The all-stainless-steel design blends well in the kitchen while being durable and efficient at maintaining the right temperature. It also provides you with an easy interface for controlling your flavor, with options to set the brew at mild, bold, and medium.
This is a pricey coffee maker, especially given that it has the smallest capacity we've seen so far. It's only able to make eight cups at a time, so you may need to make several pots a day if you have a lot of coffee drinkers around.
Pros
Stainless steel
Durable
Easy to use
Cons
Pricey
Small brew capacity
---
5. Ninja Thermal Carafe Coffee Machine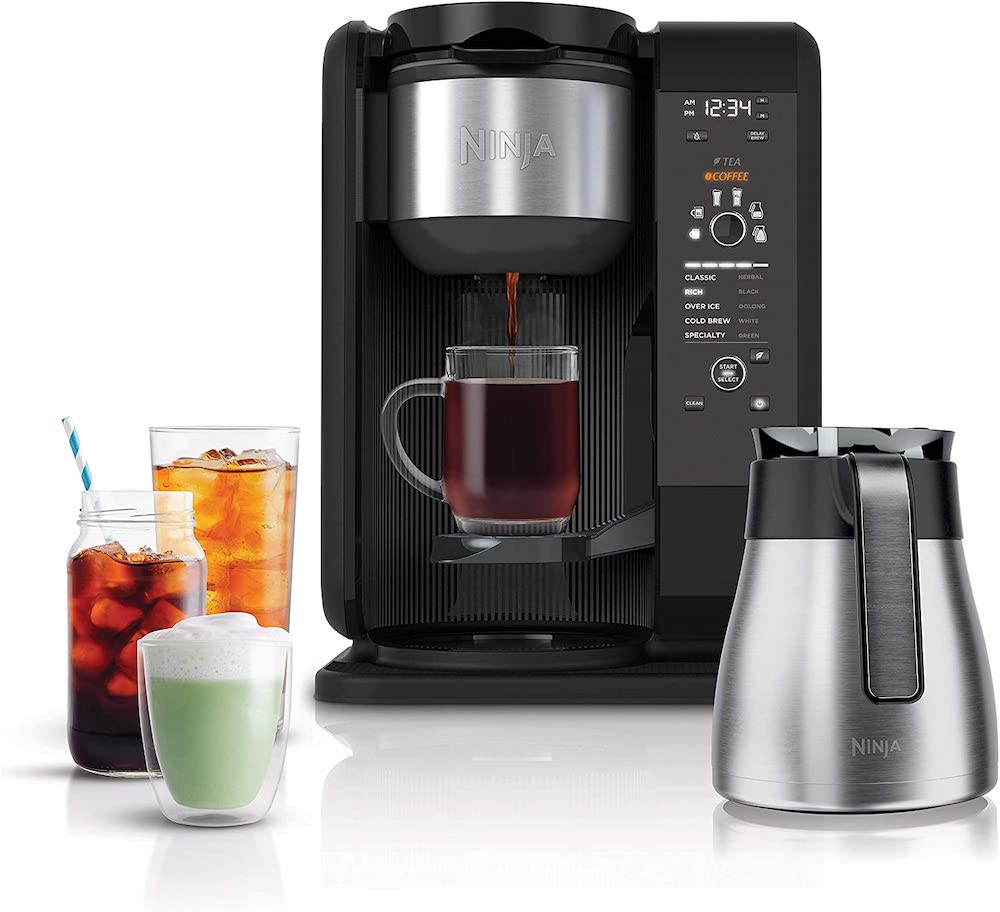 The Ninja Hot Coffee Maker System is more than just an awesome name. It's a heavy-duty, versatile, easy-to-use brew system that can make coffee, tea, and even cold drinks. It features five different modes (Classic, Rich, Over Ice, Cold Brew, or Specialty) and includes a smart basket that's able to register if you're making tea, coffee, or a cold brew.
It's a fairly expensive brew system, but you get a lot for your money. The only other concern is that it is fairly slow compared to the other options on our list. With brew times between 10-15 minutes, the Ninja Hot makes you wait for your coffee.
Pros
Five different brewing modes
Cold drinks
Easy to use
---
6. BUNN Speed Brew Thermal Coffee Brewer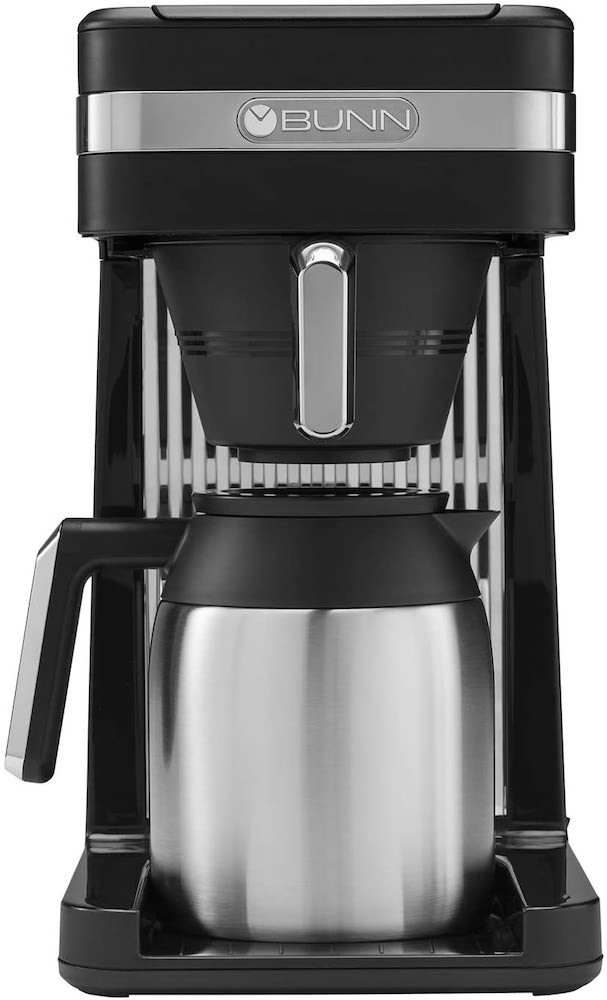 The BUNN CSB3T Speed Brew Platinum Thermal Coffee Maker is a simpler machine with basic but useful features. With brew times averaging around six minutes, it's substantially quicker than many of the other options on the market. It also features an innovative spray head system designed with the goal of bringing out the unique flavor of your grounds.
The no-frills design will be deeply appreciated by users who just want coffee. The user interface includes only a few buttons, so pretty much everyone will have an easy time with it. The materials are also great. The insulated carafe is able to keep coffee hot for over two hours without any exterior heating source.
It is surprisingly expensive given the relatively basic interface, and cleaning the Bunn can be a hassle, but otherwise, it's a great coffee maker.
Pros
Easy to use
Very quick
Well-insulated
Cons
Value concerns
Hard to clean
---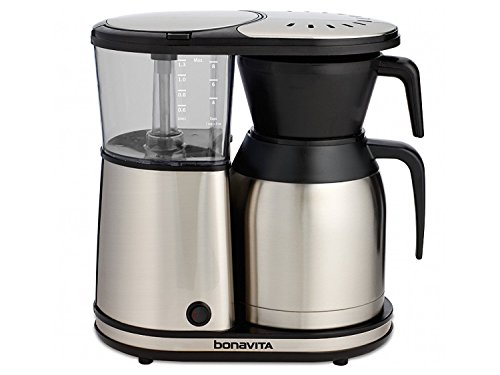 The Bonavita BV1900TS is another eight-cup coffee maker that puts a big emphasis on ease of use. The "one touch" system requires just the push of a single button to use. The walled carafe is hyper-insulated, so you can keep your coffee hot for two hours or more. It's also very moderately priced—a welcome change of pace if you haven't been thrilled with the price tags of the other units on our list.
With an eight-cup capacity, it won't suit the needs of large families or true caffeine addicts. Still, for the average person, it's a great basic brew system available for a good price.
Pros
Affordable
Easy to use
Well-insulated
Cons
Small brew capacity
Fairly basic
---
8. KRUPS Thermal-Carafe Coffee Machine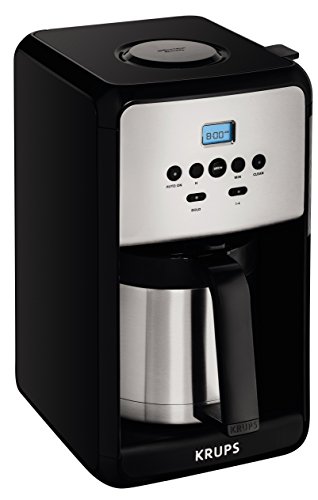 The Krups ET351 is another simple and affordable brew system with a large twelve-cup capacity and an easy-to-use interface.
Perhaps the most impressive part of the system may be the thermal design element of the carafe. Most of the high-end carafes on our list are able to keep coffee hot for around two hours. The carafe on this unit can keep coffee hot for an impressive four hours.
Do note that some users have reported their coffee makers expiring prematurely. The defect is likely to be covered under warranty, but it's also a red flag. Assuming you don't get a dud, however, the Krups ET351 is a great coffee maker for the money.
Pros
Affordable
Great thermal carafe
Cons
Serious defects lead to coffee maker breaking prematurely
---
9. Mr. Coffee 10-Cup Stainless Steel Coffee Brewer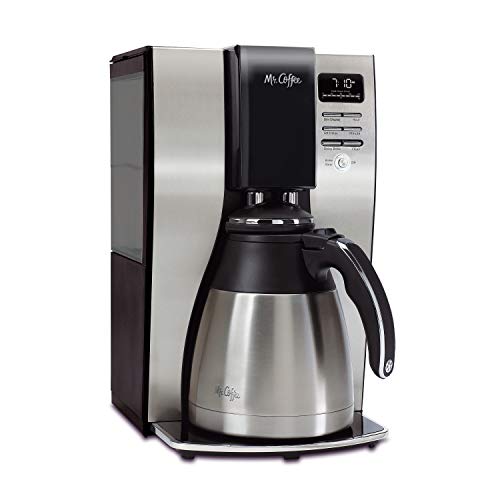 It doesn't get more classic than Mr. Coffee. Our second-to-last pick is the moderately priced Mr. Coffee 10-Cup Coffee Maker. It's a no-frills brew system that keeps the coffee at a 205-degree temperature consistently.
The big drawback is that it simply doesn't make coffee that's as good as most of the other systems on our list. You don't get the same robust flavor profile that thermal carafe coffee makers are known for. Some users compensate by using more grounds than they usually would, but there is nevertheless a distinct difference in quality. It's not bad, it's just not great either.
Pros
Affordable
Ten-cup capacity
Cons
Very basic
So-so brew quality
---
10. Electrolux Thermal Coffee Maker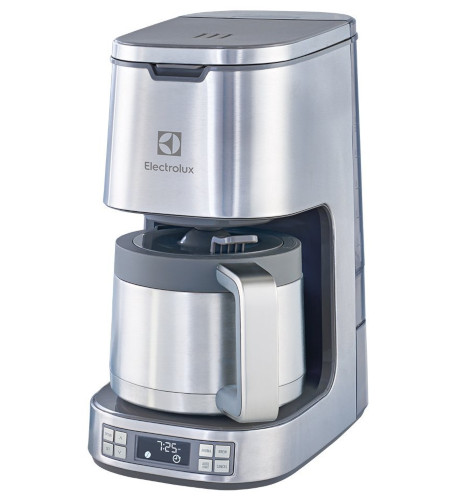 The Electrolux ELTC10D8PS Expressionist Thermal Coffee Maker has the distinction of being the most affordable brewer on our list. It's simple to use, with just eight buttons. A backlit LCD screen keeps the time and allows you to set auto brews. It also has a two-hour "keep warm" timer.
Otherwise, it's pretty basic. The brew features are lacking, and it struggles immensely to maintain hot temperatures. As an ordinary coffee maker, it works just fine. However, compared to the rest of the units on our list, it falls well short. It's also very hard to clean.
Cons
Very basic
Struggles to maintain hot temperatures
Hard to clean
---
Buyer's Guide
Here are some buying considerations that will help you find the best thermal carafe coffee maker for your needs:
Warranty
The better the warranty, the better the product. This is actually just a good general rule of thumb to keep in mind, regardless of what you are buying.
It's not just the fact that a good warranty ensures you aren't out more money because of a manufacturing defect. That's great, but it's also part of buying something with a good warranty.
It also shows that the company believes in its products. You can bet that if a manufacturer gives its brew system a five-year warranty, it's pretty positive the product will be going strong well past that point. After all, big business doesn't usually volunteer to make costly repairs, right?
Brew Time
How long are you willing to wait for your coffee? No matter how good the brew system is, the grounds will need a little bit of time to steep. However, modern technology has made the wait much more manageable.
Many of the best thermal carafe coffee makers on our list feature brew times of anywhere from four to six minutes. These time frames should be manageable for even the biggest coffee fiends.
Materials
Coffee makers of every variety usually consist of a wide range of materials: plastics, glass, and even stainless steel. However, when it comes to the actual carafe, you're usually only going to find glass, or a steel/plastic combination. Steel is more durable, of course, but it is also usually pricier.
Ease of Use
Even though the purpose of a thermal coffee maker is to produce café-quality brews from the comfort of your own home, you don't want to have to be a pro to brew a cup. User-friendliness is an important factor in any high-end coffee maker.
Many of the coffee makers on our list have basic interfaces that are still able to produce delicious, nuanced cups of coffee.
Other guides we recently published

Final Verdict
The Technivorm Moccamaster 79112 KBT Coffee Brewer topped the list of our thermal carafe coffee maker reviews. It's dependable, easy to clean, and loaded with high-quality features. This is a true attention-grabber that those buying for quality will really appreciate.
If you made up your mind after our first review, we don't blame you. However, if you're still on the fence, you might also do well to remember our best for the money pick, the BLACK+DECKER 12-Cup Thermal Coffeemaker. Though this unit is a little on the simpler side, it's a great value pick for those who want to save money while still making a good purchase.
But, hey, there are also eight other great choices to consider. Think it through and decide on the best thermal carafe coffee maker that's best for you and your family. You'll be glad you did when you enjoy your first cup of perfectly brewed coffee.
---
Header image credit: Your Best Digs, Flickr