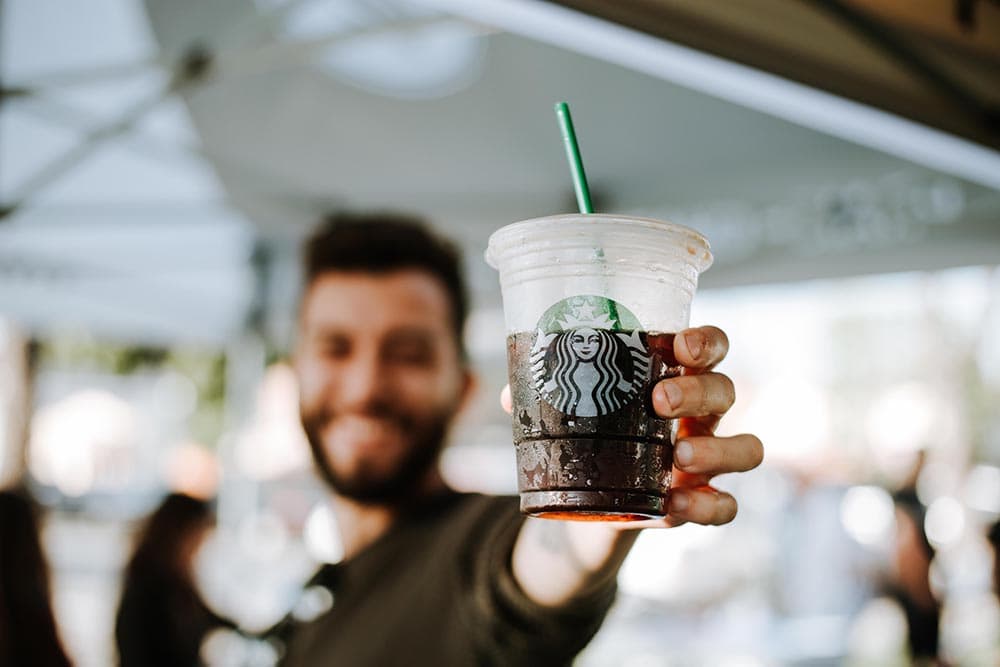 With oodles of festive flavors that you can add to any drink, iced coffee is always in season at Starbucks. While it might be associated with the steamy days of summer, an iced coffee with a few pumps of peppermint syrup can serve as a yuletide beverage for a milder day in December. We've scouted out a few popular iced coffee drinks that you might enjoy throughout the year, as well as our tips on how to make any order a special order.

The 10 Best Starbucks Iced Coffee Combinations
1. Salted Caramel Cream Cold Brew – Best Sweet Cold Brew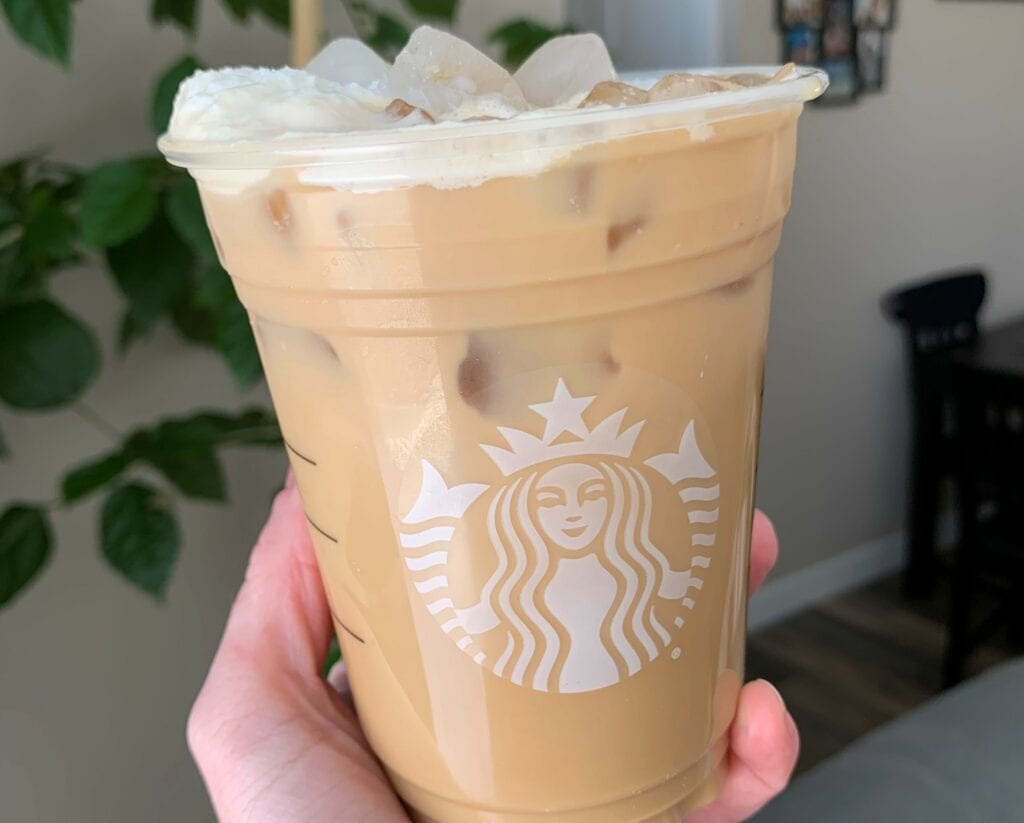 | | |
| --- | --- |
| Sugar: | 24 g |
| Caffeine Content: | 185 mg (Grande) |
Do you remember those caramel cream candies in the checkout line when you were a kid? That's how we imagine this creamy cold brew would taste. If you like caramel and cold brew, this one is sure to be worth a shot. With only 24 grams of sugar, this one hits the middle-of-the road as far as sweetness, so it doesn't hurt your diet too badly.
---
2. Pumpkin Cream Cold Brew – Best Seasonal Cold Brew
| | |
| --- | --- |
| Sugar: | 31 g |
| Caffeine Content: | 185 mg (Grande) |
This year, Starbucks' hallmark harvest drink, the PSL (pumpkin spice latte) turns 21. Thus, it only seems right that Starbucks would create a similar drink for a new generation of pumpkin spice fans with cold brewed coffee instead of espresso, and a sweet cream finish in place of frothed milk. The Pumpkin Cream Cold Brew is made with real pumpkin, but the trick to this treat is that there's more sugar in the cup than vegetables. You can always ask your neighborhood barista to hold off a little on the syrup if you're not wanting the pie-in-your-mouth sugary punch.
---
3. Starbucks Cold Brew Coffee with Milk – Classic Cold Brew Option
| | |
| --- | --- |
| Sugar: | 3 g |
| Caffeine Content: | 205 mg (Grande) |
With no sugary syrups to mask its naturally pleasant flavor, the Starbucks Cold Brew Coffee with Milk is for the coffee drinker who takes pleasure in the simple things. This recipe keeps it basic with almost no sugar, calories, or fat. However, don't make this your late evening indulgence; the caffeine content exceeds 200 mg, making this beverage one of the most charged drinks on our list.
---
4. Iced Coffee – Best for Moderate Sweetness and Caffeine
| | |
| --- | --- |
| Sugar: | 20 g |
| Caffeine Content: | 165 mg (Grande) |
We think this drink is like the sweet tea of coffee. It's not as sweet or caffeinated as some choices, but it has a little something that's perfect for an after-lunch pick-me-up. Some cafes serve their iced coffee plain, but Starbucks automatically adds a little simple syrup to their brew. You can probably ask to hold the syrup if you don't want it. Beware, though, it might taste super strong without a little sugar.
---
5. Iced Chocolate Almond Milk Shaken Espresso – Best Iced Latte with Almond Milk
| | |
| --- | --- |
| Sugar: | 16 g |
| Caffeine Content: | 255 mg (Grande) |
Nuts + coffee + a little sweet cocoa powder mixes into a low-calorie, low-guilt drink with just the right blend of rich, savory sweetness. We consider this drink to be a low-sugar choice for Starbucks and is a relatively healthy choice as long as you can tolerate its almost 300 mg. of caffeine contained in the blonde espresso.
---
6. Iced Toasted Vanilla Oat Milk Shaken Espresso – Best Oat Milk Recipe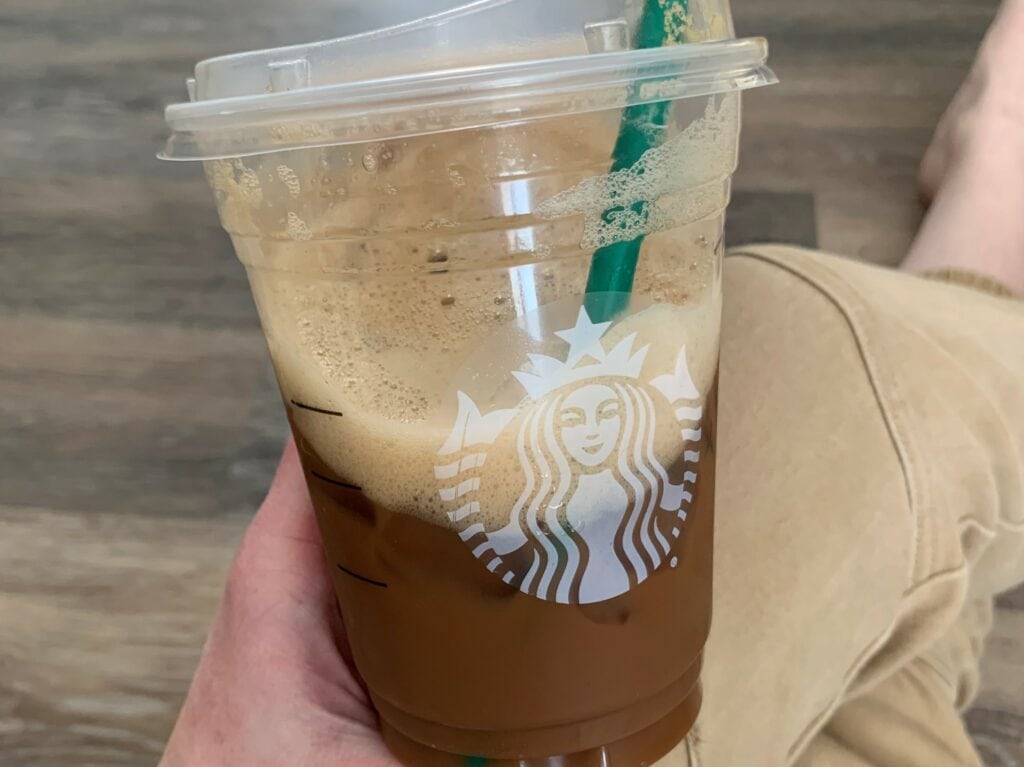 | | |
| --- | --- |
| Sugar: | 11 g |
| Caffeine Content: | 255 mg (Grande) |
You can substitute the milk in most drinks for oat milk or almond milk, but we think the vanilla flavor belongs with oat milk in this drink, just like the cocoa pairs well with the almond milk in the other shaken espresso. The blonde roast espresso gives this beverage a caffeine boost, while the 11 grams of sugar in the toasted vanilla flavored syrup provides a little sweetness that's perfect for any day.
---
7. Iced Caffe Latte – Best Classic Iced Latte
| | |
| --- | --- |
| Sugar: | 11 g |
| Caffeine Content: | 150 mg (Grande) |
The iced caffe latte is a classic coffee shop favorite that's simple to make. The barista pours milk over ice and two shots of espresso and gives you an iced beverage that's certain to please. It's the safe, comforting choice that you'll return to for a normal day that doesn't need to be extra to be special.
---
8. Iced Cinnamon Dolce Latte – Best Creative Drink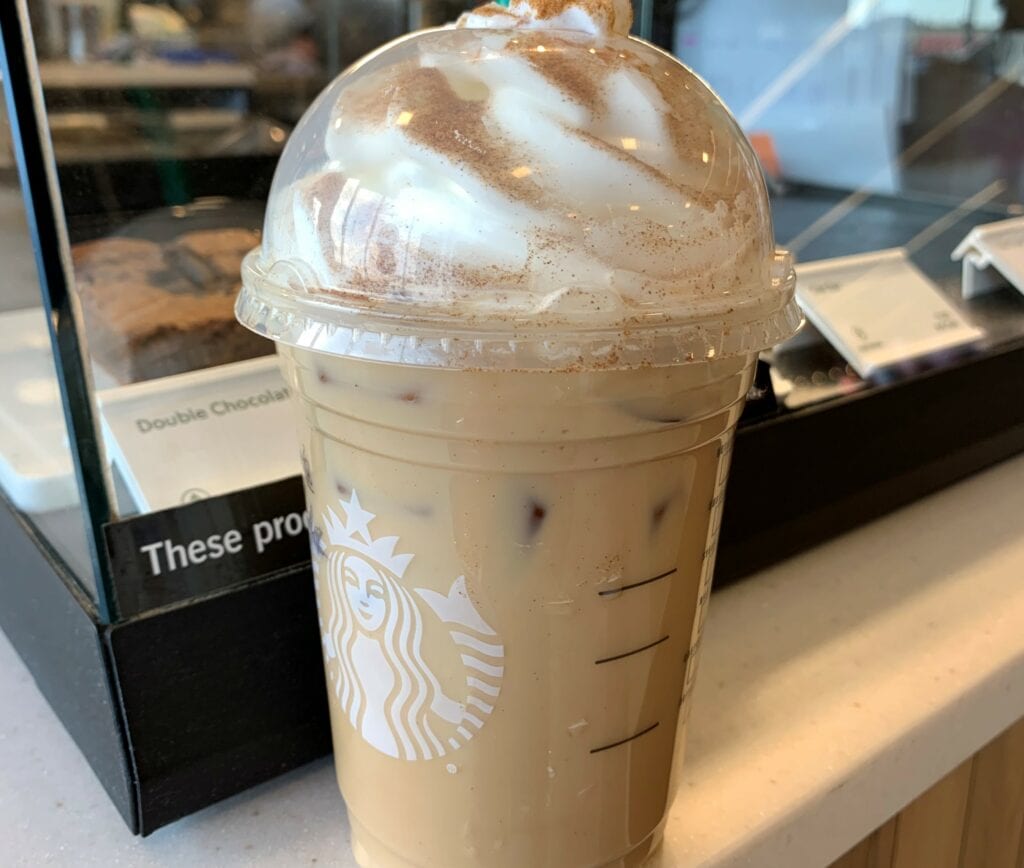 | | |
| --- | --- |
| Sugar: | 35 g |
| Caffeine Content: | 150 mg (Grande) |
With the cinnamon syrup, this drink feels like it would be a fall favorite, but it's actually on the menu all year long. We find that this drink isn't attempted in other coffee shops as often as their other popular drinks, making it more of a signature Starbucks thing. With its indulgent cinnamon, sugar, and butter topping, we want to try this treat next time we're in the mood for something really sweet.
---
9. Iced Caramel Macchiato – Best Macchiato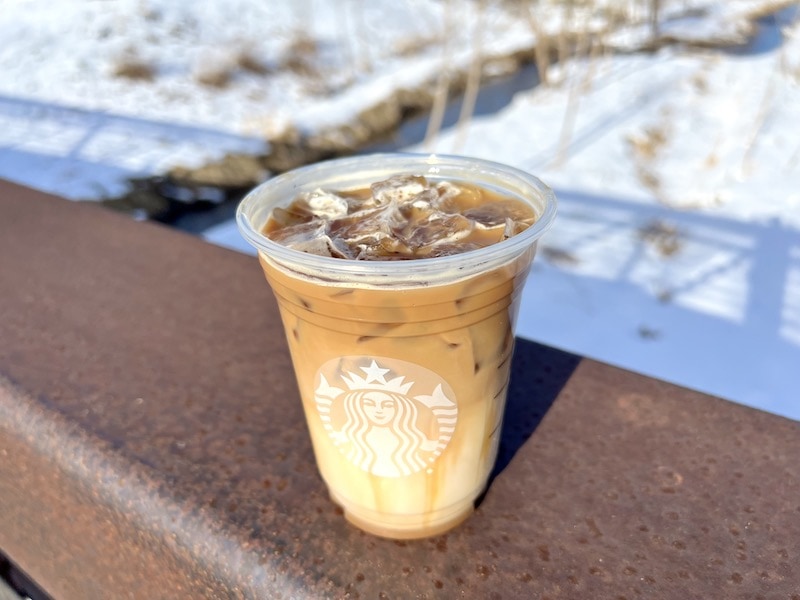 | | |
| --- | --- |
| Sugar: | 34 g |
| Caffeine Content: | 150 mg (Grande) |
Did you know that Starbucks Americanized the Italian macchiato? The syrupy drink that we hold as the standard for a caramel macchiato is actually a complete reinvention of the original, a small drink that contains a couple shots of strong espresso with a little bit of milk foam. However, Starbucks knows that Americans like sugar in everything, so they added a little caramel syrup and a lot of milk to the mix to create the coffee shop staple that we love today.
---
10. Iced White Mocha – Best Iced Mocha Latte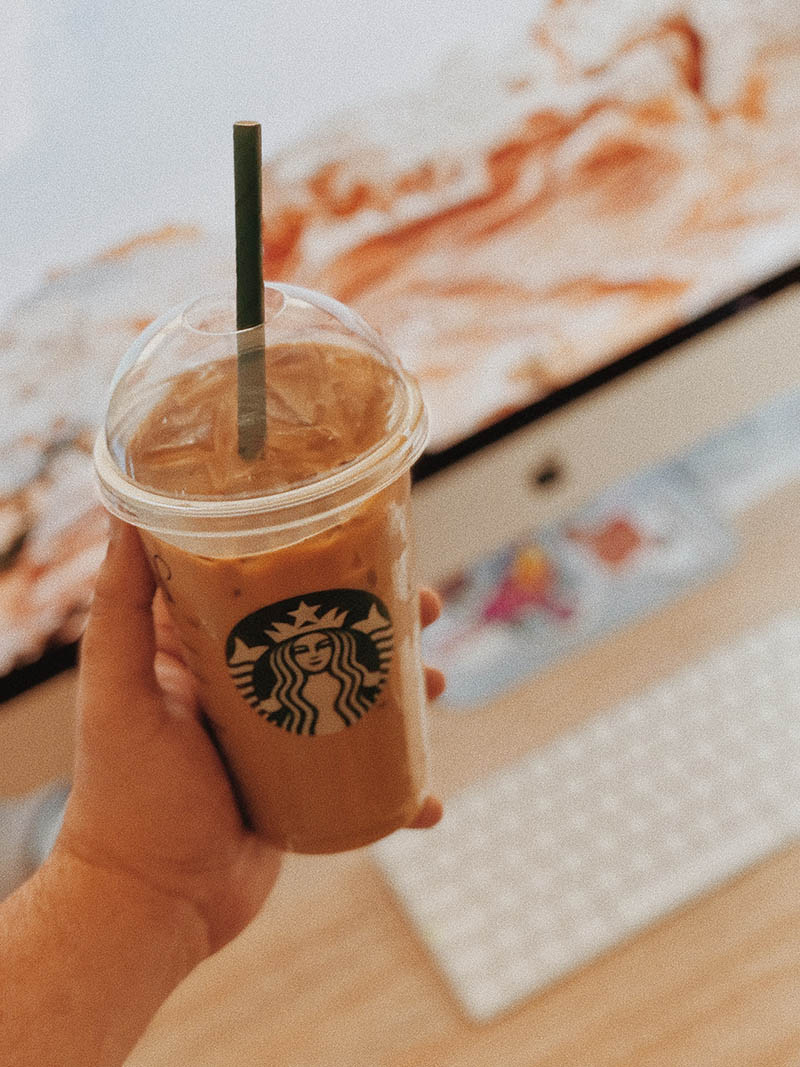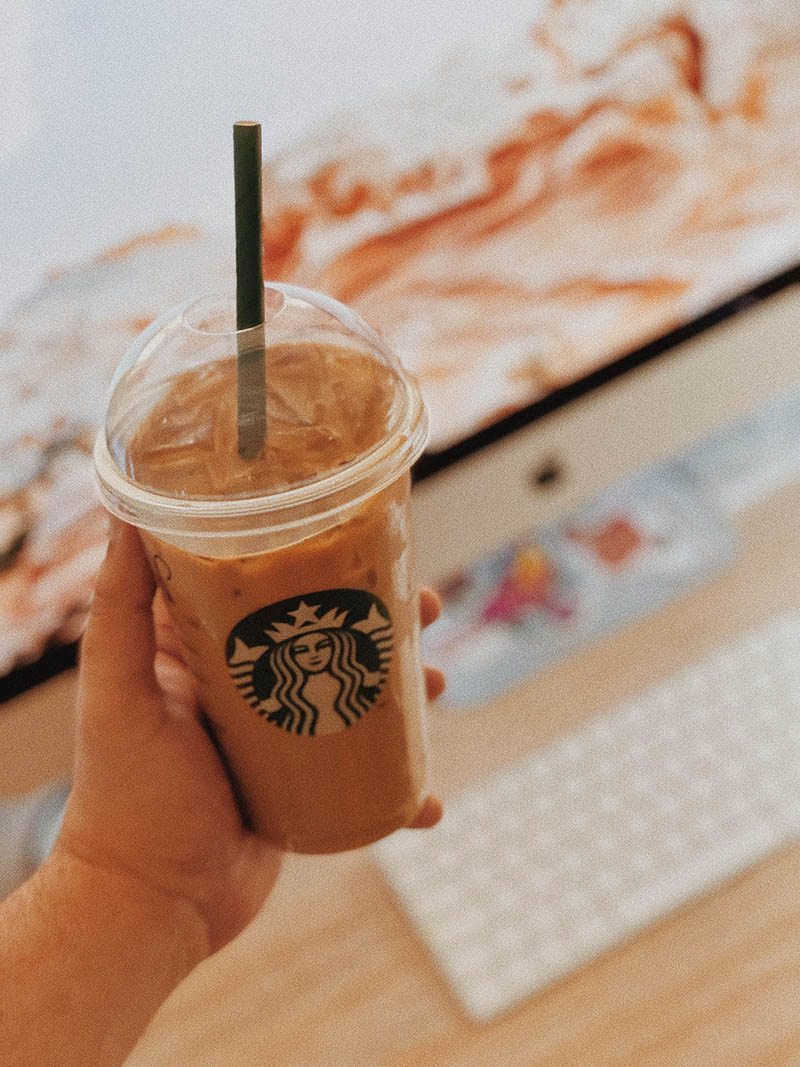 | | |
| --- | --- |
| Sugar: | 48 g |
| Caffeine Content: | 150 mg (Grande) |
If it's an iced white mocha day, we know it's going to be a good one. We don't even care that this drink contains the entire recommended daily portion for sugar in only a Grande-sized serving. It's the sole reason we drove out of our way to Starbucks, and it's going to be worth every sweet sip.

The Difference Between Iced Coffee, Iced Lattes, and Cold Brew at Starbucks
Every cafe seems to have a slightly different way of distinguishing between cold brew, iced coffee, and iced lattes. At Starbucks, a cold brew never experiences heat. The beans are immersed in cold water for 20 hours. This longer process gives the drink a low-acid profile, and a slightly stronger and naturally sweeter taste. The slow steeping process also gives the drink an extra nudge of caffeine.
Iced lattes are espresso shots that are poured over ice and stirred with your milk of choice and usually some type of syrup. Iced coffee, by contrast, is a normal Starbucks roast that's brewed twice as strong as regular coffee, and then poured over ice.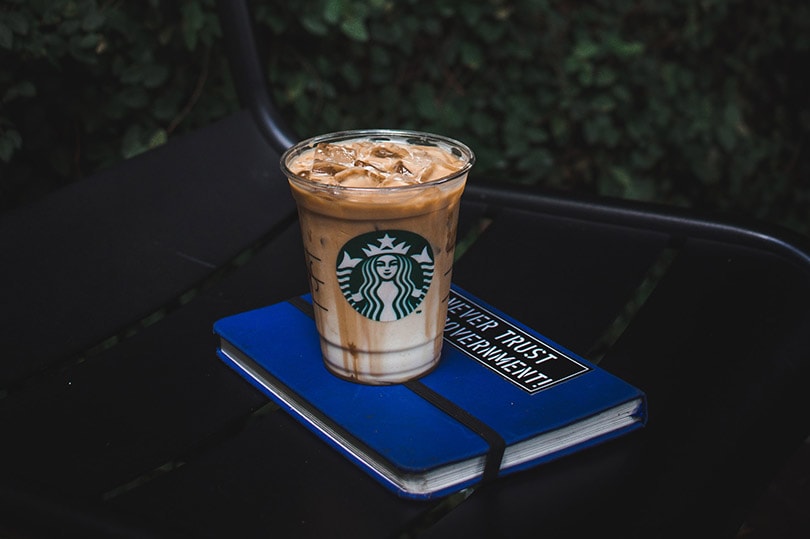 How to Order at Starbucks
Standing in the Starbucks line can be slightly intimidating if you're not familiar with the process. Customers spewing strange words like "venti" and "grande" while adding extra instructions like multiple shots or extra pumps can make you feel like you've crossed the border into a small foreign country where you don't grasp the culture. However, the good news is your friendly neighborhood barista is there to help you. Even if you don't understand the lingo, if you kindly explain what you want, they'll usually make you a drink to serve your needs.
For example, you might not see a dairy-free version of the iced white mocha, but you can always ask what milk choices are available that day if you're wanting a plant-based option. Similarly, maybe you're craving a latte but don't want vanilla or whatever seasonal flavor is on display. Sometimes a store will have leftover syrup from the previous season and might make you a drink that's not officially available—if you ask nicely (tipping generously helps, too).
In case you want to appear a little more composed at the counter, here are the six Starbucks sizes*:
Demi (3 ounces)
Short (8 ounces)
Tall (12 ounces)
Grande (16 ounces)
Venti (20 ounces for hot drinks, 24 ounces for cold drinks)
Trenta (31 ounces)
*Note: Tall, Grande, and Venti are the most common. Some drinks aren't available in all sizes.

Conclusion
While it might sound intimidating to order at Starbucks, there's a drink for everyone who likes iced coffee. Learning some of the lingo and familiarizing yourself with the menu can help but remember that most drinks can be customized to your tastes if you ask the barista.
See Also: 10 Best Starbucks Drinks for Kids: Ranked & Reviewed!
---
Featured Image Credit: Omar Lopez, Unsplash