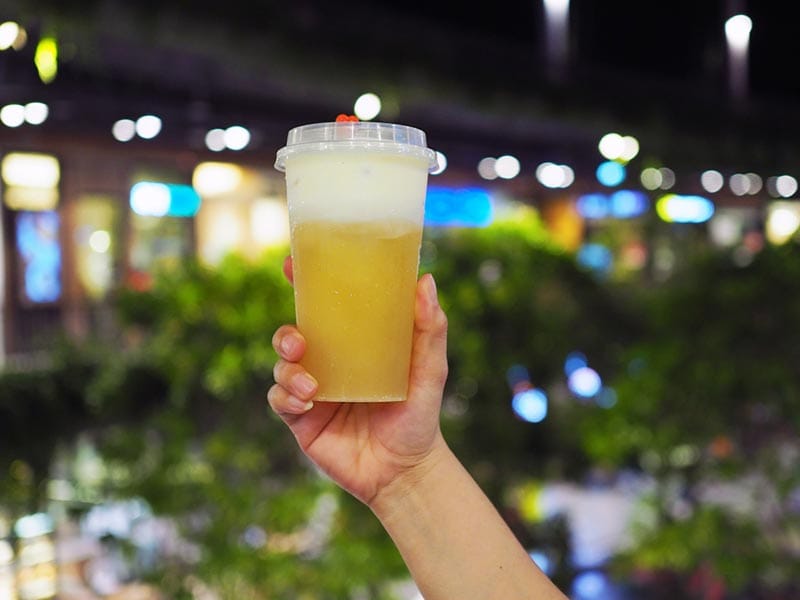 Whether you're a college student preparing for an all-night cram session or just feeling lazy after a huge meal, Dutch Bros has you covered with their Dutch Bros Rebel Drinks. With 120 milligrams (mg) of caffeine in a medium drink, Rebel drinks are trendy and are similar to drinking a double shot of espresso.
There are quite a few Dutch Bros Rebel Drinks to choose from. If you're looking for a shot of energy that tastes amazing, this is probably the drink for you. We'll give you seven of our favorite Dutch Bros Rebel Drinks in the list below and more information about the popular beverages.

The 7 Best Dutch Bros Rebel Drinks:
1. Electric Berry
If you're a fan of raspberry and lime, the Electric Berry Rebel Drink will quickly become one of your favorites. It is a mix of blue raspberry and lime syrup, and we'll tell you they are quite the combination if you're looking for a shot of energy and a burst of flavor at the same time.
You can order this delicious beverage in blended or iced. However, you might want to order a small if you're watching your calories, as the large is 390 calories a shot. This is one of our favorites, as the flavors burst in your mouth, and you don't have to experience the crash that is common in many energy drinks.
---
2. Double Rainbro
Another fan favorite is the Double Rainbro. This is one of the most popular drinks at Dutch Bros. It's made with the patented energy drink and flavors such as strawberry, peach, and a touch of coconut syrup for a robust flavor combination.
---
3. Aftershock
The Aftershock is another popular drink that graces the Dutch Bros menu. This one is available in blended or iced and is the perfect drink to give you energy on those hot, muggy summer afternoons without having to order a hot beverage.
If you're a fan of all things berry, this will be one of your favorites. It includes a delicious mixture of raspberry, blackberry, strawberry, and a touch of lime to top it off for a delightful drink that provides energy at the same time.
---
4. Peach
While it sounds like a simple, old-fashioned drink, the Peach Rebel Energy Drink at Dutch Bros is anything but. If you're from Georgia, you probably know the taste of a refreshing peach drink on a warm spring day.
You can get the Peach Rebel blended or on ice. It's made with the Dutch Bros Rebel Energy Drink and has a splash of peach syrup to give it that refreshing peach flavor.
---
5. Shark Attack
Who wouldn't want to order an energy drink called the Shark Attack? Just the name conjures up days by the ocean with a Rebel Energy Drink in hand. The Shark Attack is a multicolor drink with flavors such as blue raspberry, lime, and coconut, and it's topped off with a pomegranate drizzle for an added touch.
This one has serious vibes of a lazy day on the beach and may quickly become your favorite drink for a scorching summer day.
---
6. Midnight Rebel
The Midnight Rebel may be the perfect drink to help you get through that all-night study session, but it's not just for the night owls who need a burst of energy. Made of blackberry and pomegranate, this is the perfect drink to get you through the night shift or as a pick-me-up on your way to the office.
Whichever you choose, this might be just the rebel energy drink to get you through the day or night.
---
7. The Vampire Slayer
Again, who wouldn't want to order an energy drink called the Vampire Slayer? This drink is made of strawberry and pomegranate and is perfect for burning the midnight oil. However, while it's fruity and delicious, the large contains over 560 calories, so order this one sparingly.
It also contains over 63 grams of sugar, which might make you reconsider this delicious drink, even if you are a night person.

Dutch Bros Rebel Drinks FAQ
Now that you know about the best Dutch Bros Rebel Drinks, we'll answer a few of your questions about the drink in the FAQ section below.
How Much Caffeine Is in the Dutch Bros Rebel?
According to the website, each Rebel energy drink contains 80 mg of caffeine and 116 calories in every 8.4-ounce can. To put it into perspective, the Dutch Bros Rebel drink has more caffeine than a can of Coke but less caffeine than a Monster Energy Drink.
What's in the Dutch Bros Rebel Drinks?
The Dutch Bros Rebel Drinks contain the patented energy drink base, and they add their syrups to the mix, creating flavorful drinks with an energy-giving kick.

Conclusion
According to many Dutch Bros fans, Dutch Bros Rebel Drinks are some of the best drinks on the market today. Whether it's the Vampire Slayer, the Peach Rebel drink, or the Midnight Rebel, there's something for everyone at Dutch Bros when you need a burst of energy but don't want to sacrifice flavor to get it.
What's your favorite Dutch Bros Rebel drink? Did it make your list? Tell us about it in the comments below.
---
Featured Image Credit: Theerawan, Shutterstock