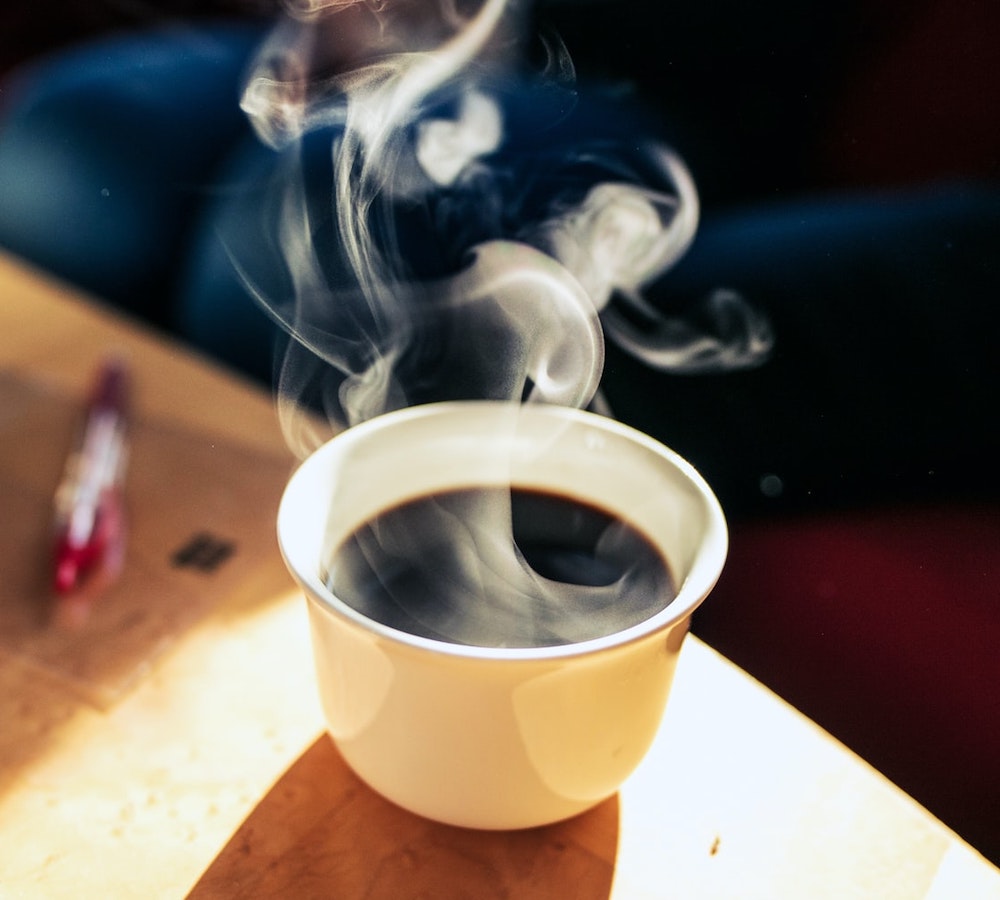 If you're looking for the best coffee mug, it's easy to become overwhelmed. It's a big job with a wide range of options in styles and materials. There are coffee mugs for sitting back and enjoying breakfast. There are coffee mugs to take on your morning commute. There are coffee mugs that allow you to brew coffee in the same container from which you drink it.
We wrote these reviews to help you navigate this huge range of choices. We looked at a bunch of different makes and materials. Hopefully, it'll give you an idea of just how broad the market is for coffee mugs. We wish you the best of luck in paring down the field until you find exactly what you're looking for.

Comparison of our Favorite Picks (2023):
Image
Product
Details

Top Pick

Contigo AUTOSEAL

Hot stays hot, cold stays cold
Spill-proof
Dishwasher safe

Best for the Money

Long Wein

Wide mouth
Great value
Plain so you can decorate

YETI Rambler

Great insulation
Hot stays hot, cold stays cold
Stylish

Libbey Crystal

Clear
Affordable
Microwave/dishwasher safe

Hydro Flask

Stylish
Insulated
Slip-free coating
The 10 Best Coffee Mugs:
1. Contigo AUTOSEAL Transit Coffee Travel Mug – Best Overall
If you take your coffee to go, there's no better cup to travel with than Contigo's AUTOSEAL Transit Stainless Steel Travel Mug. It's got everything you'd want in a travel mug and comes at a price that is pretty reasonable.
Used to be that travel mugs were just a cup with a peel-back lid. The Contigo shows just how far these have advanced. It's insulated so that hot liquids stay hot for hours and cold liquids stay cold for even longer. Whereas spills have been a running hazard for to-go coffee, this one has a lid that if sealed in place won't spill a drop if you knock it over. It's also easy to clean and dishwasher safe.
The only drawback is that it can add a bit of an aftertaste to whatever you're drinking. If you're a coffee snob, it could be a deal-breaker. If you just want hot coffee, you won't even notice it.
Pros
Hot stays hot, cold stays cold
Spill-proof
Dishwasher safe
Good value
Cons
Can leave metallic flavor in coffee
---
2. Long Wein Large Ceramic Coffee Mug Coffee – Best for the Money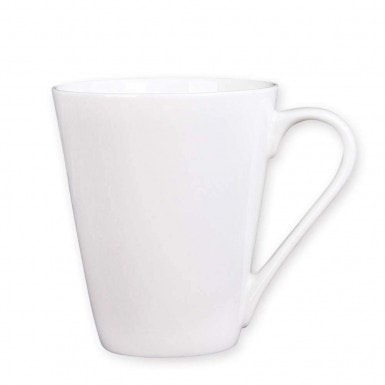 For enjoying a leisurely cup of coffee in the morning, you'll probably want one made of porcelain, and one of the best ceramic coffee mugs out there is this one from Long Wein. They are affordable, useful, and perfect for use in the home.
Although there is an almost endless array of choices in porcelain mugs, we picked these for a couple of reasons. The first is that their wide mouth helps hot beverages cool off faster so you won't burn your mouth. They're also really affordable. Best of all, these are plain. So, you can buy one and paint it or have it decorated however you like – if the spirit moves you.
One thing that's probably pretty obvious by looking at it is that it's a poor choice for a travel mug. Not only is there no lid, but its wide mouth means that it's more prone to spillage at even mild tips.
Pros
Wide mouth
Great value
Plain so you can decorate
Cons
Poor option for travel mug
---
3. YETI Rambler Stainless Steel Vacuum Insulated Tumbler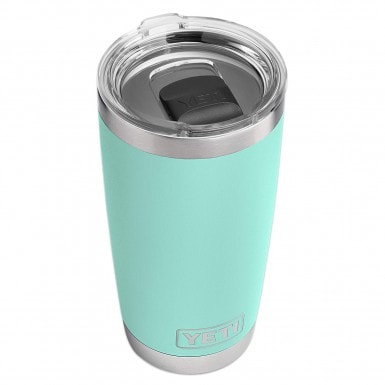 Travel mugs have come a long way from just being coffee cups with lids. Nowadays, we have stylish modern tumblers with insulated sides and designed bodies.
YETI is one of the top brands for these new lines of insulated tumblers; they're popular because they'll keep hot liquids hot for days. Well, not quite days, but long enough for you to enjoy them until it's all gone. If you want to carry around tea or even beer, it'll keep those cold even longer.
As you might expect from a popular brand, these are pretty expensive. Considering the performance, we're not complaining about it. They are also not dishwasher safe.
Pros
Great insulation
Attractive
Accessories
---
4. Libbey Crystal Coffee Mug Warm Beverage Mugs Set
If you want to show off what you're drinking, there's no better way than with a clear set of coffee mugs. These mugs from Libbey aren't made of crystal, but they are clear glass, so you can see what's in them, from hot chocolate to mulled wine to cappuccino.
They are also an affordable choice, and a good option if you want to buy several for a special occasion. They're also safe for use in dishwashers and microwaves, so they're easy to zap for a warm-up and clean-up afterward.
Their glass construction raises certain red flags, the first of which is that they'll shatter if broken. They'll also shatter if you pour too hot a liquid into them, or if you switch between hot and cold beverages too quickly.
Pros
Clear
Affordable
Microwave/dishwasher safe
Sturdy
Cons
Made of glass
Not for hot beverages
---
5. Hydro Flask Travel Coffee Flask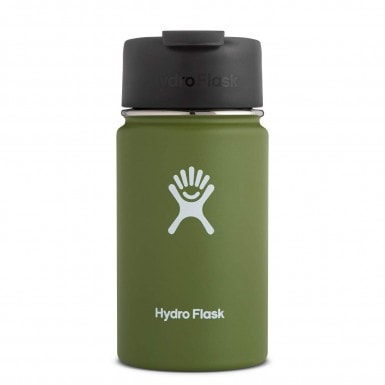 Another in our line of travel coffee containers, the Hydro Flask is more a tumbler than something you hide in your coat pocket and pull out hopefully when no one is looking. Like the others, it's got a stylish design and is well insulated.
One advantage over its competitors is the slip-free coating, and it has some accessories available so you can tailor it to what you want.
That slip-free coating is important in part because it is prone to leaks. If you buy this one, be aware that it costs a lot of money, so check it over first to make sure it seals up properly.
Pros
Stylish
Insulated
Slip-free coating
---
6. InGwest Funny Morning Coffee Mug
As we all know, there is nothing more satisfying than a hot cup of coffee in the morning. This mug broadcasts that to the world by changing color from a disappointed black to a happy turquoise when you pour in hot liquids.
If you like a little bit of humor in your everyday objects, this is a good option. Objectively speaking, the color change will also let you know when your coffee is cold and in need of a warm-up.
It's a bit pricey for a day-to-day mug. It's also not built for longevity. The decal will start to pull loose after a few weeks of washing these in warm, soapy water. But you can say that you had fun while it lasted.
Pros
Whimsical
Does tell you when liquids are hot
Cons
Expensive
Peels after hand washing
---
7. ZYLISS Travel French Press and Coffee and Tea Mug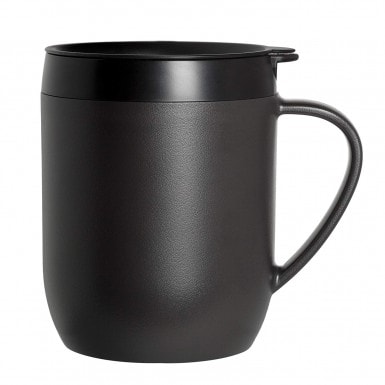 For coffee as fresh as it gets, brew coffee as you're walking out the door in this all-in-one French press and mug. It comes with the fine mesh screen and plunger so that all you have to do is add hot water and grounds and mix them together.
Unlike other French press/mug combinations, this one is pretty affordable. If you grind the beans before brewing, you're also assured of one of the freshest cups you'll ever drink.
It's only big enough for one cup, however, so that better be what you want. It's also unavoidable when drinking from the brewing system that grounds will seep through. Plus, it's just plain a mess to clean up.
Pros
Affordable
Make coffee in the mug you drink it from
Cons
Single-cup only
Grounds seep through
Messy
---
8. Ello Jane 18oz Ceramic Travel Mug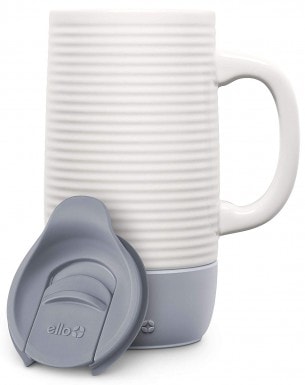 If you want a no-frills travel mug without the double insulation and space-age design, Ello Jane has this travel mug. It carries 18 ounces, which is a cup-and-a-half of coffee, so you don't need to skimp on caffeine if you go this route.
One thing this has that the pricier options don't is a silicone base to prevent it from sliding around and falling over.
It's also a lot more affordable than the better-branded tumbler options.
You'll want that non-slid silicone base because the lid to this cup will give up the liquid inside if even casually tipped. The cup itself is also not insulated, so you'll feel every bit of the heat inside touching the cup – and also the cold.
Cons
Not insulated
Lid doesn't inspire confidence
---
9. AVITO Stainless Steel Coffee Mug with Lid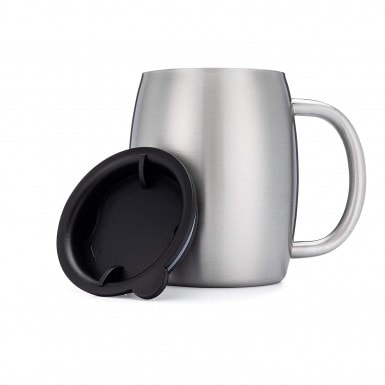 Avito's Stainless Steel coffee mug with lid looks like it's insulated to prevent your drinks from becoming room temperature. This is a lie. These aren't insulated. In fact, the construction will allow your drinks to moderate their temperature faster than if you'd used a basic ceramic mug.
They can also add a weird metallic aftertaste to whatever you're drinking. Combine that with the fact that your coffee will get cold faster, and you've got a recipe to go find a different option.
One thing that we like is the variety of colors. These look handsome enough to drink out of, as long as you don't desire your drinks to stay at a specific temperature.
See also: our comparison of thermal coffee mugs.
Cons
Poorly insulated
Adds metallic flavor
---
10. Stojo Silicone Collapsible Coffee Cup
We'd like to live in a world where someone has successfully made a collapsible cup for drinking hot beverages. We just don't live in that world yet.
The world we live in has the Stojo ST1-12OZ-COF-BLK-RET. It's an idea that has a lot of promise but fails to deliver. For what it is, it's expensive. The cup also has too small a hole in the lid to comfortably drink from, and the silicone construction becomes very pliable when hot.
On the plus side, it is undeniably collapsible. That makes it easier to carry around and smaller to store.
Cons
Expensive
Uncomfortable to drink from
Pliable when hot
---
Buyer's Guide: How to Find the Best Coffee Mug
In buying a coffee mug, remember that the choice is ultimately incredibly subjective. There is no single set of standards by which everyone would agree. Some are designed for sitting on your porch over breakfast, some are designed for coffee on the go, and some are designed as works of craftsmanship. Before you choose a coffee mug, think about how you like to drink coffee. Here are a few factors you may want to consider.
Portability
Do you drink coffee while commuting, walking, or doing errands? You may want a coffee mug with a lid. If you drink coffee in your car, you may also want a mug that fits in your cup holders. If you prefer to savor your cups of Joe in bed or on the couch, you may want a classic, lidless mug that will let you enjoy the appearance and aroma of your coffee.
Are you really pressed for time, or do you like to camp? You may want a coffee mug that doubles as a coffee brewer. With a hybrid mug, you'll be able to brew and drink on the go. What's more convenient than that?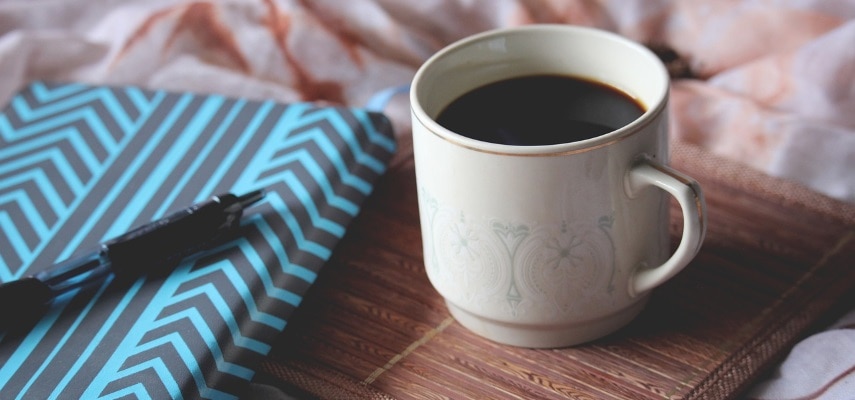 Ease of Cleaning
All cups need to be cleaned regularly, but you may not want to spend a lot of time on the chore. If you're busy or hate cleaning, look for dishwasher-safe mugs that will be easy to clean. If you choose an insulated cup, look for dishwasher-safe lids.
Insulation
Do you drink coffee over long periods of time? You may want a coffee mug with insulation, which will keep hot coffee hot and cold coffee cold while you commute or work.

Conclusion
In writing our reviews, we gave the Contigo AUTOSEAL Transit Stainless Steel mug our Top Pick because it is indestructible and portable. We ranked the Long Wein large ceramic coffee mug as Best for the Money because if you're looking for a good ceramic mug to use around the home, it's the best value. We also looked at a range of other options, too, like the ZYLISS Travel French Press as a combination coffee maker and travel mug. It's an interesting choice.
Ultimately, the choice of best coffee mug rests with you. You should figure out what you want out of a coffee mug and find the one that best matches what you're looking for. We get that coffee is a big deal, and we want you to enjoy every last drop.
RELATED READ: What are the best glass coffee mugs?