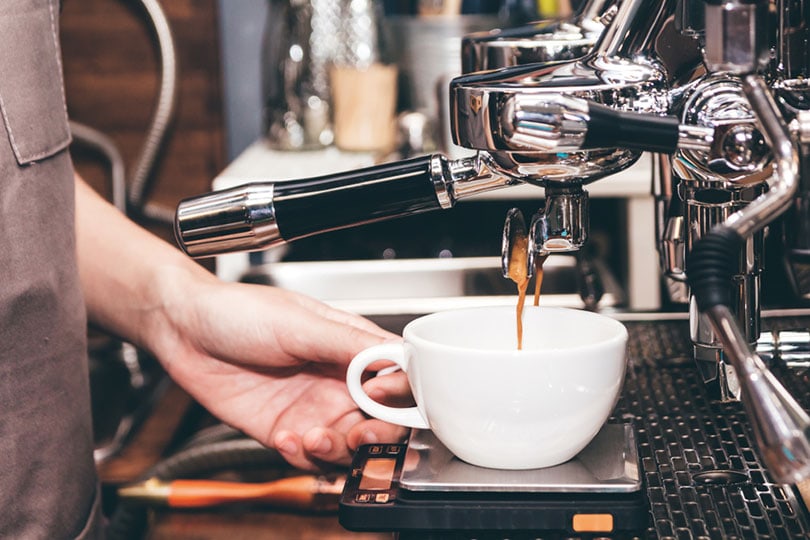 Plano is one of the best cities to live in Texas, with a dense suburban feel and great quality of living. It's not too hot, but not too cold either. As with any great city, it has numerous coffee shops to keep its citizens energized and happy. Let's check out some of the best coffee shops that Plano has to offer.

The 10 Best Coffee Shops in Plano, Texas
1. Mudleaf Coffee
3100 Independence Parkway #300, Plano, TX, 75075
While many coffee shops prefer understated decor, Mudleaf jazzes it up with a lively atmosphere. There are hanging chairs, a faux fireplace, leather chairs, and even a rentable conference room! The bar is made from reclaimed lumber, and there are plenty of long tables for when you want to work. Partnered with Cultivar Coffee as their roaster, Mudleaf has a full espresso bar, huge menu, and pastries for when you get peckish.
---
2. 1418 Coffeehouse
1418 K Avenue, Plano, TX, 75074
With chic outdoor seating, a striking blue ceiling, and a large food menu, 1418 Coffeehouse is almost a cafe. As of 2021, the shop started roasting its own beans, which are named after popular Plano locations. Whether you want to grab a cup and check out downtown, work in a vibrant atmosphere, or eat for lunch, 1418 has you covered.
---
3. Coffee Del Rey
1915 Central Expy # 340, Plano, TX, 75075
Coffee del Rey is one of the most community-minded entries on this list, donating a portion of their profits to the North Texas Food Bank. They also offer educational info about grind methods, brewing techniques, and more. They partner with the Spirit Mountain Ecological Reserve & Coffee Plantation to source their beans, but they also help fund scholarships for children. With all that and a convenient location, it's no wonder Coffee del Rey is a Plano staple.
---
4. XO Coffee Co.
1023 E 15th St, Plano, TX, 75074
With their signature pink double doors, handcrafted coffee, and a full lunch, brunch, and dinner menu, XO Coffee Co. makes a great home away from home. The biweekly rotating dinner menu is made with farm-to-table ingredients for maximum freshness. If you like parties, they host regular community themed events. With unique offerings like lavender cloud soda and their iconic XO waffles, this coffee shop is all about customer service and quality.
---
5. 151 Coffee
1151 Preston Road, Plano, TX, 75093
A relative newcomer on the Plano coffee scene, 151 Coffee has made its name with endlessly customizable drinks. Besides coffee, they have tea, smoothies, energy drinks, milkshakes, and Italian sodas. 151 Coffee also has a convenient drive-thru so you can get your favorite drink on the go, no matter how many of their myriad syrups you pump into it.
---
6. Golden Boy Coffee & Wine Bar
5880 TX-121 Suite 102 A, Plano, TX, 75024
The second location of the Dallas-based coffee shop, Golden Boy offers a full wine selection along with their countless coffees. Conveniently located on the boardwalk, Golden Boy's signature drink is a Golden Latte with locally sourced honey and cinnamon. Start your day with one of those and come back in the evening to unwind with a glass of beer or wine.
---
7. Dunn Brothers
501 Talbert Drive, Plano, TX, 75093
Ed and Dan Dunn are seasoned coffee experts from Portland with over 60 locations nationwide, including one in Plano that serves their lovingly crafted, small-batch coffee. This hip coffee shop offers a rewards program for repeat customers and online ordering on their app, making it one of the most convenient coffee shops in Plano. With made-to-order breakfast sandwiches and other baked goods, you can have a full breakfast on the go.
---
8. Black Rifle Coffee
901 N Central Expressway, Plano, TX, 75075
Black Rifle Coffee is a veteran-owned and themed coffee shop with a cult following, and they now have a location in Plano. With over a dozen military-themed coffee blends, merchandise, and a wildly popular Youtube channel, Black Rifle Coffee is practically an institution. The company frequently supports first responders and military with free products and cash, so it's no wonder Plano citizens are flocking there.
---
9. Starbucks Reserve Bar
7600 Windrose Avenue, Plano, TX 75024
If you don't mind Starbucks, their Reserve Bar in Plano features special coffee beans that the regular stores don't have access to, and baristas prepare them with special methods like Chemex and pour-over. Combined with a bakery and full cocktail bar, you can walk in and enjoy the coffee experience or stay and make an afternoon of it.
---
10. Green Vine Coffee
1804 K Avenue, Plano, TX, 75074
The Green Vine Market is renowned for its super-strong Turkish coffee, but it also offers a wide array of Mediterranean and South Asian cuisine. Patrons seeking a halal breakfast menu won't be disappointed, and their falafel platters are to die for. Grab a coffee and a sandwich or stay and shop around in their fresh-picked produce section.

Conclusion
Plano has some of the best coffee shops in Texas, from the cult favorite Black Rifle Coffee to the more chill Golden Boy Coffee & Wine Bar. Whether you just want a cup on the way to work or want to socialize, you're not lacking for choices in Plano.
Looking for more coffee shops?
---
Featured Image Credit: Art_Photo, Shutterstock