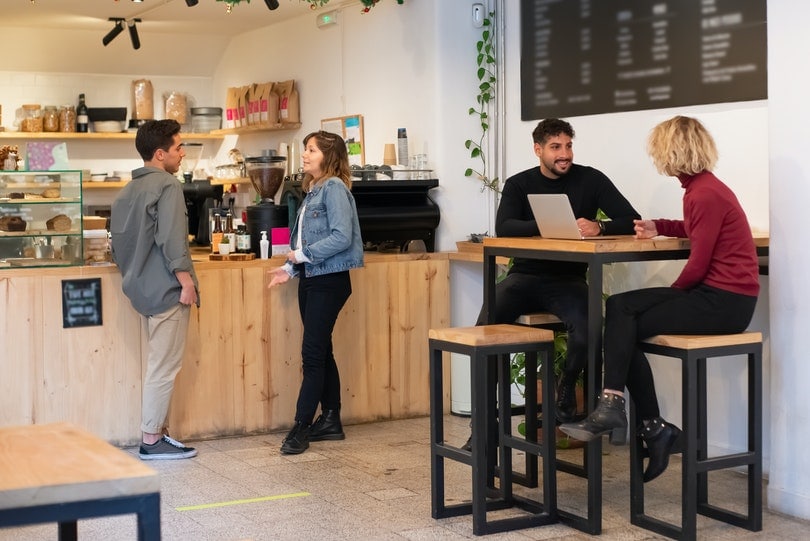 Known as "a city in a park," Bellevue, Washington is one of the most beautiful cities in the United States. Not only does it offer gorgeous views, shopping, nightlife, and more, but there is also an array of excellent coffee housed for the aficionado looking to sample the local brew.
To help you navigate this Northwestern city's coffee landscape, we have chosen 10 of our favorite coffee houses below. We provided details on each so you can pick which ones you want to visit first.


The 10 Best Bellevue Coffee Shops
1. Nespresso Boutique

400 Bellevue Sq, Bellevue, WA
Quickly becoming a household name with coffee lovers across the country, Nespresso has its own chic little coffee shop in downtown Bellevue. Located outside of Macy's, this trendy spot not only features their finest coffee, but you can also purchase gifts, chocolates, and help preserve our plant with their commitment to sustainability.
Nespresso is a great place to stop if you are doing a little shopping or about to hit the museums. You can also stock up on your Nespresso accessories while you are there. Not designed as a sit-down cafe, its charm lies in grabbing a quick cup you already know to be fantastic.
---
2. Bellden Cafe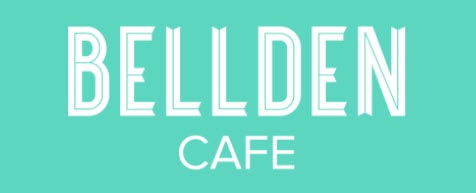 10527 Main St, Bellevue, WA
The BellDen Cafe is located in the heart of the city. Quiet, trendy, and friendly, they boost some of the finest specialty coffees around. Their lattes and espresso are popular with locals and travelers alike while their delicate menu of tasty dishes is bound to tempt you into something to eat, as well.
The BellDen Cafe offers an entire coffee life for its patrons. They have t-shirts, pins, and coffee-related accessories galore. You can even grab puzzles and stationary sporting their logo. Featured on Good Morning America and Reader's Digest, this is one coffee shop you don't want to miss.
---
3. Third Culture Coffee
80 102nd Ave NE, Bellevue, WA 98004
Third Culture Coffee is a must-have experience for coffee lovers. With its warm yet moody interior design, the place makes you feel comfortable yet refined at the same time. Featuring an eclectic assortment of goodies, their coffee is what brings you back. Their featured cuisine is also a work of art.
Third Culture Coffee carries its brand of coffee beans in the shop so you can take them home with you when you leave. As their motto states "we are so much more than coffee". You will also find novelties and inspiration from this charming little cafe that is situated right in the middle of a bustling area.
---
4. Honor Coffee & Tea
11011 NE 9th St, Bellevue, WA
Honor Coffee and Tea adds a little extra to each cup they serve. They pride themselves on their welcoming atmosphere along with their friendly service. The Crown No. 1 is their signature coffee they source themselves from Brazil, Ethiopia, and Papua New Guinea.
Along with their specialty coffee, you will also find a delightful array of pastries and other bits that are the perfect compliments to their brews. You will also find specialty teas, smoothies, Italian sodas, and other treats. Providing heartfelt service to each customer, this warm and inviting atmosphere is on the top of our list.
---
5. T'Latte
37 103rd Ave NE, Bellevue, WA
Nestled close to Bellevue Park, T'Latte is a specialty coffee and tea shop with a bright and fresh design that is relaxing, functional, and serene. With take out and dine in service, you can sit down to sip one of their specialty coffees or teas, or you can take it to go to enjoy in the park.
T'Latte carries pastries and other delicacies for in-shop and to-go customers. Their service is always friendly and ready to answer all your questions. Not a coffee expert? No problem, their staff is there to help you find the best beverage for your palate. They are available for larger functions, as well, if you want to impress a large crowd.
---
6. Anchorhead Coffee
555 110th Ave NE Ste 101, Bellevue, WA
Anchorhead Coffee is a trendy coffee shop that gives off tattoo parlor vibes with an up-town feel. Their dark and moody design is sophisticated, fun, and inviting. They carry a signature coffee that is both flavorful and unique. They also roast their own beans, giving you the unique experience of the shop each time you take a sip.
A new bakery will bolster a decadent menu that already offers comfort food with an upscale presentation. Known for their happy and helpful staff, this is a great place to wait out a rain shower, linger over a latte, or enjoy a fabulous meal.
---
7. Caffe Ladro
333 108th Ave NE (in Expedia Bldg), Bellevue, WA
Caffe Ladro is a fresh and inviting cafe that is widely recognized for its Marigold and black colors. With a spirit of spring, freshness, and sweet coffee in the air, you will find yourself relaxing at this spot often. Caffe Ladro carries its own crafted coffee beans along with an assortment of other merchandise.
Besides their signature coffee, you will find their sandwiches and other delicacies worth the trip. They also feature a member's club where you can find discounts and the latest news right in your email inbox. Whether you want to chat with friends, study, or have them cater an entire event, this cafe is the palace to be.
---
8. Cypress Coffee
3080 148th Ave SE #113, Bellevue, WA
With a nod to more traditional Italian coffee shops, Cypress Coffee is an active part of its local community. They are pleased to serve locals and visitors their morning espresso, afternoon lunch, or after-work latte. They brew internationally acclaimed specialty beans from Campos Coffee, which is one of the best in the city.
To provide leadership and give back to the community, Cypress Coffee gives a portion of its proceeds to local causes, so you know your money is well spent in this establishment. Serving mostly coffee and other beverages, they cater to the young crowd by featuring a kid's menu that is healthy and wholesome.
---
9. Cafe Cesura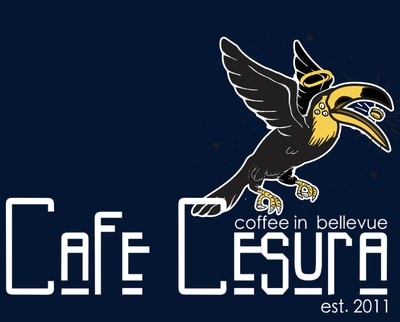 1015 108th Ave NE (at NE 10th St), Bellevue, WA
Open, cheerful, and bright, Cafe Cesura features single-origin coffee that is a great favorite with its dedicated clientele. Come in and sit down to enjoy a specialty brew, have a bite to eat, or just enjoy the laid-back, fun atmosphere the Cafe provides.
With more than 10 years at this location, Cafe Cesura offers seasonal favorites, plus hot sandwiches, soups, and other great menu items perfect for lunch at work or on the go. Dedicated to providing the best quality service possible, the team of friendly baristas is ready to take your order.
---
10. Cloudbreak Cafe
1302 N 30th St, Renton, WA 98056
Last but not least, Cloudbreak Cafe is one of those coffee shops that can't be left out. Their reasonably priced menu features some of the best coffees, specialty drinks, and food items in the city. Their food truck maintains a constant schedule, so you will always find them right where they are supposed to be.
Known for their helpful, friendly service. You will find more than just coffee. They also feature non-caffeinated beverages, traditional Italian sodas, and much more. You can also grab a pastry or breakfast sandwich to accompany your beverage of choice. As the only moving coffee shop on our list, they are well worth the effort to locate and place your order. You won't be disappointed.


Final Thoughts
With so many exceptional coffee houses in the area, it can be hard to narrow it down to ten, twenty, or even thirty. We hope we provided some details about each place and given you a variety of options next time you are in the Bellevue area. Each one is worth the visit!
Looking for more coffee shops?
---
Featured Image Credit: Kampus Production, Pexels