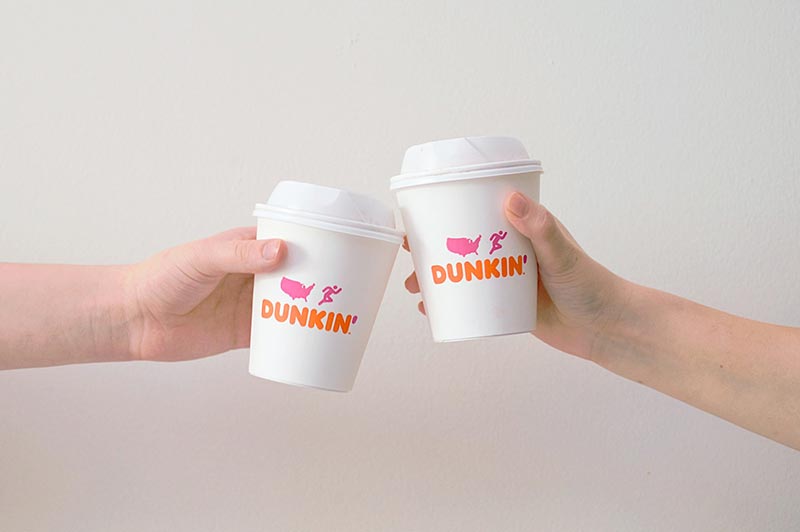 Dunkin' is one of America's favorite coffee shops, and one reason why is that Dunkin' has flavor swirls! A Dunkin' flavor swirl is a flavoring (technically a condiment) that you can add to your coffee drink. There are four regular flavor swirl flavors at the last count. That's not all, however, as Dunkin' has 18 seasonal flavor swirls, including one of the all-time favorites, Peanut Butter Cup Swirl. Read on to see the top flavor swirls options below, and splash your Dunkin' drink with an extra dash of favor the next time you visit.

Top 8 Flavor Swirl Options at Dunkin':
1. French Vanilla Swirl
As one of the top swirls, French Vanilla can be used in many drinks, which makes it quite popular. Some customers pair French vanilla with other flavors or add it to lattes and frappuccinos. It pairs very well with cold brew coffees and adds sweetness to bolder drinks, especially black coffee.
---
2. Mocha Swirl
The Mocha Swirl is flavored with chocolate, cream, and a splash of coffee. The rich, chocolatey mocha flavor is hard to miss but isn't as sweet as some other swirls. Mocha is fantastic on a hot latte and other drinks when you want to accentuate the coffee flavor with a cacao boost.
---
3. Peanut Butter Cup Swirl
The Peanut Butter Cup swirl will be a delight for anyone who's a fan of chocolate and peanut butter. It was created to go with the Halloween season and all the peanut butter cups given out to trick-or-treaters, and you haven't lived until you've had a peanut butter cup macchiato. It's like drinking a hot Reeses Peanut Butter Cup and will bring back joyful memories of Halloweens' past.
---
4. Caramel Mocha Swirl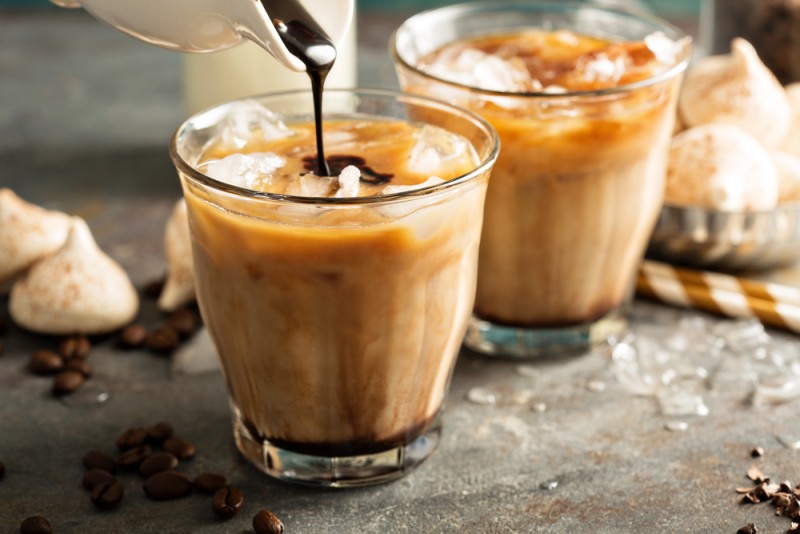 What do you get when you combine two of the most popular Dunkin' flavors? You get the caramel mocha swirl, which is a decadent delight that makes almost any coffee beverage, hot or cold, instantly taste like a million bucks. In the summer, you can add caramel mocha to an iced latte and smile away a sunny afternoon with two exquisite flavor swirl flavors that go well together.
---
5. Rocky Road Swirl
Is there anything that marshmallows don't make even better? Once you've tried the Rocky Road Swirl from Dunkin', you'll know the answer! With hints of chocolate, almonds, and marshmallows, there's no better drink for this swirl than an iced latte. If you're fond of iced Dunkin' drinks, this flavor swirl is worth a try for its intense, rich, and satisfying flavor profile.
---
6. Hazelnut Swirl
If you're a fan of nuts and want to elevate the flavor of your morning coffee to new heights, hazelnut swirl is a great choice. This flavor swirl is popular in the long, cold winter months and will surely remind you of happy holiday memories. You can't go wrong with a hot hazelnut swirl macchiato for a real winter treat.
---
7. Butter Pecan Swirl
If you love butter pecan, you'll fall for this flavor swirl hard. The buttery taste is pure bliss and a great change of pace from, say, the traditional peppermint mocha or savory salted caramel. Although it works with several Dunkin' beverages, it's excellent when pairing it with a frozen drink.
---
8. Pumpkin Swirl
You can imagine the pumpkins glowing and the full moon showing when you add a pumpkin flavor swirl to your hot, black coffee. Yes, everything in fall is going pumpkin, but this flavor really gets it right, with a taste like warm pumpkin pie at Thanksgiving (with a little caffeine kick). Some like the pumpkin swirl on a cold drink, but most agree it's best on a hot beverage.

What Are the Four Regular Flavor Swirls Available at Dunkin'?
As of January 2023, Dunkin' has four flavor swirls on its regular menu.
Caramel
French Vanilla
Hazelnut
Mocha
The flavor swirls are also all sweetened with sugar, not high fructose corn syrup. Also, no artificial dyes or sweeteners are in the Dunkin' flavor swirls recipe. In other words, while they might not be super-nutritious, the flavor swirls aren't ridiculously bad for your health either.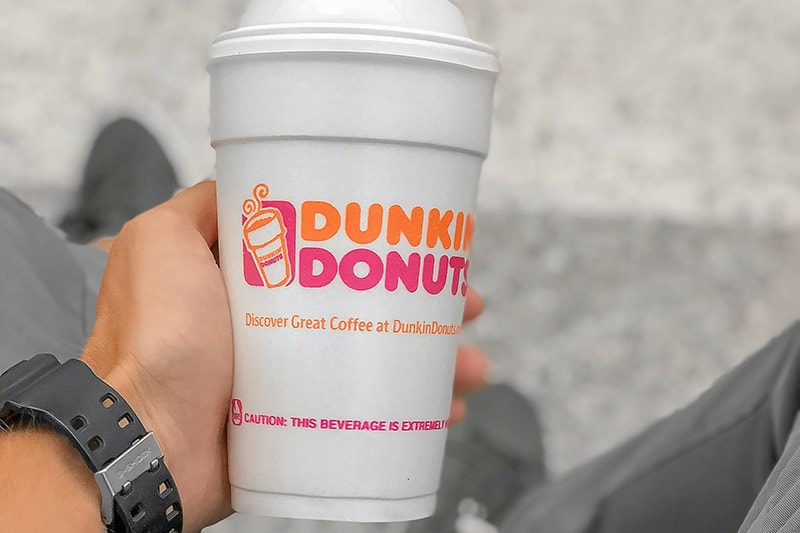 What Is the Difference Between a Dunkin' Flavor Swirl and a Dunkin' Flavor Shot?
Like a flavor swirl, a flavor shot is a type of condiment you can add to your Dunkin' drink to change its flavor. There are a few notable differences between flavor shots and flavor swirls. For example, flavor shots aren't sweetened, and they are low in calories.
Unlike flavor swirls that are made with dairy, flavor shots are dairy-free, with no milk or milk byproducts. If you want extra flavor in your beverage but don't want extra calories, a flavor shot would be a better choice than a flavor swirl.  Below is a comparison chart to help.
| | | |
| --- | --- | --- |
| | Dunkin' Flavor Swirls | Dunkin' Flavor Shots |
| Calories | 150 to 160 | 5 to 10 |
| Sugar | Yes | No – Sugar-free |
| Dairy | Yes (except Mocha) | No – Dairy-free |
| Creamy | Yes | No |
| Unsweetened | No | Yes |
| Regular Flavors | 4 | 7 |
| Seasonal Flavors | 4 | None |
| No Artificial Ingredients or Colors | Yes | Yes |
The Entire Collection of Dunkin' Flavor Swirls Seasonal Flavors
If you love Dunkin's flavor swirls, you'll be glad to know that even more seasonal swirls are sold throughout the year, depending on the season. Below is our exhaustive list of all the seasonal flavor swirls in alphabetical order.
Brown Sugar Cinnamon
Butter Pecan
Cake Batter
Caramel
Coconut Cream Pie
French Vanilla
Irish Cream
Mocha
Peanut Butter Cup
Peppermint Mocha
Pumpkin Spice
Salted Caramel
Toasted White Chocolate
Toffee Nut
Vanilla Bean
Winter White Mocha
Like the regular flavor swirls, their seasonal offerings have no artificial colors or sweeteners. Also, like the regular swirls, the seasonal swirls add a dash of creaminess to your drink and, except for the mocha flavors, are made with dairy products.
If you want to get updates about when they will appear at your local Dunkin' location, you should get the Dunkin' App and sign up for DD Perks, the company's signature rewards program.

Final Sips
Dunkin's flavor Swirls are a type of condiment that you can add to practically any of the beverages they serve. Some are better on either cold or hot beverages, but all the Dunkin' flavor swirls are delicious. Of course, since some flavor swirls are seasonal, you can't get them all the time. The only four flavor swirls available year-round are caramel, French vanilla, hazelnut, and mocha. Lastly, if you want to be informed of the availability of seasonal flavor swirls, the best thing to do is download the Dunkin' app.
---
Featured Image Credit: Isabella and Zsa Fischer, Unsplash