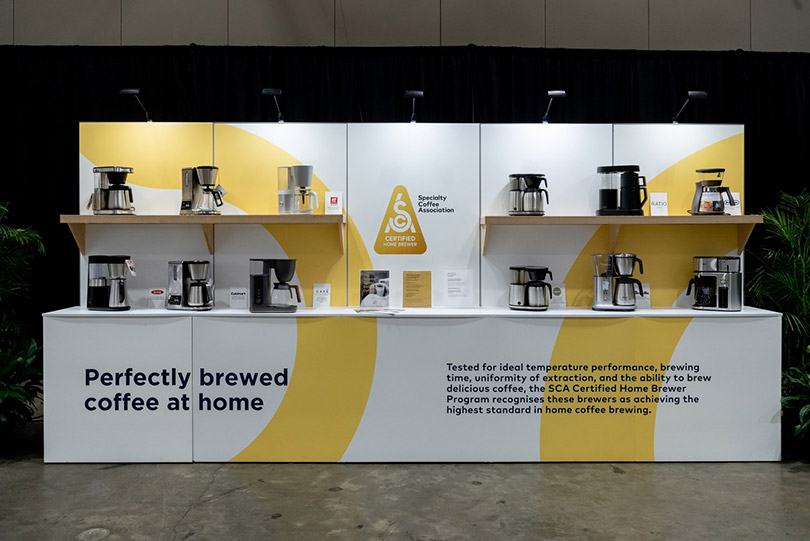 From game-changing small coffee roasters to US Barista Championships, the theme of this year's Specialty Coffee Expo was certainly oriented toward the home enthusiast.
Hosted by the Specialty Coffee Association (SCA), the Specialty Coffee Expo is a global meeting of minds and a space for the biggest players in the industry to show off their newest products and innovations. This year, more and more of those industry giants, alongside small but mighty companies, focused on the wants and needs of the home brewer.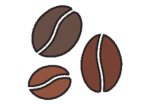 What is the Specialty Coffee Exposition?
The Specialty Coffee Exposition is an annual tradeshow hosted by the Specialty Coffee Association (SCA). Each year the SCA travels to new locations to host this epic who's who of coffee.
This year, the SCA brought Expo to Boston, Massachusetts from April 8-10, 2022. The tradeshow boasted over 420 exhibitors and over 10,000 attendees over three amazing days. Exhibitors included coffee powerhouses Breville, Baratza, La Marzocco, Fellow, and so many more.
Visit the Specialty Coffee Expo!
The SCA Specialty Coffee Expo is geared toward coffee professionals from roasters to producers, baristas to brewer manufacturers. However, there are a few ways to attend the specialty coffee expo as a professional or a home enthusiast!
Professionals can visit the SCA website for information on registration and fees. Look for discounts with SCA membership or early-bird pricing! As a home enthusiast, you have access to the more accessibly priced Roasters' Village tickets.
The Roasters' Village is a portion of the tradeshow floor that is available to all attendees, including home enthusiasts. Other portions of the floor are strictly for industry showcasing.
Roasters' Village features a variety of roasters from near and far, each serving up their star coffees for all to taste. On the Roasters' Village floor, you will also have access to amazing competitions including latte art throwdowns and the epic US Barista Championship.
Alternatively, you can also volunteer to gain free access to the entire show!
What's New in 2023?
So much of life has changed in recent years and the world of coffee has followed.
The Specialty Coffee Association's Expo was cancelled in 2020, postponed in 2021, and tentatively put on with a bang in 2022. With its revival came an onslaught of enthusiastic coffee professionals gearing up for the return of coffee.
However, things look very different this year. With COVID-19 lockdowns and quarantines, coffee culture took a drastic turn toward home brewing. No longer having access to our favorite cafes and roasteries, many of us took our love of coffee to the next level.
For some, that looked like integrating a burr grinder into your coffee setup. For others, it meant splurging on that home espresso machine you've been eyeing for years – I mean, that latte money has to go somewhere, right?
Essentially, specialty coffee moved right out of the roasteries and cafes and into your own kitchen.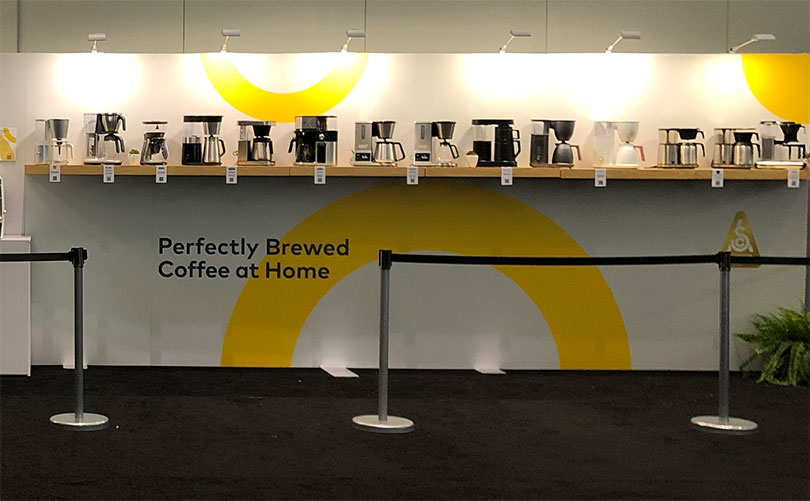 Bringing Specialty Coffee from Professional to Home Enthusiast
Bringing specialty coffee off the streets and into your home changed the game for a lot of companies from roasteries to appliance manufacturers. It turned cafes on their heads and forced baristas to get creative with how they interact with their customers and, well, survive.
One such barista is the newly crowned US Barista Champion, Morgan Eckroth (also known as MorganDrinksCoffee across social media).
The US Barista Championship challenges baristas from all over the United States to create, perfect, and perform a routine featuring three unique coffee drinks to a panel of judges, all the while presenting what and why they are doing this particular routine.
Prior to winning the US Barista Championship at the 2022 SCA Expo, Eckroth was notable for a strong presence on social media, particularly TikTok, bringing education and coffee fun to the masses.
Eckroth's championship-winning presentation focused on the importance of coffee in a digital age, emphasizing the power of live-streaming, social media, and, simply, the internet throughout the routine.
Perhaps the most impactful element of Eckroth's presentation was live streaming the entire moment for fans and viewers worldwide to share in. Even more amazing? Eckroth's dedication to involving that audience by sharing recipes in advance.
Find out more about MorganDrinksCoffee and view her winning routine.

The 3 Best New Products for Home Enthusiasts
The Specialty Coffee Association awards a competitive selection of new products each year in various categories. We've selected the top three consumer-friendly products that won this year.
1. The Barista Express™ Impress BES876 by Breville
The next in a much-awarded line of home espresso machines by Breville, the Barista Express Impress is a show-stopper. Despite being not yet released in the United States, this new product took home the Specialty Coffee Association's award for "Consumer Coffee Preparation & Serving (Electrical)."
So, what makes this iteration of the Barista Express stand out against the rest?
The Barista Express Impress offers what Breville is calling Intelligent Dosing. Intelligent Dosing is a smart dosing system that implements Precision Measurement to autocorrect the dose of ground coffee as you go, taking the guesswork out of the trial-and-error approach to finding your perfect dose.
But the biggest change? Assisted tamping.
It's important to note that the user still initiates and is engaged in the tamping process; however, the Impress integrates a level of finesse to the process. Designed to replicate a professional barista's tamping, this automated tamping system finishes the tamping process with a perfectly executed 7-degree "barista twist" to polish off the puck.
Additional features include an improved grinder with precision conical burrs with 25 grind settings and a newly improved Thermocoil Precision Heating System which allows for more customization regarding heat, flow rate, and time.
Breville sums up their new machine in six simple words: "Impressive Puck. Less Mess. Less Fuss."
---
2. Clara French Press by Fellow
Fellow is calling their new Clara French Press the "cure for the common cafetière." A bold but true statement, which is why the Clara took home the Specialty Coffee Association's award for "Consumer Coffee Preparation & Serving (Non-Electrical)."
This sleek new cafetière brings French presses into the 21st century with an elegant yet functional design. The impressively executed fine mesh filter keeps your cup clean and free of silt and fine grounds through to your final cup.
Moreover, the insulated walls keep your brew hot from the first moment of brewing through to the very end.
Perhaps our favorite feature is the non-stick interior finish because who likes cleaning out a mucky French press?! This particular finish makes for an easy clean-up even with a French press. Simply dump the grounds and wipe clean before handwashing.
---
3. Ember Mug² by Ember
Branded as the World's First Temperature Control Mug®, the Ember Mug² is a revolutionary mug for slow drinkers everywhere – or, honestly, for just about everyone and anyone.
The Ember Mug² is a temperature control mug that allows you to set the desired temperature of your beverage from start to finish. This means no more forgetting your cup of coffee in the other room and coming back to lukewarm bean water.
With a long-lasting battery and smartphone compatibility, this amazing mug still manages to blend in as a regular mug and not a bulky, obvious contraption – perfect for the office or home. It's no wonder this little guy won the Specialty Coffee Association's award for "Technology."

Our Top Picks
1. Encore ESP by Baratza
The new Encore ESP by Baratza is the second major iteration of the cult-classic grinder the Encore. What makes this version different than its predecessor is the variability of grind size.
The Encore was known strictly as a brewed coffee grinder without espresso capabilities. With the Encore ESP, this is no longer the case! The new ESP, short for espresso, offers grind sizes that are compatible with home espresso machines, in addition to its wide array of grind sizes for other brew methods.
What we love about this product: The choices! The Encore ESP is one grinder for every use. You can go from the finest espresso grind to a coarse cold brew grind in a handful of clicks. Super easy!
---
2. Bullet Roaster R1V2 by Aillio
While the price tag is eye-popping, this little roaster packs a huge, commercial-grade punch. If you've been practicing with small, home-roasters like the Hive Roaster but are ready to upgrade to a more professional level, the best little roaster money can buy is the Bullet R1V2 by Aillio.
What we love about this product: The Bullet R1V2 is a true drum roaster that roasts in the style of commercial-grade roasters but makes it pocket-sized.
---
3. The Six by Ratio
The Six by Ratio, also known as the Ratio 6, is a fan-favorite brewer among professionals and home enthusiasts alike. This brewer is designed with user experience in mind, offering a simple interface with complex brewing performance.
With the click of a single button, the Ratio 6 brews up cafe-quality coffee in minutes. Built to simulate a professionally executed pour-over, the Ratio 6 brewhead is engineered to evenly distribute water with precision.
The result? A uniquely balanced and well-brewed automatic drip coffee.
What we love about this product: The elegant design of the Ratio 6 isn't just in its looks. This machine is impressive from the inside out and brews up a great cup of coffee.
---
Cafe Quality at Home
The importance of these amazing products is simple: it brings cafe-quality coffee to your home. No longer are you beholden to enjoying coffee produced by others, now you have the power to level up your gear and join in on the game.
There is and always will be a place for enjoying professionally curated coffees because who doesn't love a coffee served up just the way you like it (without lifting a finger)? But sometimes, it's nice to hold the reins.

What's in Store for Expo 2023?
The Specialty Coffee Exposition is on its way to Portland, Oregon for April 21-23 for 2023! With the new year we can expect amazing new products, innovative designs, and, of course, delicious coffee.
If you are interested in attending the Specialty Coffee Expo, check out registration information or consider volunteering with the SCA for free access to an incredible event.
Find out more about the SCA Expo!