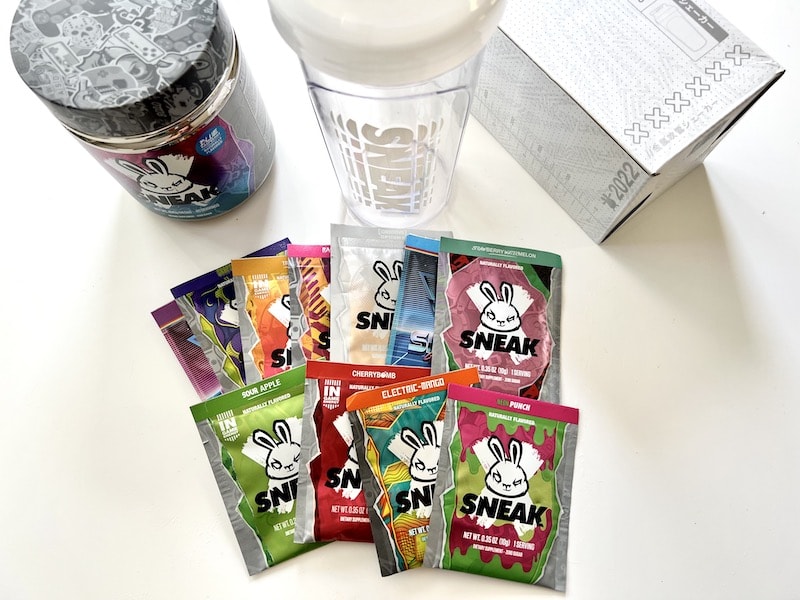 Our Final Verdict
We give Sneak Energy a rating of 4.3 out of 5 stars:
*Use code AFFECTION15 on orders over $50
Flavor
Quality
Resources
Ease of Use
Price
Sneak Energy Review: At a Glance
Getting the energy boost you need without sugar crashes, jitters, or hurting wallets can be tricky. If you're looking for an energy drink that is affordable and easy to make, you may want to take a closer look at Sneak Energy. Is it worth your time? Here's what we think:
Sneak is a sugar-free energy drink company with colorful branding and a huge range of fruity flavors. The playful packaging and extensive flavor options are a lot of fun, and the shaker works well to create a frothy drink in seconds. We also found Sneak to be fun to drink and full of energy – exactly what we look for in an energy drink! On the negative side, Sneak does contain synthetic sugar replacements, and the powder doesn't always dissolve fully. Still, this is a convenient, affordable way to boost your energy at home or on the go.
*Use code AFFECTION15 on orders over $50
A Quick Look
Pros
Inexpensive
Zero sugar
Lots of flavors to choose from
Starter pack with included shaker
Natural flavoring & coloring
Fun packaging
Contains various vitamins and minerals
Cons
Doesn't always fully dissolve
Contains artificial sweeteners
The Company
Sneak is a UK-based company that offers powdered energy drinks, shakers, and merch like sweatshirts and shirts. The company's unique shakers are designed to blend powdered drinks with water in about 10 seconds. Sneak's other claim to fame is being fully sugar-free so that you can avoid sugar crashes.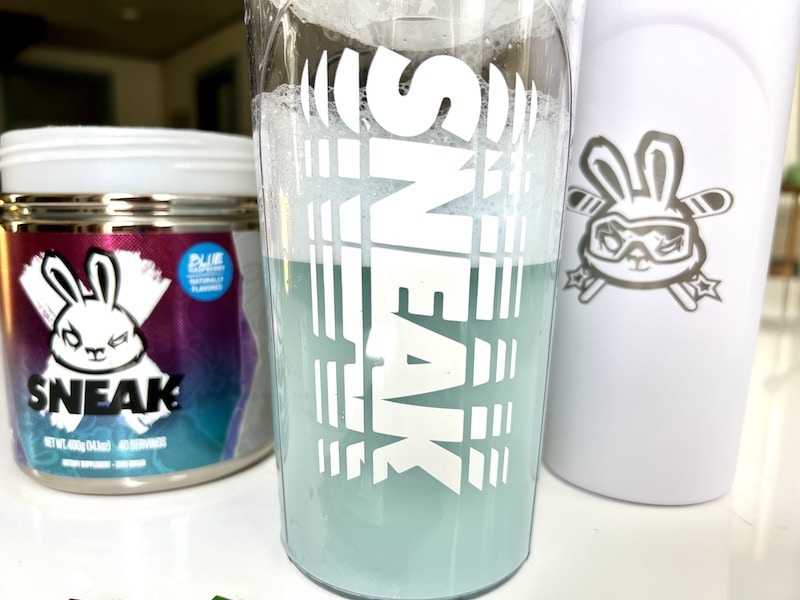 The Energy Drinks
And now, the important part: tasting the drinks! We got to try Sneak's Blue Raspberry flavor, plus a range of others like Sour Apple, Neon Punch, Electric-Mango, and Cherrybomb. All are sugar-free and packed with caffeine, vitamins, and minerals. And unlike some powdered drinks, Sneak's flavors actually taste different from each other – fruity, a little sour, and overall quite tasty.
One big benefit of Sneak Energy is that you can feel the effects quickly – starting after about 10 minutes – and despite the high caffeine content, you probably won't feel jitters or other negative side effects. Plus, with zero sugar, this drink won't leave you with a sugar crash halfway through your workout. One downside here is that Sneak uses sucralose, which is a calorie-free artificial sweetener with a very distinctive taste.
The Sneak shaker is well-designed, with a built-in frother that turns the powdered drink into a frothy delight with minimal shaking. We liked how easy it was to take in the car, to the gym, and on hikes. It's also simple to clean!
The Packaging
As you might guess, the packaging is an area where Sneak excels. This company is lots of fun, with a goofy rabbit mascot, bright colors, and graphic designs on everything from the energy packets to the shakers and shirts. The tubs come with scoops for easy measuring, and the individually wrapped packets are easy to throw in your go-bag. Did we mention the fun designs?
*Use code AFFECTION15 on orders over $50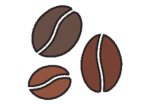 FAQ
How Do You Make Sneak Energy Drinks?
Sneak comes in powdered form, so you need to mix it with water before you drink it. If you have the shaker, just combine one level scoop (10 g) or one packet of your preferred flavor with 10-13 ounces of water. Shake to combine and enjoy!
What Are the Ingredients?
Here are the ingredients in Sneak Energy:
Maltodextrin
Acid (Malic Acid)
L-Tyrosine
L-Taurine
Natural Flavouring
Caffeine Anhydrous
L-Theanine
Choline Bitartrate
L-Carnitine
L-Tartrate
Trisodium Citrate
Magnesium Citrate
Potassium Chloride
Di Calcium Phosphate
Vitamin C (Ascorbic Acid)
Nicotinamide
Pyridoxine HCL
Thiamine HCL
Riboflavin
Calcium D-Pantothenate
Biotin
Folic Acid
Vitamin B12 (Methylcobalamin)
Colour (Spirulina Powder)
Sweeteners (Sucralose, Acesulfame K)
Anti-caking Agent (Silicon Dioxide)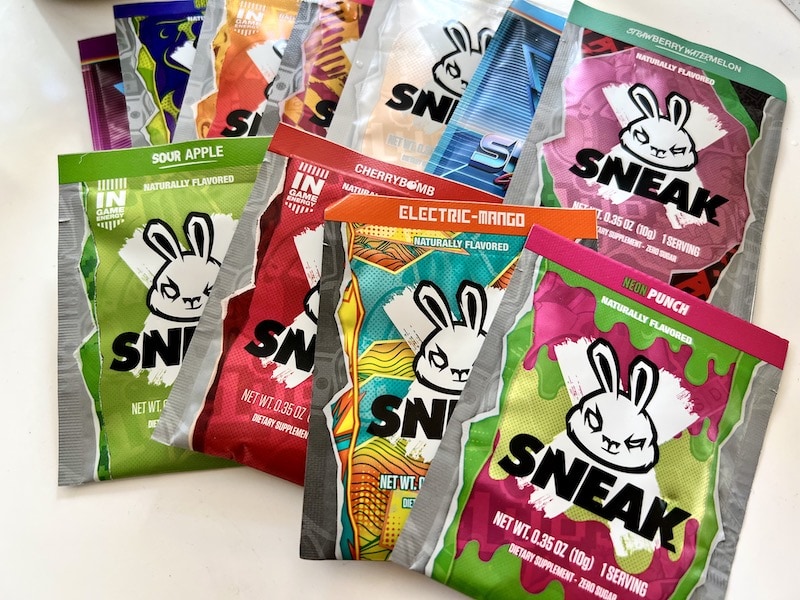 How Much Caffeine in Sneak Energy?
Each sampler pouch or scoop of Sneak contains 150 mg of caffeine, which is about 1.5 times the amount in coffee. The recommended amount of water is 400 mL, or 13.5 ounces, which means that Sneak contains about 11 mg of caffeine per ounce.
*Use code AFFECTION15 on orders over $50

The Verdict
Depending on your energy drink preferences, Sneak could be a great option. This company ships powdered energy drinks in convenient tubs or individual packets. The well-designed shaker whips up frothy, caffeine-packed drinks in mere seconds. With this company, you will find playful branding, sugar-free blends, and an impressive range of flavors.
On the other hand, if you don't like the taste of sucralose or prefer simple flavors, you may want to look elsewhere for your energy boost. But overall, if you want an affordable energy boost with a heaping scoop of fun, give Sneak a try!