Sugar-free energy drinks are a great way of getting some much-needed energy during the afternoon slump without all the extra sugar that usually comes in these beverages. Typically sold at most corner stores, they can be a convenient way to add a little pep to your step.
If you have ever walked down the energy drink aisle, though, you know there are more options than you know what to do with. To help you find the best one for you, we have outlined the 11 best sugar-free energy drinks available. In fact, we've shared details on all of them below.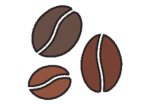 Top 11 Sugar-Free Energy Drinks
1. Monster Energy Zero Ultra, Sugar Free Energy Drink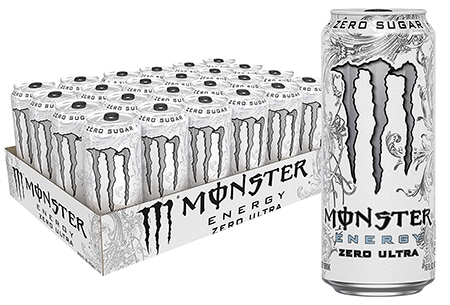 | | |
| --- | --- |
| Caffeine: | 140 mg |
| Calories: | 10 |
| Sodium: | 0.20 per 100 ml |
Monster Energy Zero Ultra is a sugar-free energy drink that has tons of flavor. Not only will this 16-ounce give you the boost of energy that you're looking for, but you also will not get the jittery crash of the sugar. You'll also find this option to be lighter and more refreshing than the typical Monster.
With citrus flavor, Zero Ultra has only 10 calories with 140 mg of caffeine. This will keep the afternoon slump from getting the best of you. It has 180g of saturated fat and 2g of carbohydrates.
You will also find vitamin B3, B6, and B12, along with other sources of nutrition. Along with the energy-boosting caffeine, you'll also find ginseng, taurine, and a few other forms of caffeine that are not listed on their nutritional label. Other than that, this is a great zero-sugar energy option.
---
2. Hiball Energy Vanilla Seltzer Drink
| | |
| --- | --- |
| Caffeine: | 160 mg |
| Calories: | 0 |
| Sodium: | 0 |
Hiball Energy Vanilla Seltzer Drink is a zero sugar, 16-ounce can of energy that has 160 mg of caffeine to get you through the day. It gives you instant energy naturally with a light and refreshing vanilla flavor. It's made with sparkling water, orange, organic ginseng, organic guarana, and multiple forms of vitamin B.
Besides the vanilla flavor, you can also choose from grapefruit, lemon, lime, peach, and wild berry. Hiball Energy has zero fat, sodium, and protein. It also has 10g of total carbohydrates.  Beyond the high caffeine level, it also has 50 mg of guarana and 50 mg of ginseng which ensures you will not crash once the effects start to wear off.
---
3. Aspire Healthy Energy Drink, Mango Lemonade
| | |
| --- | --- |
| Caffeine: | 80 mg natural caffeine |
| Calories: | 0 |
| Sodium: | 55 mg |
Aspire Healthy Energy Drink comes in a variety of flavors including their most popular mango lemonade. It's available in a 12 pack of 12-ounce cans that are naturally caffeinated with zero sugar, zero calories, and a wide variety of vitamins B and C. This energy drink is also appropriate for people on the keto diet, vegan, and it's kosher friendly.
Light and crisp, Aspire Energy Drinks are refreshing and tasty. They help to give you energy and focus without the jitters and crash of coffee. The light and smooth carbonation are also great. The mango lemonade flavor has 55mg of sodium, plus calcium, niacin, and Biotene. It also has guarana seed extract, green tea extract, and ginger root extract.
Aspire indicates 80 mg of natural caffeine although that is not including the other extracts that were mentioned above. All in all, this is a great energy drink option, however, note that it is not gluten or soy-free.
---
4. Bang Star Blast Energy Drink
| | |
| --- | --- |
| Caffeine: | 300ml |
| Calories: | 0 |
| Sodium: | 40 mg |
Bang Star Blast Energy Drink is a potent brain and body fuel that has zero calories, fat, cholesterol, and carbohydrate, as well as sugars. It has 40 mg of sodium, though that is low for the typical carbonated beverage. You will also find vitamin C, B6, magnesium, calcium, plus caffeine in this 16-ounce can.
This beverage contains some artificial flavors and sweeteners. It's marketed as a carb-free and crash-free energy experience that is great tasting. Customers seemed to agree as this is one of the more popular options. Bang Star gives you a boost of energy. Ingredients like CoQ10, essential amino acid, and their patented Super Creatine also give you additional benefits that last all day.
Gluten-free and vegan-friendly, this is a great option for anyone on a diet. The Star Blast flavor is fruity yet not too sweet. Instead, it is refreshing with a flavor that does not taste candy-like or artificial.
---
5. Zevia Zero Calorie Energy Drink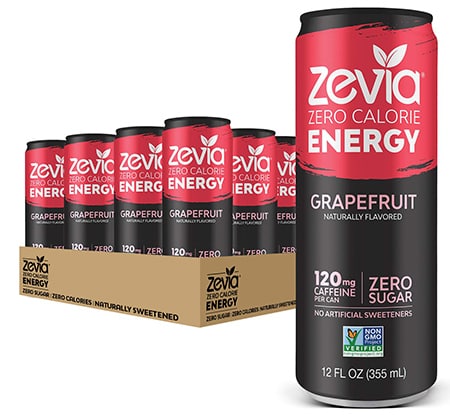 | | |
| --- | --- |
| Caffeine: | 120mg |
| Calories: | 0 |
| Sodium: | 0 |
Zevia Zero Calorie Energy Drink comes in grapefruit, cola, mango ginger, and raspberry lime you can pick up in a 12 pack of 12-ounce cans. The beverage is great before a workout, or on your way to work in the morning. It gives you a clean energy boost with natural caffeine without the sugar most energy drinks have.
This brand is also non-GMO project verified, kosher, and vegan. Additionally, it has zero calories, sugar, glycemic impact, and is soy-free, without any preservatives for artificial colors. What it does have is 120 mg of caffeine per can flavored lightly as a carbonated beverage.
The Zevia Zero Calorie Energy Drink has a few ingredients that are limited to carbonated water, citric acid, leaf extract, caffeine, and natural flavors. This is a great option for anyone to wants a light drink to give them a boost at any time during the day.
---
6. Red Bull Sugar-Free Energy Drink
| | |
| --- | --- |
| Caffeine: | 80 mg per 8.4 fl oz |
| Calories: | 10 |
| Sodium: | 105 mg |
Red Bull is one of the most popular energy drinks around, and it was also the first of its kind. It comes in several different sizes and packs that you can choose from. It also, now, comes in a sugar-free option that has 80 mg of caffeine per 8.4 fluid ounces. Beyond that, it has 105 mg of sodium along with 2g of carbohydrates and zero fat.
Right below zero sugar also is niacin, vitamin B12, vitamin B6, and amino acid all designed to give you an extra boost without any jitters or shakiness. A carbonated beverage, less sweet than the original, yet still has a punch of flavor. The taste is notoriously difficult to describe, though many people find it has a similarity to carbonated Pixy Stix – in the best way.
Without going overboard on the caffeine, Red Bull is not going to bring you down once it wears off. Nor will require you to grab another one that may make you anxious. With a variety of can sizes, there's a great option for any time of the day.
---
7. Zipfizz Healthy Energy Drink Mix Hydration
| | |
| --- | --- |
| Caffeine: | 100 mg |
| Calories: | 20 |
| Sodium: | 70 mg |
Zipfizz Healthy Energy Drink is a multivitamin, energy supplement that comes in individual tubes for enhanced performance, an immune boost, and your daily multivitamin. You can take it up to twice a day to deliver a boost of athletic performance not only from the caffeine but also from the green tea leaf extract and guarana.
Available in a 20-count, Zipfizz comes in several different flavors including orange soda, grape, fruit punch, pink grapefruit, or a multi-pack depending on your taste. This option has 20 calories, vitamin A, C, E, and B6. Plus, healthy levels of calcium and magnesium. There are also additional ingredients that help make it a botanical antioxidant blend.
Convenient to carry around with you, you can add Zipfizz to any bottle of water to give you a juice-like drink that has all the vitamins, antioxidants, and electrolytes you need before a workout, a day at work, or just running errands. It's a gluten-free beverage with a total of 100 mg of caffeine.
---
8. XYIENCE Energy Drink | Cherry Lime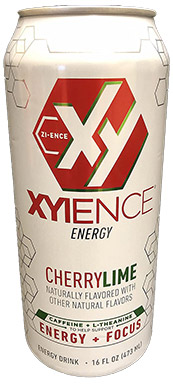 | | |
| --- | --- |
| Caffeine: | 160 mg |
| Calories: | 20 |
| Sodium: | 280 mg |
Xyience Energy Drink is perfect for those who love a cherry lime ricky. Although it comes in many different flavors, this is 16-ounce can of cherry lime is their most popular zero sugar option. The brand is formulated for great taste plus great performance that delivers energy, focus, and the ability to get whatever you need to get done.
This is a carbonated drink that's made with natural flavors and colors. It also contains zero fat, zero carbohydrates, and healthy levels of vitamin B3, B6, and B12, and potassium. It also has 280 mg of sodium which is high for a drink such as this.
Available individually or in a 12-pack, you can try their various flavors including blueberry pomegranate, frost berry blast, fruit punch, and mango guava. It has 160 mg of caffeine along with L-Carnitine, ginseng extract, and guarana extract.
---
9. Marquis Sugar Free
| | |
| --- | --- |
| Caffeine: | 100 mg |
| Calories: | 0 |
| Sodium: | 0 mg |
Unlike the rest of the options so far, Marquis is a sparkling tea drink that contains zero sugar but has 100 mg of plant-based caffeine. This is a yerba mate beverage that comes in a 12-ounce can (single serve or 12-pack). This tea has zero sugar, is USDA organic, has zero calories, and is gluten-free.
Marquis is also a non-GMO verified and certified vegan drink caffeinated with yerba mate, green coffee, and green tea caffeination. It has a light and balanced flavor without the crash or the calories. It also has vitamin C, B3, B5, B6, and B12.
This is a delicious option for the morning or the afternoon. The carbonation is light, and the tea has a citric taste that is a fan favorite. You won't find any jitters or crashing with this option, and it is keto and diabetic friendly, as well as certified vegan.
---
10. Organic Clean Energy Drink by RUNA
| | |
| --- | --- |
| Caffeine: | 150 mg |
| Calories: | 10 |
| Sodium: | 10 mg |
Runa's Organic Clean Energy Drink is another tea-based beverage that comes in several flavors including watermelon focused, berry, watermelon mint, peach, and various other options. This energy drink is made with organic ingredients and 150 mg of natural caffeine. It also has only 10 calories, zero fat, and only 10 mg of sodium.
Runa is a light, organic, clean energy drink that is like an iced tea with additional hints of flavor. The natural guarana leaves you feeling energized and focused without the anxiety or after crash. Interestingly, this option has two grams of natural cane sugar, so it is not a zero-sugar option.
Beyond that, 88% of Runa products are Fair Trade certified plus USDA organic. There are no artificial flavors, sweeteners, or colors. The light and tasty beverages is a great option in the category.
---
11. Rockstar Energy Drink
| | |
| --- | --- |
| Caffeine: | 161 mg |
| Calories: | 25 |
| Sodium: | 240 mg |
Rockstar is another one of the more popular energy drinks on the market. Now with a sugar-free option, it's still the original flavor that you love without the added sugar. Instead, what it has is 161 mg of caffeine per every 16 fluid ounce plus B vitamins, guarana, and other natural sources of caffeine that will kickstart your day.
Carbonated and invigorating. Rockstar Energy Drink has zero fat and zero sugars. It does have 240 mg of sodium. Although, it makes up for that with the number of vitamins in the beverage. You will also find ginseng root extract, milk thistle extract, along with several other energy inspiring natural ingredients. Be aware, it also contains artificial colors.
Rockstar is meant for any type of lifestyle whether you are going to the gym, going to the library, or the park. It gives you a clean boost of energy without making you feel tired in the afternoon or jittery from too much sugar. It's a great option, and it's a sugar-free go-to energy drink.

Conclusion
Energy drinks can be a great part of your day, but when they are loaded down with too much sugar, they can leave you feeling jittery, anxious, and ill. We hope that the above article has helped you find the right choice for you to give your day an extra boost.
SEE ALSO: Sneak Energy Review: Is This Sugar-Free Energy Drink Company Worth It?