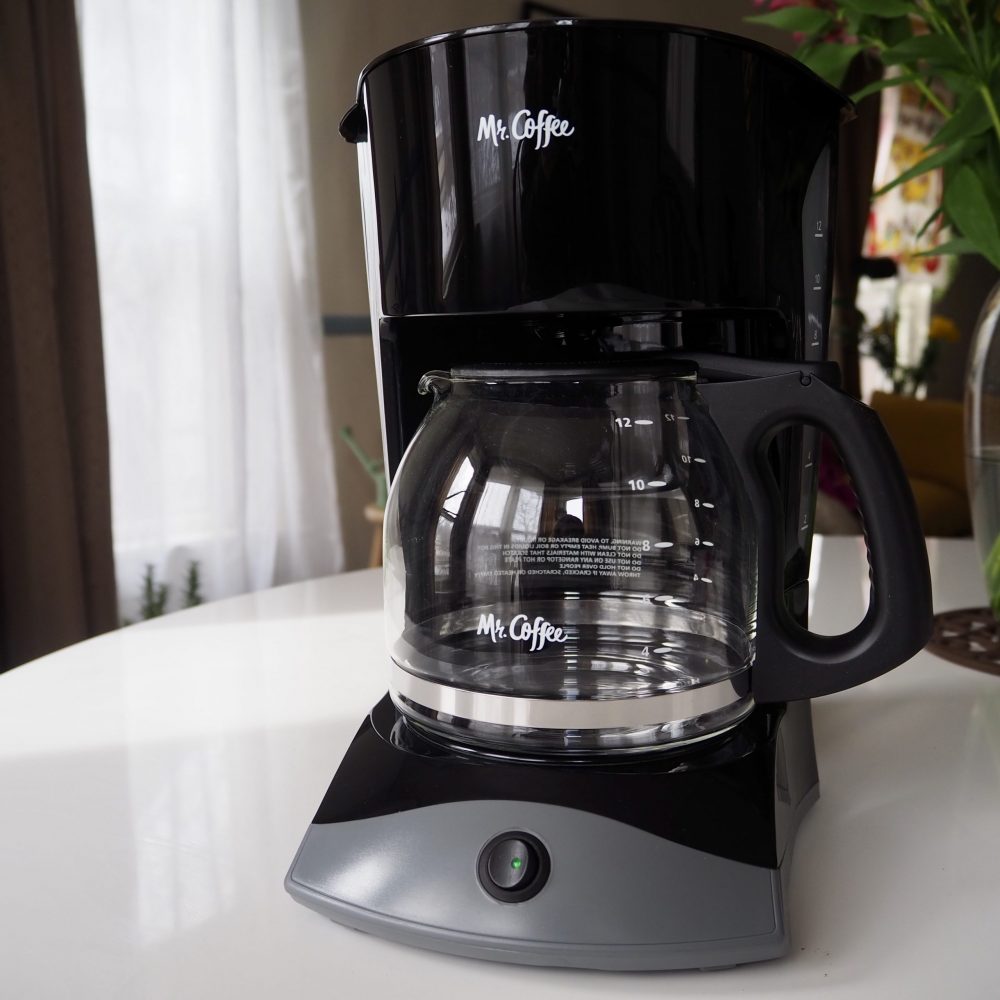 Our Final Verdict
We give the Mr. Coffee 12-Cup Coffee Maker a rating of 4.2 out of 5 stars:
Build Quality
Features
Price
Review Summary
Drip coffee brewers are inexpensive and fairly easy to use, helping us brew pots of coffee for families and offices. When it's time to replace your trusty old coffee maker, you can choose among dozens of models. So how does the Mr. Coffee 12-Cup Coffee Maker stack up? We put it to the test.
Our conclusion? If you're looking for an inexpensive, simple machine, this coffee maker could be for you. It doesn't offer the extra features of higher-end models, but it's straightforward, well-priced, and reasonably durable. Mr. Coffee is a well-known brand, and this coffee maker lives up to the name.
Mr. Coffee 12 Cup Coffee Maker – A Quick Look
Pros
Can make up to 12 cups of coffee
Auto-pause lets you start drinking mid-brew
Easy to read water window
Removable parts (filter basket) make cleaning easy
Simple, easy to understand design
Very affordable
Cons
Auto pause doesn't always work, drips
Basic plastic construction
Filter basket doesn't come out easily
| | |
| --- | --- |
| Brand: | Mr. Coffee |
| Product Type: | Drip coffee maker |
| Settings: | On/Off |
| Serving size options: | 2-12 cups |
| Color: | Black or White |
| Product dimensions: | Height: 12.76″ x Width: 9.1″ x Depth: 11.8″ |
| Product weight | : 2.86 pounds |
| Cord length: | 24-26″ |
| Dishwasher-safe parts: | Yes |
| Warranty: | 1 year |
Overall, this coffee maker is quiet, streamlined, and reliable. Keep reading for a list of our favorite features and a few drawbacks.
Grab-A-Cup Auto Pause
If your mornings are hurried, you'll love the Grab-A-Cup feature. This allows you to take the coffee pot off the burner before the brewing cycle is finished so you can enjoy a cup whenever you are ready for one. Replace the pot within 30 seconds and it will continue brewing.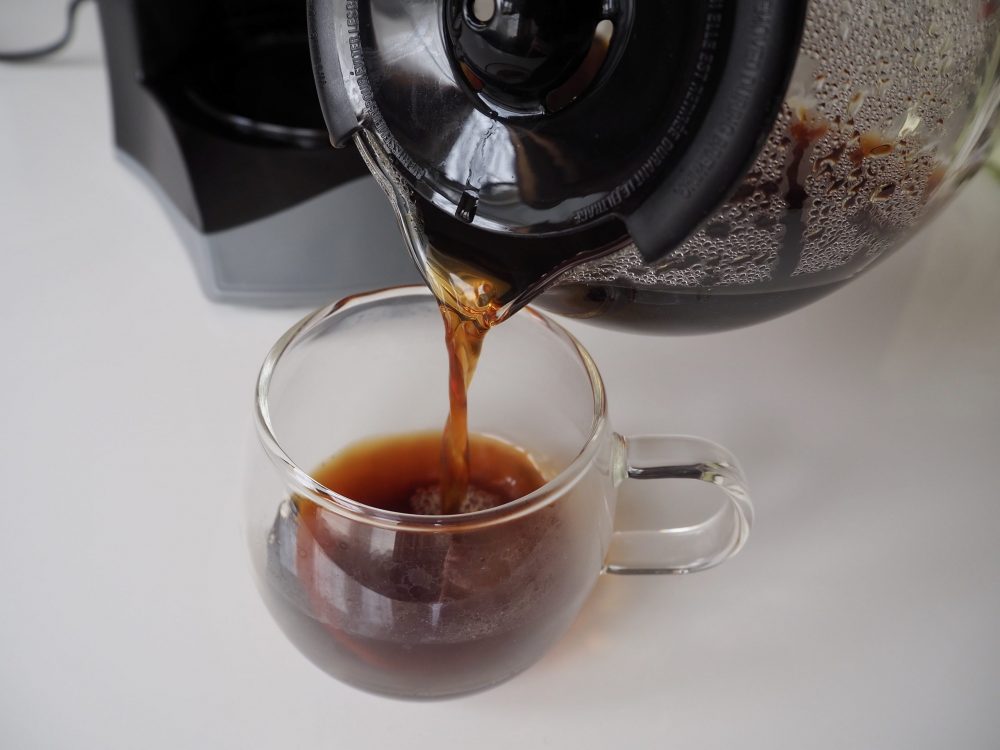 Dual Water Window
The dual water window allows you to keep track of the water level in the reservoir. This can help you get the strength of your coffee just right and save you from needing to measure the water you add.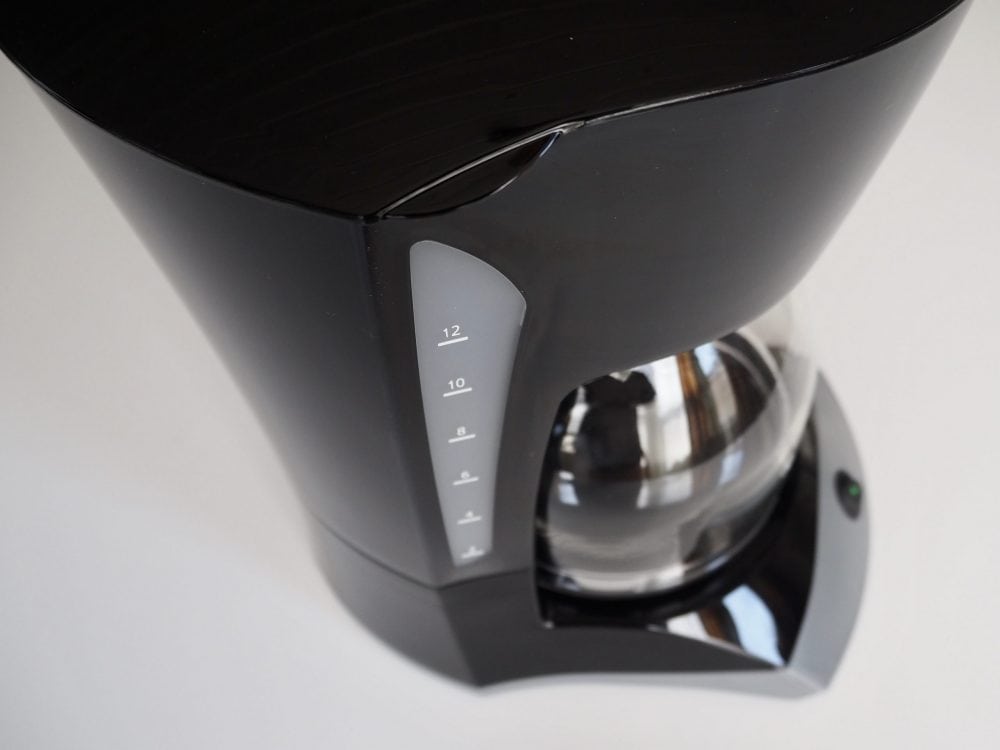 Lift & Clean Filter Basket
The filter basket is removable and dishwasher-safe, making it easy to fill and clean. This is a convenient feature because you'll want to clean your machine regularly. Thorough cleaning will keep the coffee maker running smoothly and the coffee tasting great.
RELATED READ: How to Clean Your Mr. Coffee (Fast & Easy)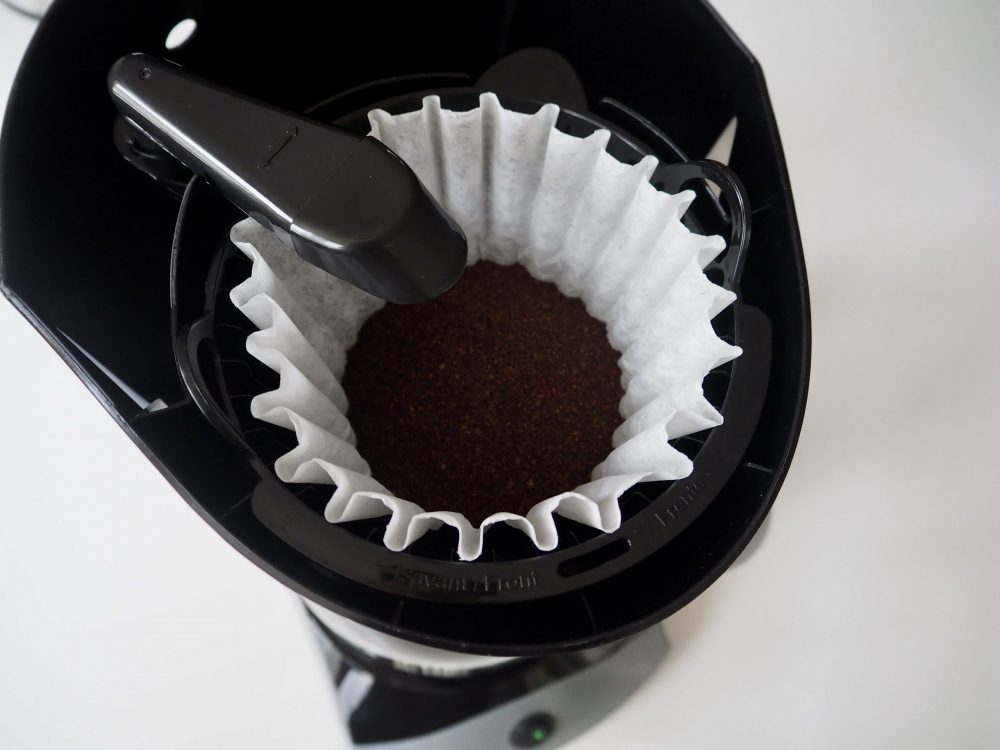 Cord Storage
The cord can be conveniently stored in the back of the machine. The cord itself is short, to prevent tripping hazards.
Drawbacks
We didn't love every aspect of this coffee maker. It's entirely made of plastic, which is lightweight but scrapes easily and feels somewhat cheap. The Grab-A-Cup feature is convenient but doesn't work perfectly. We found that it dripped quite a bit, making a mess on the warming plate.
The drip head also doesn't extend to the center of the filter basket, so you won't get perfectly even coffee extraction. Some higher-end models offer shower-style heads that drip evenly across the bed, and you may want to invest in one of those if you're interested in the best flavor.
FAQ
Q: Does it have an automatic shut-off?
A: No, this model doesn't. Make sure you turn it off after you finish the pot.
Q: Does it use a cone or basket-shaped filter?
A: It has a wide filter basket with a flat bottom, compatible with #4 basket filters. Mr. Coffee also sells a permanent coffee filter if you prefer.
Q: Can you brew less than a full pot?
A: Yes. You can brew anywhere between 2 and 12 cups of coffee. Make sure to adjust your coffee grounds measurement and water measurement to stay proportional. About 2-3 tablespoons of coffee should get 6 oz of cold water.
Q: Are there upgrades or other options?
A: Yes. You can upgrade to a programmable model, which will allow you to set a brewing timer. Mr. Coffee also offers a carbon-based water filtration system that you can insert into the filter basket.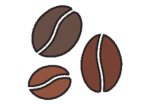 Conclusion
What's the bottom line? The Mr. Coffee 12-Cup Coffee Maker could be a good option if you want a simple and affordable machine. It brews up to 12 cups of coffee quickly and quietly and features a straightforward on/off button. This model also comes with a well-designed, sturdy glass carafe and a removable, dishwasher-safe filter basket. There's an automatic brew pause feature and the water reservoir is easy to fill.
You may be less impressed if you're looking for an expensive-feeling machine, as the plastic construction feels sturdy but not stylish. This model also lacks features like programmability, strength settings, and evenly extracting shower-heads. But overall, this is a reliable, reasonably compact machine sold at a great price.
Other posts we've written about Drip Machines: