Finding the right brewing method for you can be challenging. From French presses to drip coffee makers, there are dozens of methods and models to choose from. So will a Moka pot or an AeroPress work better for you?
We're going to walk you through this decision, covering each coffee maker in-depth and then offering a detailed comparison. We have pros and cons, important features to consider, and more! Keep reading to find your ideal coffee maker:

All About the Moka Pot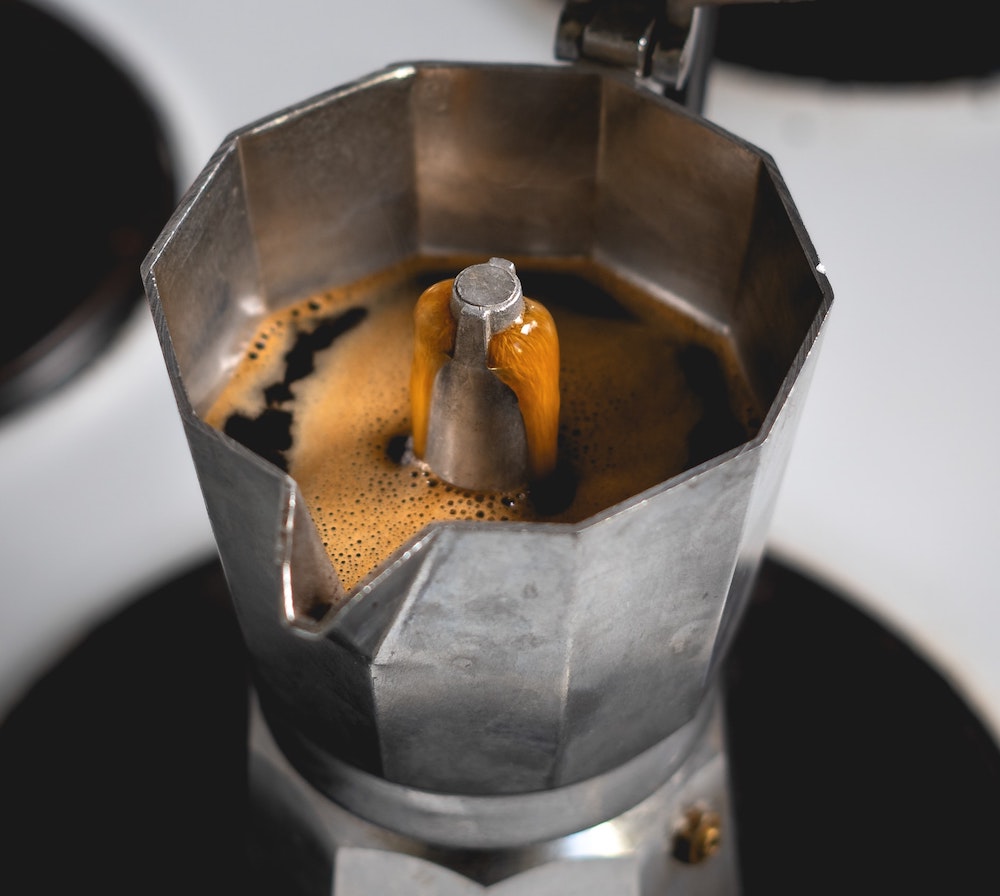 The Moka pot is a classic Italian coffee maker dating back to 1933. These brewers are typically made of stainless steel and work on stovetops. They produce a small amount of strong coffee with plenty of mouth-feel.
Moka pots are stylish, intelligently-designed coffee makers. They're percolators, meaning that they work by using steam. To use one, you fill the base with water and the filter cup with finely-ground coffee. Place the Moka pot on a stove burner and wait around 10 minutes. The water heats in the bottom, turning to steam and passing through the coffee grounds. Your concentrated coffee will arrive in the top section of the brewer, ready to serve.
Read our list of the best Moka pots available this year!
Pros
Stylish, classic design
Steam-driven percolator method
Small, concentrated cups of coffee
Cons
Requires a stovetop or fire
Harder to clean
Inconvenient to serve a crowd
Takes around 10 minutes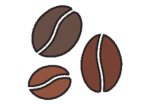 All About the AeroPress
The AeroPress only came on the market in 2005, but it quickly became a necessity for many adventurous coffee lovers. This plastic brewer is lightweight, compact, and simple to use — though it's also open-ended enough to allow for endless experimentation.
The AeroPress makes small cups of concentrated coffee using a combined steeping and pressure method. You'll have to heat the water separately and purchase paper filters to use this brewer. The AeroPress is also very easy to clean, requiring little more than a rinse.
See our complete reviews of the AeroPress and the new (even more portable) AeroPress Go.
Pros
Portable & compact
Reasonably-priced
Fast brewing
Combined steeping and pressure method
Cons
Less stylish
Must separately heat water
Requires paper filters
Doesn't make large quantities

Factors to Consider
Now that you know all about these two brewing methods, it's time to make your choice. But what are the biggest differences between them? We're taking a close look at factors like brewing time, coffee quality, and price.
How Long Do They Take to Brew?
Are you lacking time in the morning? You'll want to consider the brewing process for each method. The Moka pot doesn't require much hands-on work beyond the setup, but it does take around 10 minutes to brew.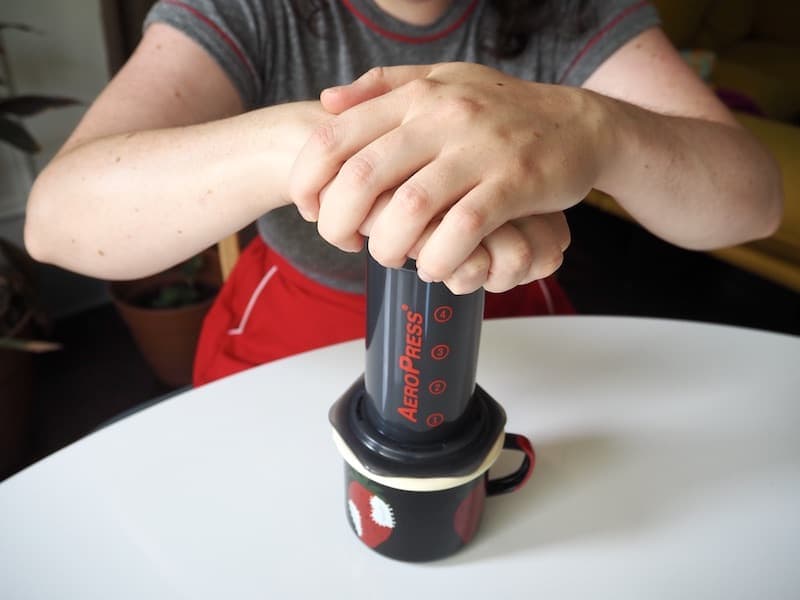 The AeroPress only needs to steep for one to three minutes but will require you to heat the water separately.
---
How Portable Are They?
Both of these brewers are fairly portable and camping-friendly, but the AeroPress is a little more versatile. Moka pots can be heated on stovetops or in campfires.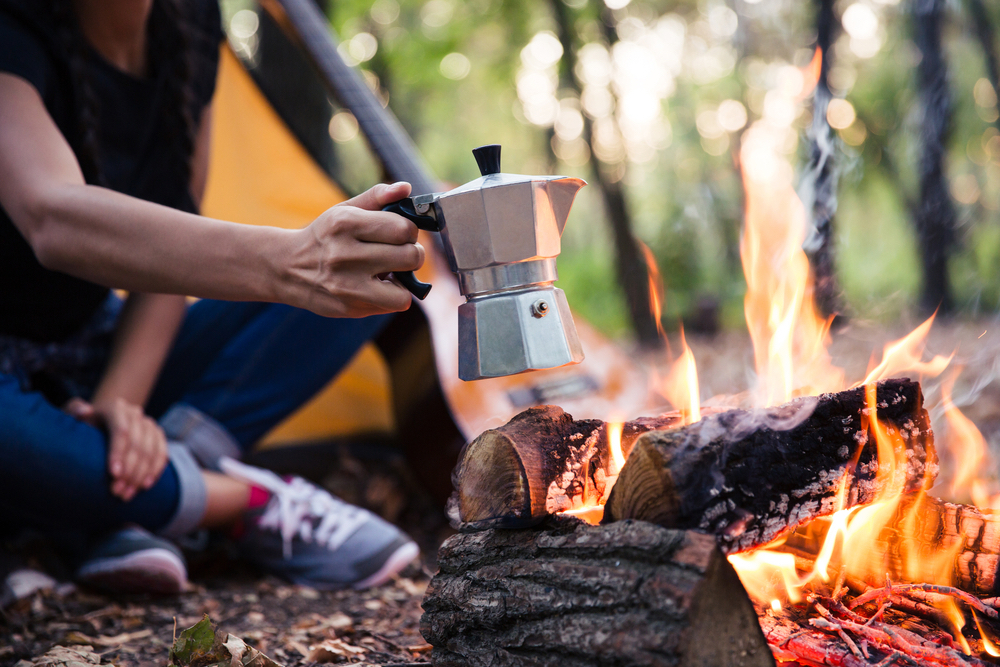 The AeroPress can use any water-heating method, including electric kettles, microwaves, hot water taps, and even pots on campfires! It's also a lot lighter, weighing under a pound. That means you can easily take the AeroPress backpacking or throw one in your suitcase.
---
Which Brewer Makes Better Coffee?
Both of these brewing methods produce small amounts of strong coffee. Because they don't use enough pressure, these are approximations of espresso, not the real deal. The biggest difference in coffee quality comes down to filtration. The Moka pot uses a metal filter, which lets small particles and natural oils in the grounds come through into the coffee. The AeroPress, on the other hand, uses small paper filters, ensuring clear, particle-free coffee.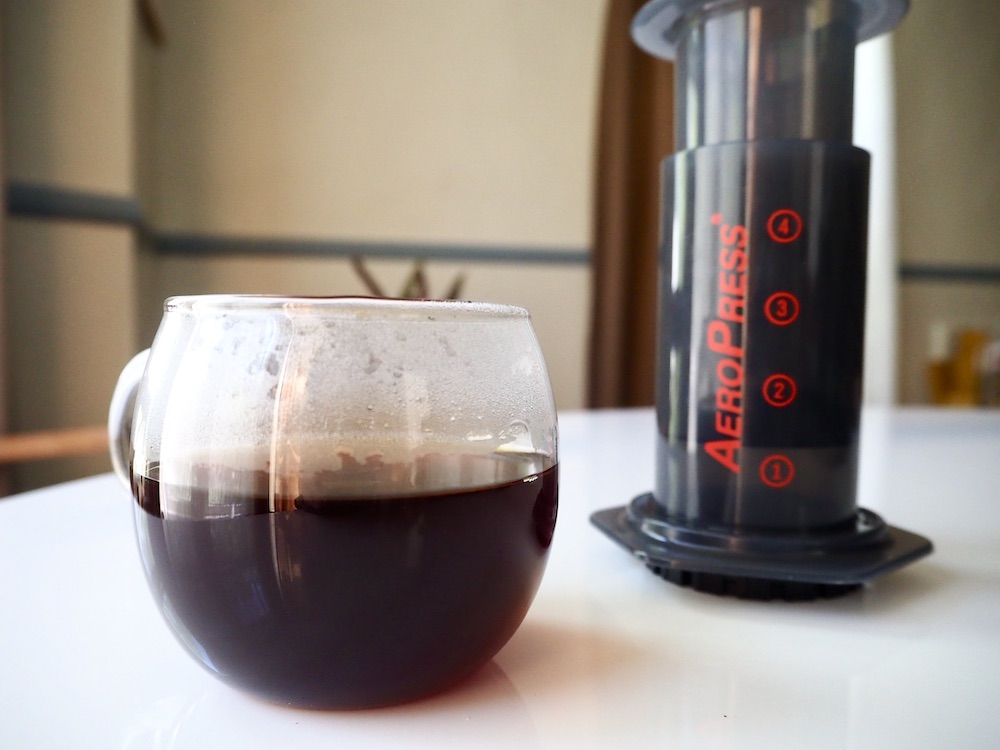 The bottom line? If you like coffee with a heavier body, you may prefer the Moka pot. But if you like clear coffee, you'll probably want to try the AeroPress.
---
Which Brewer is Cheaper?
The classic Moka pot is the Bialetti Express, and it costs about the same as the AeroPress. But because Moka pots are made by a wide range of companies, you can find less expensive models. Neither of these brewers is especially pricey, but if your budget is tight, you may want to choose a budget Moka pot.

AeroPress vs Moka Pot: Which Should You Choose?
So which brewing method should you pick? If you want to make high-quality coffee while traveling or camping, you'll probably prefer the AeroPress. This method is also great if you want to spend time perfecting your technique and experimenting with grind size and steeping time.
Why choose the Moka pot? It's a classic brewer with a stylish look that's been making strong, full-bodied coffee for nearly a century. Moka pots are also made by a variety of companies, meaning you can find various materials, styles, and price points.
Read our other comparisons: