A Canadian coffee staple, Tim Hortons is rapidly expanding across the globe. As of March 2022, there were 5,100 Tim Hortons cafes across 13 countries. Canada still boasts the largest number of locations with over 4,000 stores within its border, followed by the United States with around 600 cafes. The famous coffee chain has also traveled to Mexico, China, Thailand, and the United Kingdom, as well as a few Middle Eastern countries. From donut hole "Timbits" to macaroni and cheese, Tim Hortons definitely gives American coffee shop culture something new to chew on. However, even though there are hundreds of locations, not every state has a Tim Hortons—yet.

What Is Tim Hortons?
If you walk into a Tim Hortons, you'll likely find families splitting grilled cheese sandwiches and apple fritter donuts while students hunch over laptops in the corner sipping hot lattes as they study. Tim Hortons hosts a fairly unique menu with items ranging from what you'd find at a typical coffee shop to food at a state fair. Their prices seem modestly low, and they have a rewards program similar to their rival, Starbucks. Tim Hortons also likes to sponsor local sports and family events, which draws in a younger crowd.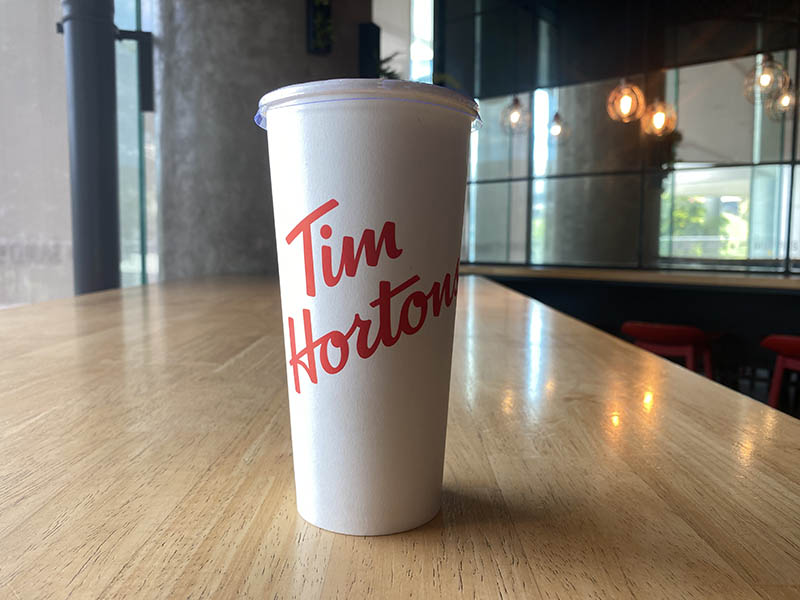 Tim Horton's History
Briefly a burger and hot dogs joint in the 1960s, the Tim Hortons we know and love today opened its first store in Ontario, Canada in 1967. The original name was actually Tim Horton's because it was opened by Tim Horton, the hockey player for the Maple Leafs. However, the apostrophe was dropped after it became illegal to advertise with English punctuation in Canada in 1977.
The first store in the United States opened in Tonawanda, New York in 1984. To this day, the majority of Tim Hortons stores in the United States are located in New York state, although the chain is rapidly expanding nationwide.
Interesting Tidbits About Tim Hortons
Tim Hortons is the unrivaled coffee king in Canada. Not only do they score as the top coffee provider nationally, Tim Hortons also rakes in about 25% of the total Canadian fast food industry.
Every 8 out of 10 cups of coffee served in Canada comes from Tim Hortons. It's no wonder they're hailed as the quintessential Canadian coffee house. Mcdonald's and Starbucks are their biggest rivals.
The original logo has changed, but the font hasn't. The Tim Hortons logo periodically changes according to styles of the times. For example, the original logo featured brown and yellow stripes that were later removed. However, the font has always remained the same because it was modeled after Tim Horton's autograph.
Tim Hortons coffee is also Canada's favorite brand for making a cup at home. According to Statista, Maxwell House is their closest competitor, with 21% of survey respondents choosing them compared to the majority 23% who prefer Tim Hortons.
"Timmy's" or "Tim's" are popular nicknames. If you're visiting the Ontario area and a local asks if you've gone to "Timmy's," now you know what that means.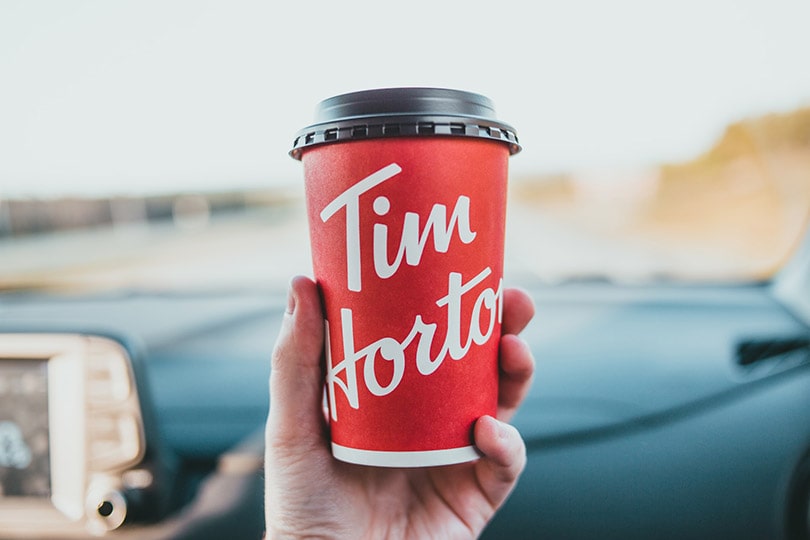 The Future of Tim Hortons Expansions
The coronavirus pandemic temporarily halted the expansion of Tim Hortons locations, as it similarly impacted most fast-food chains. However, in 2022 the weight seems to have been lifted.
March 2022 saw the first Tim Hortons location open in India, and a February announcement revealed that there are plans to launch the chain down in the American South. Currently, there aren't any stores south of Kansas, except for one recently opened in Houston, Texas, but corporate says there are plans in development for expansion to Florida and Georgia. Interestingly, the chain is doing very well in China, where there are over 400 stores and counting.

Conclusion
Although you might not be able to find a store in your neighborhood yet, Tim Hortons is known all over Canada for being the best coffee shop and one of the top fast-food restaurants. Canada still has the most stores by far, with over 4,000 out of its 5,100 total locations within the country. The United States trails behind with over 600 locations mostly located in New York and Michigan. The coffee chain is located in 11 other countries, including Thailand, China, and India as of 2022. As restrictions soften following the pandemic, there are plans for expansion so hopefully we'll see more locations open worldwide in the near future.
---
Featured Image Credit: Danny Ouimet, Unsplash