Pantry moths are small but invasive bugs that are quite common across North America. As a coffee lover, you might wonder if these insects will eat your beans before you get the chance to brew them. The short answer is yes, pantry moths will eat your coffee and many other foods, so keep reading as we discuss where else you might find them, how to protect your food, and how to get rid of them.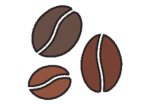 What Are Pantry Moths?
Pantry moths are small insects that are exceptionally good at getting through cardboard boxes and even plastic wrap to eat any food inside. It's easy to identify the pantry moth by the two-tone tan and rust-colored wings that it has as an adult.
Are Pantry Moths Harmful?
The pantry moth does not bite humans, nor does it tend to spread disease. However, it's extremely good at getting into packaged food, laying eggs, and rapidly multiplying. Therefore, you will need to discard any contaminated food, which can impact your food supply and wallet.
What Kind of Food Does Pantry Moths Eat?
Pantry moths are extremely fond of grain. You will usually first notice them in a cereal box or flour bag. However, they are not picky, and you can find them in all sorts of foods that have cardboard or paper packaging, including chocolates and coffee. Many people will pour a bowl of cereal and notice the bugs in their larvae state. Upon inspection of the package, you will usually find webbing and other signs of an infestation.
What If I Notice Pantry Moths in My Coffee?
Unfortunately, noticing pantry moths in your coffee likely means you have a serious problem. They multiply incredibly fast and can get through all kinds of packaging, so once you find them in one box, they are likely in all of them, infecting all of your food.
Getting Rid of Pantry Moths
It's best to take action immediately when you notice pantry moths in your food. Hesitating, even temporarily, can make the problem much worse.
Unfortunately, unless you purchased a cereal box or coffee and noticed the moths in it the same day, you will need to discard all the food you have that isn't in metal, glass, or heavy plastic containers. Trying to save anything may only cause the bugs to spread into the new food that you purchase.
You will need to completely scrub down all cupboards and countertops to remove all the pantry moth's eggs.
You will need to put all new cereal, coffee, flour, sugar, chocolate, and anything else in heavy plastic storage containers to prevent them from getting reinfected.
If you haven't seen any pantry moths for several weeks, it's safe to return to your normal routine, though keeping your food sealed in heavy plastic storage containers will help prevent this from happening again.
Clean up all spills because pantry moths can grow on just a small amount of food left under a shelf.

Pantry Moths & Your Coffee: Summary
Unfortunately, pantry moths are an expensive problem that no one wants in their home. If you have coffee that you want to protect, keeping it in a thick plastic storage container will keep the pantry moths out and help keep it fresh longer too. Keeping the rest of your food in similar containers will help protect you from future infestations.
---
Featured Image Credit: Bildagentur Zoonar GmbH, Shutterstock