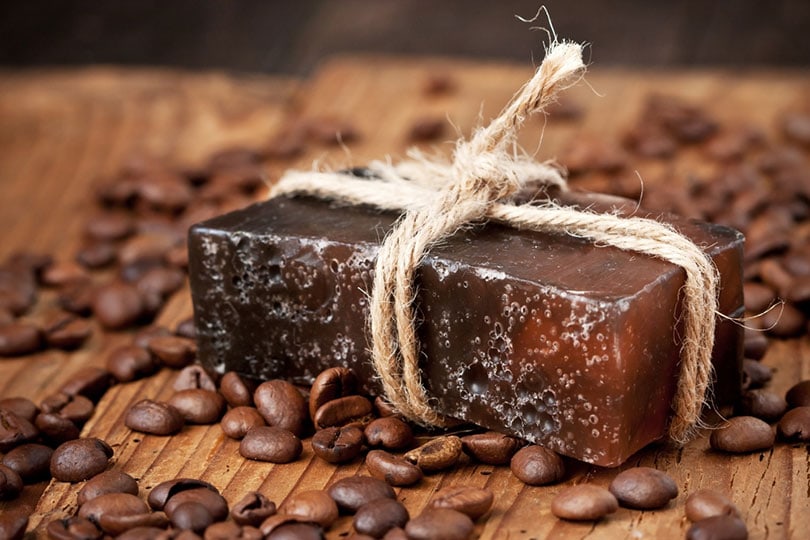 Art can be great fun, but it isn't always easy to think of new projects to make, and art supplies can be quite expensive. Luckily, we have a solution to both problems. Keep reading as we show you several projects that you can create using coffee grounds.

Top 7 Coffee Ground Art Projects
1. Painting With Coffee
| | |
| --- | --- |
| Materials: | Coffee, water, paper |
| Tools: | Paintbrush |
| Difficulty: | Easy |
The Painting With Coffee project is incredibly easy and is suitable for artists of any level. It's a great place to start, showing you how well coffee can work as a paint, and it's a great project for teaching dyes to children. The project is free, and the options are endless. Multiple coffee paintings together look especially good.
---
2. Coffee Ground Fossils
| | |
| --- | --- |
| Materials: | Coffee grounds, flour, salt |
| Tools: | Wax paper, mixing bowl, small toy dinosaurs, cookie cutter |
| Difficulty: | Easy |
Coffee Ground Fossils is an easy-to-create project that is perfect for children. You can use old coffee grounds for this project so there is no waste. In this project, you will make a dough and use small toys to make fossil impressions before baking them to create a permanent object that they can save for many years.
---
3. Coffee Candles
| | |
| --- | --- |
| Materials: | Coffee grounds, used candles, glass jar, candle wick |
| Tools: | Scissors, saucepan, heat-proof glass jar |
| Difficulty: | Easy |
Coffee Candles is a fun art project that you can create using things that you might already have around the house. Old coffee grounds, used candles, a glass jar, and a wick are all that you need to get started. You will need to heat water to melt the wax, so you will need to supervise any children, but it can be great fun. The candles can be in multiple colors, which can look quite artistic, and they will fill your house with the great scent of coffee.
---
4. Natural Dye
| | |
| --- | --- |
| Materials: | Coffee, fabric |
| Tools: | Saucepan |
| Difficulty: | Easy |
A great use for old coffee grounds in art is as a natural dye for fabric, yarn, string, etc. You can use it to create several shades of tan and brown. You can even add tea for more color options. This Natural Dye project works better with new grounds, but you can use old ones if you only need to change the color slightly. Brew your coffee, pour it into a saucepan, and submerge your fabric to change the color. Stronger coffee will yield a darker dye.
---
5. Wood Stain
| | |
| --- | --- |
| Materials: | Coffee grounds, water |
| Tools: | Clean cloth |
| Difficulty: | Easy |
This Wood Stain Project is similar to natural dye, but you will use the coffee grounds to stain wood instead of fabric. You can achieve several different natural colors without the high cost or difficult clean-up of commercial stains. It works great on new wood and is also ideal for improving the appearance of older furniture. It doesn't get blotchy like many commercial stains, and it's easy to control the color because it gets darker with each application. It's even safe for children to use because it's not flammable and produces no harmful vapors.
---
6. Coffee Soap
| | |
| --- | --- |
| Materials: | Goat's milk soap base, ground coffee, coffee beans, almond oil |
| Tools: | Double boiler, cookie sheet, knife |
| Difficulty: | Moderate |
Coffee Soap is a fun project to help you recycle your old coffee grounds and get the most value for your money. It's easy to do, though you do have to melt down the soap base and cut up chunks of soap with a sharp knife, so it's better left to adults, but it's a quick project.
---
7. Coffee Bean Coasters
| | |
| --- | --- |
| Materials: | Resin, coffee beans |
| Tools: | Craft stick, circular molds, glue gun |
| Difficulty: | Moderate |
Coffee Bean Coasters are a fun and functional art project. It breaks the rule by using whole beans instead of ground coffee, but it protects your furniture, so it's worth adding to the list. You will mix the beans with a liquid resin in a mold to create the coasters, which will keep the beans from coming into contact with and staining your furniture. You can also change the shape of the coasters to create something more artistic.
---
Tips for Working With Coffee Grounds
Darker roasts will produce darker colors.
Using less water to brew the coffee will produce darker colors.
Using hotter water will produce darker colors.
Using a finer grind will produce darker colors.
Allowing the coffee to steep longer will produce darker colors.
Any brand of coffee will do, so use what you already have or purchase something inexpensive.

Conclusion
Creating artwork out of coffee beans can be a great way to recycle while making your environment look better. Our favorite is the soap project because it uses old grounds, smells great, and can keep the whole family clean. If you are a woodworker or like to crochet, knit, or work with fabric, you might be surprised at how well coffee grounds work as a stain. If you have children, coffee can create an interesting paint that they will enjoy using.
---
Featured Image Credit: amberto4ka, Shutterstock