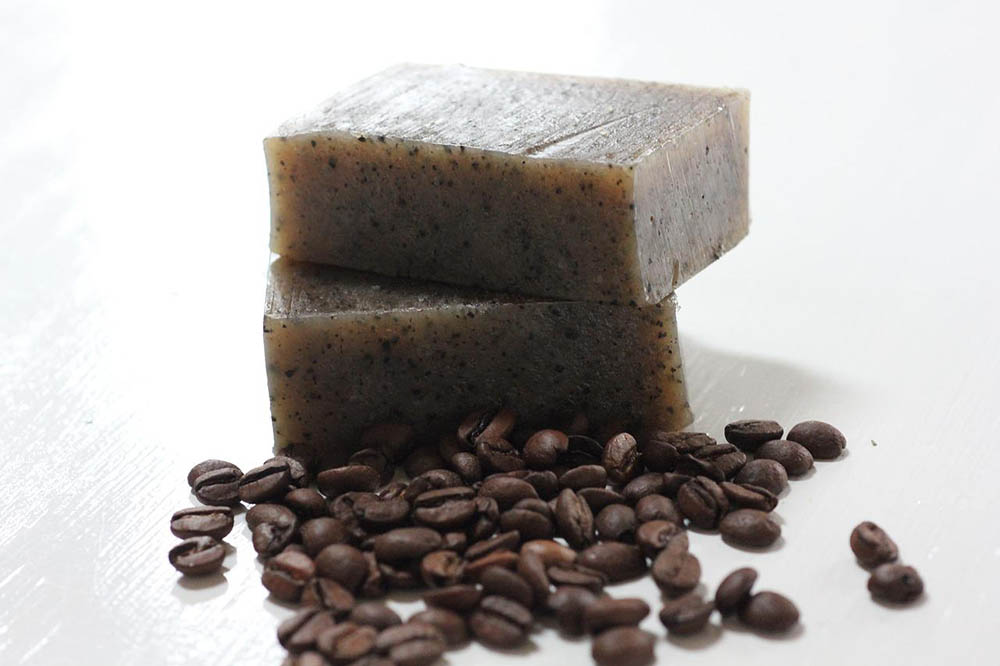 Most Americans drink coffee daily, and many people brew it at home so they can have it first thing in the morning. However, freshly brewed coffee makes a considerable amount of coffee grounds, and it's a good idea to find ways to recycle them. There are several things that you can do, including making coffee soap. Keep reading as we provide you with a step-by-step guide, so you can reduce waste and improve the versatility of your coffee.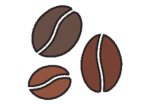 How to Make Coffee Soap:
Tools
Coffee maker
Soap knife
Rubbing alcohol
Microwave
Spatula
Soap mold
Safety glasses
Safety gloves
1. Prepare Your Soap Mold
The first step in creating coffee soap is preparing the soap mold. To do so, you'll need to clean it with dish soap and rubbing alcohol to ensure that there are no contaminants that might get into the soap.
---
2. Prepare the Soap Base
While your silicone soap mold is drying, prepare your soap base by cutting it into ½-inch to 1-inch cubes. You can use any knife that's sharp enough, but a soap knife works best and is the safest option. It's also important to wear your safety equipment while making these cuts.
---
3. Melt the Soap Base
Once you cut the soap base into cubes, it's time to melt it. We recommend placing it in a large glass measuring cup so it's easier to pour when you're finished. Place the measuring cup in the microwave, and heat on high for 30 seconds. Stir with a spatula, and repeat until the soap base is a thick liquid.
---
4. Add the Essential Oils and Extracts
While the base is still soft, quickly mix in your essential oils and vanilla extract. Stir with the spatula until you get it mixed evenly.
---
5. Mix in the Coffee Grounds
Once the oils are thoroughly mixed, you will need to work quickly to mix in your coffee grounds, as the soap base will start to cool and get hard. If bubbles start to form that you can't get rid of, you can eliminate them by spraying rubbing alcohol on them.
---
6. Pour the Soap Into the Mold
When you've eliminated most of the bubbles, quickly pour the soap into the mold, and allow it to cool. We recommend letting it sit at room temperature in the mold for at least 2 hours before removing it. If it's a warm summer day, allowing it to sit an extra hour or two would be a good idea.
---
7. Enjoy
Once your soap cools completely, you can remove it and begin putting it to use.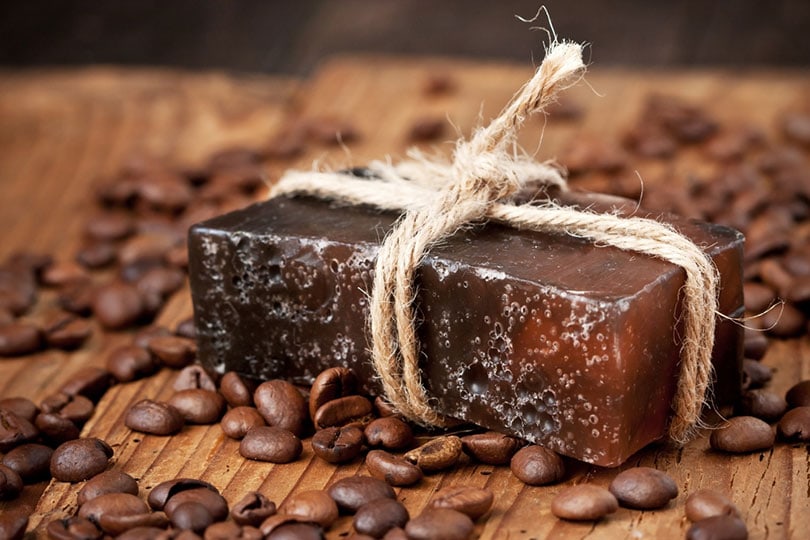 The Coffee Soap Experience: What Are the Alternatives?
Coffee
The biggest option concerning the coffee is whether you use fresh or used coffee grounds. Most people prefer to use used grounds because they work just as well at cleaning and exfoliating and don't change the soap base's color that much. Fresh coffee will start to brew when it hits the warm soap base, producing a brown color that can change the appearance of your finished soap. Fresh coffee will give you a dark-colored soap, while used grounds will allow the soap to stay light colored with dark grounds that look like specks of sand.
Ground Fineness
Whether you use fresh or used coffee, the fineness of the grounds will also matter. For example, a coarse or rough grind will produce a rougher soap that's better at exfoliating, while a finer grind will be smoother and more comfortable.
Soap Base
We recommend purchasing a ready-made soap base, as the goal of this recipe is to be simple. However, you can create a soap base more specific to your needs by combining different oils in different percentages
A soap with more lard or palm oil will last longer and be quite hard.
Oils like coconut and castor oil will help your soap have a bubbly lather.
Olive oil, canola oil, sunflower oil, and soybean oil are good at moisturizing and conditioning your skin.
Cocoa butter, shea butter, hemp oil, and a few others are luxury oils that will leave your skin feeling great but are more expensive.
Essential Oils and Extracts
We used coffee essential oils in this recipe because it helps give the soap more fragrance, but you can leave it out if you want or add more if you feel that it needs it. Vanilla also works well to balance the fragrance of coffee, but you can try other oils, like cinnamon and almond, to make something that better suits you.
---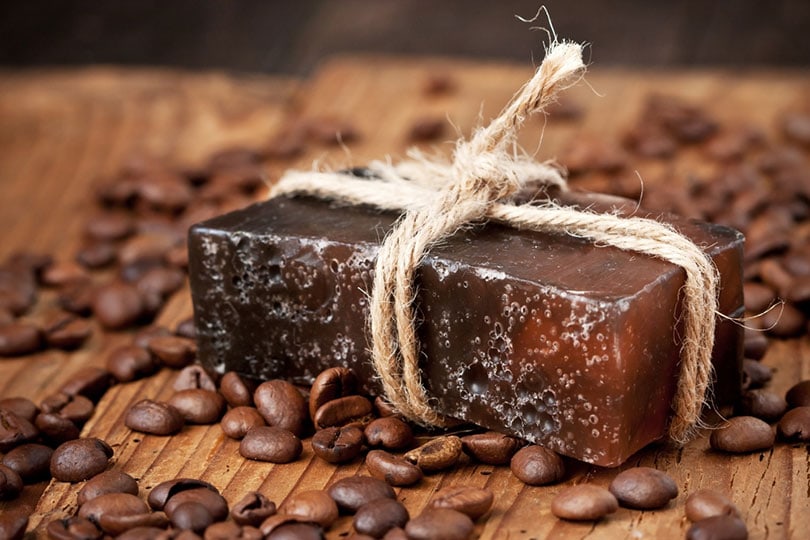 Simple Coffee Soap Recipe
This coffee soap recipe is extremely easy to make and only requires a few ingredients and materials. It also helps you recycle your used coffee grounds. The recipe doesn't take long to make, and in a few hours, you can use the soap to help clean and exfoliate your skin.
Equipment
Coffee maker

Soap knife

Rubbing Alcohol

Microwave

Spatula

Soap mold

Safety glasses
Ingredients
1

lb.

Soap base

¼

cup

Used coffee grounds

3

tsp

Vanilla extract

½

tsp

Coffee essential oil
Instructions
Clean your soap mold well to remove contaminants, and allow it to dry.

Prepare the soap base by cutting it into ½-inch or 1-inch pieces so they melt better.

Carefully melt the base in the microwave, using 30-second intervals to prevent burning

Add essential oils and extracts, mixing them with a sturdy spatula.

Add in your coffee grounds while you continue mixing. Small spritzes of rubbing alcohol can help remove any bubbles that form.

Pour the base into your soap mold, and allow several hours to cool.

Remove the finished soap from the mold, and enjoy.
Notes
Image Credit: amberto4ka, Shutterstock

Homemade Coffee Soap: Conclusion
Creating coffee soap is easy when you use a soap mold, and it doesn't take long to make. The result is soap that is effective at cleaning and exfoliating, and it smells great. You can modify this recipe in several ways to create something that works even better for you. This recipe is suitable for beginners and experienced soap makers, so we hope that you try it.
---
Featured Image Credit: By_zena, Pixabay