You may like eggnog and coffee, but can you mix the two? Absolutely!
Many people love the unique taste that an eggnog-infused cup of coffee gives, but you have to go about it the right way. Before you accidentally ruin perfectly good eggnog and coffee, keep reading this guide. We break down everything that you need to know to do it right and to get a great-tasting drink that you can enjoy all winter long.

Can You Put Eggnog in Coffee?
Yes! Eggnog is a creamy drink that is extremely similar to creamer, making it an excellent choice for coffee drinkers who want a holiday-infused drink.
Just keep in mind that eggnog has a distinctive taste, so it's easy to overdo it and have eggnog overpower the coffee.
We recommend starting with about half the amount that you would use for normal creamer and then working your way up from there to see how much you like in your drink. There won't be a large amount of eggnog in your coffee, but that's perfectly fine!
Our Favorite Eggnog and Coffee Recipe
This isn't the most complicated recipe out there, but when you're already working with top-notch ingredients, you don't need to do too much. This is our favorite eggnog and coffee drink for those cold winter mornings.
Instructions
Heat the eggnog in a large saucepan, but don't allow it to boil. Once you thoroughly heat it through, add it to the brewed coffee.

Garnish with whipped cream and ground nutmeg.

Enjoy!
Notes
Featured Image Credit: ARVD73, Shutterstock
Other Unique Coffee Creamers
If you just discovered eggnog and are now curious about other unique creamers that you can use to spice up your morning cup of coffee, here are a few great options.
1. Butter
Butter is an extremely popular creamer option in many parts of the world, and when you look at the ingredients in butter, it makes sense. It's a dairy-based product with plenty of fat to help keep your coffee silky and smooth.
---
2. Whipped Cream
Whipped cream is just heavy cream, sugar, and vanilla, so it makes sense that it's a great coffee creamer. Add a few shots into your coffee, and mix it up. It also makes your cup of coffee a bit sweeter.
---
3. Cacao Butter
If you want to ditch the dairy entirely, cacao butter is a great choice. It's rich and smooth, giving your coffee a chocolatey taste that we're sure you'll love.
---
4. Apple Cider Vinegar
This might not be the first thing that you think of when you're looking to add something to your coffee, but it provides a distinct apple taste to your morning cup of coffee and gives it an antioxidant boost.
Just don't add too much, or you'll likely find the vinegar taste to be overpowering.
---
5. Egg Yolks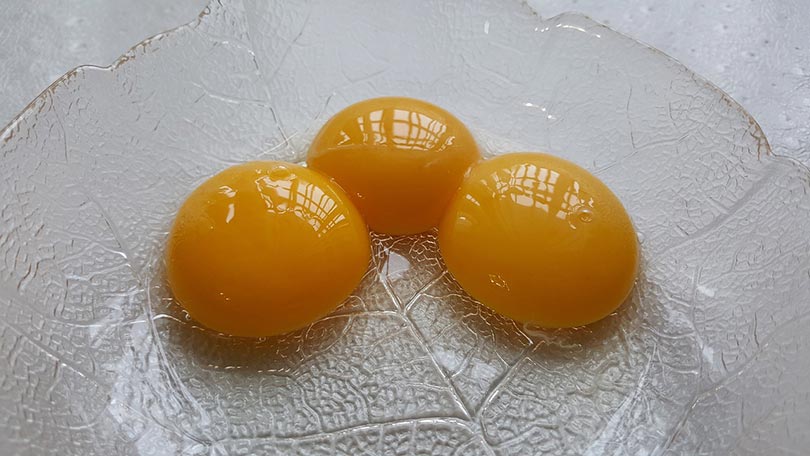 Most people don't feel too confident about putting egg yolks in their coffee, but some people swear by it.
Just ensure that you're getting pasteurized eggs from the store to reduce the risk of salmonella and other problems. Also, to help with this, only add it to a piping hot cup of coffee.
---
6. Honey
When you think of honey, you probably think of tea, but it's an excellent sweetener for coffee too. It also gives you a boost of antioxidants, vitamins, and other great benefits.

Final Thoughts
Now that you know it's perfectly fine to mix eggnog and coffee and how to do it, it's time to get that eggnog and brew a cup of coffee! It's a great way to mix up your regular cup of joe, and it's something that we're sure you'll want to add to your regular routine during the colder months of the year.
Once you finish trying that cup of coffee, go ahead and try some of the other great creamer alternatives on this list. You don't need to settle for the same cup of coffee day after day!
---
Featured Image Credit: ARVD73, Shutterstock