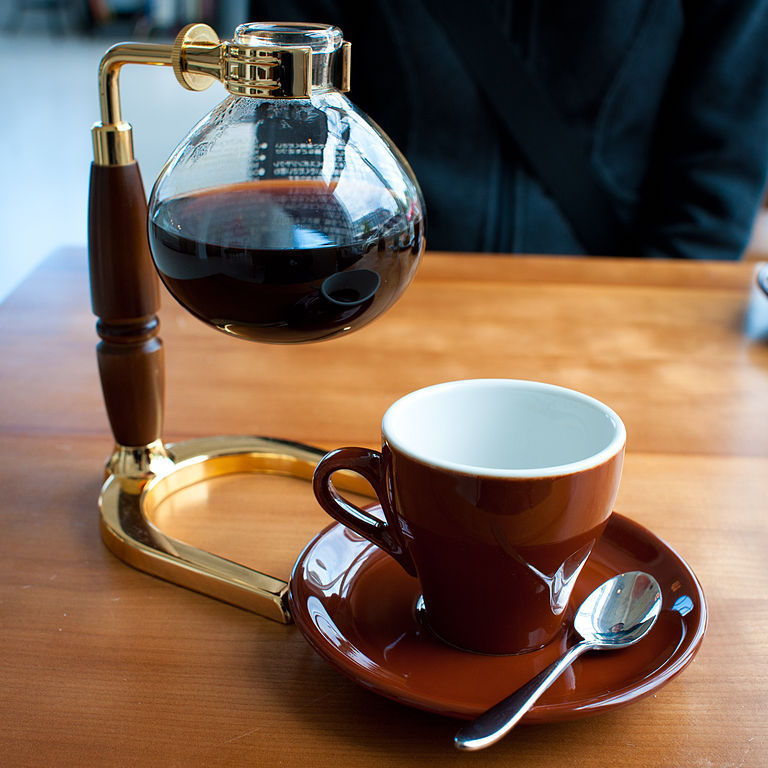 There are countless ways to brew coffee, but some are more theatrical than others. If you're looking to wow guests, or to see some cool science in the morning, a siphon vacuum coffee maker is the way to go. This method can be tricky, though, and you'll want a well-constructed brewer — that won't cost an arm and a leg.
We took the time to look at many of the most notable models, and we've come up with eight top picks. We hope that these reviews will help make your decision that much easier. Scroll down to find our eight favorite siphon coffee makers, and check out the buyer's guide for some handy shopping tips.
---
Comparison of our Favorites for 2023
Image
Product
Details

Best Overall

Hario Technica Syphon

Great construction
Attractive styling
Borosilicate glass and stainless steel

Best Value

Kendal Tabletop Siphon

Looks great
Included cloth filter
Makes 5 cups

Bodum PEBO Vacuum & Siphon

Stovetop compatible
Impressive eight-cup capacity
Interesting-looking

KitchenAid Vacuum Brewer

Simple to use
Sturdy construction
Magnetic locking seal

Yama Glass 8-Cup Stovetop

Easy stovetop operation
Great filter included
Works on gas and electric stoves
The 8 Best Siphon Coffee Makers (Vacuum Brewers)
1. Hario Technica Syphon Coffee Maker – Best Overall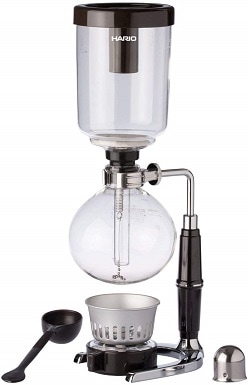 We love the 5-Cup machine from Hario Technica, in part because it's so sturdily built. It's constructed from engineered-glass as well as stainless steel and silicone. The result is a product that works well and will stand the test of time.
Of course, like any siphon machine, this is a little delicate. But the Hario Technica is fairly tough, and it's in part because of this that we are choosing it as our top pick.
This goes beyond just satisfying construction. Thanks to the alcohol burner sitting under the machine, you'll be able to watch your coffee go through all brewing stages quickly and properly. This machine heats up fast (you can fill it with near-boiling water from the stove if you're especially in a hurry), and the coffee flows back to the base very efficiently.
All in all, we think this is the best siphon coffee maker in 2021, as it's a great choice for maximizing taste as well as durability.
Pros
Great construction
Attractive styling
Cons
Alcohol burner requires fuel you may not have on hand (though it can be easily purchased at any hardware store)
---
2. Kendal Tabletop Siphon Coffee Maker – Best Value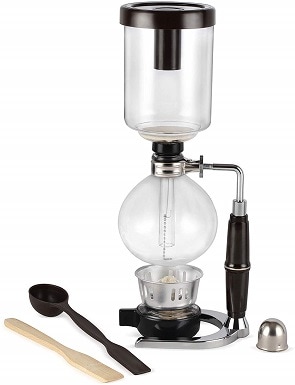 The Glass Tabletop Siphon Coffee Maker from Kendal is similar to the Hario Technica, and because of its great price, we're picking it as the "best vacuum coffee brewer for the money." While the Hario Technica is made from sturdy engineered glass, this machine is built with more modest construction. That said, we still think this is a great pick for anyone looking to get the most bang for their buck.
Feel free to experiment to find the burner you like best. The Kendal machine is shipped with an included alcohol burner (like the Hario Technica) but some users prefer to use other types of propane burners. Ultimately, it shouldn't make too much difference because – as with any siphon machine – the magic happens in the upper chamber when the water mixes with the grounds.
This maker is a great choice for anyone looking to impress guests, or to enjoy a bespoke cup of coffee on the weekends. We love the relatively modest price point, and we love the creative styling.
Pros
Looks great
Included cloth filter
Cons
Included alcohol burner is a little weak
Slightly delicate
---
3. Bodum PEBO Vacuum & Siphon Coffee Brewer
Unlike the previous two, the Bodum PEBO Vacuum & Siphon Coffee Brewer is designed to sit on your stovetop. This is great because you won't have to worry about dealing with any type of alcohol or butane burner – but this machine necessitates a lot of caution. The Bodum PEBO is designed to work just fine when filled with water, set on a burner over medium heat, but at very high temperatures or in the case of improper brewing, it can shatter and be a definite hazard.
However, we do think it's a great pick for anyone who is looking for a stovetop option, and who will be brewing carefully.
Simply set the Bodum PEBO, filled with water, on your stovetop over medium heat, and wait for the water to rise to the upper chamber. Then, add your coffee and let it steep (experiment to determine your preferred length of time). When the pot comes off the heat, your brewed coffee will drip back through the custom filter in this machine.
Some users report frustrations with the filter – that it can become clogged and may drain too slowly – but we think this is an okay sacrifice for an otherwise pretty great product.
Pros
Stovetop compatible
Impressive eight-cup capacity
Cons
Some issues with the included filter
---
4. KitchenAid Vacuum Coffee Brewer
We love the KitchenAid KCM08120B siphon machine because it's exactly what you'd expect from a trustworthy brand like KitchenAid. It isn't particularly special in any way – and it won't turn too many heads while sitting on your countertop – but it's reliable and a great option for anyone looking for a trusty siphon machine.
It's packed full of great design features, including its electric heating base. This means that you won't have to worry about any complicated burner or even a stovetop. We think this makes the KitchenAid a great choice for anyone with small children around the house, or anyone looking to get a better machine in the office.
Unfortunately, it's on the pricier end of the options we looked at. This is certainly a bummer – but this is a case of "you get what you pay for" if you're able to splurge a bit for this KitchenAid machine.
Pros
Simple to use
Sturdy construction
Cons
Less dramatic (no burner)
Fairly costly
---
5. Yama Glass 8-Cup Stovetop Coffee Siphon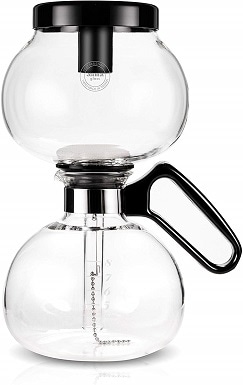 If you're interested in a stovetop option, the Yama Glass 8 Cup Stovetop Coffee Siphon is another great choice. It's a lot like the Bodum, but it has some nice additional touches. For example, we love that it's crafted from borosilicate glass – this engineered material makes the Yama a bit of a sturdier option.
Additionally, we like the included filter. As opposed to some other options, the filter for this machine is fairly large, which helps ensure that you don't have to worry about any clogs.
Take a look at the variety of sizes this siphon is available in. For those who are going to be entertaining weekend guests, the larger 32-ounce option is a great choice. If you choose to go with the smaller 20-ounce model, you'll still have room to brew about four generous cups of coffee.
We think that the Yama is a great choice for anyone who'd like the showmanship of a stovetop – and who's willing to spend a little more for the sake of a sturdier product.
Pros
Easy stovetop operation
Great filter included
Cons
Placement of handle is perfectly set to singe your hands by accident (be careful)
---
6. Nispira Balance Syphon Coffee Maker
This next machine is a bit of a marked departure from our previous picks. If you're looking for a dramatic throwback piece, the Nispira Belgian Luxury Balance Syphon Coffee Maker is it. Think of it as a piece of wild equipment, straight out of a chemistry lab – but that also makes coffee. Guests will be very impressed when they see this sitting out in the morning.
We love the gold styling and the ornate attention to detail. But there's more to this machine than simply the design. The Nispira makes particularly great siphon coffee. It uses an alcohol burner – much like some of our other picks – but the Nispira has everything integrated within its enclosure. In addition to looking good, this also means it has been able to minutely control the way that heat flows around the water.
This ensures proper brewing – and this makes it a great option for anyone looking for a bold machine that doesn't sacrifice function for form.
Pros
Looks great
Integrated heating elements
Cons
Larger than other options
Relatively small capacity
---
7. Boeng 5-Cup Siphon Vacuum Coffeemaker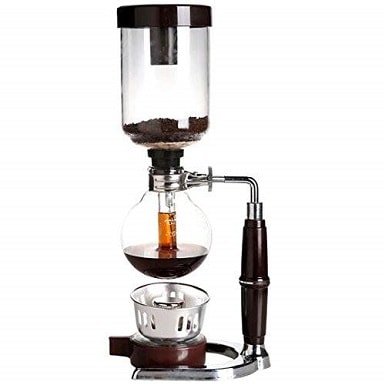 What sets the Boeng 5-Cup siphon machine apart from some of our other options is its straightforward no-nonsense approach when it comes to brewing. Everything about this machine is designed to work very well, but also to not do much more than what's necessary.
Like some of our other picks, it's made from borosilicate glass, and this ensures a very even heat transfer and very sturdy, shatter-proof chamber. In addition to this design touch, we also especially love that the Boeng has such a great included stainless steel filter. This machine uses an alcohol burner, and – again – it should be totally easy to find replacement fuel, as needed, at your local hardware store.
Overall, we love how rugged this machine is, and it's a wonderful way to take the plunge into the world of siphon coffee.
Pros
Great price
Solid construction
Cons
Not super large
Requires fuel refills
---
8. Yama Glass Tabletop Coffee-Siphon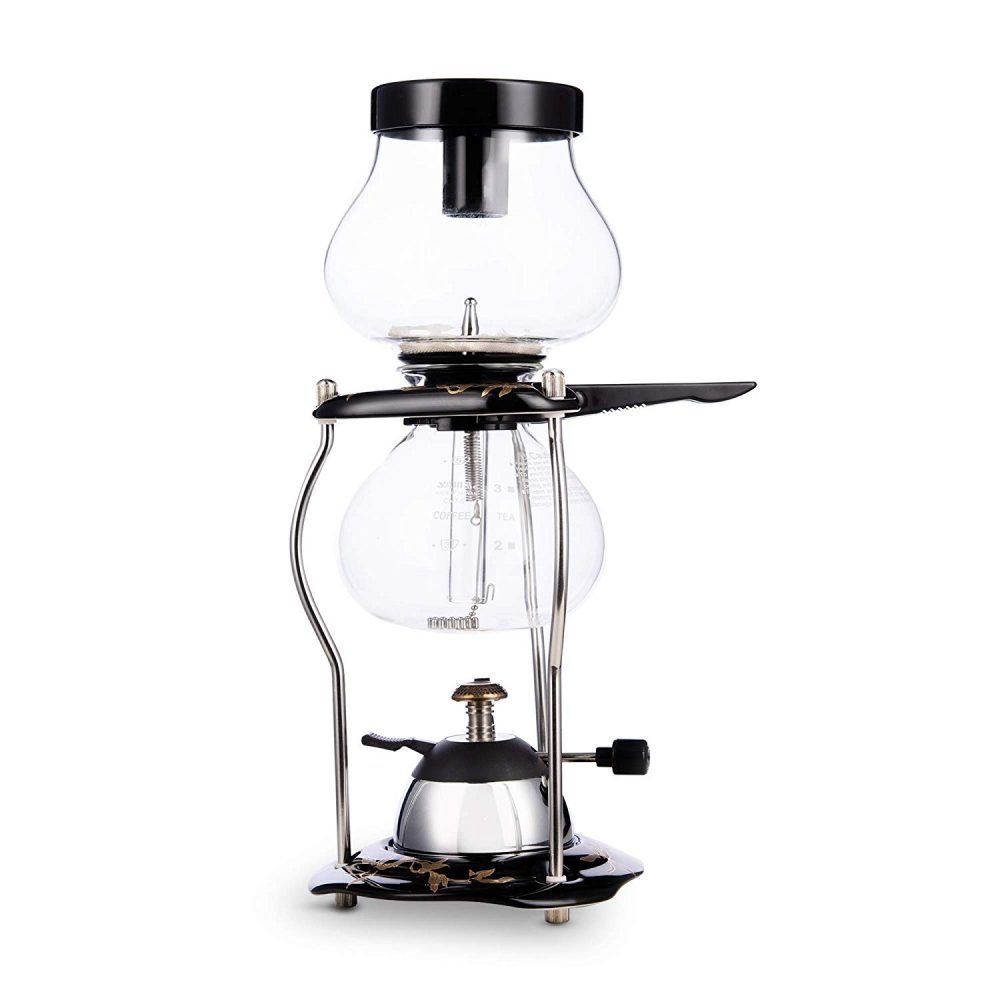 For those of you who liked the previous Yama – the stovetop version – the Glass YAMCNT5 Tabletop w/Ceramic Base Coffee Siphon alternative is a great option. Don't worry about needing to fiddle around with setting this contraption on the stove. This siphon – like many of our other picks – uses an included alcohol burner.
This is great for anyone looking to impress guests with dramatic brewing. Made out of engineered borosilicate glass, this machine can certainly stand up to a lot of use. We love that it's sturdy and that the stand looks so great – but we're a little disappointed by the customer service that many customers have received from Yama.
Even with all the great aspects of this machine, we're ranking it last, in large part because so many users have reported broken shipments or difficulty dealing with Yama support.
Pros
Simple to use
Dramatic appearance
Cons
Requires fuel refills
Difficulty with Yama customer service
---
Buyer's Guide: Choosing the Best Siphon Coffee Maker
While all these options vary so much, there are some universal aspects to consider when making this decision. First, it's probably worth understanding exactly how siphon coffee works.
How does a siphon brewer work?
1. You fill the lower chamber with water and place it on a heat source. When the water in the lower chamber is heated, it begins to boil and turn into steam.
2. You add coffee grounds to the top chamber. The steam in the lower chamber creates pressure, which pushes hot water into your top chamber, mixing with the grounds.
3. You remove the brewer from the heat source and allow the coffee to steep. At this point, you have coffee mixed with grounds in the upper chamber.
4. As the vapor in the bottom chamber cools and re-condenses into water, a pressure differential will be created, and this will cause your coffee from the upper chamber to be drawn steadily back down. On the way down, it will pass through a filter, leaving the grounds in the top chamber and the filtered coffee in the bottom chamber.
5. The result will be a delicious pot of coffee – all thanks to this impressive vacuum process.
Contrary to the way it may look, this is not the result of gravity simply pulling the water back down. Rather, this action is the result of careful engineering – this is where you'll be able to see physics happening right in front of your eyes.
Tight Seals
To begin with, siphon brewers must achieve a perfect seal. The siphoning process will only work properly if air and water vapors can be drawn smoothly through the apparatus, without any excess air seeping in. The options we picked are all able to create this robust seal, and this may be the most important test for any siphon coffee maker.
But beyond simply making sure your machine has a proper seal, there is one other important consideration when choosing the right model: the heat source.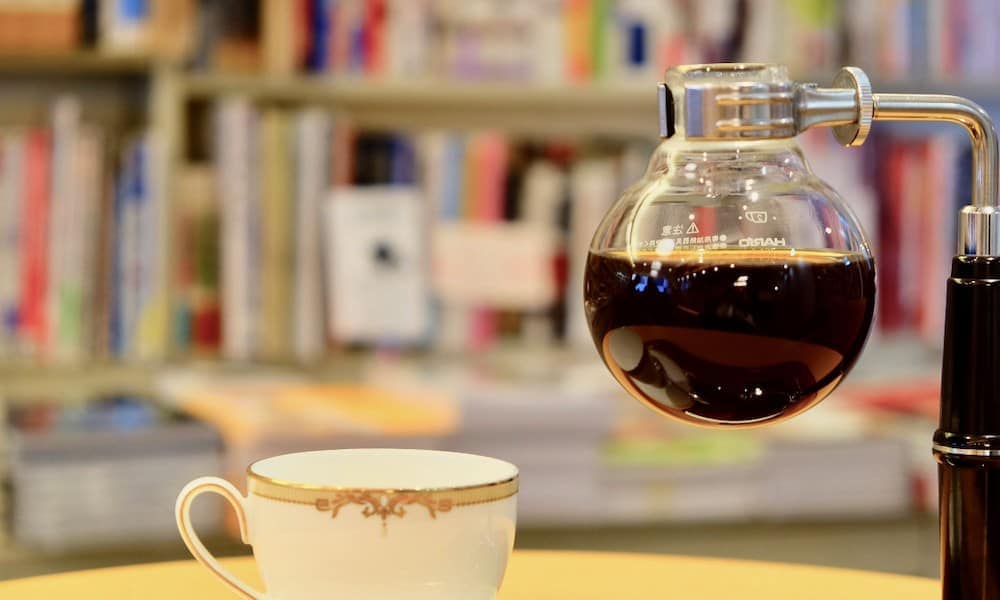 Heat Source
Of course, something needs to heat the water in the lower chamber to begin this whole process. This is where fuel comes into play. While traditional drip coffeemakers rely almost exclusively on electricity, these siphon machines offer you the chance to be a bit bolder.
Many of our top picks use small containers of flammable alcohol. This is the same type of fuel that may be used for fondue pots, or camp stoves. While this can be an entirely safe option, it is worth considering if this is a good fit for your particular situation. If, for example, you'll be using your machine around small children, these alcohol burners may not be the best choice.
Some of these machines, however, use simple electricity or stovetop burners. While less theatrical, this type of power source may make more sense for many users.

Final Verdict
We hope that these reviews have helped you find the best vacuum coffee maker for your personal needs. You're well on your way to wowing guests with dramatic coffee preparation, and to enjoying the perfect cup of siphon coffee.
To recap: we think Hario Technica is the best siphon coffee maker and that the Kendal Glass Tabletop Brewer is the best vacuum coffee brewer for the money.
---
Featured image: Kenny Louie, Wikimedia, CC 2.0