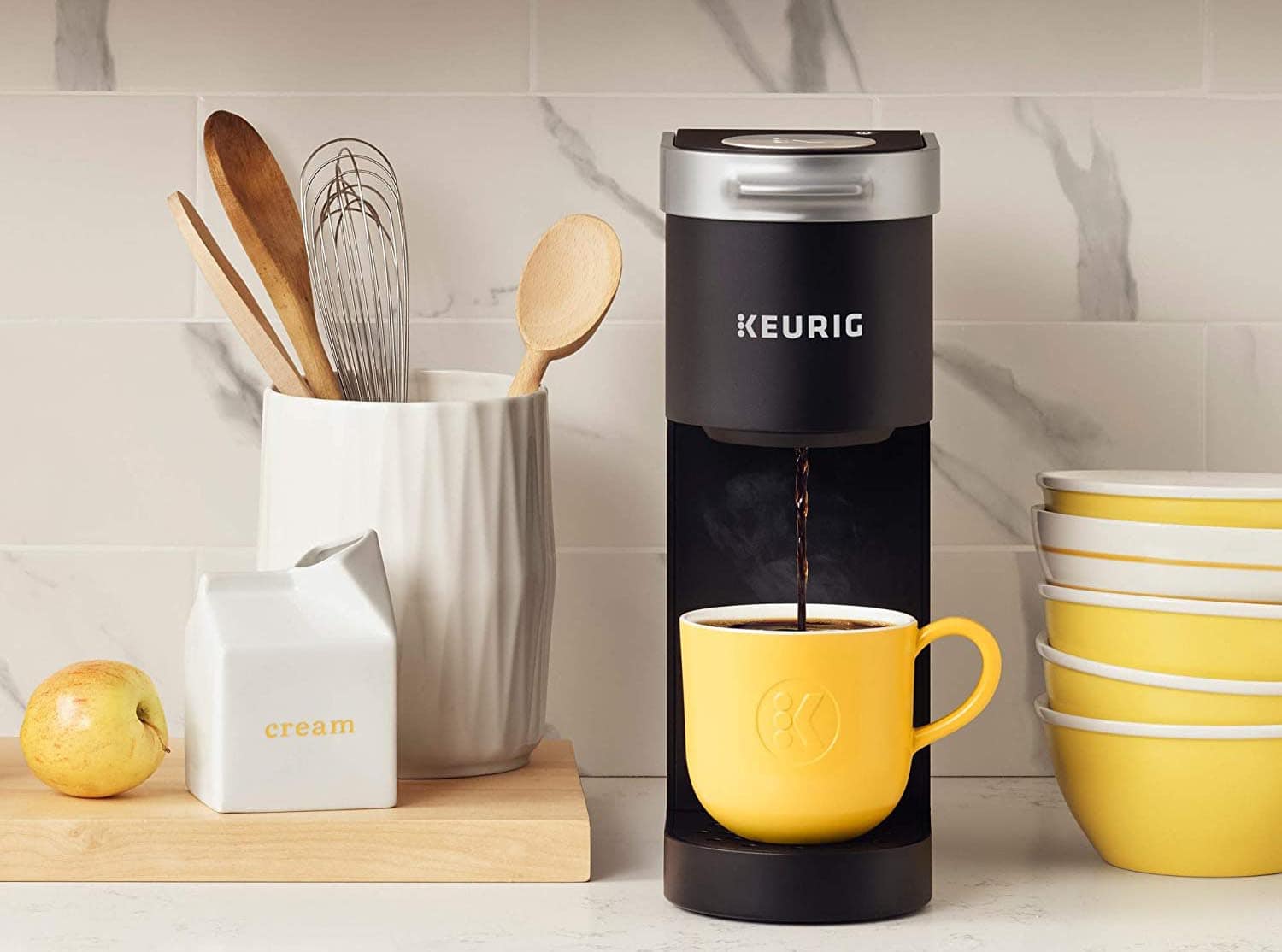 As summer ends and fall arrives, everyone is starting to prepare for the holidays. Black Friday and Cyber Monday are the biggest sales of the year, so millions are waiting to see what the best deals will be. Whether you're shopping for your spouse, family, kids, or friends, the deals are too good to pass up.
When it comes to coffee products, there are hundreds of outrageously good deals on Cyber Monday. Keurig products are always on sale during Cyber Monday, which is a great gift idea for your coffee-loving friends and family. Let's take a look at the Cyber Monday deals of the year:

The Best Keurig Cyber Monday Deals & Sales in 2023
K-Mini
While it may be the smallest Keurig brewer, the K-Mini Plus is one of the best-selling Keurig machines. It's as compact and environmentally friendly as it gets, with a single-cup water reservoir to save space and reduce plastic. You can adjust the cup size to fit 6 oz–12 oz cups, so it fits most coffee mugs. The best part is that it can fit virtually anywhere as it's around 5 inches wide, so it's not a huge appliance that will take up the whole countertop. This is the perfect Keurig for small apartments, as a gift for coffee drinkers new to Keurig, or if you don't need all the bells and whistles of the bigger models.
---
K-Mini Plus
The K-Mini Plus is the same compact model as the Mini, but with a few extra perks. The Mini Plus allows travel mugs to fit under the brewer, which is a step up from the original Mini. It also has two brew strength levels, which gives it an edge over the original K-Mini. The Mini Plus is the same width as the Mini, so it's still great for smaller spaces to save up counter space. But it does have a few more features that make it a nicer upgrade from the original -Mini.
---
K-Express
The K-Express is one of the new models that Keurig has, sharing similarities with the Mini and Mini Plus. It's slightly wider than both, but it's still quite smaller than other Keurig models. The Express comes with a bigger water reservoir and holds 42 ounces of water, so it's more convenient for on-the-go brewing. It also has a removable drip tray for travel mugs, which only the Mini Plus can do. For those who prefer a water reservoir versus pouring water for each cup, the Express is the way to go.
---
K-Supreme Plus SMART
Smart technology meets the Keurig with the K-Supreme Plus SMART, a Keurig brewer with BrewID technology. The BrewID is a total game-changer and auto-recognizes k-cup roasts, brewing the coffee pod based on the roast for the best possible flavor. The Keurig app allows you to customize your coffee as well, giving you full control over your coffee. It features a multi-stream brewing system, which helps brew a stronger, tastier k-cup coffee. The K-Supreme SMART also connects to Alexa for hands-free brewing convenience.
---
K-Duo
The K-Duo is Keurig's answer to the carafe versus coffee pod debate, bringing both brewing methods together. The carafe has multiple cup options with a built-in coffee ground basket like a traditional drip-brew maker. The k-cup side is also cup size-adjustable as well, giving you the ability to use small cups and travel mugs. The K-Duo also has a strength button for both brewers, which is perfect for those who prefer a strong cup of coffee. The K-Duo is a fairly big brewer, but it's well worth the counter space for those who want both types of coffee makers in one machine.
---
K-Duo Plus
Keurig's K-Duo is a great way to bridge the gap between coffee maker fans and Keurig fans without taking up as much space as the original Keurig Duo. With the ability to choose between a pot of drip-brew coffee or a single cup of coffee, the K-Duo is perfect for homes that have family events or social gatherings. The K-Cup features are adjustable to cup size and brew strength, so you don't lose out on the classic Keurig functions. The Duo is a great gift idea for coffee friends or family that aren't sure about the Keurig, so they can still enjoy their drip-brew.
---
K-Elite
The K-Elite is a popular Keurig for its customizable options and iced coffee option, which is a huge plus for diehard iced coffee drinkers. The K-Elite has more features than the Classic, but it's not as technologically advanced as the K-Supreme Plus and Plus SMART models. It has a nice display screen and clock for timed coffee brewing, with an auto shut-off, so you don't have to worry about it. The K-Elite is a great gift idea for Keurig fans needing an upgrade.
---
K-Café
Bring the coffee shop to your home with the K-Café, which can brew k-cups and espresso. The best part is that it can froth and foam milk, so there's no need to buy extra appliances and gadgets just for a latte. The K-Café is the perfect way to save money from buying coffee and doesn't take up as much space as the big espresso bar machines. It also has customizable options, so you're not losing out on the traditional Keurig coffee experience.
---
K-Cup Storage Drawer
The K-Cup Storage Drawer is a great way to save space while looking sleek, storing up to 35 k-cups in a neat and orderly fashion. It fits in most drawers or underneath most Keurig machines, so it doesn't take up a lot of space. This is a great gift for Keurig drinkers that already have a machine and k-cups but no way to store them.
---
K-Cup Carousel
The K-Cup Carousel is a nice aesthetic touch to any coffee station. The wood and wire spinning rack is a beautiful way to display and organize k-cups. It's a popular Keurig accessory that pairs well with any Keurig, though it does take up some counter space.

What We Saw Last Year
Keurig coffee pod brewers are always great gift ideas, so it's no surprise that the Keurig company participates in Cyber Monday. In previous Cyber Monday sales, many of the new and older models were on sale. The Keurig accessories and k-cup pods are also on sale, but the main focus is on the brewing machines. Let's take a look at some of the biggest past Keurig Cyber Monday deals:
K-Elite – Keurig's K-Elite was a big sale item during Cyber Monday. It's a bit more advanced than the Keurig Classic, with a few more features and a bigger water reservoir. It's a popular Keurig model, so we expect to see the K-Elite and upgraded version, the K-Elite Plus, on sale during Cyber Monday.
K-Mini – The K-Mini is always a popular sale item for Keurig machines due to its budget-friendly price for a Keurig machine and compact, slim design. The K-Mini is a great deal at full price, but it's almost a steal during the Cyber Monday sales. 
K-Duo – Another big seller during the holidays is the K-Duo, which is a great Keurig brewer for versatility. It allows you to choose between drip or coffee pod, so you can make more than one cup of coffee at a time. The Duo was a hot sale item last year, so we expect to see it on sale again this year.
K-Classic – The Keurig Classic is one of the most popular Keurig machines, so it's not surprising to see it on Cyber Monday sales. It's a true middle ground between all the other Keurig brewers, so it's a great gift for those who want the simplicity of the Keurig maker and a few customizable options.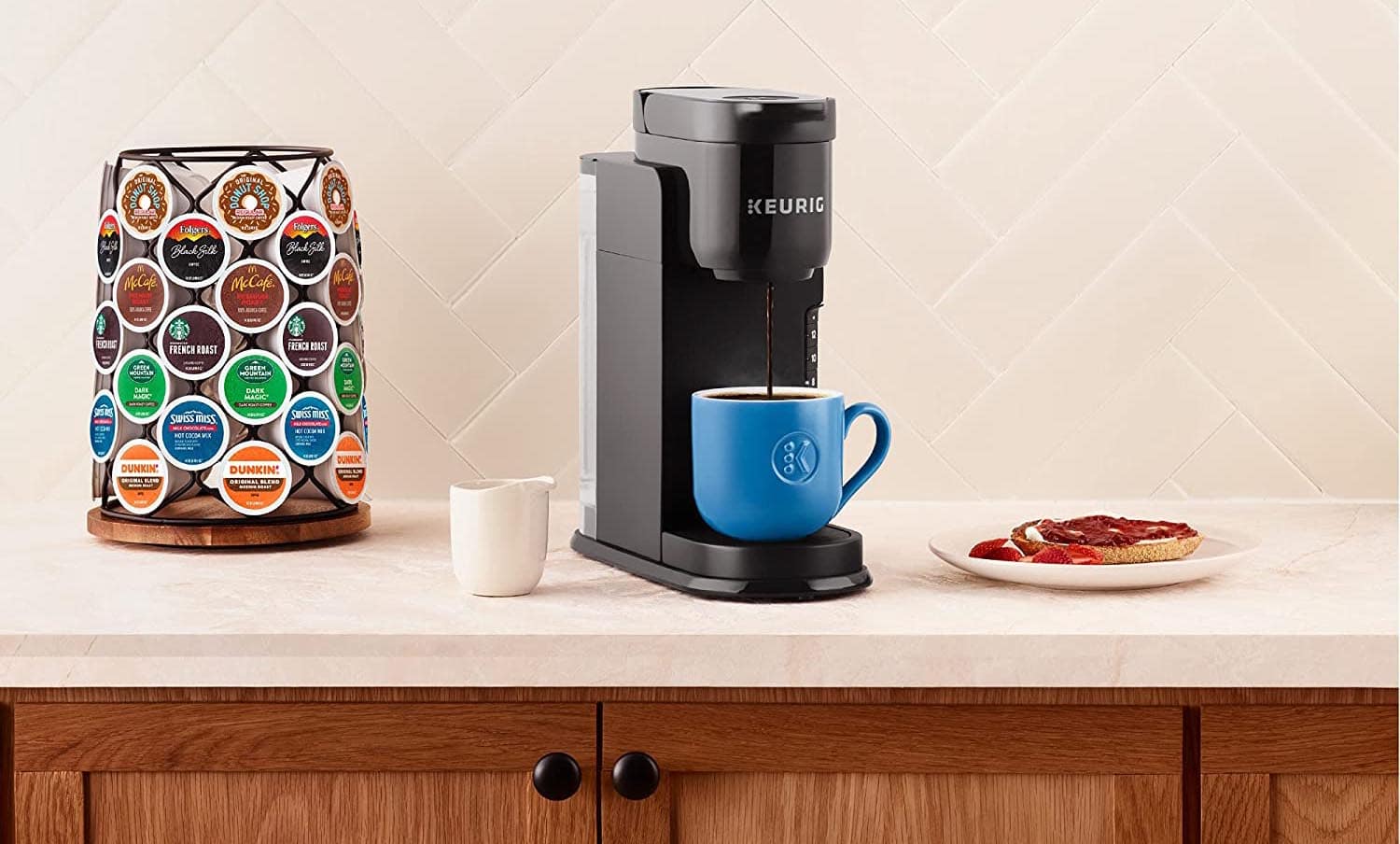 Conclusion
Cyber Monday is an important holiday sale tradition with huge sales and discounts each year. Keurig machines are always a big seller around the holidays, so they're often marked down considerably during Cyber Monday and Black Friday sales.
Looking at the previous year's best-selling Keurig products, it's safe to say they'll be on sale once again this year. Our list shows some possible big sale models and accessories, especially with models that are high in demand or very recently launched. We plan to see great sales during Cyber Monday, so it'll be a good chance to try a new Keurig product.