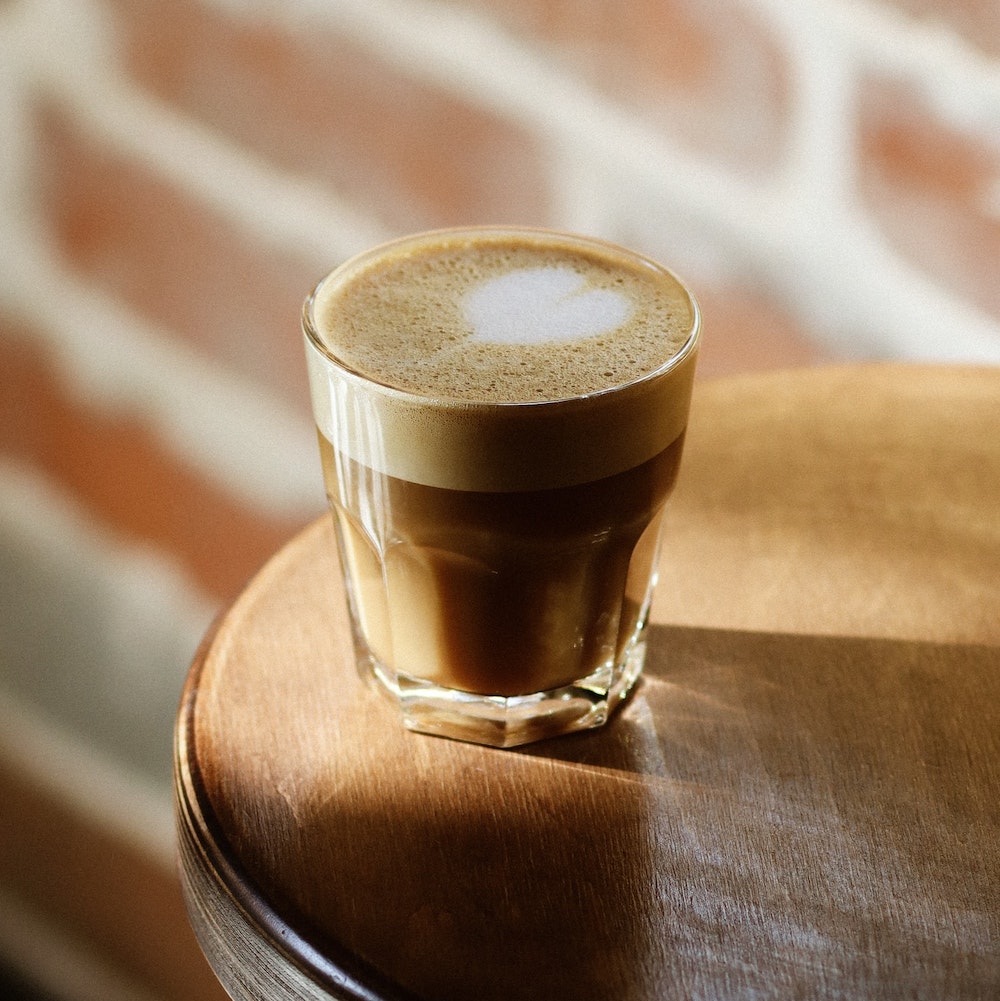 If you're an espresso-lover, a single-serve espresso machine can be a great investment for your home or office. These simple machines can produce high-quality espresso at the touch of a button — and they're often less expensive than full espresso machines.
Whether you're trying something new or just in need of an upgrade, we're here to guide you through your options. To help you shop, we bought and tested all of the most popular brands. The result? This list of our eight favorite single-serve pod espresso machines, complete with detailed reviews and a quick buyer's guide. Keep reading to learn all about each model's price, design, features, ease of use, and quality of espresso.
---
Comparison of the Winners for 2021
Image
Product
Details

Best Overall

Nespresso Lattissima Plus

Easy to use
3 options for espresso
3 options for milk
CHECK PRICE

Nespresso Creatista Plus

Easy to use
6 different settings
Sleek & modern
CHECK PRICE

Best Value

Nespresso Inissia

Compact
Makes a consistent cup
Easy to clean
CHECK PRICE

Budget Buy

Mueller

Good consistent cup
Low price
Easy to use and clean
CHECK PRICE

Nespresso Pixie

Small
Heats up fast
Large water reservoir
CHECK PRICE
The 8 Best Single-Serve Pod Espresso Machines
1. Nespresso Lattissima Plus Espresso Machine – Best Overall
The DeLonghi EN520SL Lattissima Plus is most definitively a cappuccino machine. Depending on your level of skill when it comes to the finer arts of coffee, that could be seen as a good or bad thing. If you don't want to bother with an effort, then this machine is brilliant for you. There are three options for espresso shots and three options for milk. With that being said, the three basic tenets of milk and coffee — macchiato, cappuccino, and latte — are all at your fingertips here. All you have to do is hit a button.
It's also super easy to clean. There's just a little disassembly, pop it in the dishwasher, and boom, you're ready for the next go-round. An exception to this is the milk storage chamber, which can be difficult to clean and won't keep your milk cold. You'll need to fill and empty it every time you want to add frothed milk. Other than that, this model is undeniably convenient and easy to use.
Pros
Easy to use and clean
Three options for espresso
Three options for milk
Cons
Less control over your espresso
Less convenient milk container
---
2. Nespresso Creatista Plus Espresso Machine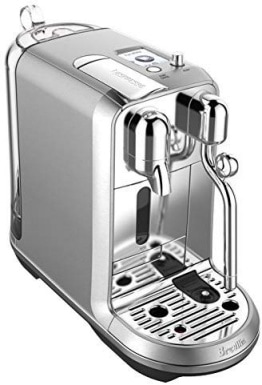 Breville puts a really strong foot forward here with a machine that looks sleek and modern, then really knocks it out of the ballpark with its slogan: "Why make coffee when you can create art?" Whoever wrote that deserves a raise.
And whoever built this system was quite clever, too. This machine is a little more customizable than its DeLonghi counterpart, but it also means that you have to put in just a bit more work. This has the same six options as the DeLonghi (when it comes to espresso and milk), but it also gives you milk texture and temperature options. The milk will still be steamed for you, but not poured. Which is to note, you cannot pull shots and steam milk at the same time. A design flaw, for sure. Saying you have to put in a bit more work just means that you have to pour the milk, which leads to this observation: this company is selling an expensive machine with latte art being the main selling point. While latte art is a cool thing, it's not what makes a drink good, and it certainly seems like an interesting way to market a product.
This is also easy to clean, and, as mentioned above, looks really good. If it weren't for the price tag and the extra hassle of drink making, this would have been our top pick.
Pros
Easy to use
Allows you to pour your own drink
Six different settings
Cons
Not fully customizable
Can't steam and pull at same time
---
3. Nespresso Inissia Espresso Machine – Best Value
Portable and stylish, this is an espresso machine that you can take anywhere with you while paying a reasonable price to do so. It doesn't come with all the bells and whistles found in our first two reviewed models, but it is impressively affordable.
The first thing you'll notice is that this machine makes a consistent cup of coffee in each of its two settings — espresso and lungo. For the uninitiated: "lungo" is a term for a long pull of espresso. It is not meant to brew a whole cup of coffee.
The next thing you'll notice is that there isn't a milk function, so you may want to buy a separate milk frother. The good news is that the machine is quite a bit easier to clean.
Pros
Compact
Sleek
Makes a consistent cup
Easy to clean
---
4. Mueller Espresso Machine – Budget Buy
The Mueller Espresso Machine is similar to the DeLonghi, with a compact body and a straightforward interface.
On the plus side, if you're looking for flavor, this machine delivers. It's streamlined enough to fit on most kitchen counters and conveniently simple to clean. There's also a removable water tank and an auto-off feature.
Unfortunately, it's loud. Possibly even as loud as rush hour at your local coffeeshop. Also, there are reports that what you see on the website when you order is not what you receive. As in, you may receive a different design or model. Luckily, the machine works well and is undeniably inexpensive.
Pros
Good consistent cup
Low price
Easy to use and clean
Cons
Loud
May receive a different model or design
---
5. Nespresso Pixie Espresso Maker
This is a line of makers by Nespresso, some made by Breville; some by DeLonghi. It's pretty straightforward to use and clean, and can choose between small and large cups.
Another sleek design, the Pixie is small and portable with a surprisingly large water reservoir. We're not saying you're going to be able to entertain a dinner party in one tank, but maybe a date!
If you're into really hot coffee, you might want to make sure you're standing next to a microwave when using this product. It doesn't get your coffee quite up to piping hot.
Pros
Small
Heats up fast
Large water reservoir
Cons
Not very hot
No milk feature
---
6. Nespresso Essenza Single Serve Espresso Maker
Hailed as DeLonghi's most compact model to-date, this cute machine can produce some fierce results. As with the other DeLonghis, this gets up to speed in no time and pulls with a surprising amount of pressure. It has two settings, espresso and lungo.
HELPFUL TIP: Many of the gripes we've seen about these machines are based on the lungo setting. When you pull a lungo shot, you're not pulling a whole cup of coffee. You're pulling an extra-long shot, using twice the amount of water.
This machine conveniently collects the pods for you. You'll still need to empty the compartment, but not every time. The downside? There have been reports of this model leaking pretty quickly, which is something to consider. The water reservoir is also surprisingly small.
Pros
Compact and easy to use
Espresso and lungo settings
Cons
May leak
Small water reservoir
---
7. ChefWave Mini Espresso Machine
A good value choice, the ChefWave has a lot of the options you expect, such as two cup sizes, espresso and lungo. It's also easy to clean and heats up quickly. However, this one won't shut down for two hours if you forget to turn it off. That means the carbon footprint of this machine is a bit higher than the others on this list.
The espresso shots are fine, and you can use pods from other brands. There have been reports of the machines arriving broken, and the espresso door can be difficult to open and close.
Pros
Small
Heats up quickly
Easy to clean
Cons
Might be broken
Carbon footprint
Hard to open and close
---
8. Lavazza Single Serve Espresso Machine
No bells and whistles here. This machine is basic and easy to use. It's not the best looking, and it doesn't come with many features, but it's functional. You can manually pull a shot on this if you'd like.
Most importantly, you can only use Lavazza pods. Is this machine good enough to only drink Lavazza? Depends how much you love Italian coffee.
Pros
Functional
Easy to clean
Compact
Cons
Can only use Lavazza coffee pods
No extra features
---
Buyer's Guide
Single-serve coffee machines were invented about 20 years ago, and in that short time, they've taken over the coffee world. In fact, 42% of American households own a single-serve coffee machine! So when you're ready to join them, how do you choose a single-serve espresso machine? Let's take a closer look.
What kind of drinks do you like?
If you like steamed milk in your coffee, you're going to have to spend a bit more. If you just like the dark stuff, you have a myriad of choices, and some good ones at that.
Another option is to buy a separate milk frother. We've put together guides to the best handheld and electric models.
Do you have a favorite brand?
Breville and DeLonghi have long been trusted by coffee drinkers, so which side are you on? Or would you prefer to buy the best machine, regardless of brand?
Keep in mind that some machines are only compatible with one brand of coffee pods. This can be expensive or limiting in flavors, so make sure you'll be able to work with your favorite coffee beans.
How much would you like to spend?
Espresso machines can be large investments, and single-serve models are no different. Before you start shopping, you may want to think about your budget and decide if you're willing to trade a lower price for fewer features. If you go for one of the nicer machines, be prepared to spend a bit more.
ALSO WORTH READING: See our favorite COFFEE single-serve coffee makers of 2020 here!

Conclusion
There are some really neat machines to be had out there, so the right machine for you really depends on what kind of coffee drinker you are. If you like lattes and cappuccinos, take a look at our top picks, the Lattissima Plus and the Creatista Plus. If you're looking to save money, you may prefer the Inissia, which offers great value. And if your budget is really tight, take a look at the Mueller Espresso Machine, which is functional and inexpensive.
The world of Nespresso is large and can be pricey. Hopefully, these reviews, along with the buyer's guide, help you choose the right single-serve espresso machine for you. Enjoy your homemade espresso!